Blood Orange Chocolate Muffins with Blood Orange Glaze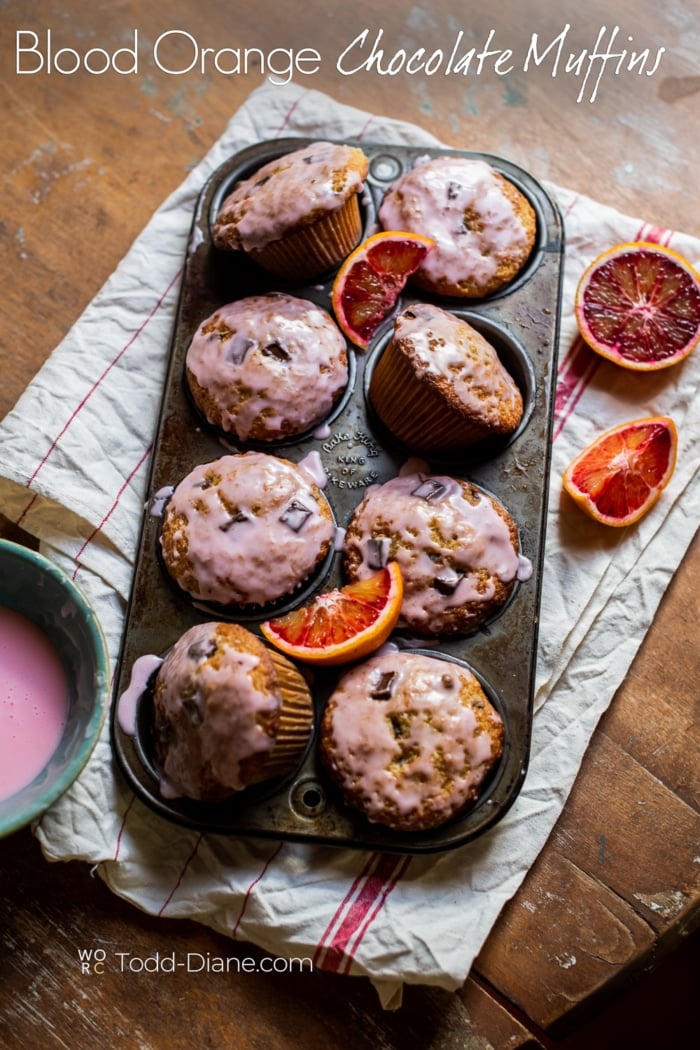 Blood Orange Chocolate Muffins
There are few morning treats better than a pastry fresh out of the oven. Nothing makes me happier than cooking or baking for the ones I love, especially when I am lucky enough to have someone as special as Diane who can cook like a badass too, so I know the favor will be returned. Even pre-cappuccino hour baking is looked upon with pleasure. Our occasional treat of a Strawberry Crossover is a delight to make, but it takes a bit of time. Muffins on the other hand are quick and easy.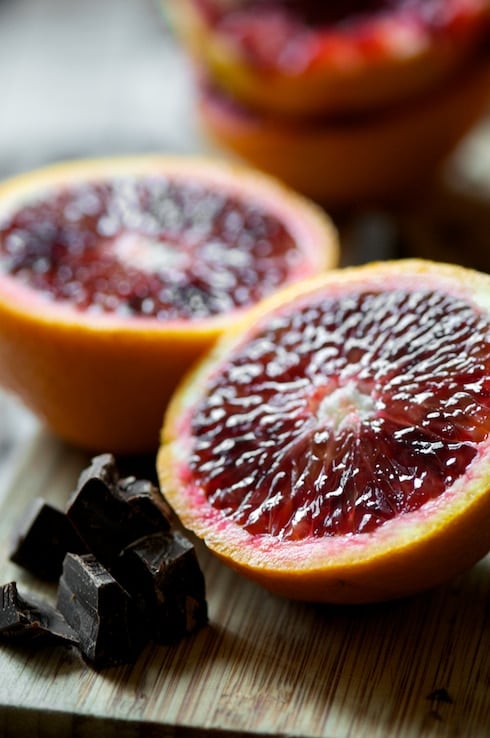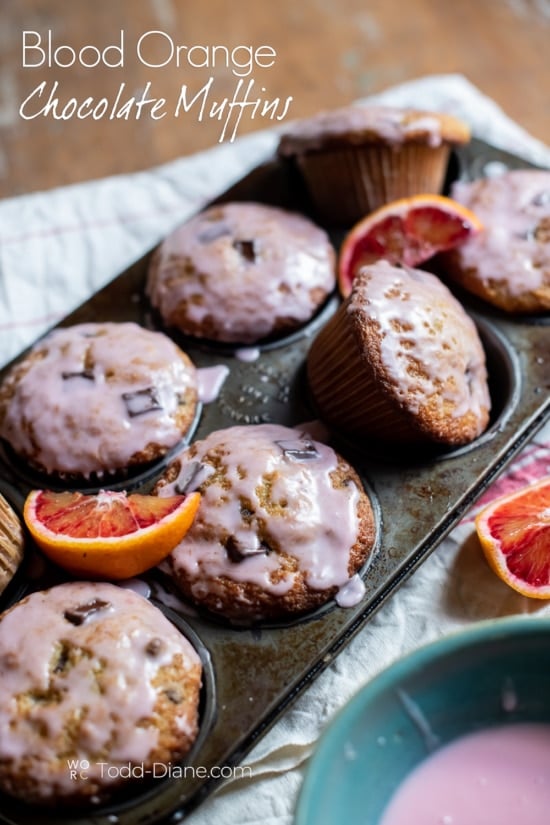 Video: Making the Blood Orange Chocolate Muffins with a Blood Orange Glaze
Most of the year we'll have lemons at the ready from the garden and they make a delightful muffin. But right now blood oranges are ripening by the pounds, so with a little twist a blood orange muffin recipe was born.
And who doesn't love chocolate? Either with a nice dark chocolate chip or with a few chops of the knife to break up a dark chocolate bar into chunks, it is a perfect addition. Gently mix them into the batter and send to the oven for baking.
Soon the kitchen air will be warm and sweet, have a beautiful coffee or cappuccino, and share the chocolate oozing muffins with everyone the house. Not a bad way to start the morning.
-Todd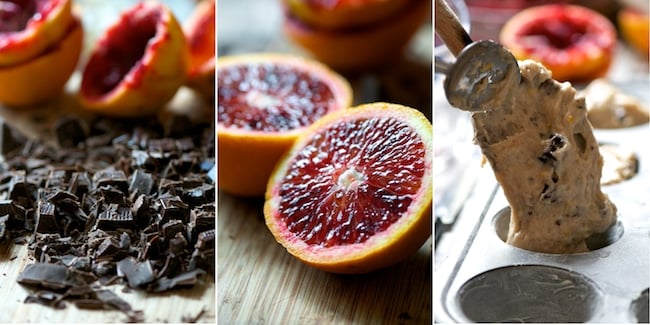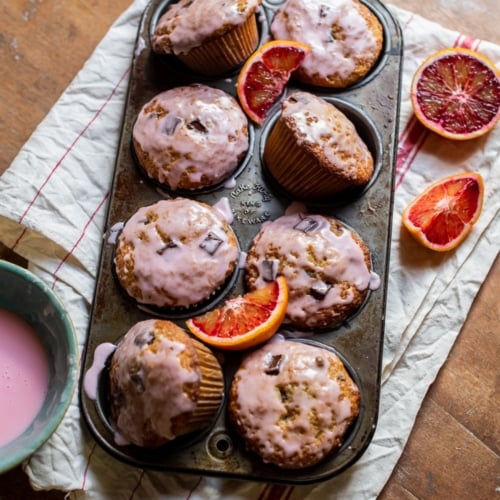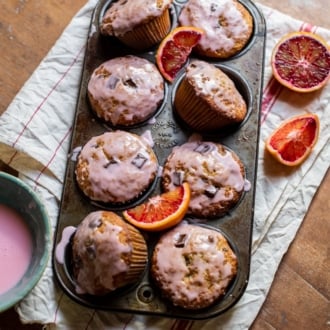 Blood Orange Chocolate Muffins with Blood Orange Glaze
Depending on the rich color of your blood orange juice, you might have blue-ish looking muffins. Still delicous! You'll need about 2-3 blood oranges to make this recipe. Regular oranges or lemons make good substitutes.
Ingredients
Muffin Ingredients
1 3/4 cups (275g) all-purpose Flour
1 cup (200g) Sugar
1 1/2 teaspoons (6g) Baking Powder
1/2 teaspoon (2g) Baking Soda
1/2 teaspoon Kosher Salt
grated Zest of 2-3 Blood Oranges
1/3 cup (80ml) Vegetable Oil or 1/2 cup (115g or 1 stick) melted Butter
1/2 cup (120ml) fresh Blood Orange Juice
2 teaspoons (10ml) Vanilla Extract
2 Eggs
6 ounces (170g) Dark Chocolate Chips or Chunks
Blood Orange Glaze
1-2 Tablespoons (15-30ml) fresh Blood Orange Juice
3/4 cup (90g) powdered sugar
Instructions
Pre-heat oven to 375°F. Grease & flour muffin pan or line with baking cups.

In a bowl, whisk together flour, sugar, baking powder, baking soda, and salt until well mixed.

In a large bowl, combine oil or melted butter, blood orange zest, blood orange juice, vanilla extract and eggs. Mix until well combined. Fold in the dry mixture until just combined (important- do not overmix). Fold in the chocolate chips/chunks (for prettier muffins – reserve a handful of chocolate chips/chunks to place on top after filling the muffin cups). Divide between the muffin pan cups (a large cookie scoop works great for this step).(For bigger muffins, only fill 9-10 muffin pan cups, mounding the batter higher.)

Bake for 20-25 minutes, or until lightly brown. Test with a toothpick to check center doneness (should come out clean unless it hits chocolate.) Allow to cool slightly.

Make the glaze: Whisk together the blood orange juice and powdered sugar until smooth (for a thicker glaze use 1 Tablespoon blood orange juice – for a thinner but more blood orange flavor, use 2 Tablespoons of juice. You can also add fresh blood orange zest to the glaze to increase the blood orange flavor).

Glaze the muffins. The cooler the muffins and longer the glaze sits, the firmer it becomes.
Nutrition Information
Calories: 307kcal, Carbohydrates: 48g, Protein: 4g, Fat: 11g, Saturated Fat: 9g, Trans Fat: 1g, Cholesterol: 27mg, Sodium: 222mg, Potassium: 144mg, Fiber: 1g, Sugar: 30g, Vitamin A: 65IU, Vitamin C: 6mg, Calcium: 81mg, Iron: 1mg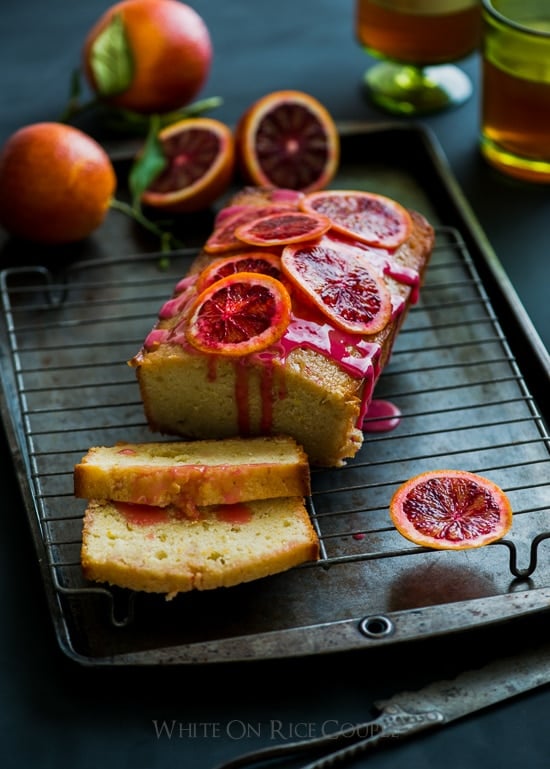 Click Here for more More Blood Orange Recipes
More Blood Orange Ideas:
This recipe was originally published in 2010 and re-published in 2021 with updated photos and new video.
We are a participant in the Amazon Services LLC Associates Program, an affiliate advertising program designed to provide a means for us to earn fees by linking to Amazon.com and affiliated sites.