Garlicky Winter Greens and Chickpea Salad
Our mustard greens chickpea salad is a fantastic vegetarian side dish. It's so delicious and hearty with the beans that it can be a meal in itself.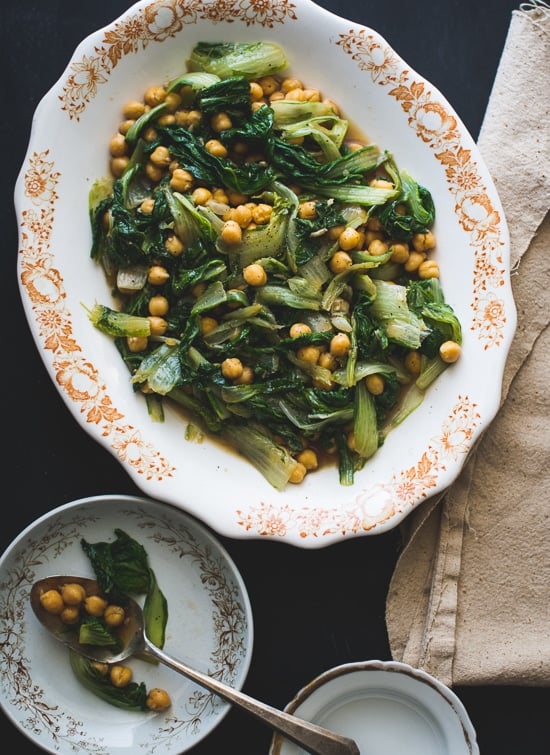 Mustard Greens, Chickpea Salad
Before we left on our crazy seven week Bountiful book tour and jet down to Southern Australia, we took a look at our dormant and sleepy garden. And then we sighed, wondering if it's too early to try to seed for Winter veggies. It's usually during end of October to beginning of December that the garden begins her dormant period. She's been busy all summer with our a few hundred pounds of fruit and a load of tomatoes.
The garden gets a much deserved break. With the weather in its awkward Fall/Winter transition, not many vegetables tend to grow. But we were heading into a big travel period. By the time we'd return, we might have missed the perfect time to seed. We figured we didn't have anything to lose if we seeded a little earlier. Doing it all before we headed out on the road might give us the possibility of having some tender Winter greens when we return.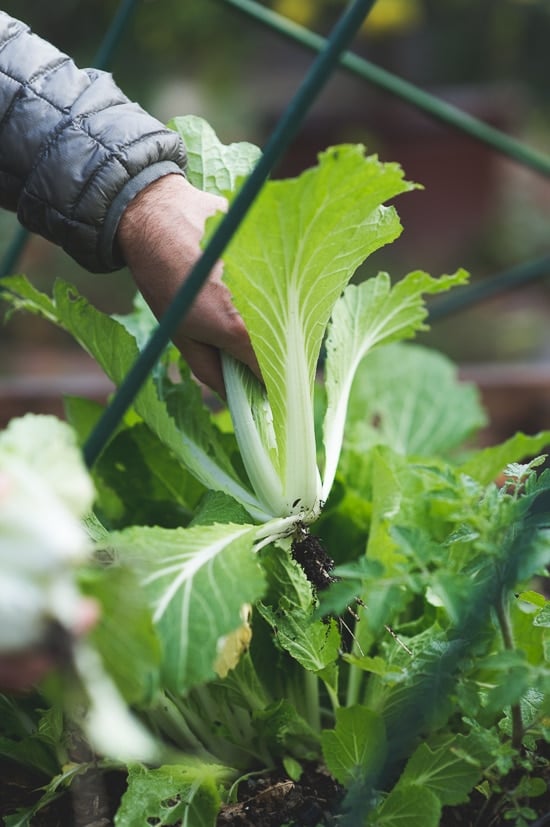 Back to the Garden
Throwing in a bunch of mustard, beet, turnip and bok choy greens was a good idea. When we finally settled back home at the end of November, we started to see all the seedlings. About 2 months later, we have the most tender Winter greens devour. This is why we love living in Southern California, despite all the smog and traffic congestion. We suffer for hours on the 405 freeway. But yet we have great weather and thus, a plethora of yummy green salads during January.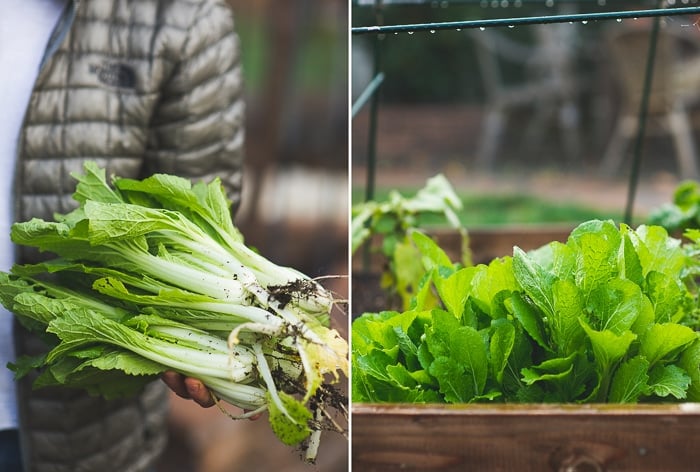 There's always sacrifices to anywhere we all live. For us, we get sunshine and garden veggies while all you lucky East Coast or mountain folks get beautiful Winter snow. And tons of skiing. We're jealous! It's also during this time of year that we crave vegetables and anything leafy green. The flavor of the seasons first young greens are always the best with great texture and flavor without the toughness and over-bitter bite of late greens. Today our fluffy-top napa greens looked perfect to picking. They could use a little thinning out too, so that meant making a lunch of winter greens with some chickpeas.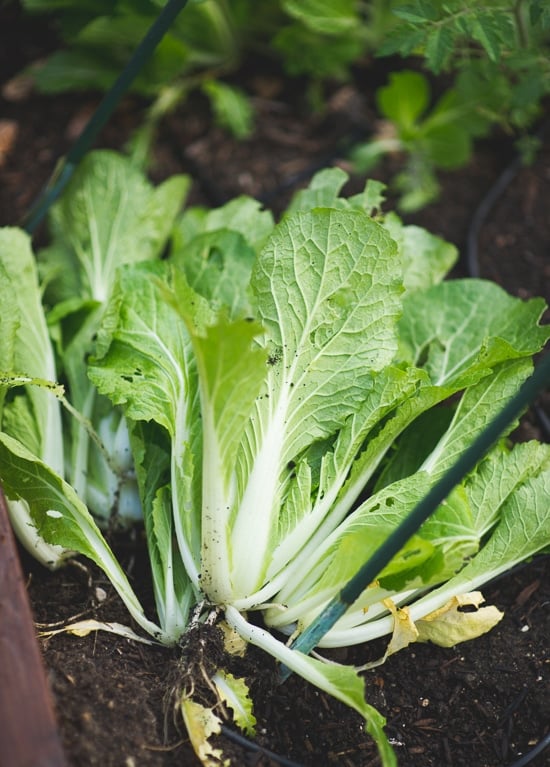 These greens are quickly wilted because that's all they really need. Cook them for too long and they disappear into a green pile of mush. Cook them to perfect tender-wilt and you have a wonderful bite of flavorful, peppery and tender greens to satisfy the soul. The chickpeas add a great bite of protein and texture. That's it. A simple salad of garlicky mustard greens chickpea makes a great side dish or, in our case, an afternoon meal that's energizing and not too heavy that it'll put us in a food coma.
Happy January.
-Diane & Todd
This mustard green chickpea salad recipe was originally published in 2014 and re-published in 2020 with updated photos.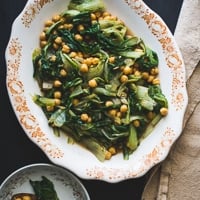 Garlic Winter Greens and Chickpea Salad Recipe
You can use any greens you want (cabbage, kale, collard greens, mustard greens, beet greens, swiss chard) but as long as they are tender. If your greens are a little tougher, you might want to blanch them in hot water to tenderize them before the saute.
Ingredients
2 Tablespoons olive oil
4-5 cloves garlic , minced
1 pound greens (such as chard, cabbage, collard greens, bok choy, etc.) , chopped (remove any tough stems or inner ribs if needed)
14.5 ounces canned chickpeas (garbanzo beans), drained & rinsed
2 teaspoons soy sauce (use Tamari Soy Sauce for Gluten Free)
1 teaspoon sesame seed oil
1 teaspoon rice vinegar (use distilled white vinegar for gluten free)
kosher salt , to taste
fresh cracked black pepper , to taste
Instructions
Heat large saute pan on medium-high heat. Add oil, then add the garlic. Cook garlic until translucent and fragrant, about 1 minute.

Add the greens and cook the greens until they are wilted and tender, folding the greens a couple times while cooking to help them cook evenly (depending on the greens this usually only takes a minute or two). Remove the pan from heat.

Add the chickpeas, soy sauce, sesame seed oil, rice vinegar and season with salt and pepper to taste. Gently fold the chickpeas and seasonings into the greens until everything is combined well. Serve warm or at room temperature.
Nutrition Information per Serving
Calories: 204kcal, Carbohydrates: 21g, Protein: 9g, Fat: 11g, Saturated Fat: 1g, Sodium: 473mg, Potassium: 408mg, Fiber: 9g, Sugar: 1g, Vitamin A: 5707IU, Vitamin C: 41mg, Calcium: 305mg, Iron: 2mg
We are a participant in the Amazon Services LLC Associates Program, an affiliate advertising program designed to provide a means for us to earn fees by linking to Amazon.com and affiliated sites.