Refreshing Pomegranate Spritzer for Fall
This pomegranate drink recipe is a spritzer and is refreshing and wonderful. When pomegranates come into season it's hard to not enjoy pitchers of this drink.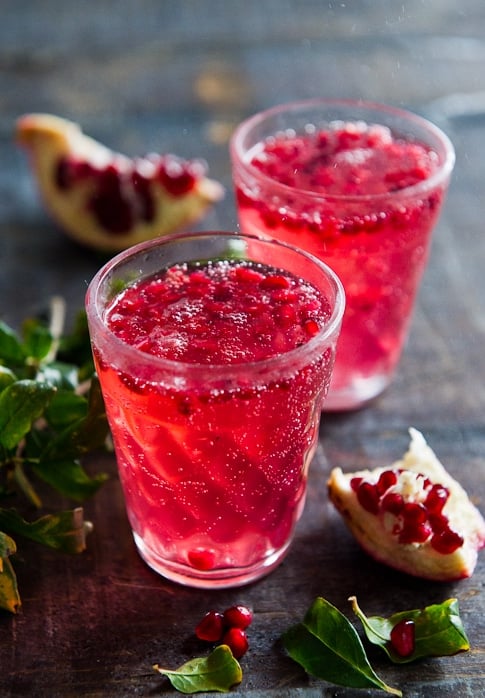 Pomegranate Drink Recipe
It feels so wonderful to be back in the kitchen after being on the road, teaching workshops and shooting on location lately. When we were in the kitchen the other night preparing dinner, we both looked at one another with the same hungry, yet satisfied eyes. It feel so good to be back here in our home kitchen feeding our family and friends. Unfortunately we didn't take the time to photograph any of it to share with you on the blog! The garden always look different in the time that we're away. When we return, one of the first things we do is to explore the backyard for new goodies that dropped, blossomed or got eaten by the squirrels. This week, we were greeted with red pomegranates.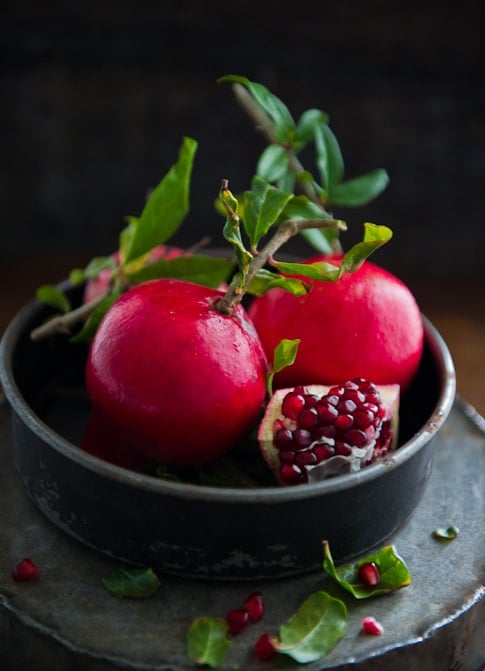 When we saw them last, they were still slightly young and green. This week, they looked like red Christmas ornaments dangling in Autumn sunshine. Red orbs of pomegranates is definitely a sign that Fall has arrived and we're ready for it. Along with pomegranates, we welcomed some sweet Asian pears and a few ripened passion fruits clinging to the crazy tangling vines. The tomatoes said their farewells and the basil are exploding with their last flowers. Summer is officially over.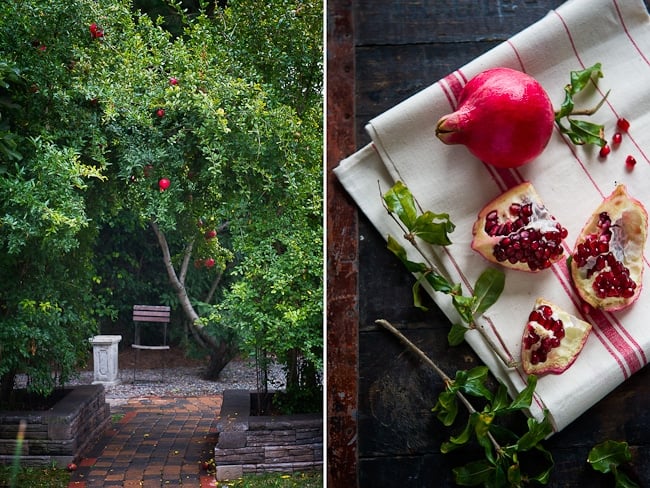 Try Pomegranate Salad
A favorite dish we make with the pomegranates is normally in salads. We're always searching for new ideas to use this amazing fruit. Breaking into them is like opening up a vault of diamonds, red jewels of sweet tart juices. But this week, we're juicing them up for some refreshing change. The possibilities are endless with pomegranate juice, especially when we're mixing cocktails with them. Soon, we'll be sharing some amazing inebriating cocktails made with pomegranate juice.
Until them, hope you enjoy an alcohol free pomegranate spritzer. It's so simple, refreshing and perfect hello to the upcoming holidays. What favorite pomegranate recipes do you have? Would love to read your amazing creations.
hugs,
diane and todd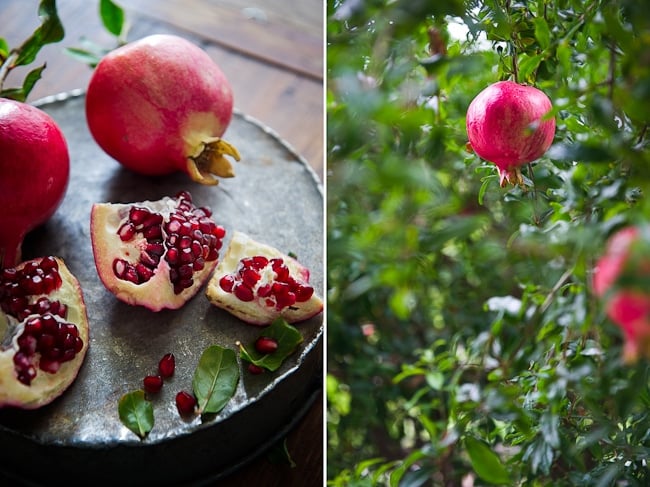 Check out our Cocktail Recipes Here and our Complete Whiskey Guide.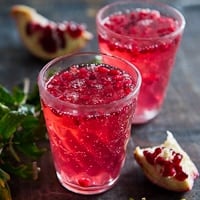 Pomegranate Spritzer Recipe
So simple & refreshing. It is great with store bought pomegranate juice, but juice freshly crushed pomegrantes is next level.
Ingredients
1-2 Tablespoons (15-30ml) pomegranate juice *see Note 1 for extracting
2 teaspoons (10ml) simple syrup
6 ounces (180ml) club soda
Instructions
Add pomegranate juice, sugar and water. (Add pomegranate seeds if you are so inclined) Pour into glasses filled with ice.

Add additional sugar, or pomegranate juice to personal taste, sweetness and tartness.
Notes
Note 1: Extracting Pomegranate Juice. Here is a great tutorial on how to open a pomegranate without looking like a murder scene. Once you have separated seeds, place them in a medium bowl and muddle together until all the juice is extracted. Keep the seeds in if you want for crunchy textures.
Note 2:
Simple Syrup Ingredients
2 cups (480ml) Water
2 cups (400g) Sugar
Simple Syrup Directions
Combine water and sugar in a medium saucepan. Heat until sugar is completely dissolved. Set aside to cool. After cool, store in refrigerator until ready to use.
Nutrition Information per Serving
Calories: 46kcal, Carbohydrates: 12g, Protein: 1g, Fat: 1g, Saturated Fat: 1g, Sodium: 45mg, Potassium: 44mg, Fiber: 1g, Sugar: 12g, Vitamin C: 1mg, Calcium: 12mg, Iron: 1mg
More Easy Recipes:
We are a participant in the Amazon Services LLC Associates Program, an affiliate advertising program designed to provide a means for us to earn fees by linking to Amazon.com and affiliated sites.