iPhone Video #3- On Assignment with Penny- Barbacoa in East LA
On Assignment with Penny: Barbacoa Lady Reunion in East LA
Video completely filmed on iPhone 4

Thank you for joining us on this journey with friend and photographer Penny De Los Santos. Producing this On Assignment video series has been a visual awakening. To be able to collaborate together and celebrate the stories of special souls, places and events is wonderful.
Previously, we've shared stories from Chef Joanne Chang in Boston and Food Trailers in Austin. Today's Los Angeles edition is a special one because it's not just a story about food, it's a reunion.
This reunion is a dear one. Penny photographed a compelling Barbacoa story for Saveur magazine this year. What resulted out of that photo shoot was a a friendship, a bond between Penny and her subject Flor, the Barbacoa Lady. This connection that sprouted between Penny and Flor inspired Penny to return for a reunion.
This time, Penny returned to Flor as a friend. They cook and share a meal together that evolves right before your eyes.
What we all know of this "Barbacoa Lady" is from the magazine and stories that Penny has shared. But what this video shares with you today is all the love, camaraderie and respect behind the scenes. You get a intimate peak into the the lives of two people after the images are made, outside of all the eyes of the publishing world.
What you will see in this video is a life friendship between two people that was brought together because of photography. That's how powerful photography can be.
thank you for watching and for your support,
diane and todd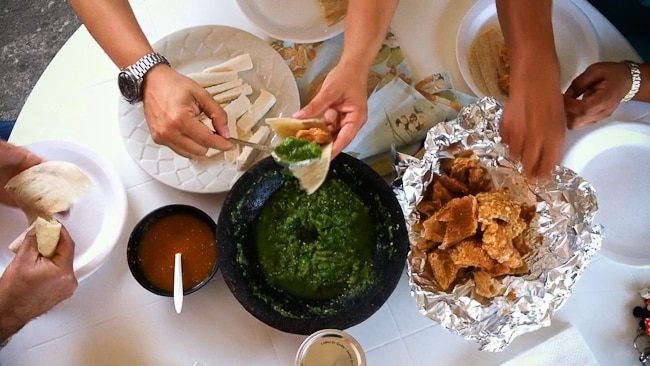 Guide us in Seattle! *** We'll continue shooting more "On Assignment" videos in Seattle next week and in other parts of the country. Please share your ideas or suggestions to us on twitter or comments below. We'd love to explore any extraordinary people, locations and stories that have been personally inspired by or touched you in a special way.
Follow us for updates & Tweet us your story ideas!
[ad]
We are a participant in the Amazon Services LLC Associates Program, an affiliate advertising program designed to provide a means for us to earn fees by linking to Amazon.com and affiliated sites.