Everyday Basil Pesto
Everyone should have a bottle of homemade pesto in their fridge. Our pesto recipe is an indispensable condiment to have on-hand because it's the delicious solution for simple dinners.
Easy Pesto Recipe
From pesto pasta to pesto chicken and pesto pizza, it's a condiment that makes an ordinary dish, extraordinary. It doesn't even need to be used on big entrees either. Beyond pasta or as a marinade for chicken and such, also think of it as a spread on a sandwich or wrap to bring out wonderful herb and nutty flavors. Replace your mayo and mustard with pesto and an everyday sandwich becomes amazing.
Watch Video of Making Everyday Basil Pesto:
Can you freeze fresh basil pesto?
It's not ideal to freeze fresh basil pesto. The basil will turn brown very quickly and the flavors aren't the same. Also, when the cheese and olive oil thaws, the texture is mushy. It's better to just use a traditional hot water canning method to preserve the fresh pesto.
It's this time of year that our garden basil goes bonkers in every corner of the garden and thus, it's basil pesto making season! Believe it or not, we have at least 30 basil plants and they all started from seeds that came up from last years basil plants. It's been a wonderful education in seeding the garden naturally with basil and best of all it's all free.
Growing Fresh Basil
Instead of pulling out our basil at the end of the season last year, we kept them in the ground and allowed the flowers to dry out completely. Natures way of spreading seeds through wind and birds gave us a TON of basil seedlings this last spring. We thinned them out and transplanted them in what ever extra space we had. With some water and little maintenance, we're now swimming in basil leaves and fresh homemade pesto. Seriously, pesto is a condiment we just get tired of and that's why we're call our recipe the Every Basil Pesto recipe. Because we can totally find ways to eat it everyday and hope you will too!
enjoy,
diane and todd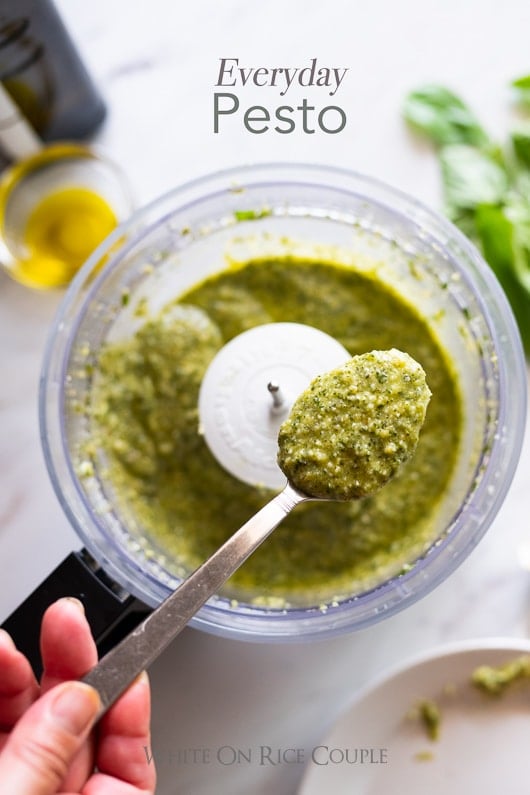 Try our pesto recipe on Lemon Cucumbers.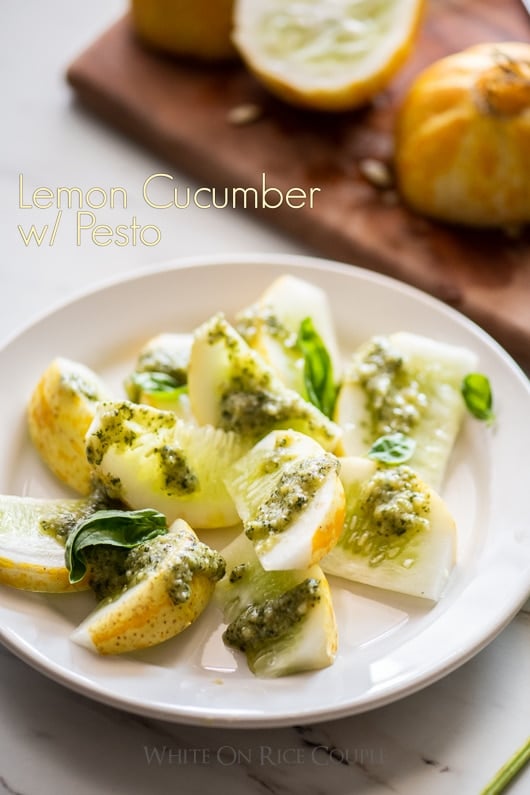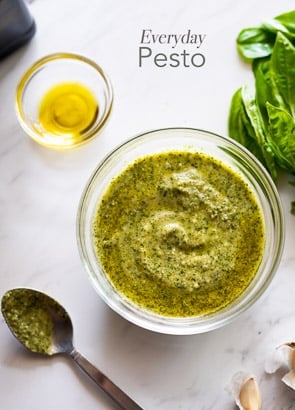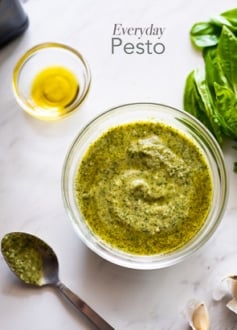 Everyday Pesto Recipe
Basil pesto is always a favorite, but other herbs, such as thyme, mint, tarragon, and even arugula, prove to be wonderful variations as well. Consider mixing up your own unique batch of pesto with various herbs and nuts, including walnuts, peanuts, and cashews. The more Parmesan cheese you use, the more flavorful the pesto will be but it will also be less green. Makes about 1 1/2 cups.
Ingredients
2 cups (50 g) (packed) fresh basil leaves , or herb leaves of your choice
.5 - 1 cup (120-240 ml) freshly grated Parmesan
1/4 cup (35 g) pine nuts or chopped nuts of choice (walnuts, pecans, cashews, pistachios, etc…)
2 cloves (2 cloves) garlic
1 teaspoon (5 ml) kosher salt , or to taste
black pepper , to taste
1 tablespoon (145 ml) fresh lemon juice
1/2 cup (120 ml) extra-virgin olive oil
Instructions
In a food processor, combine the basil, Parmesan, nut of choice, garlic, salt, pepper, and lemon juice. Pulse several times to mince the ingredients.

Add about 1/2 of the oil to the food processor and process until very fine.

Gradually add the remaining oil, to taste, pulsing until smooth (you may need more or less oil, depending on your preferred texture for the pesto). Taste for seasoning and add additional salt, pepper, and/or lemon juice to taste. Pulse to combine completely if additional seasoning is used.

Store in fridge. The olive oil based pesto will begin to firm in the fridge, so bring it out to come to room temperature if you want it more oily.
Nutrition Information
Calories: 118kcal, Protein: 2g, Fat: 12g, Saturated Fat: 2g, Cholesterol: 3mg, Sodium: 257mg, Potassium: 33mg, Vitamin A: 245IU, Vitamin C: 1.3mg, Calcium: 54mg, Iron: 0.4mg
More Easy Pesto Recipes
This recipe was originally published in 2018 and re-published in 2021 with updated recipe notes.
We are a participant in the Amazon Services LLC Associates Program, an affiliate advertising program designed to provide a means for us to earn fees by linking to Amazon.com and affiliated sites.