Pesto Chicken Pasta Salad
Summer is at it's peak and what to do with a garden full of basil? First of all, we make a big batch of fresh everyday pesto to jar, share and save. Garden fresh pesto is one of our favorite condiments to make and savor throughout the year. Second, when we're craving a quick lunch, we make pesto chicken pasta salad.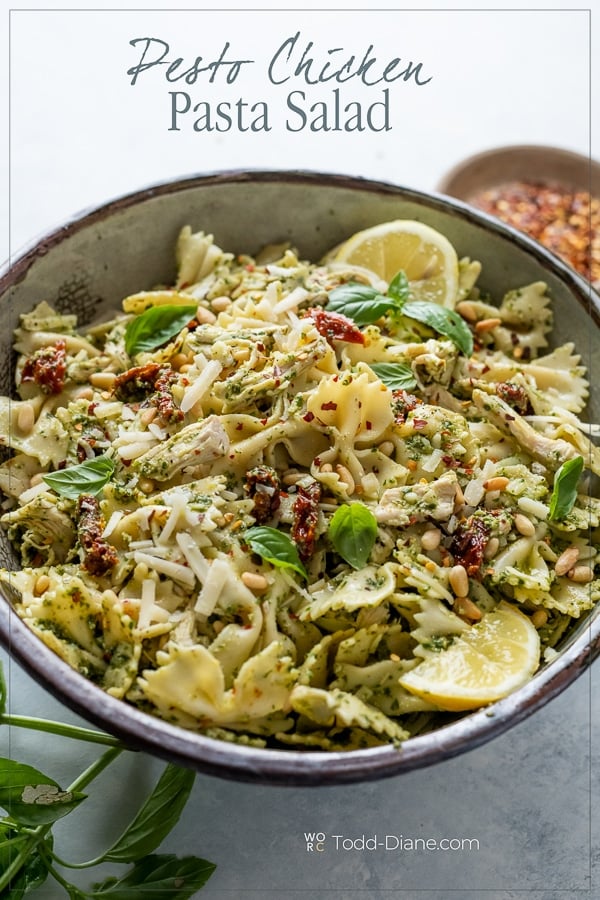 Pesto Chicken Pasta Salad Recipe
We've shared our homemade pesto recipe previously for all of you who are hankering to make a homemade version. In the pasta salad, this bowl of goodness has so many great flavors and textures. Once the pesto is made, it's literally a quick assembly of your favorite ingredients. It's this warm time of year that we're swimming in fresh herbs, Summer produce and salads. Tis the season to eat fresh and loaded with pesto.
Video: Homemade Pesto Chicken Salad
Homemade Jars of Pesto
Our chicken pasta salad something that doesn't even have to be complicated or fussy. In fact, there's so many brands of great jars of pesto that will skip the first step for you in making this pasta. It's always a great idea to have a jar of this awesome pesto condiment in your fridge. You can use it on sandwiches, pasta, salads and eggs. Pesto on salmon, grilled chicken or just plain toast is great. Oh yes, breakfast eggs with a swipe of pesto is awesome.
Here's some great pre-made pesto you can treat yourself to & a handy gadget for making your own: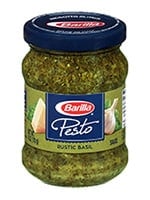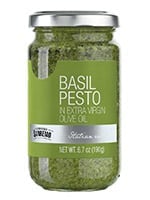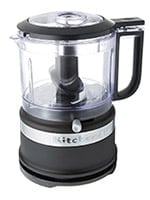 Hope you enjoy our pesto chicken pasta salad throughout the week. It's fantastic for quick lunch or side dish during dinner.
-diane and todd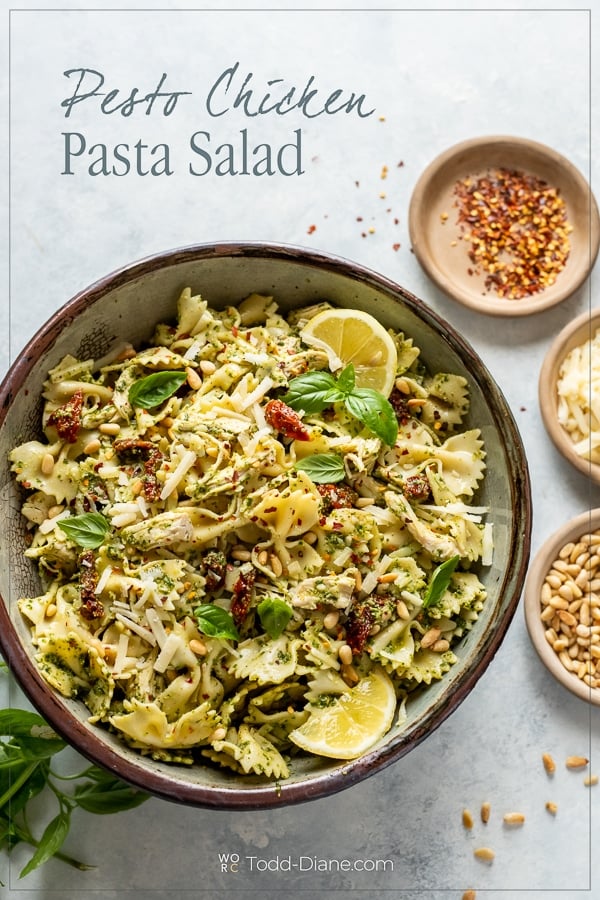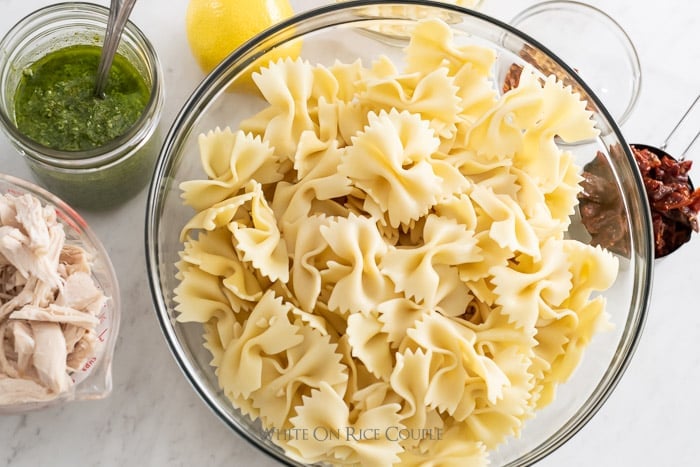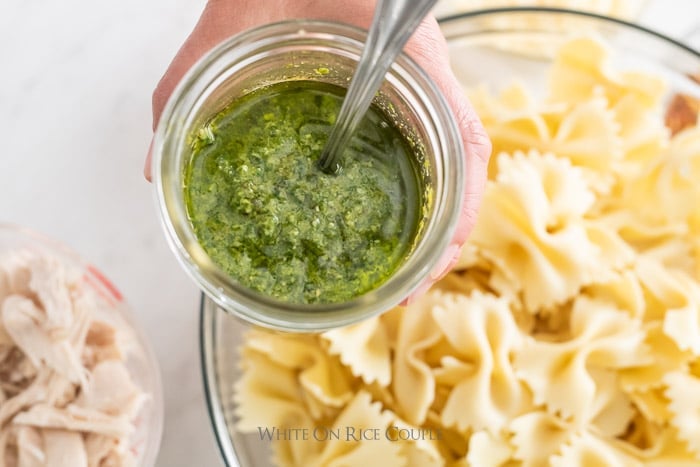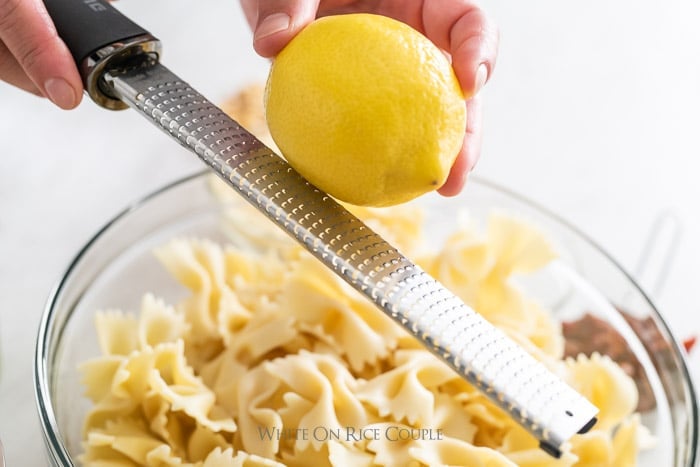 Homemade Pesto Recipe if you are loaded with fresh basil!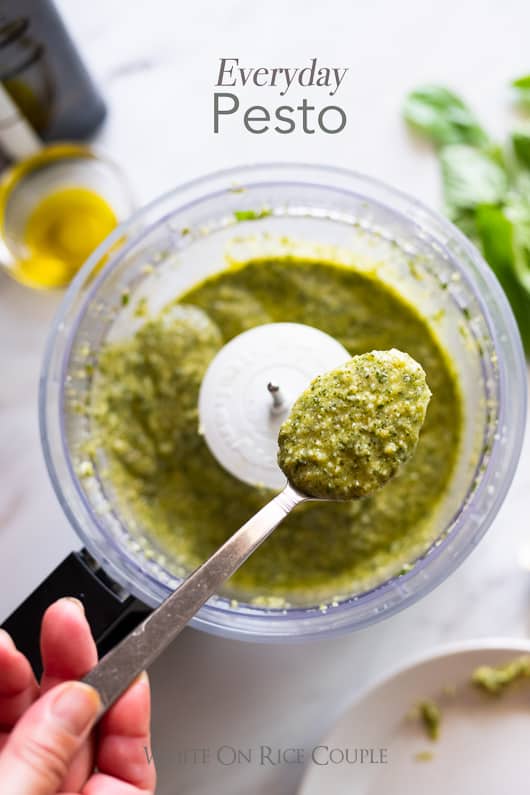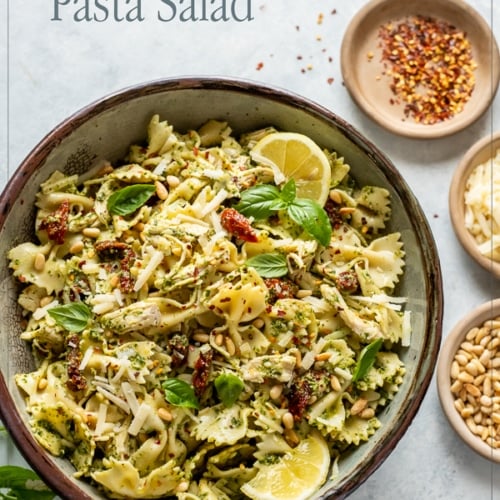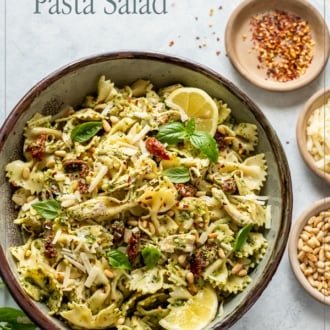 Pesto Chicken Pasta Salad
Make sure to add enough salt/seasoning for maximum flavor. For this much pasta, you must add enough salt to bring out the tasty flavors.
Best part about this salad is that you can totally customize it the way you want. Add more of less of any ingredient to make it perfect to your personal taste! You can use leftover roast chicken for this, the flavor is even better!
The pesto amount is a good starting point. Every pesto will have a different thickness/flavor/saltiness intensity, so adjust to personal preference. Here is our recipe for an everyday great pesto sauce.
Ingredients
12-16 ounces (340-454 g) dried pasta , cooked to package instructions
2-3 cups (340-500 g) cooked shredded chicken
1 cup (240 ml) chopped fresh basil
1 1/2 cups (360 ml) pesto (about 14oz./425g)
1/4 cup (60 ml) olive oil
1 cup (110 g) sun-dried tomatoes , packed in oil & chopped
1 cup (100 g) grated parmesan cheese
zest of 1 small lemon
Juice of half lemon
salt , to taste
fresh cracked black pepper , to taste
extra toasted pine nuts on top , optional
extra grated parmesan cheese on top , optional
red pepper flakes (optional, to taste)
Instructions
Prepare the pasta: Fill a large bowl (big enough to hold cooked pasta) halfway with ice water. Boil pasta to package instructions. Drain pasta, rinse with cold water and shock the pasta by adding it to the cold water to get it cold fast. Once cold, drain the pasta, transfer to a large bowl and set aside.
Nutrition Information per Serving
Calories: 547kcal, Carbohydrates: 44g, Protein: 23g, Fat: 31g, Saturated Fat: 7g, Cholesterol: 41mg, Sodium: 980mg, Potassium: 671mg, Fiber: 4g, Sugar: 8g, Vitamin A: 1338IU, Vitamin C: 7mg, Calcium: 247mg, Iron: 3mg
We are a participant in the Amazon Services LLC Associates Program, an affiliate advertising program designed to provide a means for us to earn fees by linking to Amazon.com and affiliated sites.