Meyer Lemon Magic Custard Cake for Breakfast
Our popular magic custard cake recipe now has a meyer lemon version. With bright meyer lemon flavors, this dessert is perfect for citrus lovers.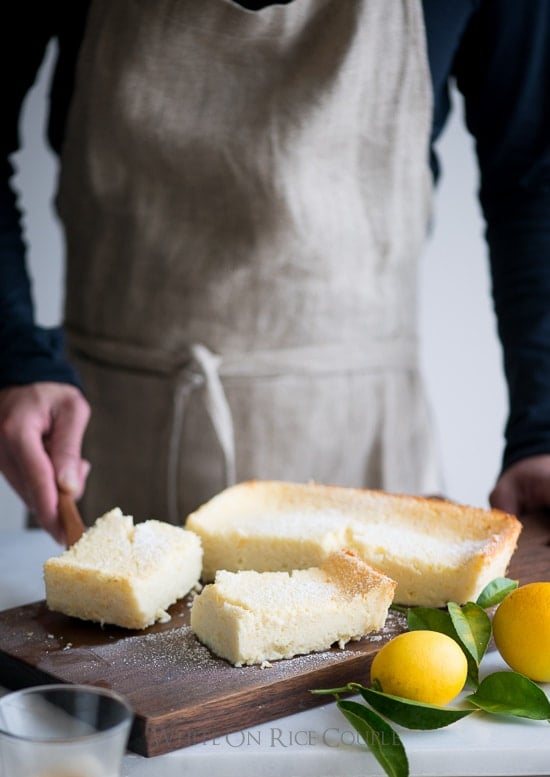 Meyer Lemon Magic Custard Cake Recipe
The Winter Olympics are here and we're trying our hardest to sneak in as much spectator time as possible, on television, that is. There's so much that we love about the Olympics, but it's the personal stories that make watching the events so special. We all have our dreams to pursue and to see someone be able to live their personal dream by just being in the Olympics is so inspiring.
It's hard to not be drawn to each Olympians personal commitment and story to why they love what they do so much. And it's also about understanding their personal drive, un-faultering commitment and obsession to their sport. We're always cheering for for our favorites, even when we scream so loud that it scares the pups. Go Team USA!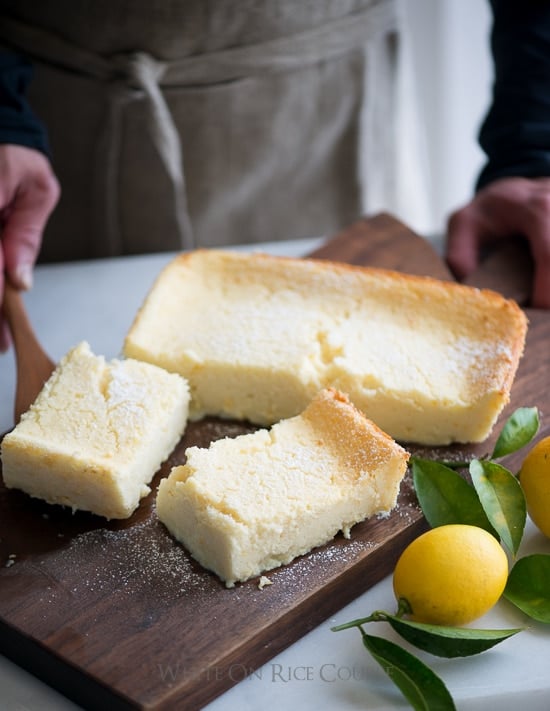 On the topic of obsession, we're not ready to let go for obsession with our magic custard cakes and adoration for homegrown citrus. It started with a craving for blood orange buttermilk pound cake and a blood orange gin and tonic (recipe soon). Then we started picking some meyer lemons from our tree and it all wen't downhill from there. It's a citrus addiction, we tell ya. Citrus therapy, please.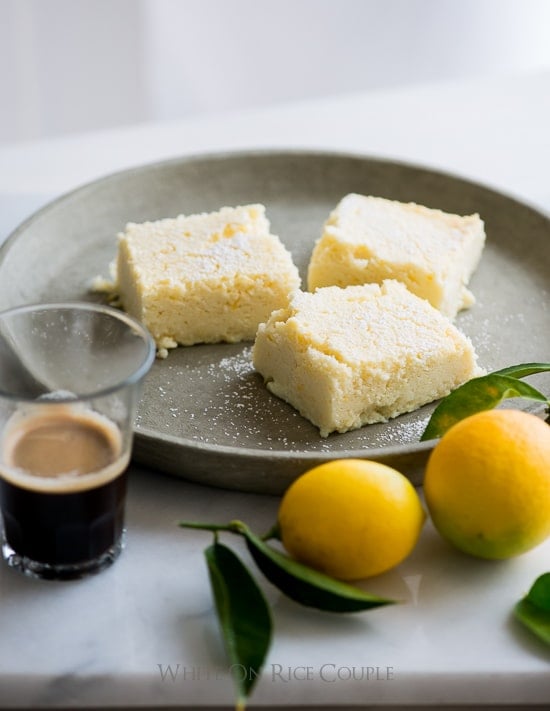 We were wanting to make another batch of magic custard cake for breakfast (it's great with coffee) and had a basket of meyer lemons on the counter. So rather than making the traditional vanilla version, we wanted to experiment with some fresh meyer lemon zest and juice, hoping for a brighter flavor on our original one.
This meyer lemon magic custard cake version is just as delicious as the vanilla version, but not as sweet. It's lifted with the floral and sweet essence of meyer lemon, along with the bright citrus notes of meyer lemon that make it super special.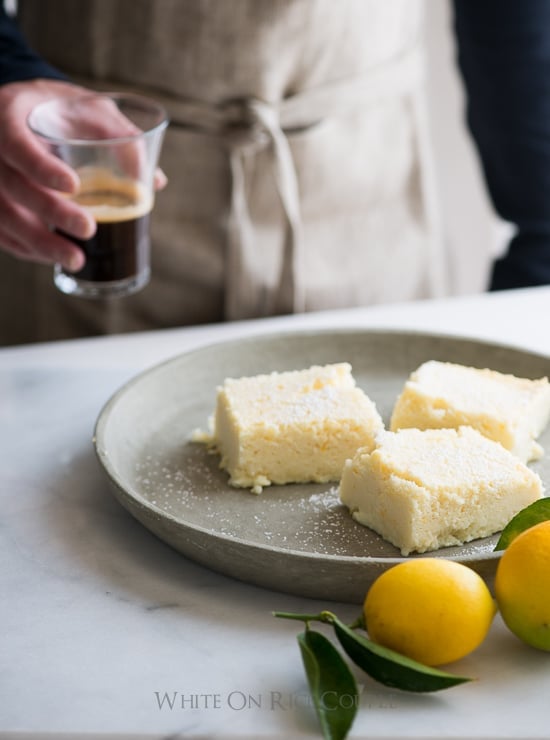 Serve up a slice for breakfast along with a cup of your favorite coffee. It'll start your morning in a simple, lovely and delicious way. The custard cake has enough egg in there, so it's the perfect partner to your morning meal.
Enjoy Breakfast. And Go Team USA!
Diane and Todd
Our love of meyer lemons is endless and last year we even made a video of it. Here it is again to reflect on our love of lemons.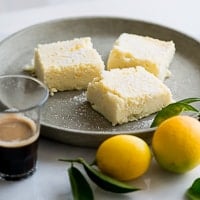 Meyer Lemon Magic Custard Cake Recipe
Adapted from our original Magic Custard Cake. Click here for the recipe.
Temperatures for the ingredients are important here. Not too warm to cook the eggs before baking, and not cold either. You can use either confectioner's sugar or regular sugar, use the same amount by weight but the volume will be different. If you use regular sugar, 150g will equal 3/4 cup.
A few more notes on making the cake: When adding the milk, we found it easier and less messy to gently hand whip them in instead of using the stand mixer. It is a very liquidy batter, and for us it splattered everywhere even at the slowest speed. For folding in the whites, it is done with more of a gentle whisk/folding motion with the whisk since the batter is so runny. The whites will look a little curd like after mixing them in, just try to mix/fold them to the point where there is no big chunks. Because of the custard-like center, when fully baked, there will be a bit of a jiggle, but not a sloppy jiggle to the cake when gently shook. Same after it has cooled. That's about it. Have fun and every time we've made the magic custard cakes, going into the oven we don't think they will work correctly, and after baking they are magically perfect.
Makes one 8"x8" Cake.
Ingredients
1/2 cup (113g) unsalted Butter
2 cups (480ml) Milk
4 Eggs , separated
4 drop White Vinegar
1 1/4 cups (150g) Confectioner's Sugar
finely grated zest from 2 Meyer Lemons
1 Tablespoon (15ml) Water
1 1/4 cup (156g) all-purpose Flour
1/4 cup (60ml) fresh Meyer Lemon Juice
extra confectioner's sugar for dusting
Instructions
Preheat the oven to 325°F. Lightly butter or grease a 8"x8" baking dish.

Melt the butter and set aside to slightly cool. Warm the milk to lukewarm and set aside.

Whip the egg whites and vinegar to stiff peaks. Set aside.

Beat the egg yolks, confectioner's sugar, and meyer lemon zest until light and fluffy, about 2 minutes. Mix in the melted butter and the tablespoon of water for about 1 minute or until evenly incorporated.

Mix in the flour until evenly incorporated. Slowly beat in the milk and lemon juice until everything is well mixed.

With a whisk, fold/gently whisk in the egg whites, 1/3 at a time. Repeat until all of the large egg whites chunks are broken up and folded in.

Pour the batter into the prepared pan and bake for 45-60 minutes or until the top is golden. Allow cake to completely cool before cutting and then dust with confectioner's sugar *see Note 1.
Nutrition Information per Serving
Calories: 281kcal, Carbohydrates: 33g, Protein: 6g, Fat: 14g, Saturated Fat: 8g, Trans Fat: 1g, Cholesterol: 105mg, Sodium: 53mg, Potassium: 127mg, Fiber: 1g, Sugar: 19g, Vitamin A: 509IU, Vitamin C: 3mg, Calcium: 78mg, Iron: 1mg
Here's another great lemon cake recipe!
We are a participant in the Amazon Services LLC Associates Program, an affiliate advertising program designed to provide a means for us to earn fees by linking to Amazon.com and affiliated sites.