Crispy Baked Beet Green Chips
Have you ever thought about making baked beet greens? Our recipe is a great way to enjoy the greens and not let them go to waste!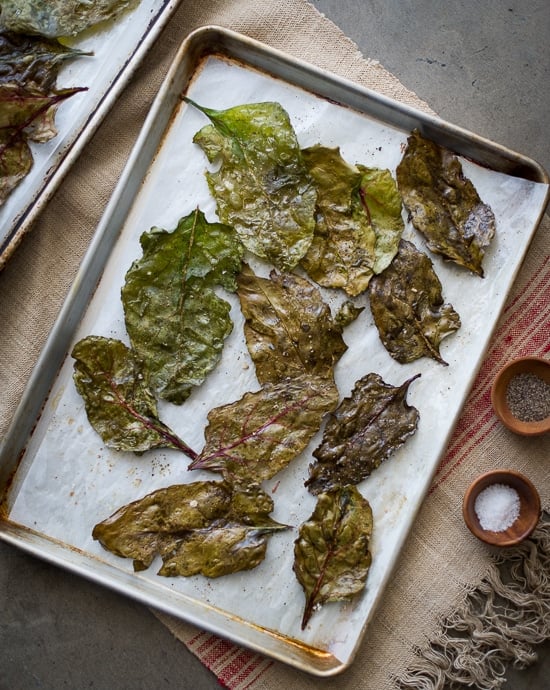 Baked Beet Greens Leaves
We had a full day of green eating a few weeks ago and it doesn't seem to stop. When we cooked up mustard greens we also made a batch of beet green chips as a test. This test turned out to be a nice surprise and worthy of sharing, so here's what we have to say: Don't waste those beet greens, crisp them into chips. That's what we did when our garden beet roots are still to young to harvest but we have so many tender beet greens to pluck. It started with a few handful of seeds tossed in the garden, followed by ridiculously climate-changing warm weather.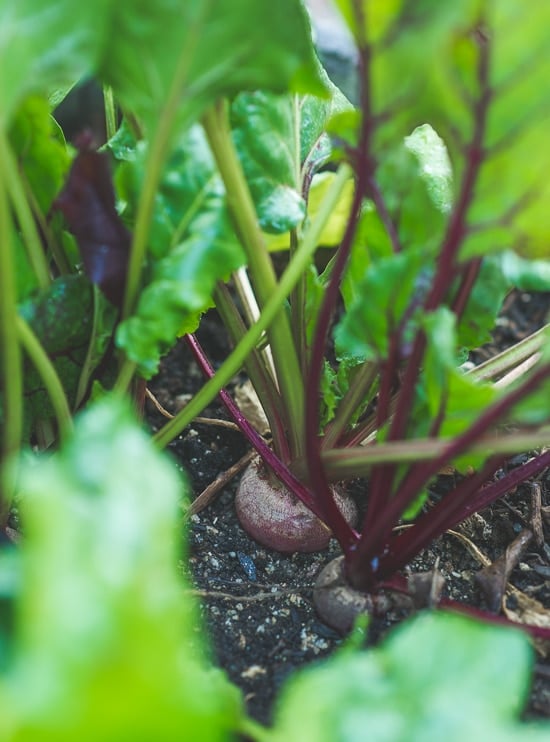 Now we're swimming in tender greens that normally would be peaking in March. So in celebration of our love of kale chips, we're extending our craving for green munchies by using up all the beet greens before the bugs get to them. Kale chips are one of our favorite munchies because not only are they lighter than potato chips, we just love the taste . But it doesn't hurt to mix it up a bit, especially when we can harvest a ton of beet greens this time of year.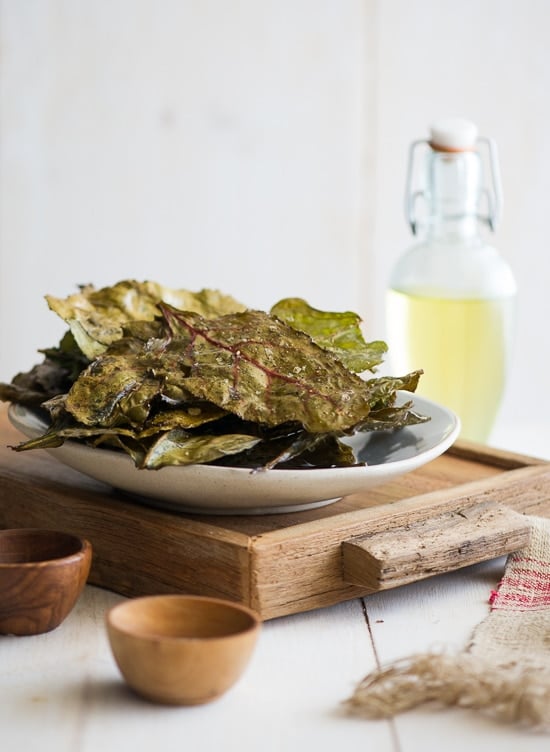 Crisp and Great
Our first thought was what would beet green chips taste like? Normally beet greens are a little tougher and more leathery, but when plucked from the garden beet itself, we're hoping for some better results. And even if the greens are a little tougher? Would it be worth the effort to make them into chips?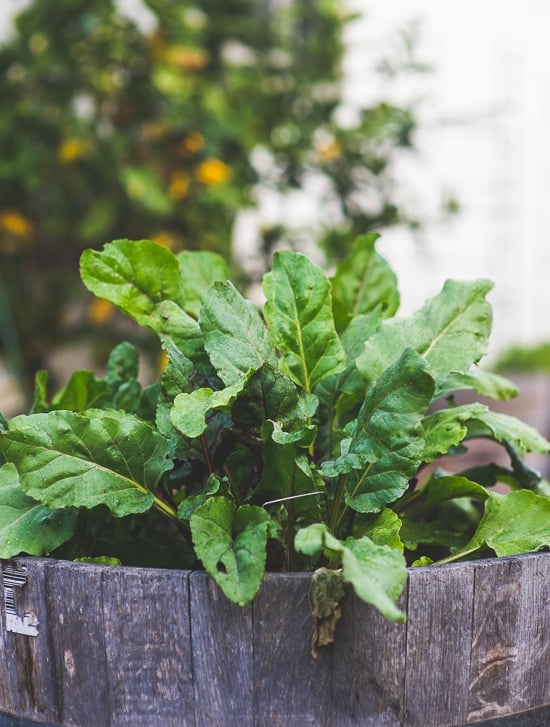 The answer to that question depends on how open minded you are. We loved these batch of baked beet greens, but we weren't expecting them to be as light and crispy as kale chips. Neither were we expecting the flavor to be the same. So we went into this recipe with lower expectations and when the batch came out of the oven, we were thrilled at how delicious they were.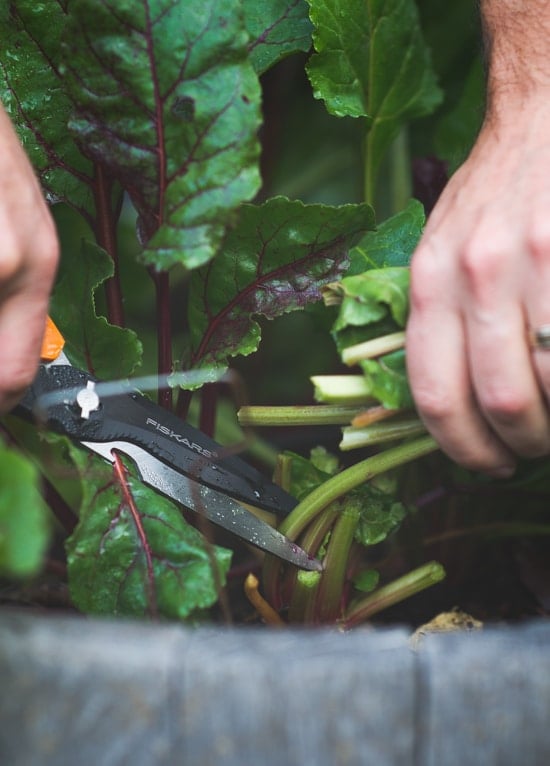 Beet greens are going to be a little thicker, so when baked, they don't have the same "melt-in-your-mouth" texture like you would get from kale chips. And the flavor of baked beet chips are a little more grassy tasting. That's what makes them unique and a light snack when you have some beet greens to use up.
This is one of those recipes that come in handy when you don't want to waste your greens and make use of everything, from leaves down to root!
Enjoy!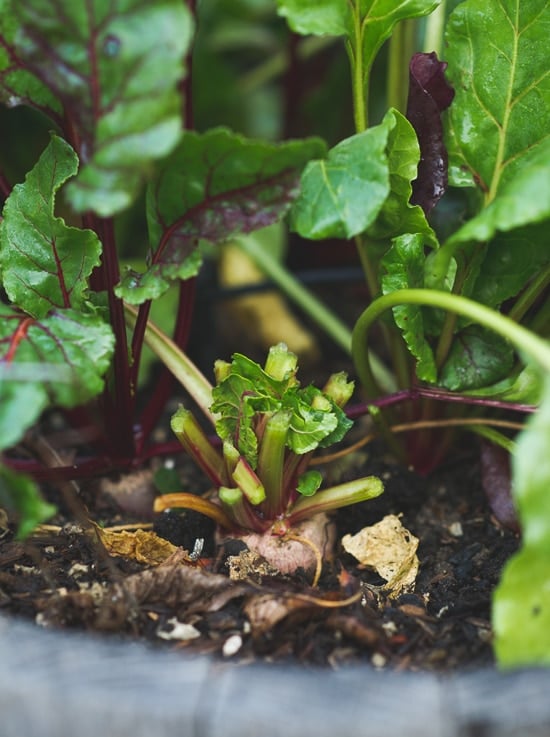 Lexi was so curious about beet greens.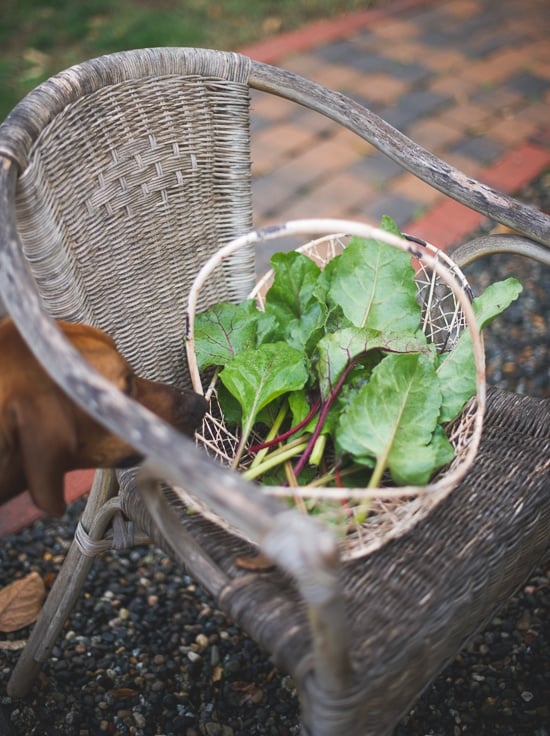 off to the oven with the greens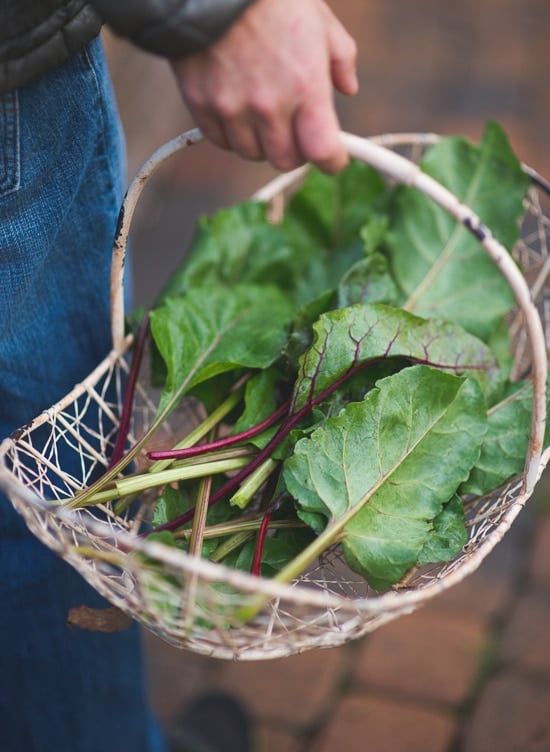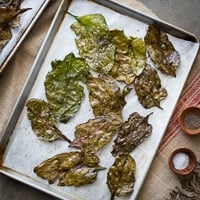 Baked Beet Greens Recipe
See post for additional recipe details.
Ingredients
1 large bunch beets greens
1 Tablespoon olive oil
kosher or sea salt , to taste
fresh cracked black pepper , to taste
Instructions
Pre-heat oven to 350°F. Line one or two baking sheet pans with parchment paper.

Wash beet greens and blot with towels to remove excess water. Remove inner rib of beet stems if they are thick and tough. Smaller, more tender beet greens can be baked with the inner rib intact.

Add all the beet greens in a large bowl. Start by tossing or spraying about 1 tablespoon of olive oil at a time, making sure the beet greens are lightly coated with oil. But do not over oil the leaves or they will become too greasy when baked.

Lay the beet greens in a single layer on the prepared baking sheet. Sprinkle salt and pepper over beet greens to taste. Season on both sides of the beet leaves.

Bake the beet greens for about 15 minutes, turn the beet greens and continue baking for 10 minutes or until the greens are crisp.
Nutrition Information per Serving
Calories: 90kcal, Carbohydrates: 6g, Protein: 3g, Fat: 7g, Saturated Fat: 1g, Sodium: 320mg, Potassium: 569mg, Fiber: 2g, Sugar: 2g, Vitamin A: 9174IU, Vitamin C: 45mg, Calcium: 77mg, Iron: 3mg
More great recipes with greens.
We are a participant in the Amazon Services LLC Associates Program, an affiliate advertising program designed to provide a means for us to earn fees by linking to Amazon.com and affiliated sites.