Grilled Romaine and Corn Salad
When warmer weather arrives, we're obsessed with making grilled romaine salad. It's one of those recipes that we often were curious about but not really too excited to make because the thought of grilling romaine was odd. We absolutely love making fresh green salads that are cool, crisp and wonderfully crunchy. So how could the opposite flavor profiles we appealing to us in a classic grilled romaine salad? Well we gave it a try and now we realize what all the delicious fuss was about surrounding grilled romaine salad.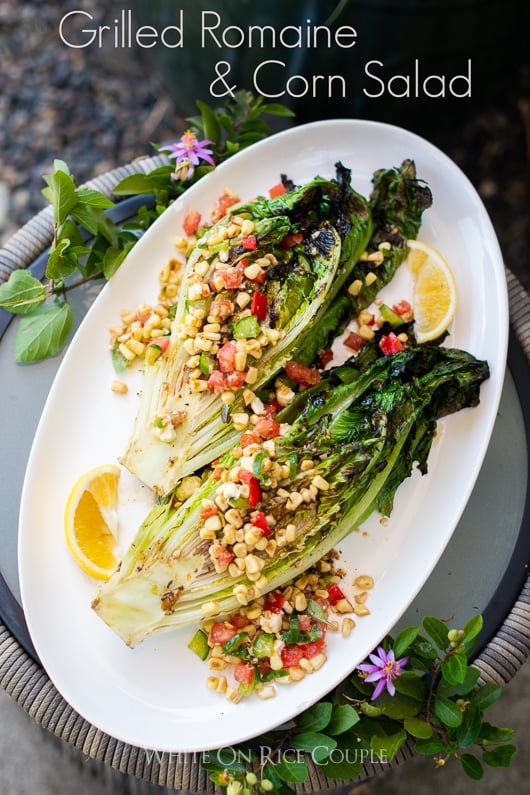 When approaching this dish, we have to release our mind-set beyond our conventional understanding of what a salad should be. Sure, salads are usually cool, crunchy and crisp. But romaine itself is a special lettuce it has a super crunchy center "heart" and leaves that are more firm. The firmness of romaine stands up well to grilling and most importantly, it absorbs the smoky flavor and char so beautifully we don't see it as "lettuce". Think of it as a crisp, light and crunchy vegetable perfect for grilling. As the leaves limp upon grilling, they absorb the wonderful smoky flavors of the grill. The center heart and firm stems still remain crunchy and the whole romaine lettuce itself wilts and cooks like any other thicker and tougher leaved veggies like swiss chard and collard greens.
Watch this Grilled Romaine Salad with Corn Recipe Video:
Added as a wonderful sweet layer to this salad is our grilled corn salad with a bright citrus and balsamic vinaigrette. There's so much flavor, texture and wonderful things happening in this salad that when you bite into it you're like "why haven't I made this before?!". It's super simple to make and a show stopper when plated on a big platter. More importantly, it's so delicious that everyone is going to gush over how perfect his grilled romaine salad is for Summer. If you're looking for a great vegetable side dish to accompany your next grilling gathering, this salad is the one that everyone is going to love and drool over. Add some grilled chicken, seafood or what ever else is coming off the grill. It's a meal that everyone is going to be talking about long after the party is over.
Enjoy!
diane and todd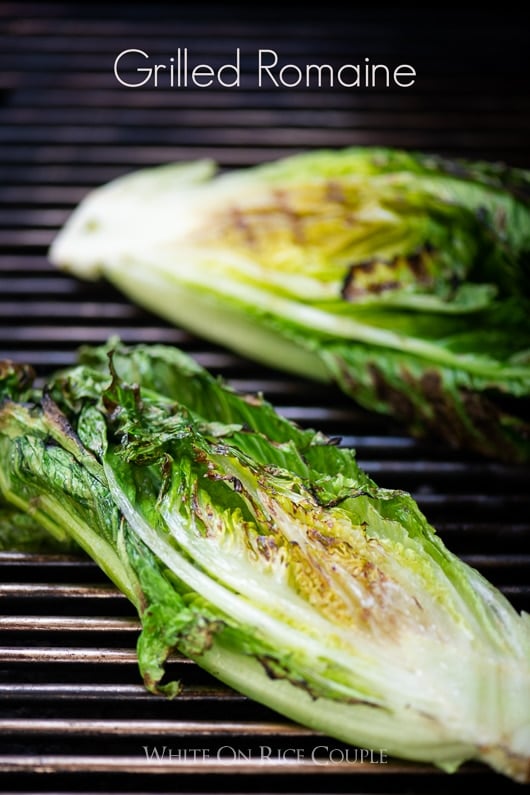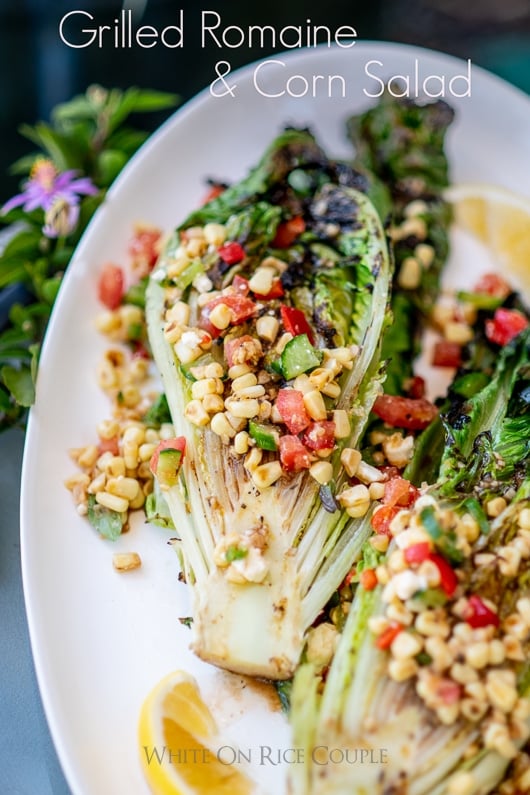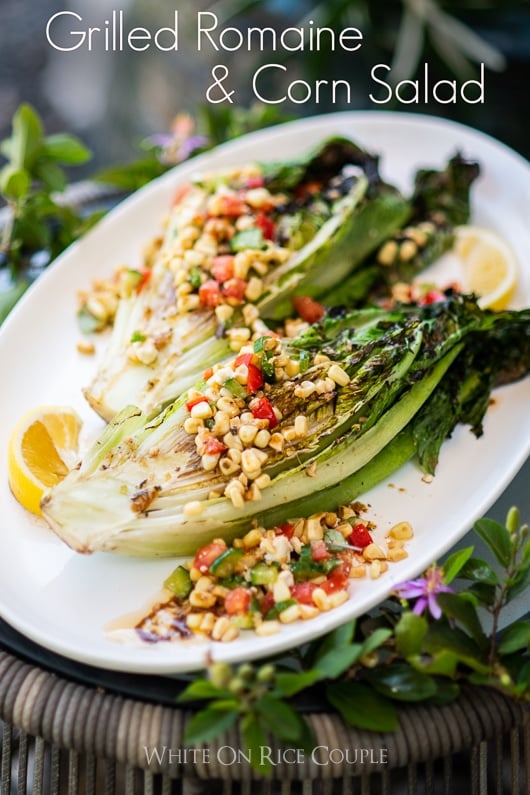 Here's our watermelon arugula salad that a hit for Summer.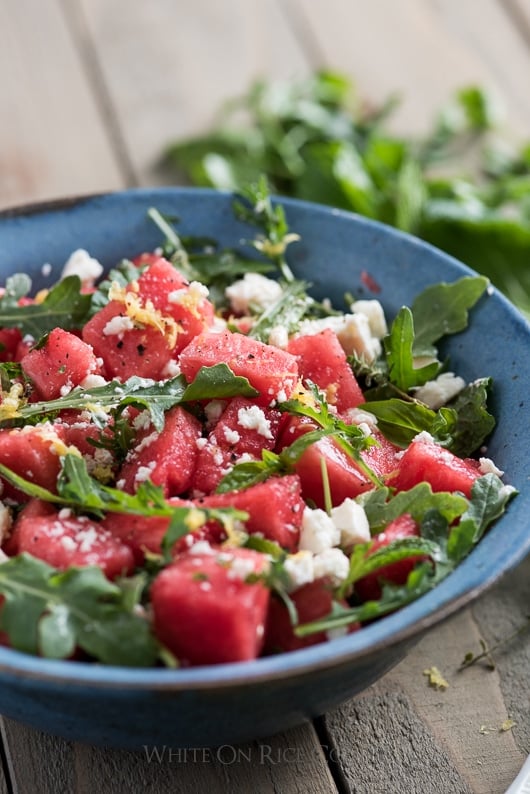 Enjoy or Mexican street corn (elites) salad. It's divine!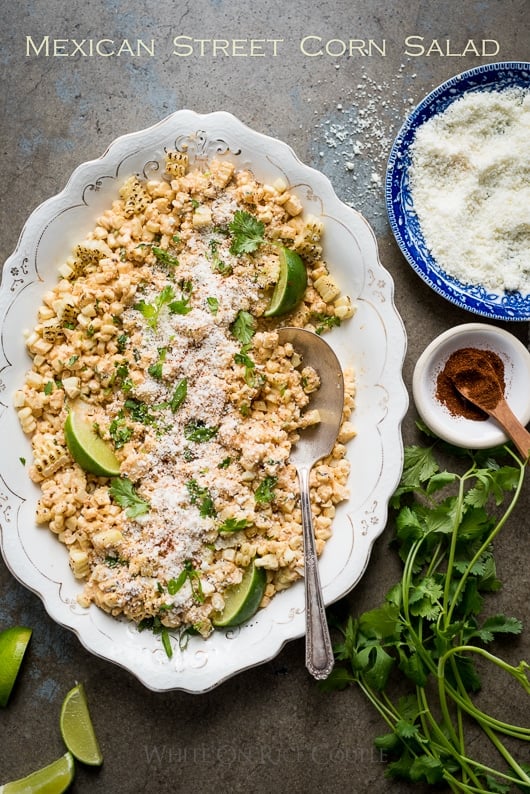 Our refreshing strawberry mojitos are a warm weather hit!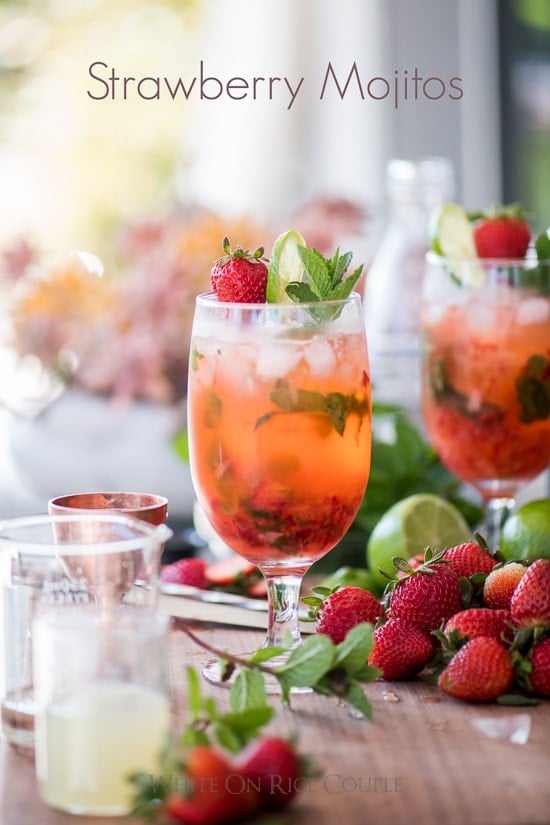 This recipe was originally published in 2018 and re-published in 2020 with updated video. Here's some more great Summer recipes for you to enjoy.
Check out a Few of our Favorite BBQs & Tools:
Some tools, grills, and smokers make BBQ and grilling all the more enjoyable. Here's some of the favorites: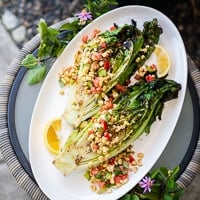 Ultimate Summer Grilled Romaine & Corn Salad
This salad is one of those recipes that's so flexible, you can make it what you want. If you have extra veggies to grill, by all means, add them to this salad. This salad is all about Summer's produce bounty, so have fun!
Ingredients
for the salad:
2 medium (2 medium) heads of romaine , cut lengthwise into wedges
3 ears (3 ears) fresh corn
1 whole (1 whole) bell pepper
1 (1 ) fresh whole chili to taste (jalapeno, anaheim, poblano or serrano)
oil for coating
1 medium (1 medium) fresh cucumber , chopped
1 medium (1 medium ) tomato , chopped
4 oz (113 g) feta cheese , crumbled
fresh handful of basil or herbs , chopped
salt , to taste
black pepper , to taste
for the dressing:
2 cloves (2 cloves ) garlic , crushed or fine mince
1/2 cup (120 ml) olive oil
(Na ) Zest of 1 fresh lemon
3 Tablespoons (45 ml) fresh lemon juice
2 Tablespoons (30 ml) balsamic vinegar
1 teaspoon (5 ml) dijon mustard
1 teaspoon (5 ml) soy sauce (use Tamari for Gluten Free)
1 teaspoon (5 ml) brown sugar
1/2 teaspoon (2.5 ml) paprika
1/2 teaspoon (2.5 ml) fresh herbs (optional)
1/2 teaspoon (2.5 ml) salt , or more to taste
black pepper to taste
Instructions
Make the dressing: combine dressing ingredients in mason jar (garlic, olive oil, lemon zest, lemon juice, balsamic vinegar, dijon mustard, soy sauce, brown sugar, paprika, herbs, salt, and pepper). Close the lid and shake ingredients together until well combined. Or combine all ingredients together in medium bowl and whisk until combined. Set aside.

Heat the grill or bbq to medium-high to high heat (depending on grill's heat intensity). Lightly coat romaine lettuce heads, whole corn ears, whole bell pepper, and whole chili with oil. Grill the lettuce, corn, bell pepper and chili until they're individually cooked and slightly charred.

Allow vegetables to cool, then in a large bowl, shuck the corn. Peel the chili pepper and bell pepper and then remove the seeds. Chop the bell pepper and mince the chili pepper. Add to bowl with the corn.

In same bowl, add cucumber, tomato and herbs. Shake or combine dressing again and toss half the dressing into the salad. Add additional salt and pepper to taste.

Lay romaine on large platter, dress with remaining dressing. Add corn salad on top of romaine on the large platter. Serve immediately.
Nutrition Information
Calories: 404kcal, Carbohydrates: 20g, Protein: 7g, Fat: 34g, Saturated Fat: 8g, Cholesterol: 25mg, Sodium: 720mg, Potassium: 343mg, Fiber: 2g, Sugar: 9g, Vitamin A: 620IU, Vitamin C: 28.5mg, Calcium: 150mg, Iron: 1.1mg
We are a participant in the Amazon Services LLC Associates Program, an affiliate advertising program designed to provide a means for us to earn fees by linking to Amazon.com and affiliated sites.