The Aperol Spritz (3-2-1)

Simple Aperol Spritz Recipe (3-2-1)
We can't stop drinking this aperol spritz. On a hot Summer weekend with friends, you can see empty bottles of our sparkling white wine lined up. Aperol spritz is a classic Italian sparkling drink that is bubbly, refreshing with a bite of orange that can keep you cool on a hot afternoon. You're in for a real treat if you haven't had one. We fell in love with this combination of sparkling wine, aperol and a splash of soda water.
Video: Italian Aperol Spritz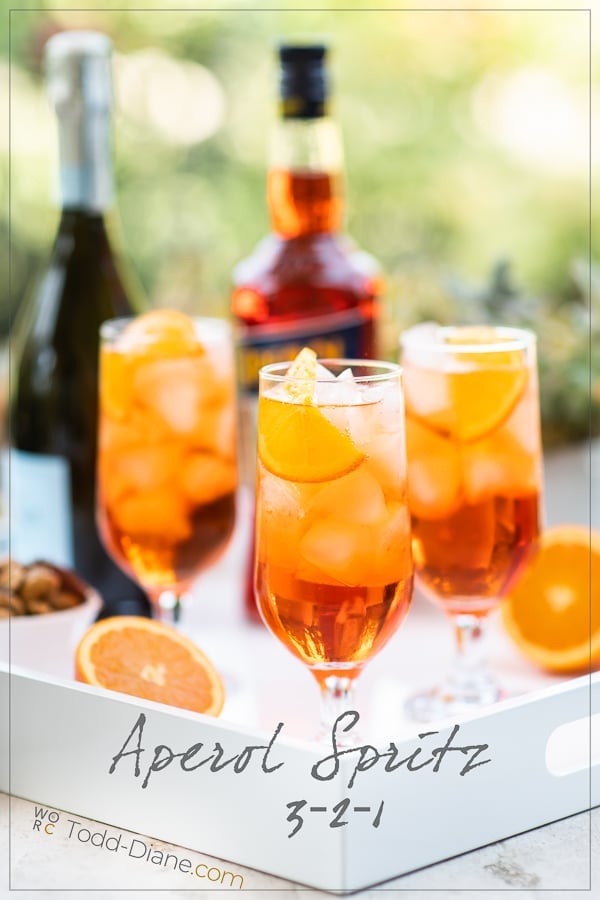 What's the best ratio for Aperol spritz? 3-2-1
We call our recipe: The Aperol Spritz 3-2-1. This is a great classic starter ratio that you won't ever forget.
3-parts Prosecco or dry sparkling white wine (not sweet)
2-parts aperol
1-part soda water or other bubbly
You can easily adjust these ratios to your personal liking, but this is a great starting point for the easy to remember ratio: 3-2-1. This is also a well balanced ratio that isn't too sweet, overly alcoholic, nor overly bitter.
Tips for Aperol Spritz Sparking White Wine Choice:
Proseco is the classic sparkler in the traditional recipe but you can certainly use your sparkling white wine of choice. Choose one that isn't too sweet, as the aperol already ads a balanced level of sweetness to the drink already. You don't want to make it cloyingly sweet.
Other Dry Sparkling White Wines: Cava and dry (Brut) Champagne or Champagne-style sparkling wines. Or go crazy and make it with a nice dry sparkling Rosé. Don't waste the expensive bubbly on a cocktail, but use something that is as least good enough that you'd enjoy drinking it on its own.
Make your first batch using our 3-2-1 ratio, then make your adjustments from there. If you like it less bitter, use less aperol. Want it with a little more kick, bump up the Prosecco, we won't tell.
Add a slice or two of fresh orange. This adds a touch of fresh orange aroma that really is lovely. And it doesn't hurt to have a pretty garnish for your Instagram picture.
Have you tried Topo Chico mineral water? It's effervescent bubbles last for so long and doesn't fizz out too quick for your aperol spritz.
Need an aperol alternative: Here's a great write up on Aperol alternatives. They go into all the fine details.
Favorite Tools and Tips for This Aperol Spritz Recipe:
Enjoy!
Diane and Todd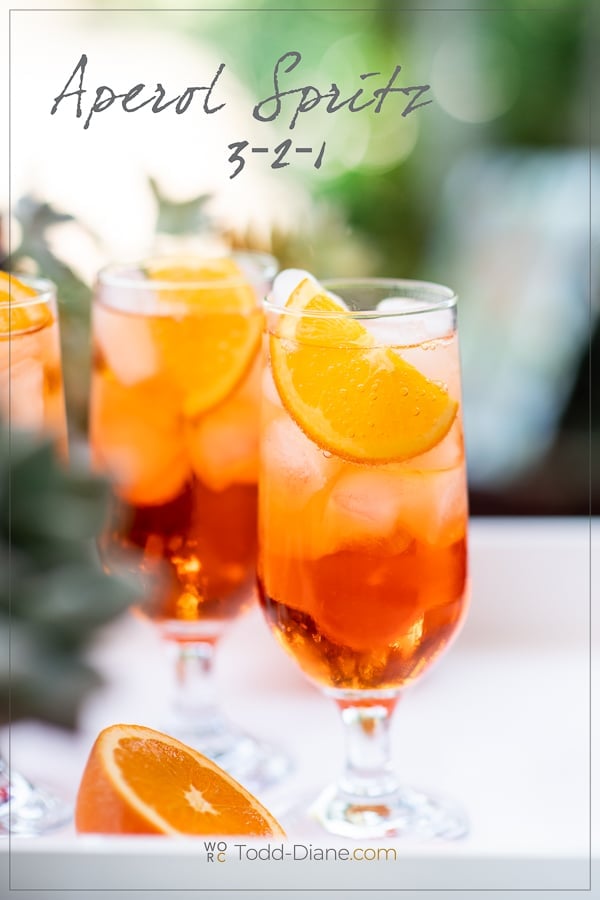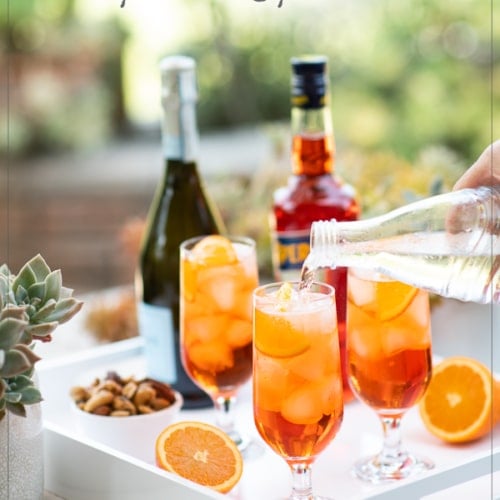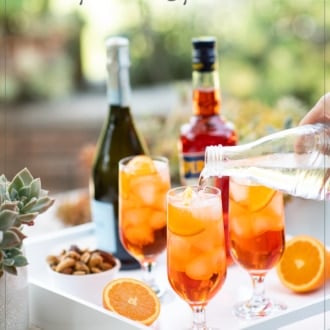 Aperol Spritz 3-2-1
Adjust the ratio to your personal preference. Add more or less Prosecco to your preferred alcohol level (make sure to not just use any cheap sparkling white wine - is should be inexpensive but still nice enough that you'd enjoy drinking by itself). Avoid sweeter sparkling white wines, they will make the spritz cloyingly sweet. Add more or less Aperol to adjust the bitterness. Add more soda water if you want it lighter.
If you can, it is best to have everything chilled ahead of time. If you are making just a few spritz's at a time, these champagne stoppers are great to help prolong the Prosecco's bubbly. We love our soda streams for making soda water at home & on the fly.
Ingredients
3 oz. (90 ml) chilled Prosecco or any nice Sparkling Dry White Wine (Prosecco, Cava, Champagne, etc...)
2 oz. (60 ml) Aperol , chilled if possible
1 oz. (30 ml) Soda Water , chilled if possible
optional - Orange Slices , for garnish
Instructions
Notes
Note 1: What Bubbly to Use:
Prosecco is the traditional choice, as this is an Italian creation. Cava & Prosecco tend to be easier to find a more affordable price point & still be of good quality. If using Champagne, Brut styles tend to go best.
Our general recommendation is to have fun, pop open a bottle that is pleasant to drink, but not so expensive that its merits get lost in a cocktail. We'll usual stick with drier sparkling wines, otherwise it can quickly become too sweet.
Note 2: Aperol Alternatives:
Here's a great write up on Aperol alternatives. They go into all the great details.
Nutrition Information per Serving
Calories: 180kcal, Carbohydrates: 21g, Protein: 1g, Polyunsaturated Fat: 1g, Sodium: 13mg, Potassium: 75mg, Sugar: 21g, Iron: 1mg
More of our refreshing cocktail recipes:
Our complete list of cocktails recipes here.
Extensive whiskey guide
Sangria time drinks for Summer.
We are a participant in the Amazon Services LLC Associates Program, an affiliate advertising program designed to provide a means for us to earn fees by linking to Amazon.com and affiliated sites.