Dragon Fruit flower explosion
When the dragon fruits are flowering, it's a spectacle that every avid gardener needs to experience. Like other plants in the night blooming cereus family, most dragon fruit plants bloom at night, when all is quiet and still. I always felt that they were humans, they'd be the quiet, artistic, poetic types. Seeming un-assuming by day with their rather spiny, crawliing arms, but by night, they wait till the world falls asleep to release all their beauty and gorgeous glory.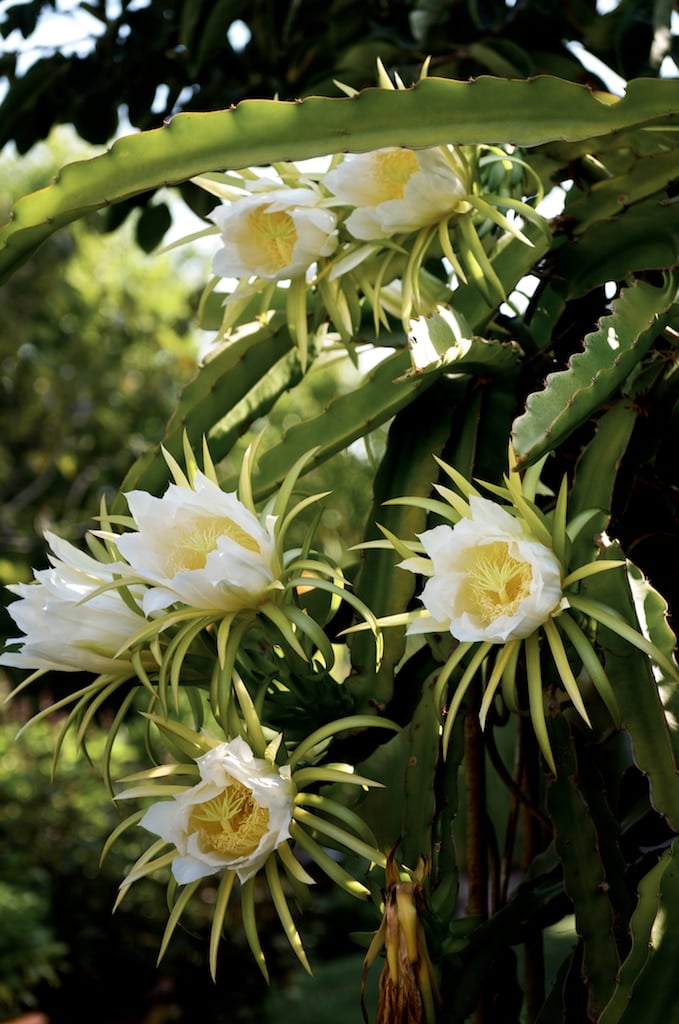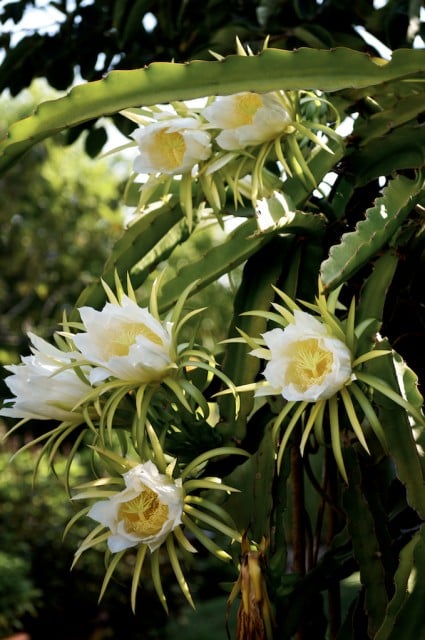 While away in Japan last week, we had a mental list of what was being taken care of back home. My brothers were gracious enough to house-sit for Todd and I (as re-payment for childhood debts that I never received) and with that came many responsibilities. The pups, obviously, had to be tended to, and they did a fabulous job at that. To make sure Sierra (the baby white boxer of the household) was not bored, my brothers made sure she had plenty of playtime, head rubs and new toys every other day. What a spoiled dog.
The other mental note we had was wondering if we would make it home in time to see our dragon fruits in flower.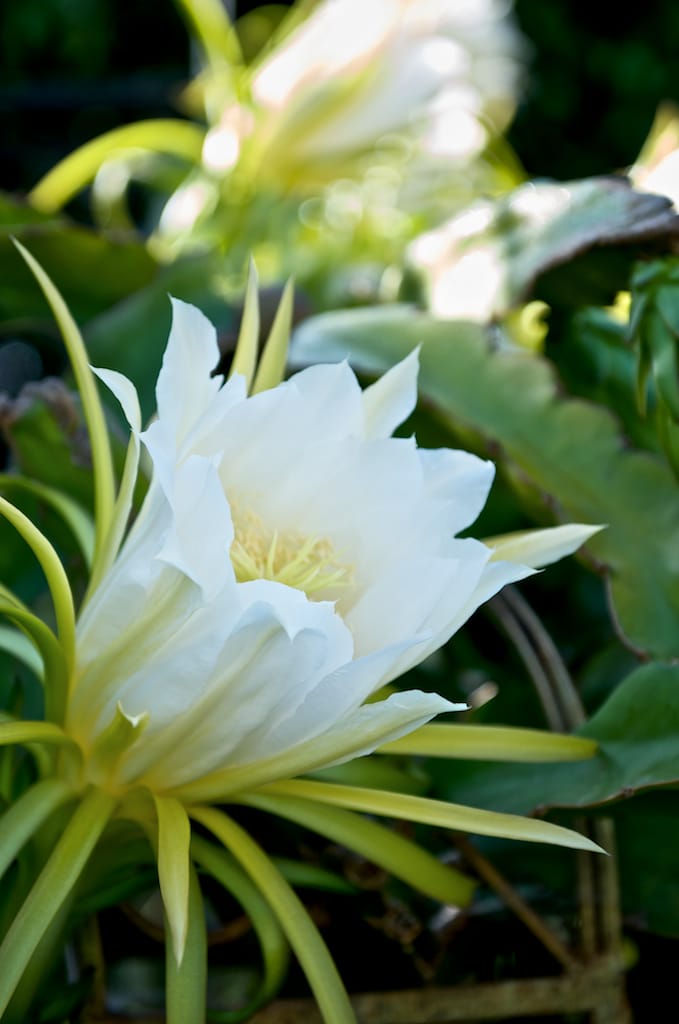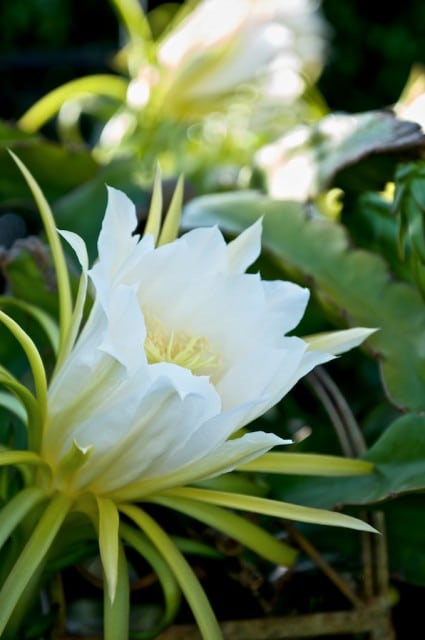 In the dark, we'll normally try to come out with flashlights or wake up really early in the morning and try to catch the 8 hour explosion of blooms. It's a magnificent scene of gorgeous trumpet shaped flowers, all attached to cactus looking plant appendages that make losing sleep worth while. If you sleep in, you'll miss one of natures true blooming wonders.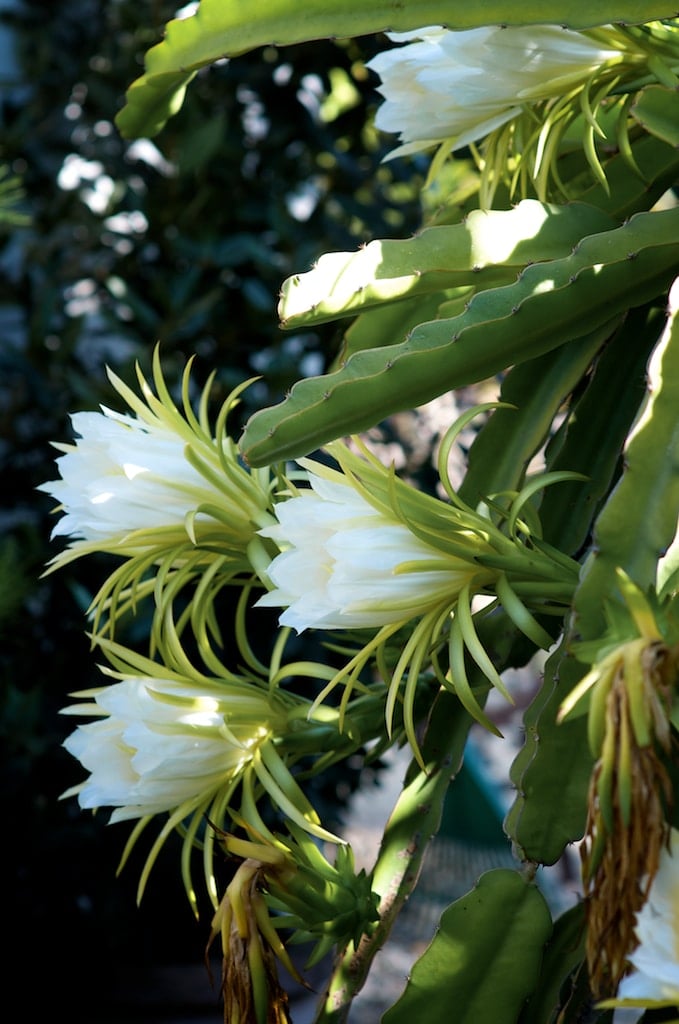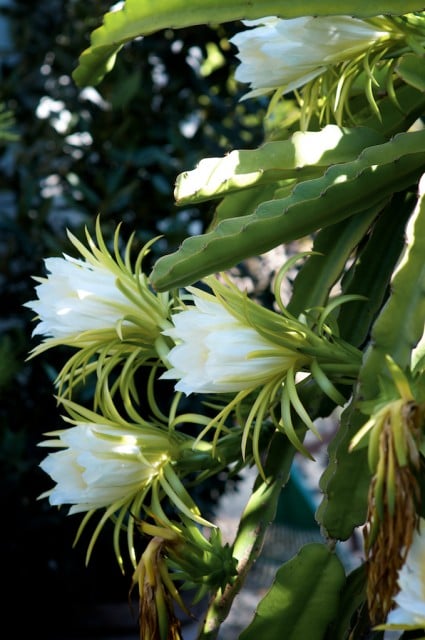 Dragon Fruit Flowers
Dragon fruits are unique and peculiar looking fruits of a cacti family of plants and they're all completely edible. Often times, they vary on levels of sweetness depending on the variety. The most common variety found in most specialty markets, farmers markets and Asian stores are the round, reddish/pink outside variety. The center is normally white that is dotted with black seeds.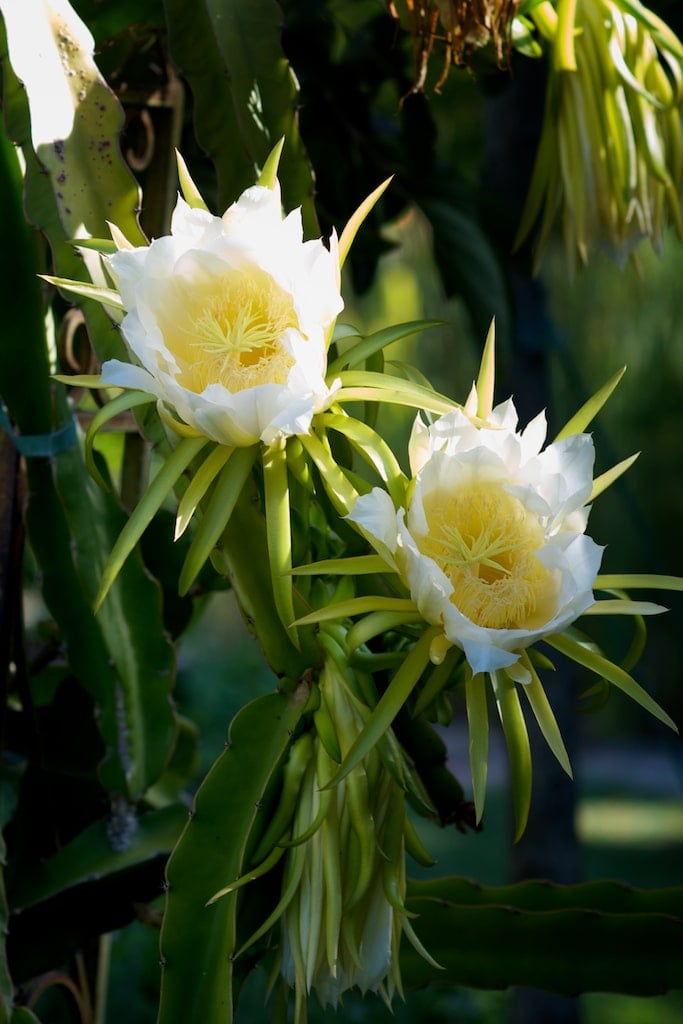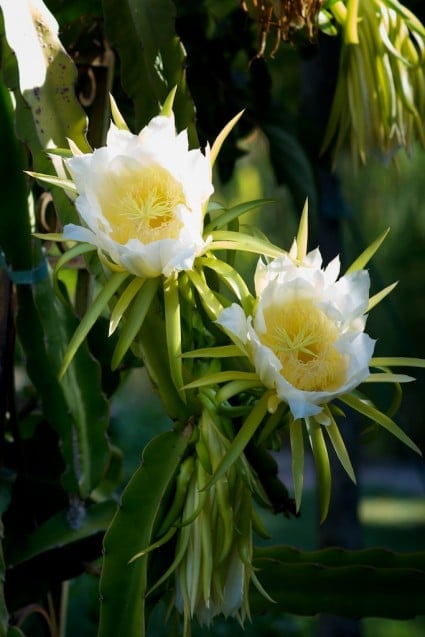 We grow 5 varieties, three of which are rare. With all the summer heat, they're extended their vines and grow about 1-2 inches a day. That's how much they proliferate when the warm weather approaches. Our rare ones have not fruited yet and we're hoping that if they stay untouched for the next year, they'll produce some viable fruit that we can all share with you.
So as you can see, we BARELY made it home in time from Japan to see the glory of one of our varieties. They started to peak in the evening we returned from Japan! What perfect timing! It seemed like they waited for us to come home and what a wonderful home-coming it was.
Lucky Todd was able to photograph these stunning beauties before they went to rest to begin their fruiting stage. I think I was still suffering from jetlag, so thank goodness Todd caught these in time for all of us to enjoy.
Can't wait to show you all new dragon fruit in a few weeks!
Dragon fruit flower power!
-diane
Previous Dragon Fruit Posts and Photographs:
We are a participant in the Amazon Services LLC Associates Program, an affiliate advertising program designed to provide a means for us to earn fees by linking to Amazon.com and affiliated sites.