Fig & Brie Cheese Pizza – Summer isn't over yet!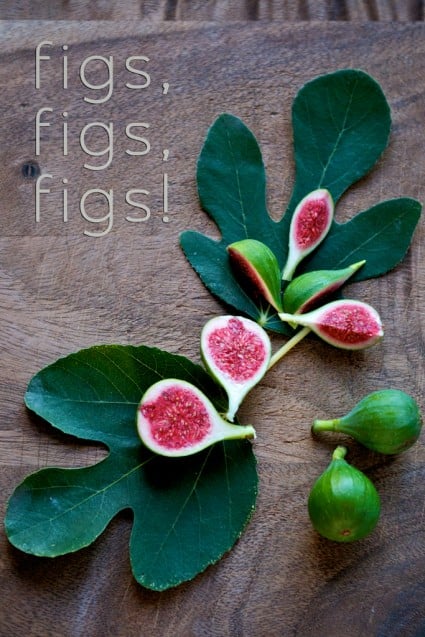 We were ready for Autumn, or what ever version Southern California is capable of, and looking forward to pumpkins, apples and the cooler dry air that marks our fall. However the weather has been indecisive about what season it wants to represent, or maybe it was one last summer ho-rah, because we were just inundated with several weeks of hot, 90°+ sunshine.
Unfortunately, our extension of hot days and plenty of sunshine is playing tricks on the garden. Our tomatoes have found their "second wind" and are now producing way more flowers and growth than ever before. The eggplant and zucchini are plump and adorable and our huge fig tree is offering sweet love to us admirers below (and unfortunately also to the squirrels up above – cheeky, little bastards!)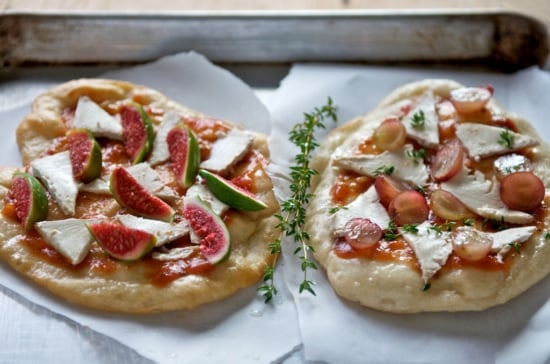 Fig with Brie and Grapes, brie and thyme pizza toppings
Obviously, if the garden says it's still Summer, than we'll heed to their call and bounty. We'll continue harvesting everything that was supposed to grow in August well into October. So it's time to pull out the pizza dough and make some pizzas with all the gorgeous figs in the garden.
We even tried the pizza with some grape toppings and they come out delicious! The pizza possibilities are endless.
-Diane
**Pardon the interuption. It's Todd here and I wanted to chat a bit about pizza.
Making your own pizza crusts is super simple, especially after adapting in the methods from the internet cult favorite bread book Artisan Bread in Five Minutes a Day. Here's our recipe for a thin crust pizza dough, but after chatting with Nancy Silverton just before our Japan trip, she had described a technique for a focaccia crust she saw in Italy which peaked our intrigue. When we come up with a recipe we love for a plump, thick crust, we'll post about that as well. If anyone has a dough recipe that they are mad over, please feel free to share it in the comments.

For our thin crust pizzas, I picked up a lovely little trick while working in the restaurant underworld. We'll make a batch of 5-6 crusts, par bake them, then freeze the crusts for future use. When you are pizza starved, take a crust out of the freezer, crank up the oven to 450-500°F, and while your oven heats up and the crust thaws a little, prepare your toppings. Brush the crust with touch of olive oil, put on your toppings, toss in the oven and in 5-10 minutes the pizza is ready.

Now back to the regularly typed commentary…
"Pizza with figs? Grapes!?" you may be wondering with a bit of skepticism. "Yes!" we say. Heartily, yes.
It isn't that bizarre when you compare figs to a classic pizza topping, tomatoes. Tomatoes are, after all, a fruit not all that different from figs in texture and sweetness. The grapes came out pretty tasty, too. Their flavor profiles are a bit different from tomatoes, and that is where the brie cheese comes in.
Fruit with brie cheese pair wonderfully together in sandwiches and salads. Topping them on pizza is even better, where the cheese is able to melt and the fruit roasts down to expose its nectary sweet sugar flavors. The thin, crisp crust of the pizza provides the perfect delivery of Autumn/Summer's bounty.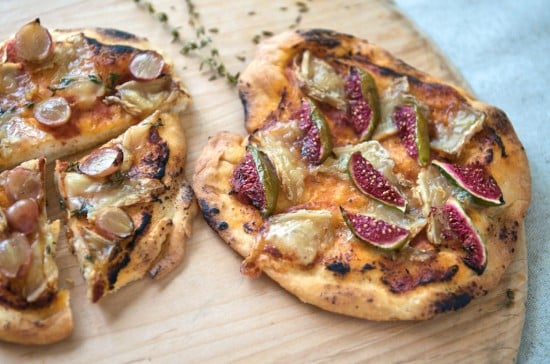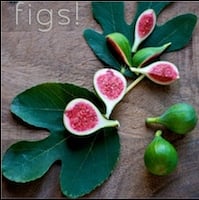 Fig & Brie Pizza Recipe- or with grapes
If you must, call this a recipe. But really, it's more of a list of toppings and simple assembly. Get creative and try it with other fruits!Makes 1 pizza
Ingredients
Brie cheese , thinly sliced
Handful of ripe figs/grapes , sliced
fresh basil (optional)
fresh cracked pepper (optional)
sea salt (optional)
Instructions
Pre-heat oven to 450°F.

Brush pizza crust with olive oil. Add a thin layer of tomato sauce, then place brie and figs on crust. Sprinkle with fresh cracked pepper & sea salt, if desired.

Place crust on baking sheet lined with parchment paper. Bake in oven for @ 10 min. or until crust is nicely browned.

Remove from oven, & finish with fresh basil, if desired.
We are a participant in the Amazon Services LLC Associates Program, an affiliate advertising program designed to provide a means for us to earn fees by linking to Amazon.com and affiliated sites.