Kyoto! Nigishi Market – Aritsugu Knives – Saba Zushi
Our article on Arigitsu Knives is an oldie but goodie fro 2009. We look forward to visiting again soon.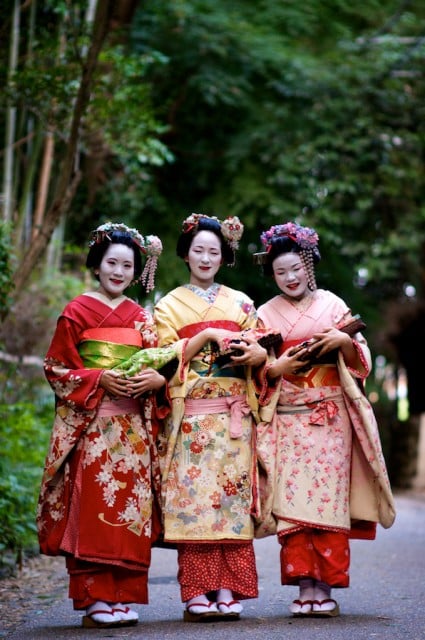 Beautiful Kyoto, Japan
Kyoto is embraced with the beauty of Japan's past. History is preserved in the city's old buildings, valued temples and scenes of traditional life that still roam the narrow streets.
Going to Japan we had no wants of trinkets, souvenirs, or other little nick-knacks to bring home. We only desired for the experience of Japan's modern savvy and its treasured past, and to acquire two things. In Kyoto we would experience a bit of Japan's past and find the first of our two treasures; a knife crafted in Japan.
Our original plan was to go to Sakai, just outside Osaka, where it is the heart of Japanese knife making. However without proper introductions it would be difficult to get in behind the scenes, plus a day searching for the knife makers would seriously cut into our food exploring time.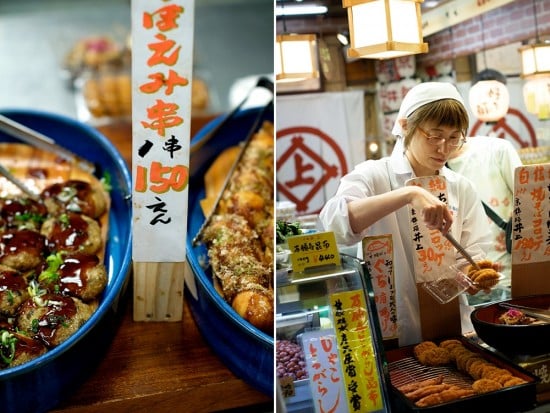 In order to make the best use of our short time in Japan, we went with Plan B; ask the locals and find a great knife merchant. Whether we were in Tokyo or in Kyoto, one name came up repeatedly. Aritsugu at the Nishiki-Koji Market in Kyoto was knife maker to find.
This was a double bonus for us. We'd been told Nishiki (as the locals call it) is the place to go to in Kyoto to find great street food and stalls, so it was already on our list of places to visit. Then to add on the prospect of being able to find a great Japanese knife, my heart was starting to pound. I've always been fascinated Arigitsu Knives.

Nishiki Market in Kyoto, Japan
Nishiki Market was everything it had been touted to be. Several blocks long down a narrow street in the heart of Kyoto, it had a roof overhead to protect from the elements, and was packed continuously with street stalls mostly focused on food: noodle shops, pickled goods, fish mongers, fruit vendors, mochi places, places-we-have-no-idea-what-they-are-called-but-had-really-tasty-stuff.
We ate, sampled, sniffed, and stared at all of the beautiful foods at Nishiki Market. Well, we tried not to stare too much, since we've found the Japanese tend to be super polite in the not-staring department and we didn't want to offend.
In several of the stalls we found one of the great culinary specialties of Kyoto, saba-zushi.
Saba-zushi (yes, it is spelled with a "z"-we asked twice) is a one of the older, tradition styles of sushi that was the forbearer of the current sushi today. This style dates back to the 16th century, before raw fish was a regular part of sushi's make up. Saba zushi begins with mackerel that is cured in vinegar, then pressed with seasoned rice (with vinegar & sugar) and wrapped in a bamboo reed for a set period of time. Some say a few hours, others have said a few days, so we aren't 100% sure which way is true in modern preparation.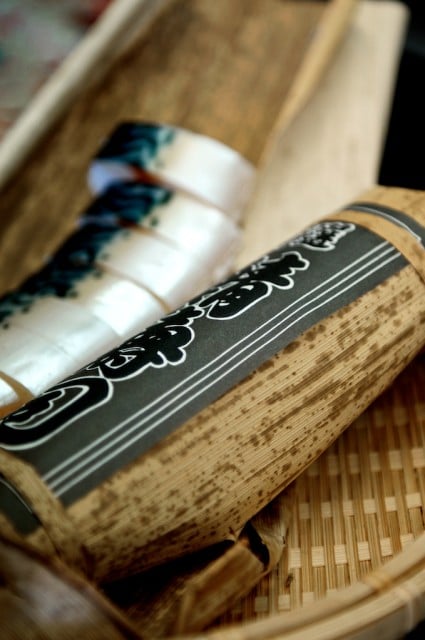 Saba-zushi originally began as a way to get the "fresh" mackerel to the Kyoto-ites in their more landlocked position without having the fish spoil. It may take only a half hour from Osaka on the shinkansen today, but back in the 16th century, travel wasn't so fast. It was beautiful to experience a bit of culinary history, preserved (in tradition and preparation) and revered in the graceful city of Kyoto. Saba-zushi should definitely be on your food list when you're in Kyoto.
Arigitsu Knives, Kyoto Japan
We continued working our way through the market, until the glint of steel caught my eye. "ARITSUGU!" bellowed my head in a deep, gutteral, Japanese rhythm.
Diving into the Aritsugu knives shops, we had no knowledge of their history or quality. We were following the recommendations of people we trusted and would be basing our purchases off of gut feelings.
After wandering and admiring the store for a bit, I started talking to one of the sales ladies, me in my broken Japanese, her in her broken English. She would bring out several different type of blades and explain their differences: carbon steel, stainless steel, combinations of both, double edged, single edged, and all the different shapes.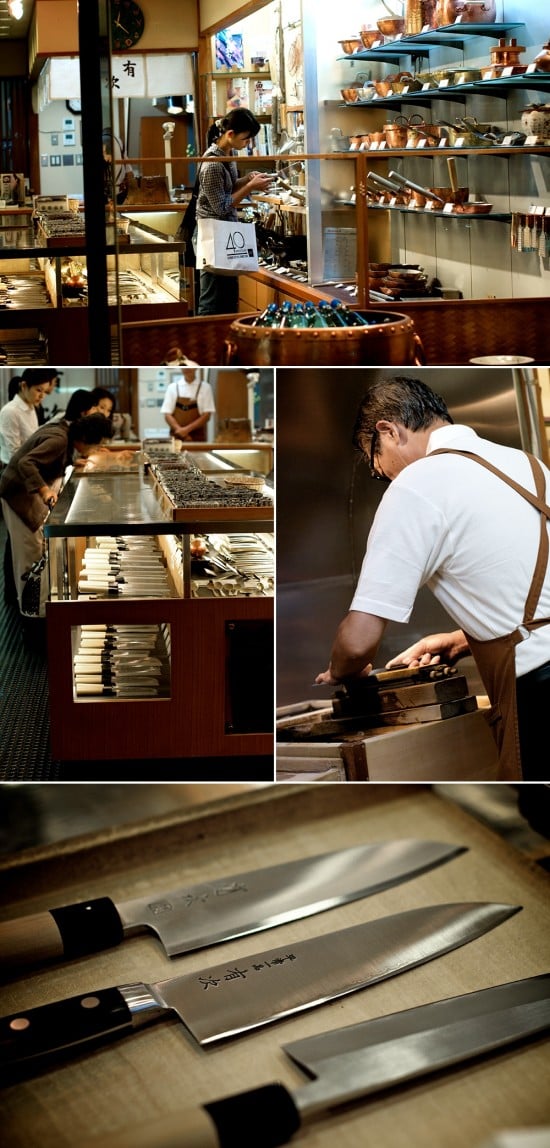 Originally I was intent on buying a Japanese style knife, but Aritsugu also makes western style chef knives, and the second I felt one it merged into my hand extending effortlessly and with purpose. "Be true to thyself" echoed in the back of my head and I knew this was the knife for me.
After nodding my acceptance and handing over a little less than ¥20,000 (@ $225) for a roughly 9 1/2″ chef knife, they finished sharpening it, showed me how to care for and sharpen it myself. Then they asked if I wanted it engraved with my name. After a moment's thought, a glimmer came to my eye and I pointed at the tattoo on my forearm – "Cowboy" written in katakana.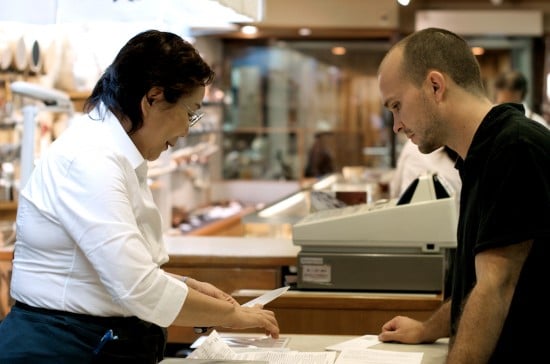 They smiled, nodded and engraved the steel that would become my own. While the craftsman engraved, in Japanese I haltingly told the curious shopkeepers that it was the name my dad called me growing up. Their faces beemed and lit up with approval. "Ahh, you cowboy!" they exclaimed, mimicking a lasso being thrown. It seemed they were happy to a have one of their knives going home with me.
After a final cleaning and wipe, they finished the sale in classic Japanese artful attention to detail. After boxing the knife, she delicately wrapped the box in paper, then taking the wrapped box, she laid it in a cloth with their name written in Kanji and containing their crest, and carefully tied the box in the cloth. Then everything was placed in a bag then they bowed and handed me my knife. I bowed in return and thanked them, leaving the shop to their chorus of thanks.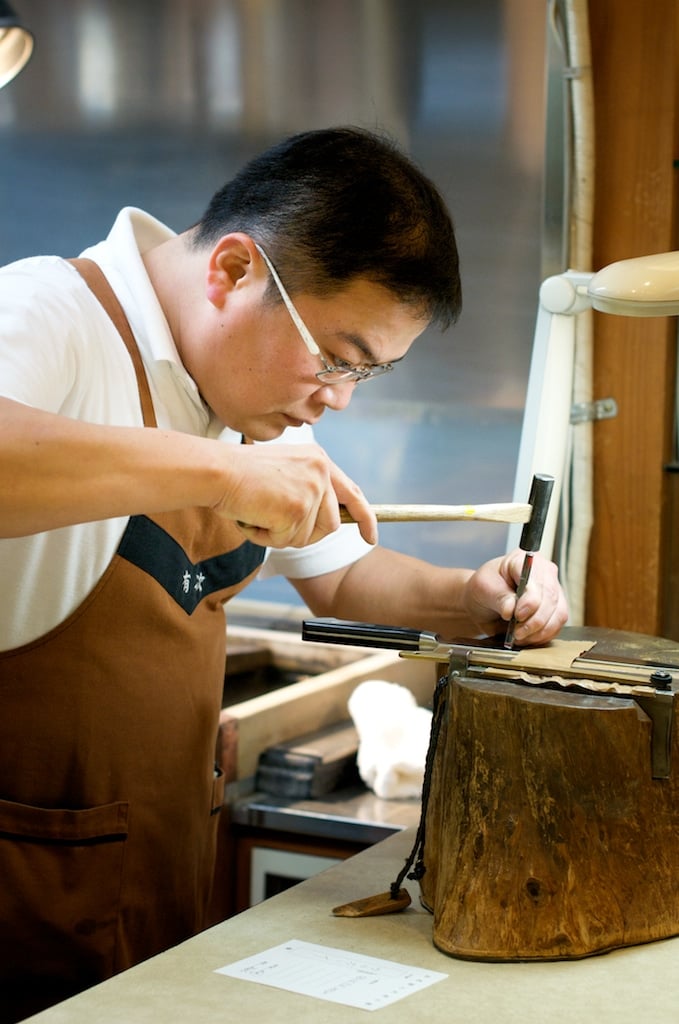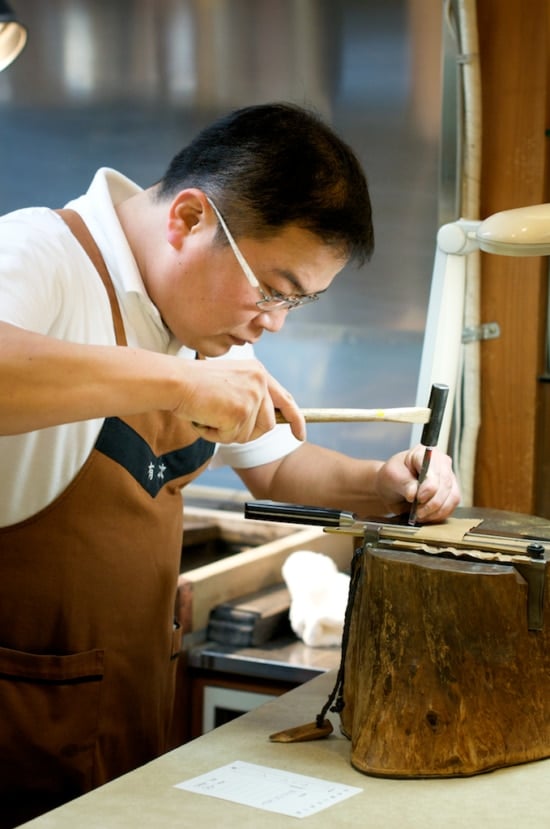 It was only after we got home that I researched more about Arigitsu Knives. Like saba zushi, Aritsugu's history dates back to the 16th century. The original founder opened shop and began crafting blades in 1560, and at one point was making swords for the Imperial family. Today they have transitioned to culinary knives (among other similar tools) and are probably one of the most well known knife makers within Japan, debatably one of the best. If you're curious for more, zknives tells it with much more knowledge than I can.
Whether or not they are the "best" I can't tell you, however what I can tell you is that the knife cuts beautifully. As much as I loved my Wusthofs (and I had recently sharpened my chef knife to its finest level since I've owned it) they are nothing compared to the way this knife from Aritsugu cuts. Slices are effortless and dead straight, with only a slicing motion and virtually no pressure beyond gravity pulling the knife through the food. The knife is actually lighter than my Wusthof chef knife, even though it is an 1 1/2 – 2″ longer and as tall of a blade. After only a couple days of cooking I am already in love. If the blade holds its edge as well as people have said it will, I will be dumb-foundedly awed.
The Arigitsu Knives I bought has a carbon steel core and cutting edge with the outer surfaces being wrapped in stainless steel on all but the last 1/2″ of the cutting edge. If you look closely at the pictures of the knife, especially the bottom picture of the collage of 4, you can see where the stainless steel ends and the carbon steel begins. The carbon steel edge will rust if not taken care of, however Aritsugu can rest assured that this knife will be respected and well cared for.
Thank you Aritsugu, for your care and craftmanship. I shall always cherish, value, and use your pounded, tempered, and honed steel. どうもありがとうございます.
**A note for those who would like to purchase an Aritsugu knife without having the chance to go to Japan: They tend to be hard to find, and when you do find them they usually don't have the finished sharpening. It is a fairly common practice amongst Japanese knife makers, maybe with the understanding that a serious person who buys their knife will know how they want it sharpened and will do so after they have received it. Just so ya' know.
-Todd
hope you enjoyed our article on Arigitsu Knives . Read all our Japan travel articles here.
We are a participant in the Amazon Services LLC Associates Program, an affiliate advertising program designed to provide a means for us to earn fees by linking to Amazon.com and affiliated sites.