Cream Puffs with Fluffy Creamy Meyer Lemon Curd
Our popular cream puffs recipe is fluffy and wonderful. We use meyer lemons because our trees are plentiful with fruit. But you can use any lemon variety you want.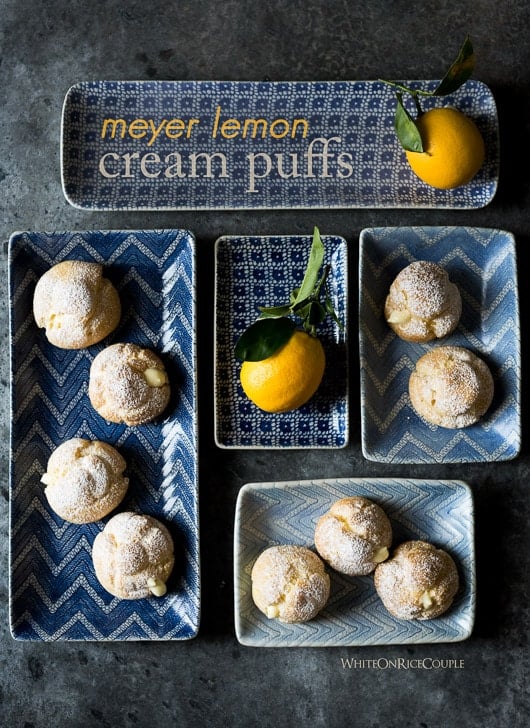 Easy Cream Puffs Recipe
It's this time of year that we're raining citrus in Southern California. Over the course of our gardening journey, we've become a little greedy. Call us hoarding if you wish, but what ever the confession is, we've always been obsessed with citrus, especially meyer lemons.
Since we started planting our garden in 2002, we've collected almost 40 fruit trees, over half have been citrus trees ranging from the everyday lemon to exotic yuzu and buddhas hands. It's not that we haven't had our challenges. Some citrus trees have and continue to flourish, while some have died under stresses of disease, pests, over-watering, under-watering and from our learning curves.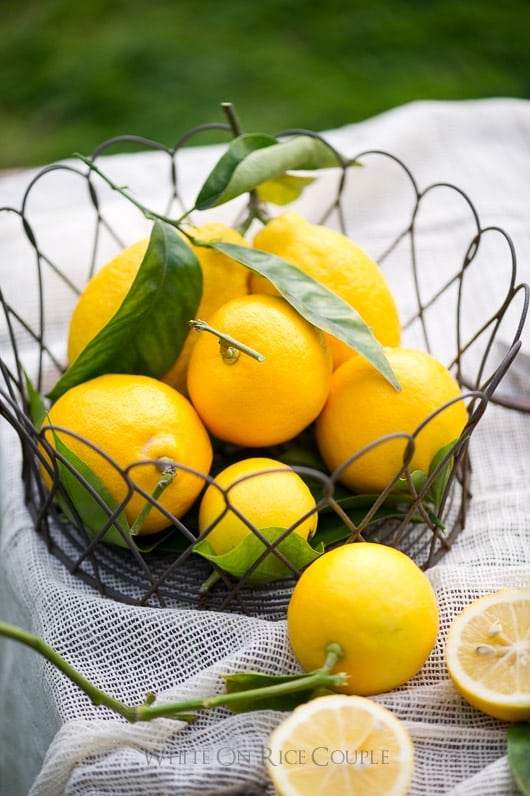 An oldie but goodie video: For the Love of Meyer Lemons
Both the success and losses of fruit trees haven't stopped our obsession. When we lose a tree, we grieve over our loss and bounce back to figure out what we did wrong and start over again. When we look at a flourishing citrus tree in the So Cal winter and early spring when it is at its peak, it's hard to not to fall in love with the whole process and end results. Call it obsession, addiction or just pure love. We're totally enamored with citrus to the point where we might need therapy.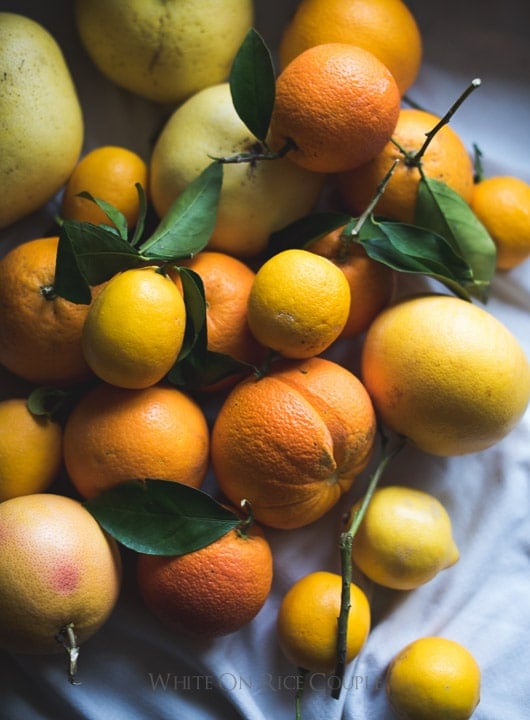 This month has been fantastic and Mother Nature has been generous with meyer lemons. Our two trees are happy, healthy and just won't stop. We're trying to keep up with every meyer lemon recipe we can find or develop, but it's hard to hoard it all ourselves. A few big bags and baskets have been passed on to friends and neighbors and always followed by a big gasp and smile of lemon love.
One of the biggest joys in gardening is to share our abundance and bounty with those who appreciate it. Because of those happy faces, we just can't stop. Bunches of citrus bring so much joy, they're like Winter's Sunshine.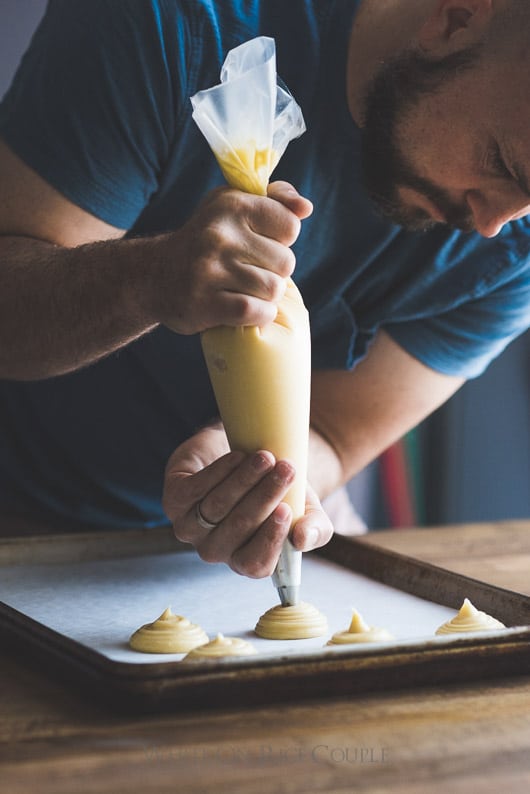 piping the puffs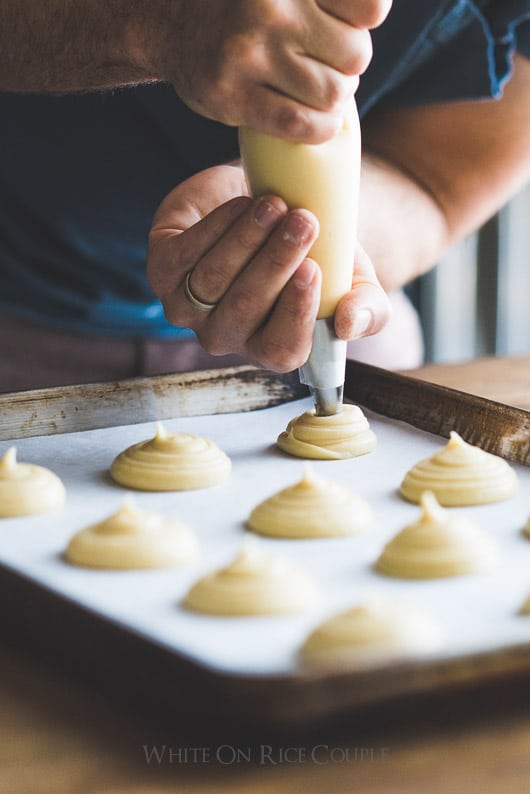 pipe the puffs to a consistent size for even baking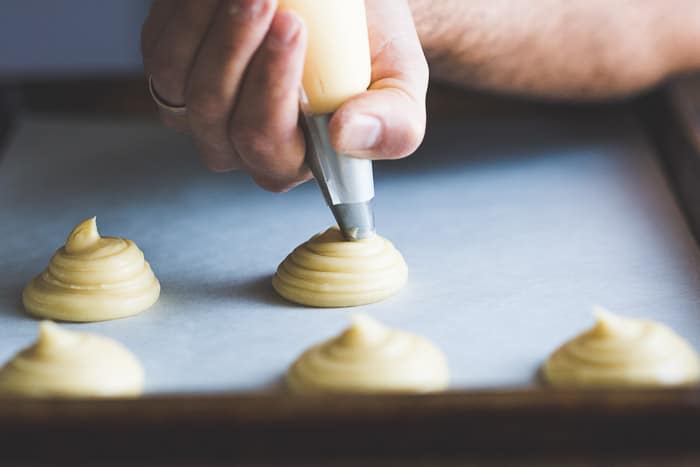 Last week was all about this cream puffs recipe with meyer lemon curd. Folks is literally the best filling we've ever had. You must try a batch!
The whipped meyer lemon curd filling is fragrant, floral and full of meyer lemon flavor. It's this meyer lemon curd that is perfectly tangy and sweet, and then when folded into whipped cream the texture becomes INCREDIBLE. It's hard to not eat it by the spoonfulls. You just might end up eating the whole bowl of fluffy whipped meyer lemon curd. Who needs the actual cream puff?!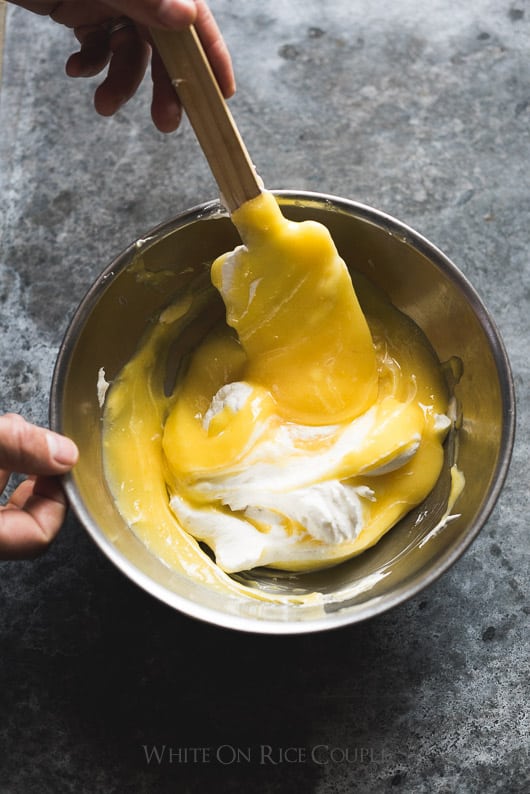 gently fold the lemon curd into whipped cream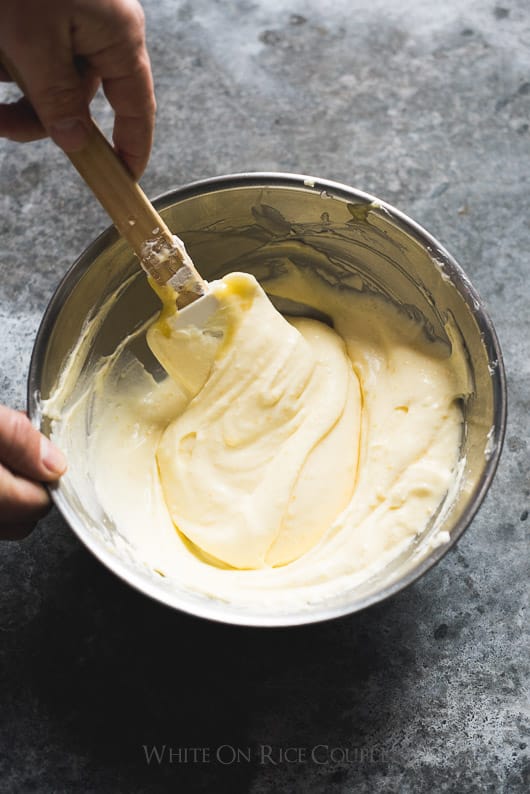 Don't feel guilty if you find yourself making a second batch of the whipped fluffy meyer lemon curd. It just means that you love meyer lemons just as much as we do.
Cheers for the love of meyer lemons,
diane and todd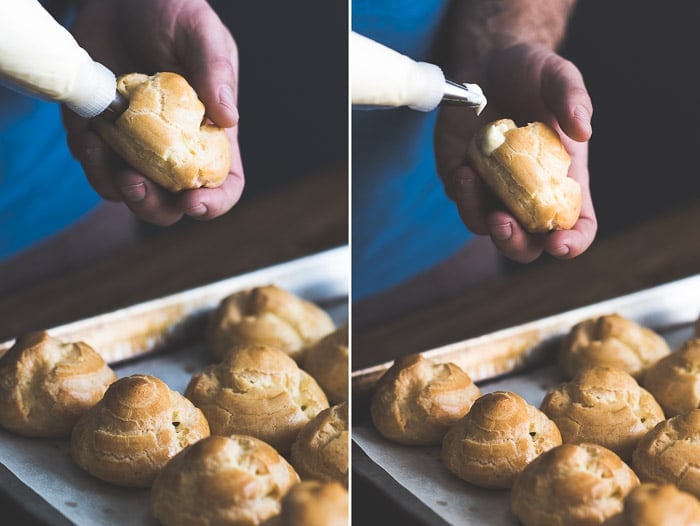 poke and stuff with creamed meyer lemon curd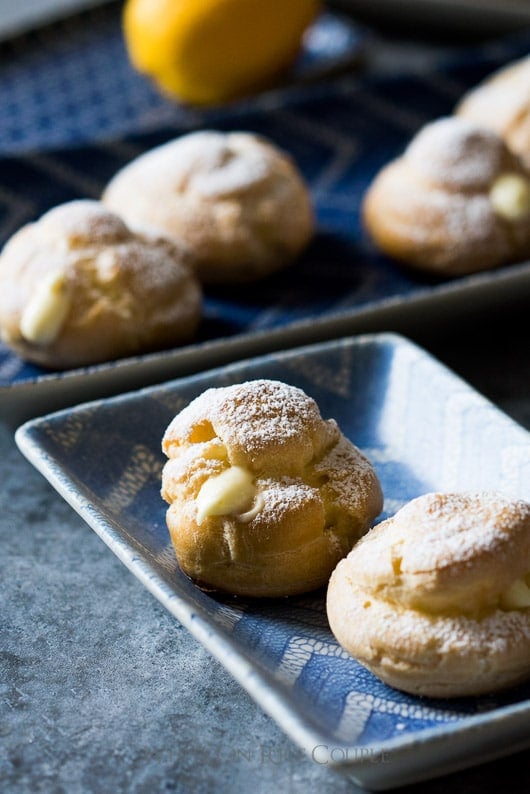 you can't eat just one of these cream puffs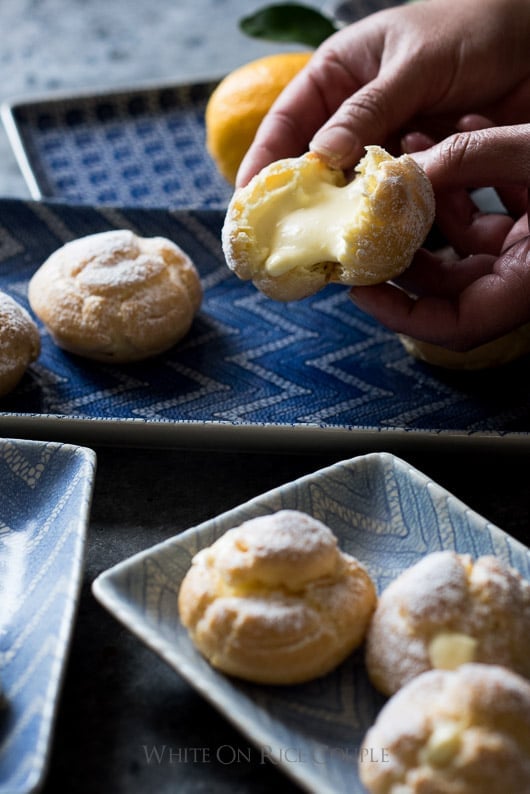 More Meyer Lemon Recipes here that you might enjoy.
This post was originally published in 2015 and was republished in 2019 with slight updates.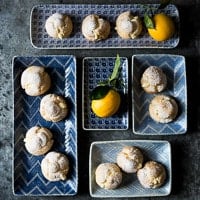 Meyer Lemon Cream Puffs
We'll often make the meyer lemon curd, sans the whipped cream, a day or two ahead of time since it needs to fully chill before folding into the whipped cream. If you have enough meyer lemons, make a extra batch of just the curd and save it for a decadent spread on toast or scones. If you need to bake the puffs a day or so ahead of time, for best texture, on the day of serving reheat the puffs in a 300°F oven for about 5 minutes, allow to cool and then fill with the meyer lemon cream.
Ingredients
Whipped Meyer Lemon Curd
finely grated zest from 1-2 meyer lemons
3/4 cup (150 g) sugar
1/4 cup (60 m l) fresh meyer lemon juice
2 eggs
5 Tablespoons (75 g) butter , cut into small pieces
1 pinch kosher salt , or to taste
1/2 cup (120 ml) heavy whipping cream
1 1/2 teaspoons corn starch (to stabilize the whipped cream - you don't have to add this if piping and serving right away)
Puffs
1 cup (240 ml) water
1/2 cup (113 g) butter (one stick)
2 teaspoons (10 ml) sugar
1/4 teaspoon (1.25 ml) kosher salt
1 cup (125 g) flour
4 large eggs
powdered sugar , for dusting the cream puffs
Instructions
Make the meyer lemon curd. Combine the meyer lemon zest and sugar in a blender or food processor. Blend until the zest is well ground into the sugar, 30 seconds-1 minute. Add the meyer lemon juice, eggs, butter pieces, and salt. Blend until well combined, about 30 seconds (the butter will look cottage cheese like).

Pour the mixture into a heat-proof bowl and place over a pot of simmering water (you can also just place it directly into a medium saucepan over medium heat, however the mixture can easily burn if not watched carefully and stirred meticulously). Cook the mixture, stirring constantly, until the curd thickens and reaches about 170°F (77°C), about 10 minutes. Remove from heat and cool in the fridge until fully chilled.

Whip the cream and cornstarch until nearly stiff peaks. Fold the chilled meyer lemon curd into the whipped cream. Set aside in the refrigerator until ready to pipe into the cream puffs.

Make the puffs. Preheat the oven to 425°F (220°C). Line a couple baking sheets with parchment paper.

In a medium saucepan, combine water, butter, sugar, and salt. Bring to a boil and then reduce to medium heat. Stir in the flour. Stirring constantly, cook the mixture until it pulls away from the sides of the pan and is slightly shiny, about 3 minutes.

Transfer the paste to a stand mixer bowl fit with a beater blade (you can also continue mixing by hand, but it will take a bit of arm power). Beat the paste for a couple minutes or until slightly cooled. Beat in the eggs, one at a time, mixing in each completely before adding the next. Beat until the eggs are fully incorporated into the dough. Place the dough in a pastry bag fit with a 1/2-inch plain tip.

On the prepared baking sheets, pipe the dough into 2-inch discs about 3/4-inch high. (Piping Tip: to make evenly sized puffs, count as you pipe, making sure to use even pressure each time. For these puffs I'll usually pipe to a count of 4-6 seconds depending on how large I want the puffs). Make sure to give a bit of space between each puffs as they'll expand when they bake (we'll usually make 4 rows of 5 across on a regular baking sheet).

Bake at 425°F (220°C) for 10 minutes. Rotate the tray and reduce the oven temperature to 350°F (175°C). Continue baking for 15-20 minutes, or until golden and slightly crisp. Allow the puffs to cool.

Place the meyer lemon cream in a pastry bag fit with a small plain tip. Break through the outer shell of the puffs using the pastry bag tip and pipe the meyer lemon cream into the puffs.

Dust the cream puffs with powdered sugar. Best served same day (the second day the puff shells will soften and lose their slight crispness - still tasty but not quite the same texture. See headnote for tips on making a day ahead.)
Nutrition Information per Serving
Calories: 193kcal, Carbohydrates: 16g, Protein: 3g, Fat: 13g, Saturated Fat: 7g, Cholesterol: 94mg, Sodium: 142mg, Potassium: 40mg, Sugar: 10g, Vitamin A: 465IU, Vitamin C: 1.5mg, Calcium: 18mg, Iron: 0.6mg
We are a participant in the Amazon Services LLC Associates Program, an affiliate advertising program designed to provide a means for us to earn fees by linking to Amazon.com and affiliated sites.