Somen noodles w/Sweet Soy-Ginger Sauce -Takashi's Noodles Cookbook
Cold somen noodles with sweet soy ginger sauce is a satisfying way to enjoy noodles on a cool day. The flavors are great and an awesome cold noodle dish to share.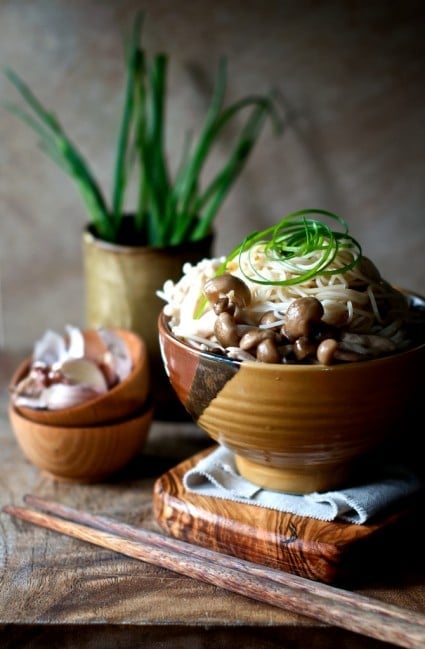 Cold Somen Noodles Recipe
Since our remarkable trip to Japan in August, we've been craving Japanese noodles with a vengence. We ate all the udon, somen, soba and ramen our stomachs could handle in 9 days and it was an amazing experience and education in the history and culture of Japanese noodles. We never got tired of slurping our way through Tokyo, Kyoto and Osaka. Each region's noodle specialties were all so different, delicate and highlighted some magnificent regional flair. Coming back home, we were looking for a cookbook that shared some techniques on making hand-cut noodles because of one of the two precious Japanese knives we brought home was noodle knife.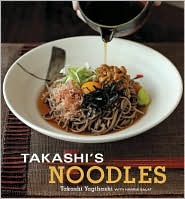 Takahi's Noodles by Takashi Yagihashi and Harris Salat was one of the great cookbooks that we found to teach us what we left off since our departure from Japan. Both Takashi and Harris collaborated on an informative and technically valuable cookbook that offers recipes for both the novice and die-hard noodle aficionados. The cookbook has gorgeous photographs too to whet the appetite and inspire the noodle cook.
A very valuable facet of this cookbook is that the recipes offer ingredient options found in American grocery stores. There are so many great noodle recipes for both traditional Asian noodles and Japanese interpretations of pasta, we didn't know where to start. The first recipe we made was a simple sweet soy-ginger sauce and it was a hit! With just 8 simple ingredients, in less than 30 minutes, we had a fabulous and satisfying noodle meal.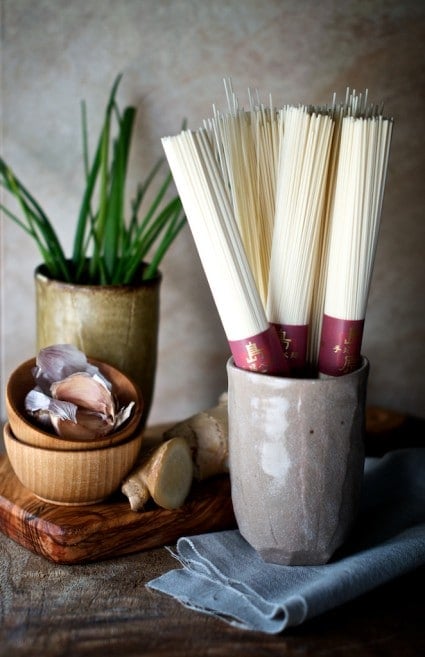 What are Somen Noodles?
The dried somen noodles are thin, delicate and so quick to cook, these noodles should be a-must-have in every pantry. Thinner than angel-hair pasta, dried somen noodles takes minutes to boil and tossing them with the 10 minute sweet soy-ginger sauce is a complete meal in itself. The versatility of the sauce and recipe is endless: toss it with your favorite pasta, add some steamed vegetables or grilled meats on top. The cold somen noodles can be eaten with warm noodles too and it's equally fantastic as a warm noodle dish. We were inspired by some gorgeous Japanese mushrooms we found at the market and quickly blanched them to add to the somen noodle dish.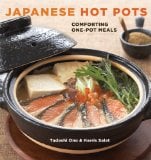 Harris Salat is an expert on Japanese cuisine and also has a new cookbook out that we're excited to dig into. Japanese Hot-Pots cookbook is his newest release that covers an extensive array of hot pot cuisine! Warm, hot pot is so perfect for the Winter chill, we'll be loading up on some of his great hot pot recipes. Hope you enjoy his Cold Somen noodles recipe!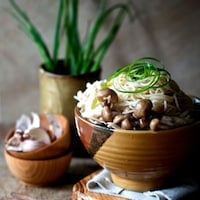 Japanese Somen Noodles Recipe with Sweet Soy-Ginger Sauce
Ingredients
14 oz. dried somen noodles
1/2 teaspoon grated or minced garlic
1 teaspoon grated ginger
1/4 cup Japanese soy sauce
1/4 cup mirin
2 teaspoons sesame oil
1 teaspoon chili paste , chili garlic sauce or chili flakes
green onions for garnish
water to dilute the sauce if it's too salty (optional)
steamed vegetables (optional)
grilled meat (optional)
Instructions
Cook somen noodles according to package. Drain and set aside.

In medium bowl, combine rest of sauce ingredients: garlic, ginger, soy sauce, mirin, sesame oil and chili paste/sauce/flakes. Add additional teaspoons of water to dilute the sauce if it's too salty

When ready to serve, dress sweet soy-ginger sauce over somen noodles. Serve cold.
Nutrition Information per Serving
Calories: 384kcal, Carbohydrates: 81g, Protein: 16g, Fat: 3g, Saturated Fat: 1g, Sodium: 1709mg, Potassium: 289mg, Fiber: 1g, Sugar: 4g, Vitamin A: 3IU, Vitamin C: 1mg, Calcium: 39mg, Iron: 3mg
More Easy Recipes:
We are a participant in the Amazon Services LLC Associates Program, an affiliate advertising program designed to provide a means for us to earn fees by linking to Amazon.com and affiliated sites.