Spicy Chipotle Shredded Pork Enchiladas – Family Recipe from Muy Bueno Cookbook
Happy Cinco De Mayo! Today we're celebrating with a guest chipotle pork enchiladas recipe from some of our favorite ladies. Please welcome our guest writers today: Evangelina, Yvette and Veronica, the lovely ladies from Muy Bueno Cookbook.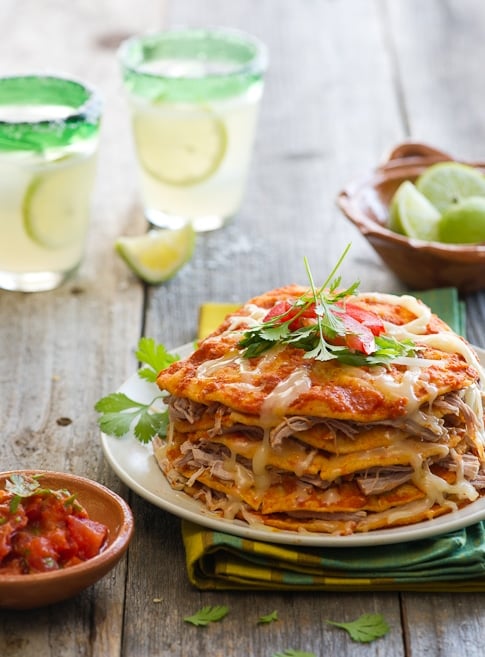 Chipotle Pork Enchiladas Recipe
Today they are sharing the write-up for their amazing stacked Chipotle Shredded Pork Enchiladas!! They are home-cooks from El Paso, Texas who share their love of family, culture and food on their wonderful blog.
Photography by Todd & Diane (that's us) and this fabulous Recipe is from Muy Bueno Cookbook.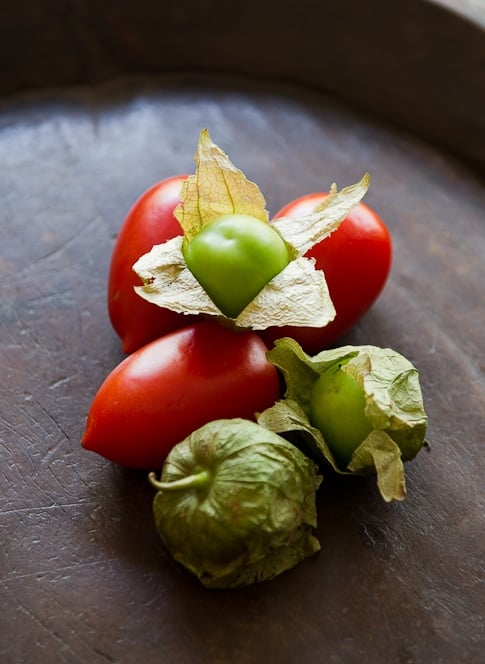 Veronica ~ For years my sister Yvette and I have talked about collecting some of our favorite family recipes and putting them into some kind of cookbook, primarily for our kids. We want them to remember exactly how our grandma Jesusita and our mother Evangelina made our favorite recipes.
Yvette and I have fond memories of family events and holidays and all the recipes that accompanied those special events. But most of the recipes were foods we ate everyday. Every recipe has its unique list of ingredients and flavorful story to tell. We never realized how deeply seeded our memories are and how emotional this journey would be for us. Apparently one can't exist without the other.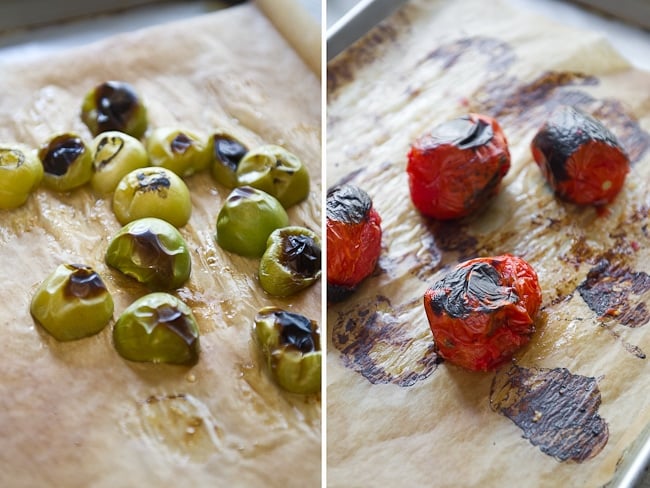 roasted tomatillos and tomatoes for enchilada sauce
As we travel through recipe after recipe, month after month, holiday after holiday, we are so glad we are taking the time to write it all down. It's definitely a true labor of love.
After our grandmother, Jesusita passed away, Yvette and I each inherited one of her rolling pins. Grandma made everything from tortillas to empanadas with this simple kitchen tool and it brings tears to our hearts as we fondly recall the hours she logged on each rolling pin. Sheesh, if the rolling pins could talk.
We are not professionally trained cooks nor do we claim to have the best recipes but simply, our family's recipes. Along this journey we've learned some stuff about cooking and every once in awhile we get an idea for a new recipe. Sometimes those recipes are really good…thanks to grandma, we know she is watching over us and maybe just maybe, she whispers sweet nothings into our ear to help us find our way around the kitchen.
Following is a sweet story of how my sister found her way around the kitchen and came up with a recipe. I'm sure she heard sweet nothings whispered into her ear that day
Yvette ~ We grew up eating cheese enchiladas every Friday and so I crave enchiladas often because it reminds me of home. One weekend my craving kicked into high gear and I was disappointed to discover that I did not have any chile pods to make our traditional red enchilada sauce.
Chipotle Enchilada Sauce
While digging through the pantry I found a lonely can of chipotle peppers and knew I had to try to make enchilada sauce with it. My husband prefers shredded chicken in his enchiladas but suggested we substitute it for pork. I was hesitant at first because I'm a cheese enchilada kinda girl, but I set my stubborn Latina ways aside and we tried the pork.
The combination of flavors with smoky-spicy chipotle sauce and the tender shredded chipotle pork enchiladas was a match made in heaven. My hubby and I loved it, we swooned over it, and like piggies we ate our stack of enchiladas without coming up for air. The next morning we raced to the kitchen to do it all over again, only this time we had the sauce over chilaquiles. Hope you enjoy these chipotle pork enchiladas recipe !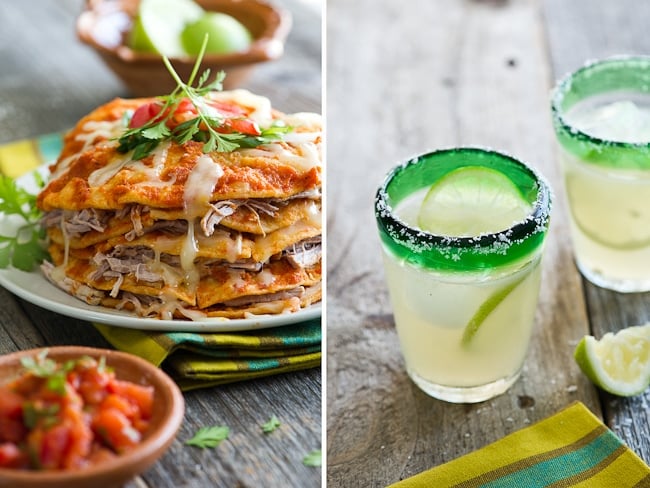 don't forget the margaritas! cheers!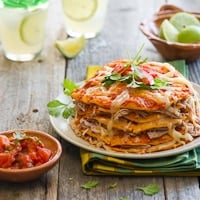 Chipotle Shredded Pork Enchiladas
Recipe and write up by the lovely ladies at Muy Bueno Cookbook. Taste tested, devoured, and photographed (not necessarily in that order) by us, White on Rice Couple. Warning: This recipe is spicy! If you are a wimp (ahem, I mean not a fan of spicy chile) then use half the can of chipotle peppers or add an additional can of tomato sauce. But don't forget that the spice in the sauce will get mellowed a touch when added to the tortillas, pork, and other fillings.
Time Saver: Set your slow cooker in the morning and shred the pork in the evening.
Ingredients
Pork
2 pound pork tenderloin , shredded *see instructions below
8 ounces beer
1 bay leaf
Sauce
14.5 ounces canned diced tomatoes
7 ounces canned chipotle peppers in adobo sauce (or use half for less spicy)
8 ounces canned tomato sauce (depending on spice tolerance you may need an extra can)
2 roma tomatoes , roasted *see instructions below
4 tomatillos , husked, rinsed, and roasted *see instructions below
½ large white onion , chopped
2 cloves garlic
1 Tablespoon flour
½ cup water
1 Tablespoon olive oil
Salt (to taste)
Enchiladas
½ cup canola oil , for frying
12 -18 corn tortillas , preferably white
1 medium white onion , diced
1 1/2 cups shredded cheese (preferably Enchilado or Muenster)
1/2 cup crema Mexicana or sour cream , for topping
Instructions
Shredded Pork
Place the pork tenderloin and bay leaf in a slow cooker; pour the beer over the meat. Cover and cook on low until well cooked and the pork shreds easily, 6-8 hours.

Discard the bay leaf. Remove the pork from the slow cooker and shred the meat. Set aside for assembly.
Roast Tomatoes and Tomatillos
Arrange tomatoes and tomatillos on a baking sheet. Place your oven rack as close to the broiler as possible.

Broil the tomatoes and tomatillos for about 20 minutes until softened, turning over after 10 minutes. If the skin has blackened remove it. Set aside.
For Sauce
In a blender place the can of diced tomatoes, chipotle peppers with adobo sauce, tomato sauce, roasted tomatoes and roasted tomatillos, chopped onion, garlic cloves, flour, and water. Puree until smooth.

Heat olive oil in large skillet. Pour mixture into skillet and stir. Taste and season with salt, usually about 2 teaspoons. If sauce is too spicy, add an additional can of tomato sauce and stir. If sauce is too thick, add water until desired constancy is reached, making sure to add more salt if necessary.
Assembly
In a large skillet, heat canola oil until hot. Fry tortillas until softened. Drain on paper towels.

Place lightly fried tortillas, one at a time, in pot of warm red sauce, turning to coat. Place coated tortillas on serving plate.

Layer each tortilla with cooked pork, grated cheese, and onions. Repeat layering until stacked three to four tortillas. Serve with a dollop of crema or sour cream and your favorite side dish.

Our family prefers our enchiladas stacked, but if you are cooking for a large group, oven style might be the way to go.
Oven Style
Preheat oven to 350°F.

Spread 1 cup of the sauce in an ungreased 9-by-13-inch baking dish. Fry tortillas in hot oil just until softened. Drain on paper towels.

Fill with cooked pork, cheese, and onion. Roll, placing seam side down in baking dish side by side in a single layer and pour 2 cups of the sauce over enchiladas.

Sprinkle with more grated cheese and bake until warm, about 15 – 20 minutes.

Garnish with a dollop of crema or sour cream and your favorite side dish.
Nutrition Information per Serving
Calories: 746kcal, Carbohydrates: 19g, Protein: 71g, Fat: 42g, Saturated Fat: 11g, Trans Fat: 1g, Cholesterol: 229mg, Sodium: 1068mg, Potassium: 1654mg, Fiber: 6g, Sugar: 9g, Vitamin A: 2412IU, Vitamin C: 17mg, Calcium: 222mg, Iron: 5mg
We are a participant in the Amazon Services LLC Associates Program, an affiliate advertising program designed to provide a means for us to earn fees by linking to Amazon.com and affiliated sites.