Doughnuts with Burnt Caramel and Sea Salt
These donuts with burnt caramel will rock your world. Charring and pushing the cooking of something to its limit is a bit of an obsession of ours.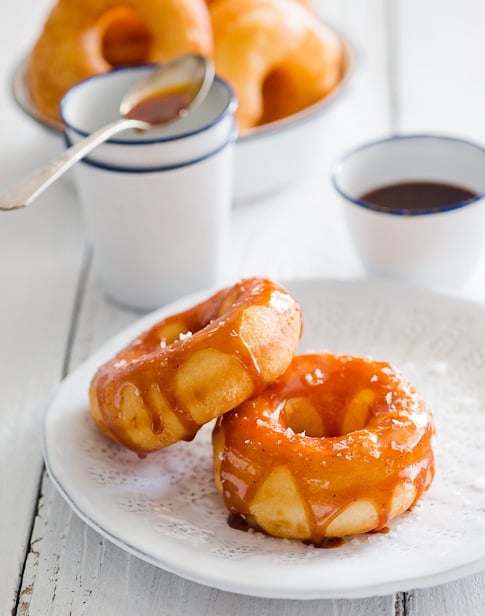 Donuts with Burnt Caramel
Go just a little too far, and the dish is ruined. Game over. Hit the restart button and begin from scratch. But when pushed to that limit, it develops an extra level of flavor and texture that only the daring can achieve. We find ourselves drawn to and falling in love with the places and cooks who are willing to take these risks.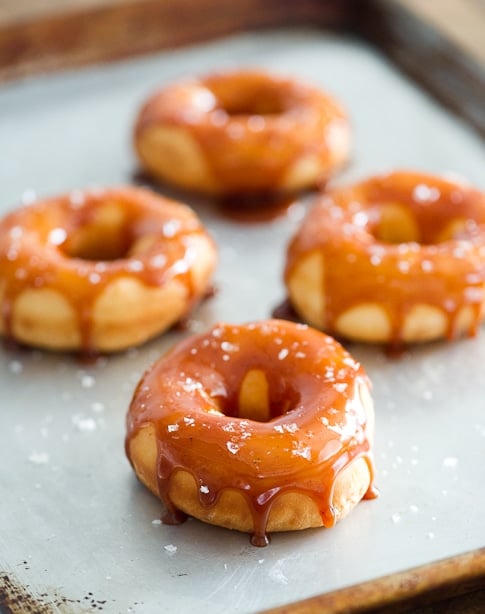 One of our local wood burning pizza places always exemplifies that differentiation. It is owned by an elder Italian. When he is manning the oven, he pushes the char just enough. The pizzas are amazing. Yet on the nights when he isn't sliding and turning the pizzas, the other guys don't have that same boldness. The pizzas are still good, but not on the level of flavor and texture which the signore achieves.
Inspiration
One of our favorite bakeries, Tartine, pushes these limits. It almost seems to the point of reckless, or maybe fearless is a better word. And everything we've ordered from them is so good it makes us want to cry.
We will often remind ourselves of this. Emboldening ourselves to cook on the edge. Willing to push the chance of ruin in order to create something exceptional. Knowing… No. Feeling just when the right moment is to pull what we are cooking away from the heat.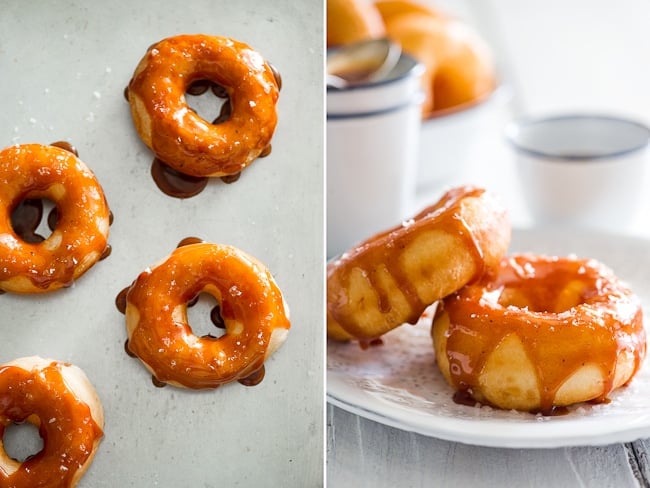 The brown butter apple galette we recently posted was an example of that. Pushing the butter. Then when baking, pushing the crust to a deep golden, not fearing a slight singeing on the edges. Temperatures a little hotter than normal. Risking for the chance of exceptional.
So here's another recipe to play with cooking on the edge. Donuts with Burnt Caramel and Sea Salt. Can I have an amen?! These are delicious to the verge of swooning. We doubled up the danger on the caramel glaze. First browning the butter going into the caramel. Next pushing the sugar as we melt and caramelize it. Cooking and toasting to where it starts to smoke. A little too far and it will be a carbon overload. But just enough… Ahhhh.
Finish it off with a really good sea salt flake. Use just a tiny pinch, and it is magical.
-Todd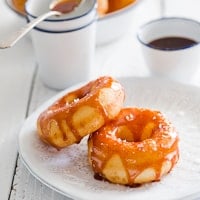 Donuts with Burnt Caramel and Sea Salt Recipe
This recipe has an 8 hour (or overnight) rest/cold proof time in the refrigerator. It quick and easy to make the dough the night before, then roll out, rise, and fry the donuts the next day. You can short cut it proofing the dough in one or two hours in a warm spot instead of overnight in the fridge, but the dough won't handle as easily and the donuts won't have as good of a final rise. Donut dough recipe based on Pioneer Woman.
There are a couple ways to successfully make caramel. We prefer the swirl method. Never stirring the sugar as it cooks, instead just gently swirling the pan frequently (no spoons used at all) to help the sugar cook evenly. As always, be very careful making caramel. There are very few burns worse than caramel burns. Incredibly hot, and it will just stick to your skin, searing badly.
Ingredients
Donut Dough
1 1/8 cups (270ml) Milk
1/4 cup (50g) Sugar
1 pkg (2 1/4 teaspoons or 8g) Active Dry Yeast
2/3 cup (140g) unsalted Butter
2 Eggs , beaten
4 cups (500g) All-Purpose Flour
1/4 teaspoon (2g) Sea Salt
Grape seed , Peanut, or Canola Oil for deep frying
Burnt Caramel and Sea Salt Glaze
Instructions
Make the Dough
In a small saucepan or microwave, gently warm milk to @ 115° F (bath water temp.). Add sugar and yeast and stir to dissolve. Set aside.

Gently melt butter until it is almost all melted. Take off of heat. Stir to finish melting butter. Add beaten eggs and whisk to combine (make sure butter isn't too warm or it will cook the eggs).

Put butter mix into an electric mixer bowl fit with a dough hook. Turn mixer on low speed (or stir setting) and add yeast mixture to the butter. Increase speed to 3 or medium-low speed. Mix for a couple minutes or until thoroughly combined.

Combine flour and salt. Add the flour to the dough mix in 1/2 cup increments, mixing for a minute or so in between measurements, until flour is fully incorporated. Scrape the bowl then mix again on medium-low speed for 5 minutes. Scrape again, then mix for another 30 seconds.Transfer dough to a large well-oiled bowl. Cover bowl with plastic wrap and set in the refrigerator. Refrigerate dough for at least 8 hours, or overnight (*for shortcut see head note).
Roll and Cut
On a well floured surface, roll doughnuts out to 1/3"-1/2" thick. If the dough feels springy, let rest for a couple minutes.

Using a 3" cutter, cut as many rounds out of the dough as you can. Pull away the excess dough and set aside to roll again. Gently pick up the rounds and place on a well floured sheet pan.Using a 1" or 1 1/8" cutter, cut out the center hole. Either place holes on baking sheet to fry as doughnut holes or add hole dough back into excess dough.

Roll remaining dough out again to 1/3"-1/2" thick. Let rest for 5 minutes. Repeat cutting and rolling until dough is used up.Cover doughnuts with a large tea towel and place in a warm place. Allow doughnuts to rise for at least an hour or until visibly puffier and airy.
Make Burnt Caramel Sauce
In a small saucepan, heat the butter over medium heat. Butter will foam, then settle down. Continue to cook and the now separated solids will begin to brown and develop a toasty, nut aroma. Remove from heat.

In another saucepan, heat sugar over medium high heat. As sugar begins to melt, swirl the pan side to side frequently to help the sugar melt evenly. Continue to cook and swirl until the caramel begins to smoke slightly and is a deep amber color.

Cook for just a touch more, allowing the flavor to develop a bit more. Remove from heat then pour in the browned butter. Pour in the heavy cream. (It will bubble up quite a bit.) Whisk to incorporate.

Set aside to cool to room temperature.
Fry the Doughnuts
In a large pot, pour enough oil to be at least 1" deep. Heat to 375°F. (If possible, use a thermometer and do not let oil get hotter than 380° F.)

Gently pick up and ease donuts into oil. (Do not put more than a single layer of donuts into the oil) Cook each side until light golden brown (they cook quick, usually less than 1 minute per side).

Remove from oil with a slotted spoon. Drain on several layers of paper towels, carefully turning over every 5 seconds a few times to try and blot as much oil out as possible without squishing the donuts (they will be extra soft while still warm). Repeat with remaining donuts.(Optional) If cooking donut holes, they won't want to flip very easily. To cook evenly, continually turn and spin holes with a slotted spoon until evenly browned. They will cook even faster than the donuts.
Glaze the Donuts
Spoon a line of caramel sauce over the donuts, it will run down the sides. Very lightly sprinkle with sea salt. Donuts are best while still warm.
Nutrition Information per Serving
Calories: 287kcal, Carbohydrates: 36g, Protein: 4g, Fat: 14g, Saturated Fat: 9g, Trans Fat: 1g, Cholesterol: 57mg, Sodium: 51mg, Potassium: 69mg, Fiber: 1g, Sugar: 15g, Vitamin A: 465IU, Vitamin C: 1mg, Calcium: 32mg, Iron: 1mg
We are a participant in the Amazon Services LLC Associates Program, an affiliate advertising program designed to provide a means for us to earn fees by linking to Amazon.com and affiliated sites.