Beef Sukiyaki and Japanese Hot Pots
This Beef sukiyaki Japanese hot pot recipe is inspired from a great cookbook called Japanese Hot Pots. Japanese hot pot, or nabe, are the perfect dish this time of year. Quick, easy, and warm one-pot meals.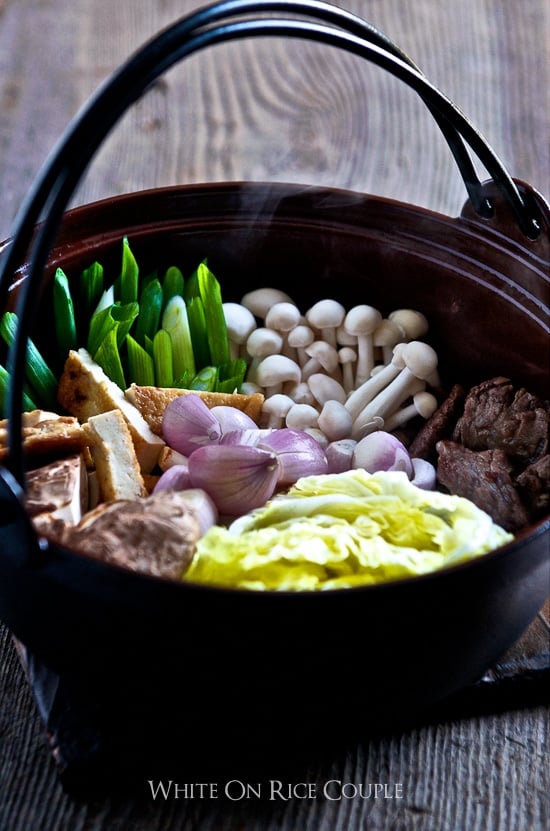 Beef sukiyaki recipe dinner. Before and After.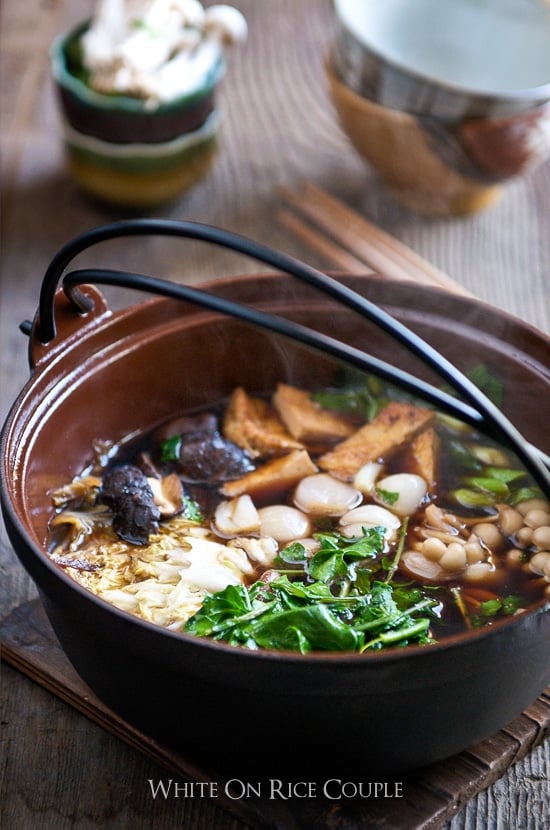 We've been trying to catch up on our unarchived photos and after going through our recent Japan trip photographs. We were craving some Japanese deliciousness, and quick. What better way, than with some warm, comforting Japanese home food, Nabe, or hot pot.
What is Nabe or Hot Pot?
In restaurants here in the US, most people's experience eating Japanese hot pots are at a Shabu-Shabu restaurant. You might consider shabu-shabu one of the more refined versions of nabe, where the flavors are often delicate and subtle. The finest cuts are of meat and highest graded seafoods are served, with most everything sliced paper thin and raw. Then you will quickly poach the meats in a delicate broth.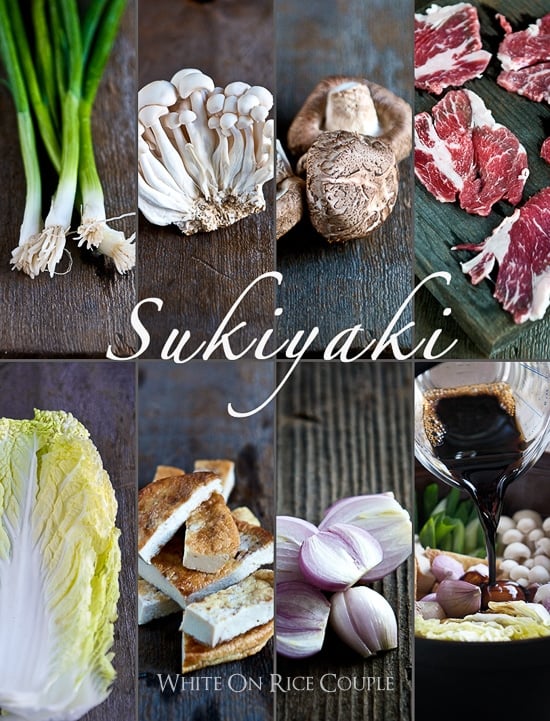 medley of ingredients for this Beef sukiyaki recipe
Nabe is quintessential Japanese home cooking. And home cooking, no matter the culture, is always some of the best cooking. Comforting, delicious, simple and satisfying. They are the type of dishes which comes from the heart and soul of the Japanese. Shabu-shabu is one form of nabe, but there is so much more to Japanese hot pots than shabu-shabu.
One Pot Beef Sukiyaki Recipe
For those uninitiated to the pleasures of Japanese Hot Pots, they are essentially one-pot meals where the ingredients are all poached in a broth. After cooking, that pot then becomes the serving vessel upon which everyone gathers and shares. For us it is the ultimate way to eat. Few connections touch closer to the human heart than sharing a meal from a singular nucleus. It's one thing to sit down at a table together, but another, one endearingly more special, to share from the same plate or vessel.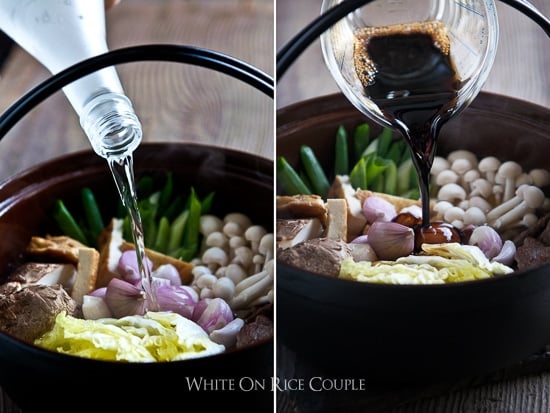 adding sake and soy sauce to simmer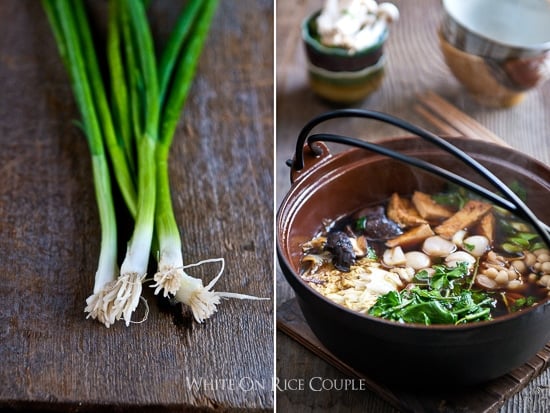 How to Make Beef Sukiyaki Japanese Hot Pot
The Japanese hot pots share a simple and easy formula. Prep the ingredients, make the broth (most nabe broths are quick to make – not 3-5 hour stocks), neatly gather and fashion the ingredients into the pot, then cook. The cooked ingredients are communally eaten, then the remaining broth is often consumed with a comforting and filling shime or "finish", often cooked rice or noodles. Like most any culture's home cooking, the ingredients are nourishing and economical. Plus, this being Japanese cuisine, you are nearly always guaranteed extra depth of flavor from an ingredient which will provide an umami element into the nabe. Most times this will be in the broth, which frequently are miso, kombu, or soy based.
This particularly delicious nabe recipe is for beef sukiyaki. In historical times, both beef and sugar were rare, expensive luxuries in Japan, so of course for those special occasions one wanted to serve the best. Today, for us at home, these are still the best ingredients.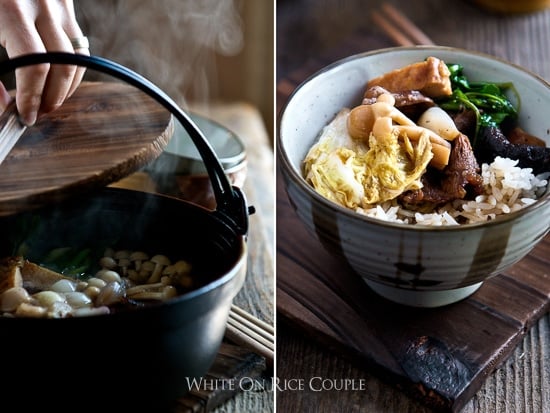 Warm food for the soul. Just add rice.
What is Sukiyaki?
Sukiyaki is type of nabe (Japanese hot pot, in case you forgot 😉) where deliciously thin sliced beef is quickly seared, combined with medley of other nourishing and tasty vegetables and other ingredients, then simmered in a broth of sake, soy sauce and sugar. The richness of the beef, highlighted by the sweetness of the sugar combined with a bit of savory umami from the soy sauce and a bit of a punch from the sake, make this is an utter delicious hot pot.
Favorite Tools for Japanese Hot Pot and This Beef Sukiyaki Recipe:It can sometimes be hard to find good spring roll ingredients and tools. Here's some of the favorites:
More Easy Recipes:
We are a participant in the Amazon Services LLC Associates Program, an affiliate advertising program designed to provide a means for us to earn fees by linking to Amazon.com and affiliated sites.