Sweet Potato Molasses Cake-Like Cookies
Easy Sweet Potato Cookies
Sweet potatoes are about as humble as you can get in a vegetable, aside from the the classic russet potato. As versatile as russet potatoes can be, sweet potatoes can beat them out in terms of versatility. Sweet potato pie, candied and desserts, we're all over it like kids in a candy store. Moving on over to something different this week, we're craving something cookie-ish and of course, sweet potato-ish because tis the season for sweet potatoes.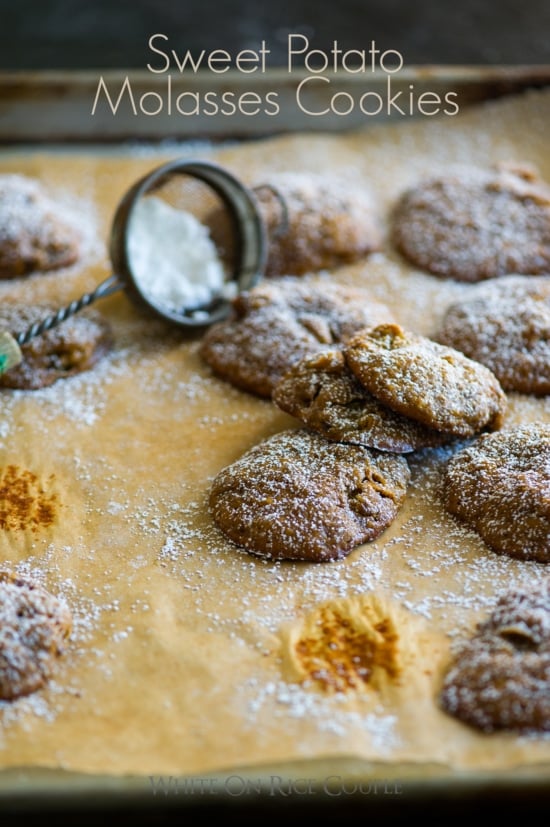 Watch the Video for these Sweet Potato Molasses Cookies: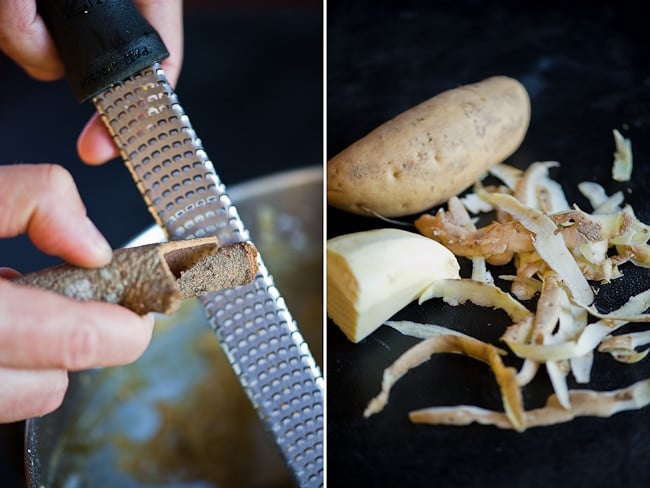 Vietnamese cinnamon & sweet potatoes: deadly combination. But in a good deadly way.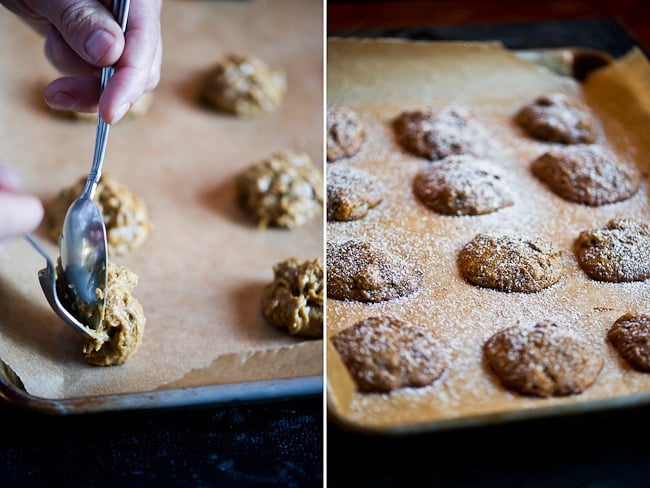 We're seeing them everywhere at the markets and with so many different varieties, we've always eating something every week that sweet potato based. We combined a few different sweet potato cookies to come up with these soft, molasses, rum-macerated-raisin, sweet potato cookies. One of us is a big fan of cake-like cookies, and the other loves to inebriate our desserts, so we both won on this cookie recipe. The combination of soft, fluffy and cake-like texture of these cookies reminds us of muffin tops. So if you're a fan of muffin tops, these cookies are perfect for you.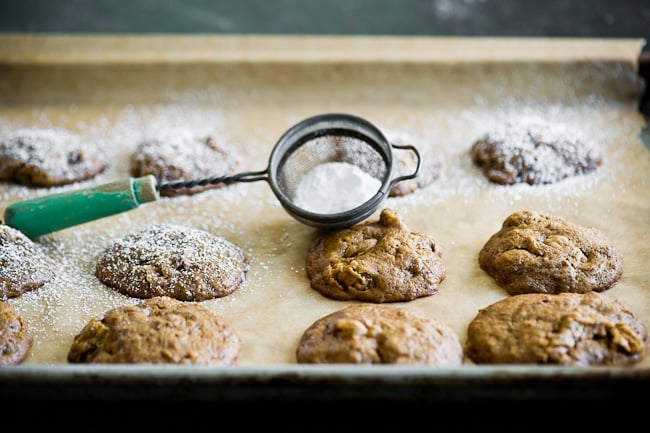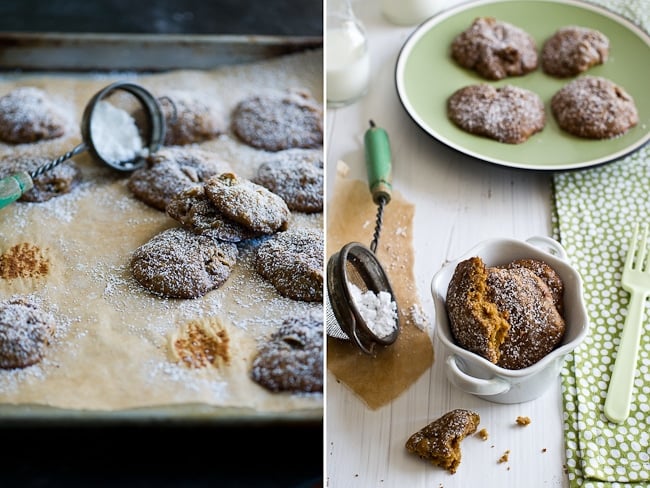 It's the sweet, caramel taste of the molasses that shines through this cookie too. Not too sweet and perfectly pillowy soft like a little cake. Our sweet potato molasses cookies are different and always a treat to share with cookie lovers.
We also used a very cool buttermilk substitute for the first time. It is something we we never have in the fridge and we hate having to go out the the store for just one ingredient, so we tried this method and were very pleased. For every cup of buttermilk needed, take a cup of regular milk, add a tablespoon of lemon juice, then let it sit for about 5 minutes. Works great for most of our cooking needs.
Cheers!
-todd & diane
This recipe post was originally published in 2010 and re-published in 2019 with a new video!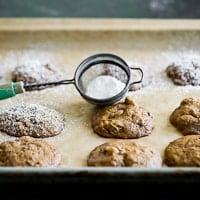 Molasses Sweet Potato Cookie (Cake-like cookies)
These are a nice soft, cake-like molasses cookies which has a nice texture from the grated sweet potato. If you really want to knock someone's socks off, macerate the raisins for a long time, like a couple weeks or more. If you don't have any buttermilk on hand, make your own. In general, add 1 tablespoon of lemon juice to 1 cup of milk and let sit for for 5 minutes. So for this recipe, add 1/4 Tablespoon (just a bit less than 1 teaspoon - 3 teaspoons=1 tablespoon) of lemon juice to a 1/4 cup of milk, then let it sit for 5 minutes. Perfect buttermilk substitute.
Ingredients
1/2 cup (75g) Raisins
1/2 cup Dark Rum (enough to cover raisins when macerating)-Optional
1 cup (226g) Butter , soft at room temp.
1/2 cup (110g) Brown Sugar
1 Egg
1/2 cup (170g) Molasses
1 cup (150g) grated raw Sweet Potato
2 teaspoons finely grated Orange Zest
2 teaspoons finely grated fresh Ginger
1/2 teaspoon ground Cinnamon , or to taste - if you can freshly grate Vietnamese Cinnamon it will be all the better
2 cups (250g) All-purpose Flour
1 teaspoon Baking Powder
1/2 teaspoon Baking Soda
1/2 teaspoon Kosher Salt
1/4 cup (60ml) Buttermilk , see head note for substitute
powdered sugar for dusting
Instructions
Preheat oven to 375°F (190°C). Line two sheet pans with parchment paper or silpats.

Optional-Put raisins in a small bowl and pour enough dark rum to completely cover. Allow to macerate for at least 30 min. (but the longer you can macerate them, the better.)

Cream together butter and sugar until light and fluffy. Crack the egg into a small bowl, then pour into the butter/sugar mix and beat until thoroughly combined.

Add molasses, sweet potato, orange zest, ginger, and cinnamon. Mix until well combined. Mix in the buttermilk

Sift together flour, salt, baking soda, and baking powder. Stir the flour mixture into the batter until just combined. Drain raisins (if macerating) and mix them into the batter.

Form dough balls about 2 tablespoons in size and place onto the lined sheet pans (use two small spoons or a small cookie scoop is easiest), leaving space between the dough balls for them to spread.

Bake for about 10-14 minutes or until just set. Allow to cool to room temperature, then dust the cookies with powdered sugar.
Nutrition Information per Serving
Calories: 173kcal, Carbohydrates: 22g, Protein: 2g, Fat: 8g, Saturated Fat: 5g, Trans Fat: 1g, Cholesterol: 27mg, Sodium: 152mg, Potassium: 190mg, Fiber: 1g, Sugar: 10g, Vitamin A: 1037IU, Vitamin C: 1mg, Calcium: 36mg, Iron: 1mg
We are a participant in the Amazon Services LLC Associates Program, an affiliate advertising program designed to provide a means for us to earn fees by linking to Amazon.com and affiliated sites.