Baked Kale Chips with Sea Salt and Black Pepper
These Baked kale chips are crispy and addicting. Best of all, they're low carb and a healthy snack anytime of day.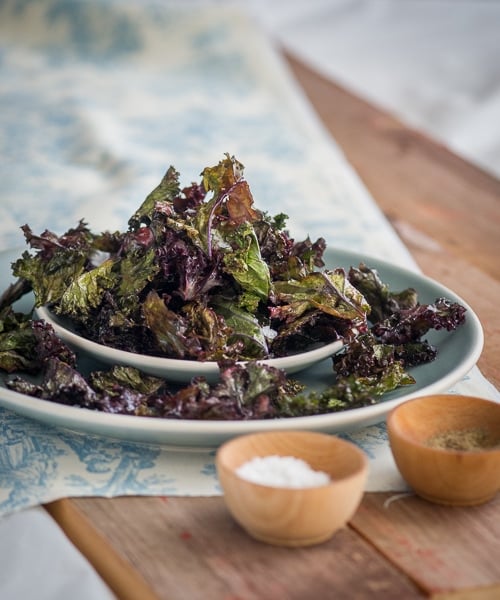 Baked Kale Chips Recipe
Everyone has their vices. Admit it. I know each of you has a food weakness that you find yourself giving into when times get rough. Or tough. I have many food vices that I turn to when I need a spiritual lift after the end of a long, mentally exhausting day. For me, anything savory, salty and spicy are my paths to mental health and clarity. Salt, all the way, makes my world go round. Though my list can be extensive, they all have the same thing is common, carbs and of course, salt. French fries and crunchy potato chips are what make me happy.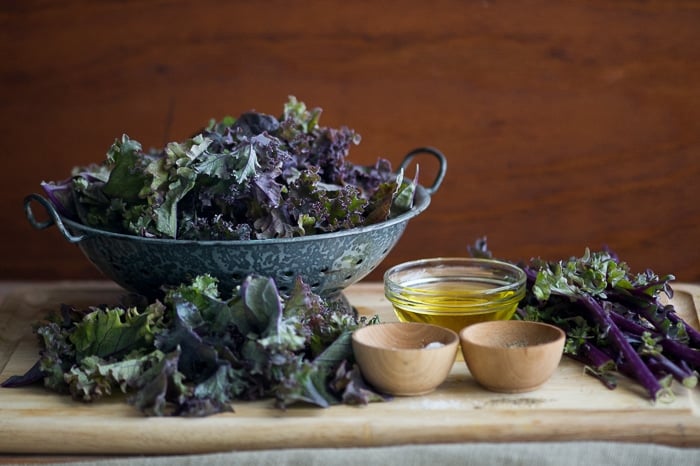 When I have a headache, all I need is a few crunchy sea salt and black pepper kettle potato chips to heal myself. I don't know what it is, but the salt, black pepper, crunch and carbs really satisfy me when I need them most. But every vice has it's downfall and for me, it's when I look at the bottom of an empty bag of sea salt and pepper potato chips that I realize a trip to the gym is the second part of mental healing.
Healthier Than Potato Chips
Potato chips in almost every shape, form and flavor is my vice and total weakness. But since I discovered baked kale chips, my world of indulgence has turned over for the better. Rather than eating fried potatoes, the light crunch of kale chips is equally satisfying. My first recipe for spicy kale chips are my go-to treat for salty crunch and they are so incredibly easy to make. I don't know why I didn't discover them when I was in high school.
Now that I've been eating spicy kale chips, I'm reminded of why I love sea salt and pepper potato chips so much. There's only four simple ingredients: fresh kale, sea salt, black pepper and good olive oil has pretty much replaced my need for potato chips.
I've been making these simple baked kale chips for a while now, but I realize that I never shared this recipe with you. Until now.
And now you know where my food weakness is. I've love to hear what you to say about what your food vice is.
hugs,
diane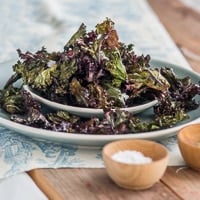 Sea Salt and Black Pepper Kale Chips
Fresh kale leaves look very voluminous and full when they are fresh. But when baked, they shrink down considerably. So consider making two bunches of kale if you are serving more than two people. For me, I can eat one whole bunch of kale by myself! And make sure to splurge on that nice sea salt for these. It is completely worth it.
Instructions
Preheat oven to 350°F.

Wash kale. Remove tough inner stems from kale leaves.

Tear the kale leaves into large pieces. They will shrink, so tear them into pieces that are a little larger than what you'd like to eat.Dry kale leaves well with paper towels.

Place kale leaves in large bowl. Start by tossing in about 1 tablespoon of olive oil at a time, when needed. The kale needs to be lightly coated with oil. Too much will make the kale limp and greasy. Sprinkle with sea salt and fresh crushed black pepper.

Layer kale leaves in a single layer in a baking sheet lined. You can use parchment paper if you like for easier cleaning.

Bake for 12-14 minutes or until crisp. About 5 minutes before they are finished, gently toss them on the sheet pan for more even baking. They will burn easy, be aware of how they are baking.
Nutrition Information per Serving
Calories: 32kcal, Carbohydrates: 6g, Protein: 3g, Fat: 1g, Saturated Fat: 1g, Sodium: 606mg, Potassium: 319mg, Vitamin A: 6494IU, Vitamin C: 78mg, Calcium: 98mg, Iron: 1mg
We are a participant in the Amazon Services LLC Associates Program, an affiliate advertising program designed to provide a means for us to earn fees by linking to Amazon.com and affiliated sites.