Spicy Smoky Kale Chips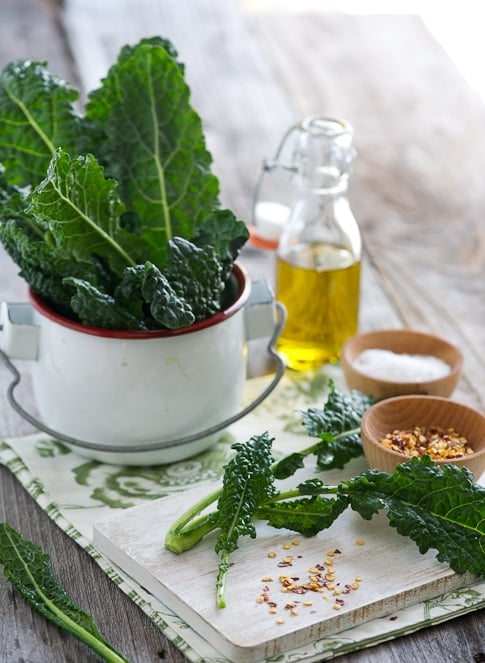 Baked Kale Chips are always one of our forgotten favorites. When we plow through a big bowl of kale chips, we're always reminding ourselves to make them again soon. But for some reason, this recipe gets buried under our pile of "must make again" list and regrettably, forgotten. That is, until someone makes them for us and our brains get re-freshed with these healthier "green" chips.
Indeed, it had been a few months since we crunched on a platter of kale chips. It wasn't until we filmed Michelle for her Whole Family Cookbook promo, that we were reminded of these wonderful crispy greens.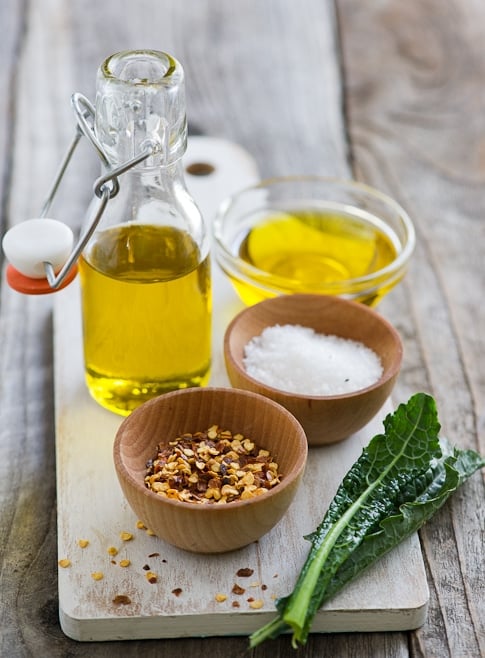 A cooking scene we filmed for Michelle in her new cookbook trailer was a recipe for her baked kale chips. We followed her around in her beautiful garden, picking and preparing the chips for her family. Of course, we were happily reminded of how we love kale when we snuck a few to munch on during the shoot.
The aroma of baked kale is certainly unique and rather pungent. Kale greens are a part of the cruciferous family and although they release a rather sulfer-like aroma, the smell is easily forgotten when you bite in to their feathery light chips.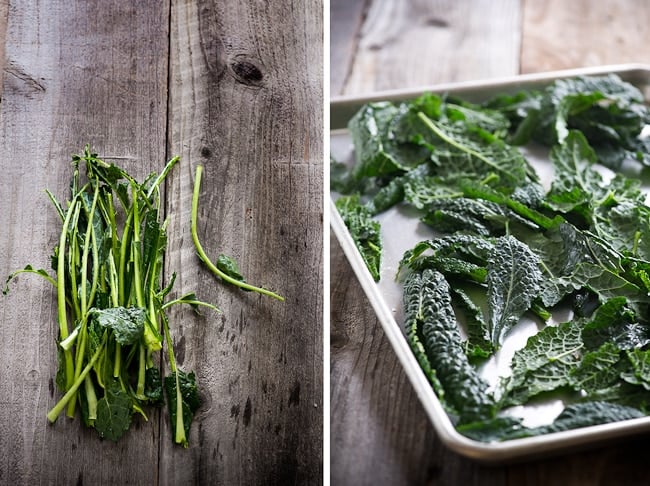 To make these this baked kale a little more exciting, we added some chile flakes for a fun and spicy-kick. After they were baked, you can also add a touch of paprika or cayenne pepper on top for the smoky bonus flavor. Either way, these spicy smoky kale chips are fabulously addicting. They're so light, crunchy and absorb the flavors of a good sea salt perfectly.
If you're ever got a hankering for potato chips, try making a big batch of crispy kale. Kale is obviously lighter and less caloric than fried potatoes, and they're also greener, which means many more vitamins to add to your daily intake. You'll be feeling less guilty if you ate a bag of kale chips than heavy potato chips.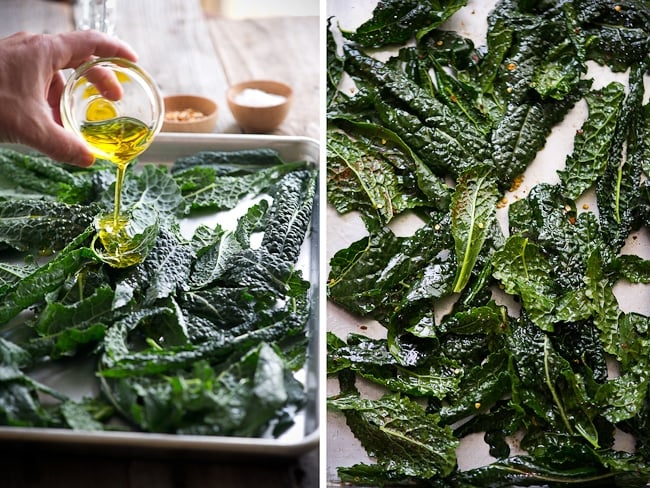 start with small amount of olive oil to coat, add chili flakes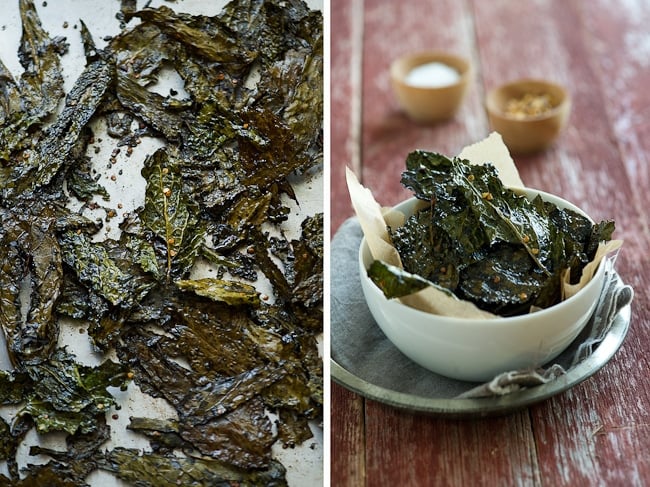 better than potato chips! (well, almost)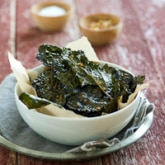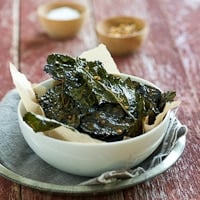 Print Recipe
Spicy Smoky Kale Chips Recipe
Servings: 4 servings
Ingredients
about one bunch of kale , rinsed and dried
Salt , to taste
about 1 tablespoon of chili flakes (or to taste)
sprinkling of paprika or cheyenne pepper power (optional)
Instructions
Preheat oven to 350°F.

Remove the kale leaves from their tough end and inner stems. Cut longer leaves in half or preferred bite size pieces.

Place kale pieces in large bowl. Start by tossing in about 1 tablespoon of olive oil. The kale leaves only need to be lightly coated with oil. Too much will make the chips too limp and greasy. Only add about  1 tablespoon of olive oil at a time. Then sprinkle in sea salt and chili flakes.

Put the kale pieces in a single layer in a baking sheet lined. You can use parchment paper if you like for easier cleaning.

Bake for 12-14 minutes or until crisp. About 5 minutes before they are finished, you can gently toss them in the sheet pan for more even baking. They will burn easy, be aware of how they are baking.

For more smoky or spicy flavor, lightly dust the kale chips with paprika or cheyenne pepper power.
We are a participant in the Amazon Services LLC Associates Program, an affiliate advertising program designed to provide a means for us to earn fees by linking to Amazon.com and affiliated sites.