Fig Pecan Sticky Buns. And our guardian tree
Enjoy these fig pecan sticky buns for breakfast, brunch or dessert. Sweet sticky figs are wonderful!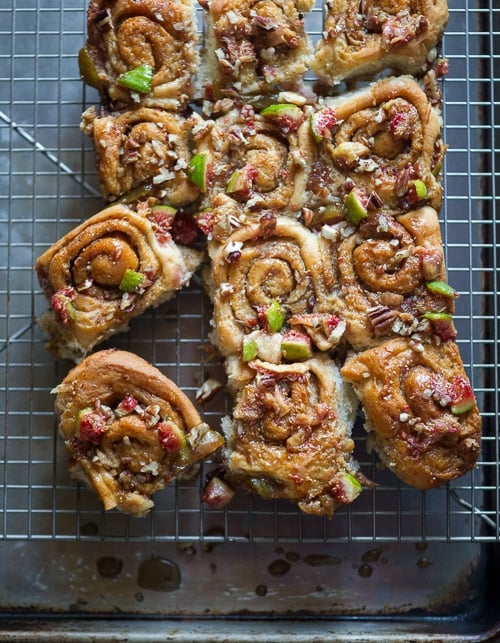 Fig Pecan Sticky Buns Recipe
The first tree that meets your eye when you enter our garden is a huge thirty foot high silver oak tree. We call it our first guardian tree because it nurtures us with shade throughout the year and its staggering presence makes us feel safe, protected. It's the tree that greets visitors with it's evergreen grandeur and lacy, whispy leaves. Now that the garden has matured over the last ten years, the second largest tree is our fig tree, which is quickly becoming our second guardian tree. It's the inspiration for our Fig pecan sticky buns.

Strawberry Verte Fig Tree
The variety of our fig tree is a Strawberry Verte. It sat in a lonely corner of the nursery when we first saw it ten years ago, but it's lush, bright green leaves and beautiful limbs and branching were so impressive that it was hard to not miss its beauty. "It gives the most wonderful, sweet figs" the man at the nursery told us. "The color," he said, "is green on the outside and beautiful deep red color on the inside when it hits its ripe stride at the end of Summer." We were sold.
Everything he had told us was true. It's not only grown spectacularly well to over fifteen feet high, but the it's lush with broad and perfectly shaped fig leaves. Now this season, we can't keep up with the fruit. Even with the daily squirrel raids and occasional flocks of birds that stop by for a pit stop.
Summer Sweet Figs
This fig tree drips with fruit towards September when the hot Summer heat starts to peak. Sweet, sticky fig fruit explodes from all the branches. The top branches that have grown beyond our ladders reach are feeding those masses of garden birds. The fruit that we can reach are the ones that we indulge in. And the fruit that falls to the ground feed Lexi as her after dinner dessert. Sierra doesn't like fruit & veggies at all and she's not even warmed up to the sweet figs. What a shame.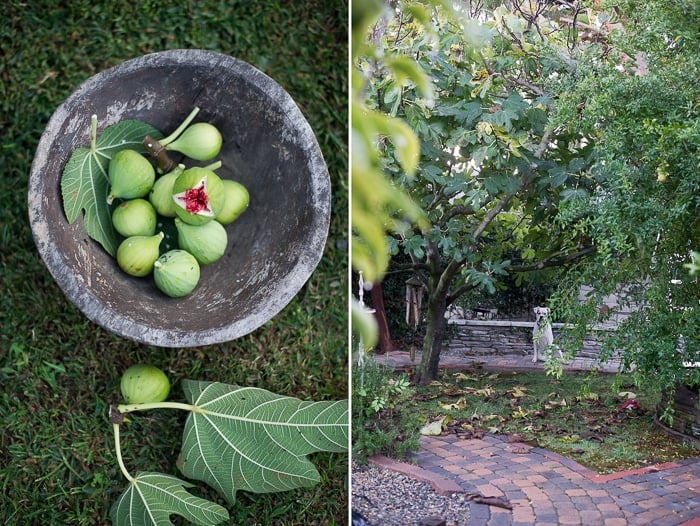 Roasted figs, fig desserts, fig salads, grilled figs and fig balsamic has been churned out of our kitchen every season. This is the guardian tree that as summer dwindles and fall nestles in feeds us and the garden critters (puppy Lexi included) so extremely well. The fig tree has become a permanent part of our garden and we're able to share some of it with you today.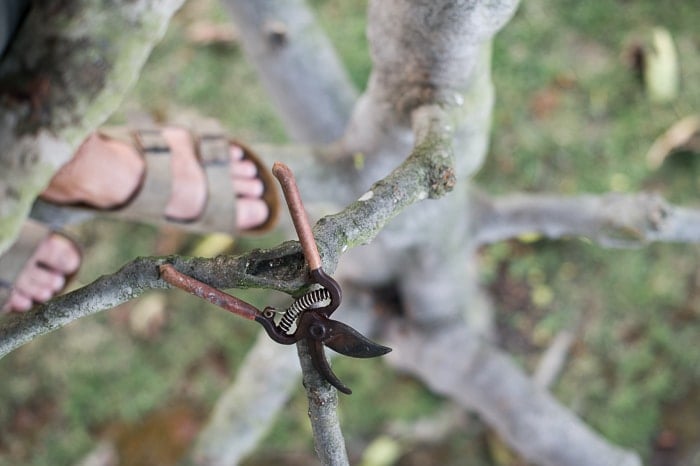 A warm batch of Fig pecan sticky buns is what we're sharing with you from our feeding guardian tree. Hope you make these and get a chance to score a last batch of figs before they leave permanently for the season. They're wonderful!
hugs,
diane and todd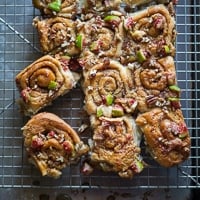 Fig Pecan Sticky Buns
Ingredients
Dough Ingredients
2 Tablespoons (25g) Sugar
1 pkg (2 1/4 teaspoons) Active Dry Yeast
2/3 cup (160ml) Warm Water
3 Tablespoons (43g) unsalted Butter , melted
1 3/4 cups (225g) Flour , divided into 1 1/2 cup (190g) & 1/4 cup (35g) portions
1/4 teaspoons Kosher Salt
1/4 teaspoons fresh grated Nutmeg
Topping Ingredients
3/4 cup (165g) packed Brown Sugar
2 Tablespoons (30ml) Dark Corn Syrup
2 Tablespoons (30ml) Milk
1 teaspoon (5ml) Vanilla Extract
1 cup diced fresh Figs
1/4 cup chopped Pecans
pinch Sea Salt , such as Maldon Salt
Filling Ingredients
2 Tablespoons (30g) unsalted Butter , melted
1/4 cup (55g) packed Brown Sugar
1 1/2 teaspoons (4g) ground Cinnamon
Instructions
Make dough: Dissolve sugar and yeast in warm water. Whisk in melted butter.

In a large bowl, whisk together 1 1/2 cups of flour salt and nutmeg. Add yeast mixture, stirring until a soft dough forms. On a lightly floured surface, knead dough for a minute or two for incorporating final 1/4 cup of flour, 1 tablespoon at a time until dough is just no longer sticky (you may not use all of flour).

Place dough ball in a bowl, cover, and then let rise in a warm place for one hour or until doubled in size.

Make Topping: Combine brown sugar, dark corn syrup, milk, and vanilla extract in a saucepan. Heat to a simmer, then remove from heat. Stir in figs, and then set aside.

Combine Filling's brown sugar and cinnamon in a small bowl and set aside.

Preheat oven to 375°F. Lightly oil or butter a 13x9 baking dish.

Take dough out of bowl and place on a lightly floured surface. Allow to rest for 5 minutes.

Roll out dough to a 12"x10" rectangle, flouring lightly as needed. Brush Filling's melted butter over dough, leaving a 1" border on the long edges of dough. Spread brown sugar/cinnamon mix over butter.

Roll up tightly, starting with the long edge. Pinch to seal seam (do not seal ends). Cut into twelve 1" slices. Evenly arrange slices in baking dish, cut side up. Spoon 1/3 of fig topping mixture and 1/2 of pecans between the rolls. Cover and let rise in a warm place for 30 minutes or until doubled in size.

Bake for 25-30 minutes or until buns are golden browned (you may need to place a piece of foil over the buns for the last 10 minutes to keep tops from browning too quickly before interior dough is fully cooked.

Remove from oven and pour remaining fig topping mixture and remaining pecans over buns. Lightly sprinkle sea salt over buns. Allow to cool for 5-10 minutes, then serve.
Nutrition Information per Serving
Calories: 232kcal, Carbohydrates: 41g, Protein: 3g, Fat: 7g, Saturated Fat: 3g, Trans Fat: 1g, Cholesterol: 13mg, Sodium: 63mg, Potassium: 113mg, Fiber: 2g, Sugar: 26g, Vitamin A: 180IU, Vitamin C: 1mg, Calcium: 35mg, Iron: 1mg
We are a participant in the Amazon Services LLC Associates Program, an affiliate advertising program designed to provide a means for us to earn fees by linking to Amazon.com and affiliated sites.