Baked Ham with Apricot Glaze
Our baked ham recipe with apricot glaze is a great dish to share! Your a customize the glaze to your preferred level of sweetness. That's why homemade baked ham is the best!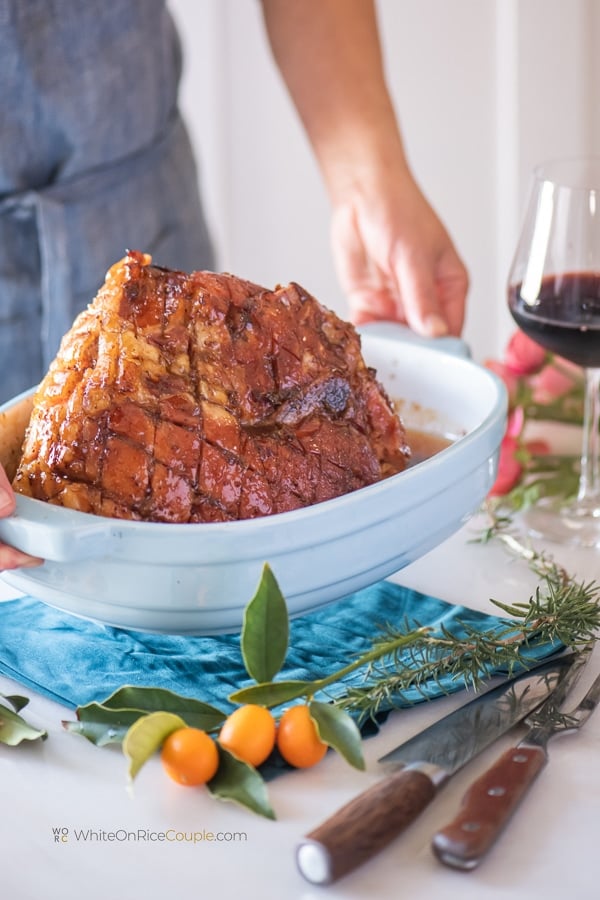 Easy Baked Ham Recipe
Regardless of the holiday or occasion, there's always someone who asks if we're serving baked ham. It's a dish that brings comfort and satisfies all year long. We consider it one of our "evergreen" dishes because there's always an occasion to eat ham. Best of all, the leftovers are perfect for breakfast, sandwiches, soups and so much more. From scrambled eggs dotted with chopped ham, to melty ham and cheese grilled sandwiches, there's always an occasion for the leftovers. We now call it the "forever giving" dish and no one ever gets tired of it.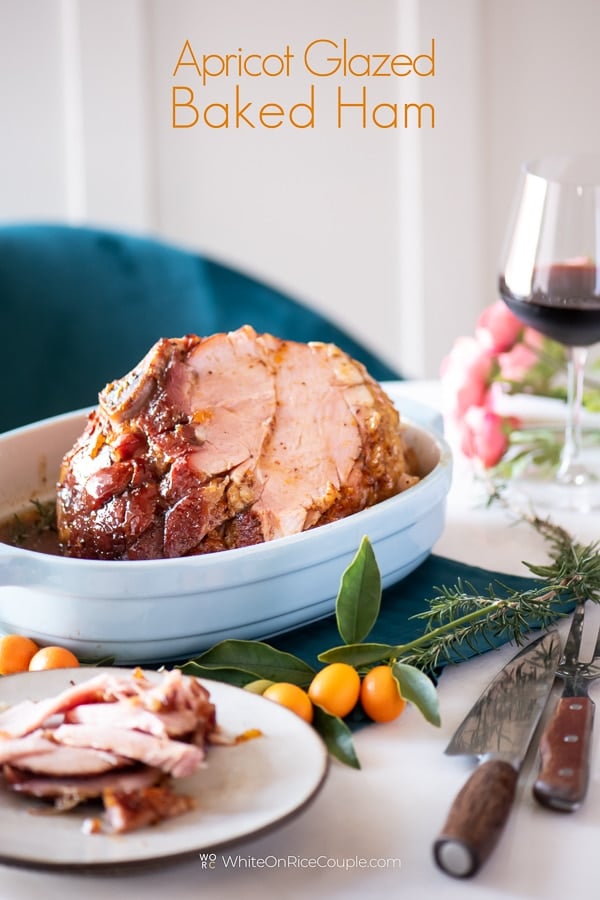 Video: Baked Ham Recipe with Apricot Glaze
Apricot Glaze Recipe
Our version is a family favorite because of the delicious apricot glaze. We opted out of adding honey and replace it with the more complex flavor for the sweetness with apricot glaze. The fruit flavors of the apricots really shine through and add such brightness and depth of flavor to the ham. If you have a tried and true honey baked ham family recipe, consider switching it up for one occasion for the apricot glaze. It's always nice to have a variety of glazes and to have fun with different flavors.
enjoy,
diane and todd
Can you freeze this Ham?
Yes, you can! It's great for freezing. We like to cut the leftovers into smaller portions before freezing them. That way, we just thaw out the package that's enough for one dinner. Or we'll thaw some extra for a breakfast of ham and eggs.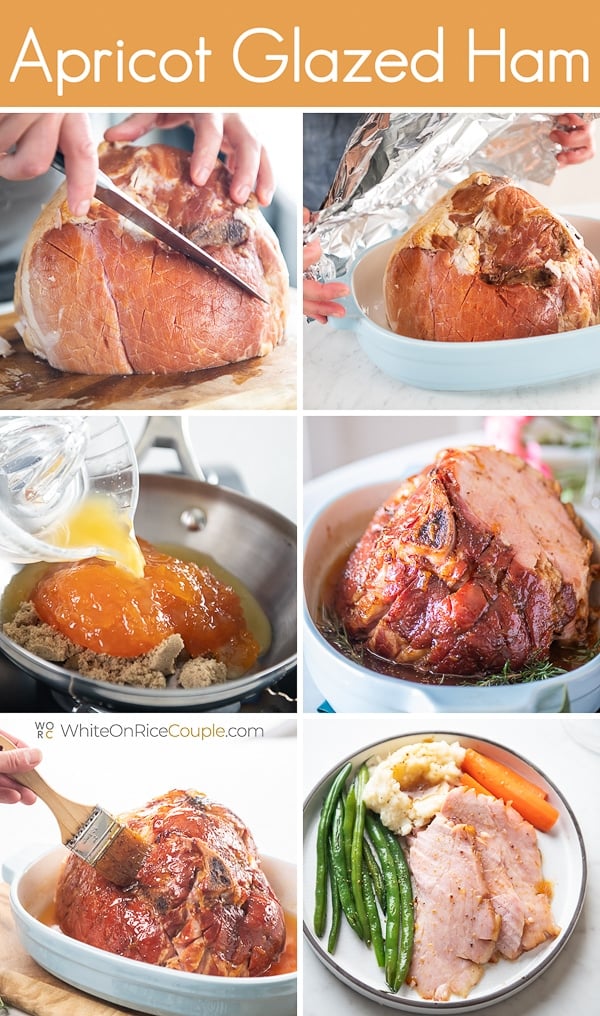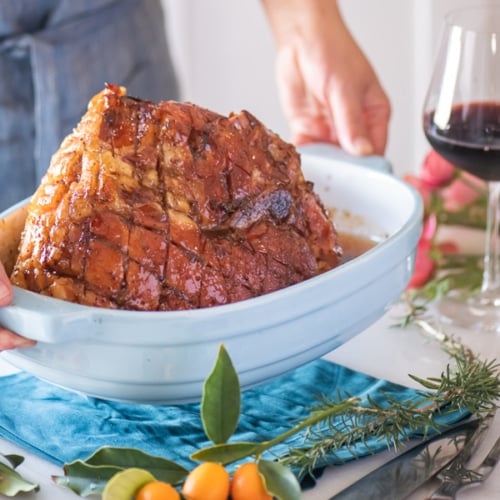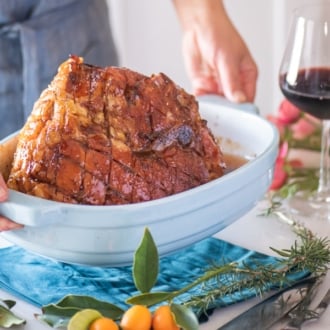 Apricot Glazed Baked Ham
Feel free to use a smaller or larger ham. Cooking time is about 12-14 minutes per pound. You're basically re-heating it all the way though the center, but don't want to over cook it to where it's dry. Use a thermometer to monitor the internal temperature to be about 140°F/60°C for an already fully cooked ham.
Ingredients
10 lb. (4.54 kg) boneless , fully cooked ham
Apricot Glaze
1 cup (234 g) apricot jam
1/4 cup (55 g) brown sugar
1/4 cup (60 ml) orange juice (or 1 orange juiced)
2 Tablespoons (30 ml) mustard (optional) or apple cider vinegar
1/4 teaspoon (1.25 ml) Cinnamon
1/4 teaspoon (1.25 ml) Clove
black pepper , to taste
Instructions
Remove ham from package and netting. If it's been refrigerated, if possible let it sit out for about 1 hour to take a bit of the chill off. If ham is not pre-sliced, score the ham with shallow 1/2-inch/12mm criss-cross cuts.

Preheat oven to 350°F/175°C. Lay ham cut side down on a baking dish and cover tightly with aluminum foil. Don't let any steam enter or escape the foil so that the ham doesn't dry out.

Bake the ham for about 2 hours (12-14 minutes per pound, or per the package instructions).

While the Ham Bakes - Make the Glaze: In a saucepan, combine the brown sugar glaze ingredients (apricot jam, brown sugar, orange juice, optional mustard, cinnamon, clove, and black pepper). Heat and whisk until brown sugar is dissolved and glaze is well combined.

About 20 minutes before the ham is finished, brush the glaze over the ham. Increase oven to 425°F/220°C and place the ham back in the oven, uncovered.

Finish baking until the ham is crispy on the outside and the internal temperature is at least 140°F/60°C.

Optional serving: Combine the juices from the roasting pan and the remaining glaze in a saucepan. Bring to a simmer and cook for about 5 minutes or until thickened. Brush the glaze onto the ham when serving or serve alongside in a bowl for everyone to add as they like.
Nutrition Information per Serving
Calories: 341kcal, Carbohydrates: 11g, Protein: 51g, Fat: 9g, Saturated Fat: 3g, Cholesterol: 143mg, Sodium: 134mg, Potassium: 869mg, Fiber: 1g, Sugar: 8g, Vitamin A: 30IU, Vitamin C: 3mg, Calcium: 17mg, Iron: 1mg
Love Air Frying? Check out this Air Fryer Honey Glazed Ham Recipe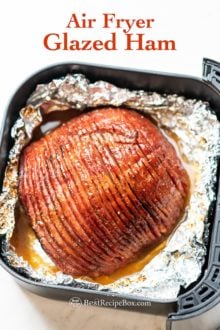 More easy recipes: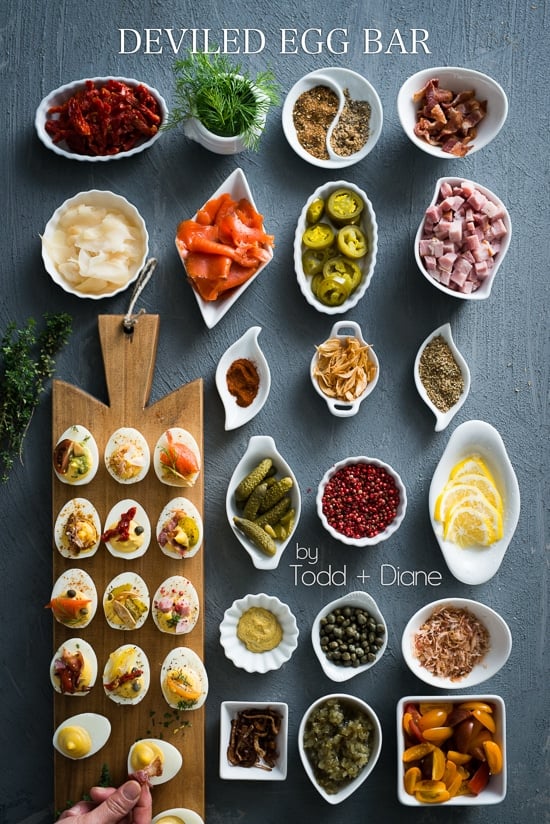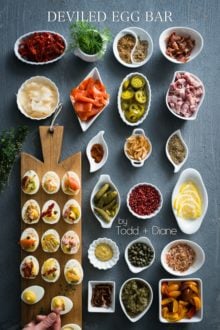 We are a participant in the Amazon Services LLC Associates Program, an affiliate advertising program designed to provide a means for us to earn fees by linking to Amazon.com and affiliated sites.