Butter Rum Apple Crisp Tart & Pink Pearl Apples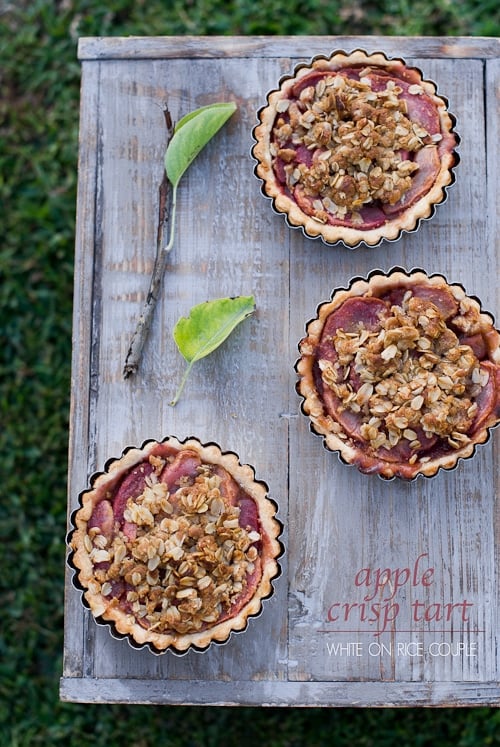 Stumbling onto new varieties of apples is always such a wonderful treat. We keep mental notes of unique heirloom apple varieties, but because these varieties are often so difficult to source, we don't often expect to find them even at our local farmers market. I've always had pink pearl apples on top of my wish list since I saw them featured in a magazine article long ago. Their pink flesh, delicate, pearly skin always reminded me of a fairy tale apple and I often find myself calling them Cinderella apples.
Video Butter Rum Apple Crisp Tart Recipe Using Different Apples: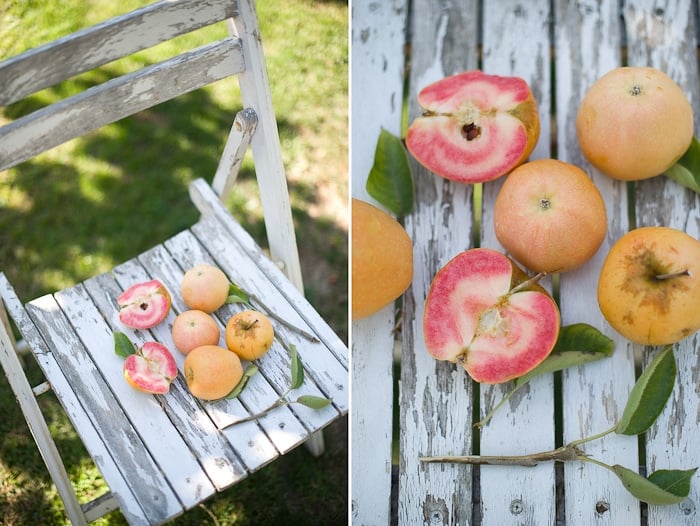 Beautiful Pink Pearl Apples
To my pleasant surprise, I stumbled on boxes of these beautiful specimens at Bi-Rite Market in San Francisco one time while visiting for a shoot. When I recognized the beautiful skin of the apples from afar, I squealed out loud like a little girl finding a new barbie doll. Oh my goodness! Pink pearl apples….these are pink pearls! I've always wanted to bite into one and see if it really is as beautiful and delicious as everyone says!
I grabbed a bag and stuffed it full to three pounds worth of pink pearl jewels. They felt like jewels to me. It doesn't take much to make me happy.
Before I could exit the store, I bit into an apple, negated all my proper lady-like manners and squealed out loud again with a mouth full of crisp, juicy tart flesh.
Oh it really is pink inside! It's so gorgeous! I'm in love!
Take at the incredible flesh and beautiful skin of these apples. Aren't they just stunning?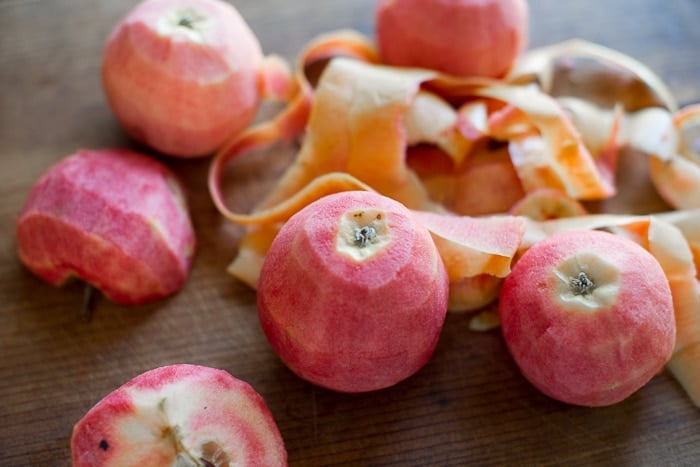 Butter Rum Apple Tart
Never have I ever been so impressed with an apple that is not only gorgeous on the outside and inside, but also wonderful to eat as well. Often times, the most delicious heirloom apples I've had are the fugly ugly ones. Gorgeous, perfectly grown apples don't impress me because rarely have I ever found one to taste as good as it looks.
But these pink pearl apples completely threw me off guard because I wasn't expecting to find them, and when I did stumble on them, they were as beautiful as they were delicious.
After coming home from San Francisco, I wasn't able to eat them fast enough. To make sure none of these apples went to waste, Todd made these fantastic butter rum apple crisp tarts with the pink pearls. Not only are they such a treat to eat fresh, they're also perfect for baking because of their tart flavor.
These butter rum apple tarts are absolutely wonderful and with a plethora of apples inundating the farmers markets, the options for these tarts are endless. Not only am I enjoying them for dessert, but I'm confident that they'll pair wonderfully with my espresso tomorrow morning for breakfast. When possible, eat apple tarts for breakfast to start your day off right.
happy apples,
diane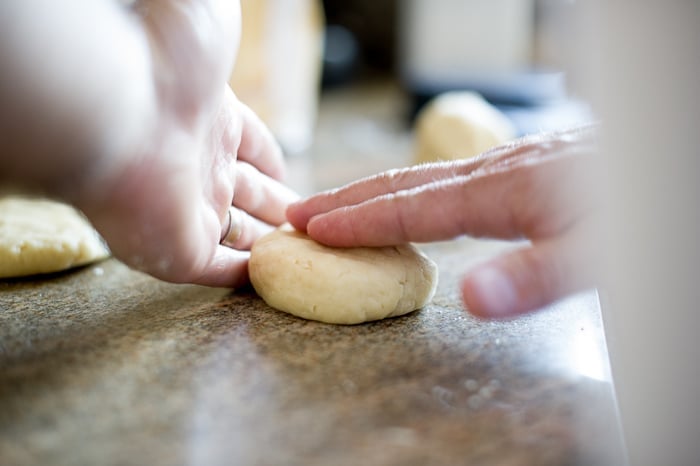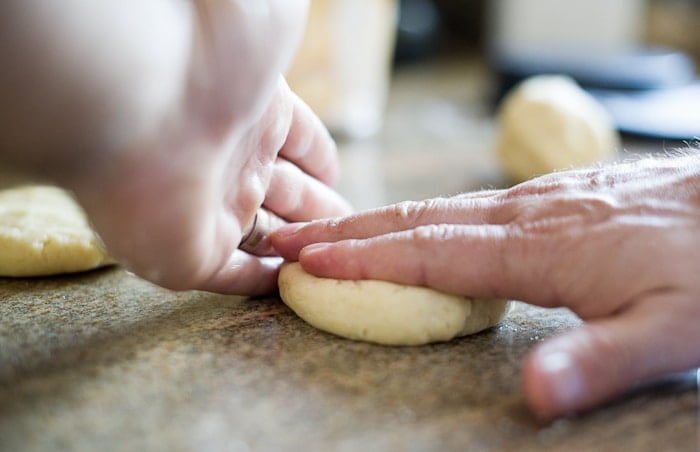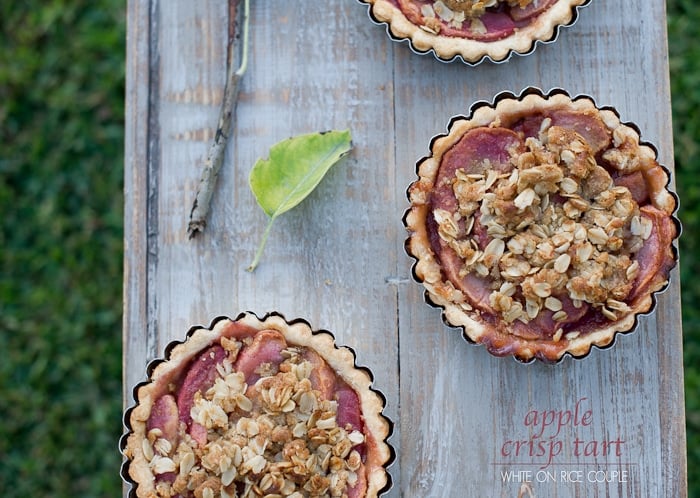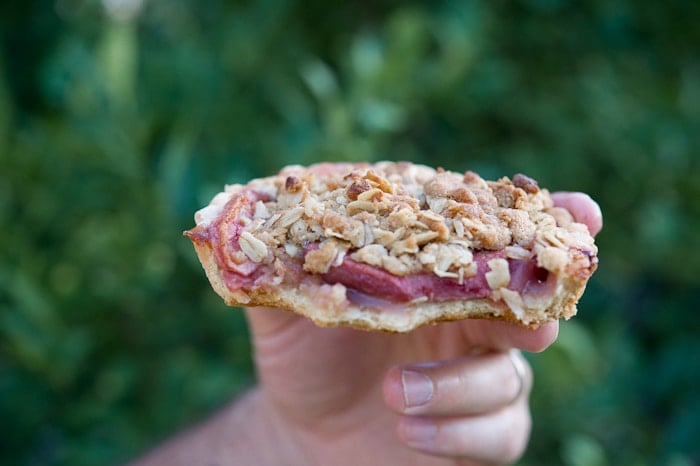 More apple recipes:
This recipe was originally published 2012 and re-published in 2018 with a new video and some photos.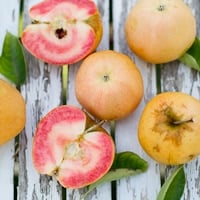 Butter Rum Apple Crisp Tart
Don't substitute white or light rum for the dark rum, you will barely taste it. If you want a more pronounced rum taste, you can use Black rum. If you don't want the rum taste, feel free to leave out the rum. Makes 4 small tartlets or one 9" tart.
Ingredients
Tart Crust Ingredients
1 1/4 cups (155g) Flour
1 Tablespoon (15g) Sugar
1/2 teaspoon (2.5g) Kosher or Sea Salt
1/2 cup (1 stick or 113g) cold unsalted Butter , cut into 1/2" pieces
1/4 cup (60ml) cold Water
Tart Filling
4 medium Apples , peeled, cored, & sliced about 1/4" thin
1/4 cup (1/2 stick or 57g) unsalted Butter , melted
1/4 cup (60ml) Dark Rum *see head note
1/4 cup (55g) packed Brown Sugar
1 Tablespoon (15ml) Flour
1 teaspoon (5ml) Lemon Juice
1/2 teaspoon ground cinnamon , optional
Tart Crisp Topping
1/2 cup (65ml) Flour
1/4 cup (55g) packed Brown Sugar
1/2 teaspoon Kosher salt or Sea Salt
6 Tablespoons (85g) cold unsalted Butter , cut into small pieces
2/3 cup (40g) Old Fashioned Oats
Instructions
Make Crust Dough: In a bowl, pinch together flour, butter pieces, salt, and sugar with your fingertips until most of the big chunks of butter are flattened or broken up and there is no remaining dry flour sections.

Mix in enough of the cold water into the the dough until it comes together and forms a rough ball. If necessary, barely knead the dough just until the can come together nicely in a ball, dusting the surface with flour as you work to keep things from sticking. Don't overwork the dough or else it will become tough.

Divide the dough ball in 4 even portions (if making smaller tarts) and then roll each into balls, and flatten into a disks. Wrap in plastic wrap and chill for at least 30 minutes (can be chilled overnight or frozen for future use).

Make Crisp Topping: In a medium bowl, pinch together flour, brown sugar, salt, and butter until it resembles coarse sand. Using your hands, pinch and mix in oats until oats are evenly incorporated. Set aside in fridge until ready to top tarts.

Make Tart Filling: Place sliced apples in a large bowl. Add the melted butter and rum to apples. Stir in the brown sugar, flour, lemon juice, and optional cinnamon. Toss gently to evenly coat apples. Set aside.

Finishing: Lightly flour a work surface. One at a time, roll out crust dough disks until large enough to place in tartlet pans (@ 7" in diameter x 1/8" thick or about 12" in diameter for large tart). Line dough into pans, pressing sides into grooves of pan. Remove excess dough edges. Dock (form little indentions) the base of the tarts with your fingertips. Repeat with remaining disks of dough if making small tartlets.

Layer in apple filling into each tart. Divide crisp topping between the tarts. Place the tarts on a baking sheet pan.

Bake for 40-50 minutes (or about 60 minutes if baking a larger 9" tart) or until crust and topping are a nice golden brown. Set aside to cool slightly, then un-mold and serve. Serve warm or at room temperature.
Notes
For this recipe we used Pink Pearl apples, but feel free to use any good baking apple. You can easily make this recipe into a 9" tart instead of the little tartlets, but the smaller size is a nice for individual or party desserts. The recipe may look long, but it is actually fairly quick and easy to make. Make the dough, while that chills make the topping and then keep that chilled for best texture. Make the filling, then start rolling the dough, fill it with the apple mix, top with the crisp topping and bake.
We love the dual texture of the tart bottom, and the crisp topping, but if pressed for time, one could always just make a crisp by filling a baking dish with the apple filling, topping with the oat topping, then bake. But if you have the extra 15 minutes and the tart pans, make the crust. It is delicious and easy to make and handle.
Nutrition Information per Serving
Calories: 480kcal, Carbohydrates: 54g, Protein: 4g, Fat: 27g, Saturated Fat: 16g, Trans Fat: 1g, Cholesterol: 68mg, Sodium: 300mg, Potassium: 179mg, Fiber: 4g, Sugar: 24g, Vitamin A: 844IU, Vitamin C: 4mg, Calcium: 34mg, Iron: 2mg
We are a participant in the Amazon Services LLC Associates Program, an affiliate advertising program designed to provide a means for us to earn fees by linking to Amazon.com and affiliated sites.