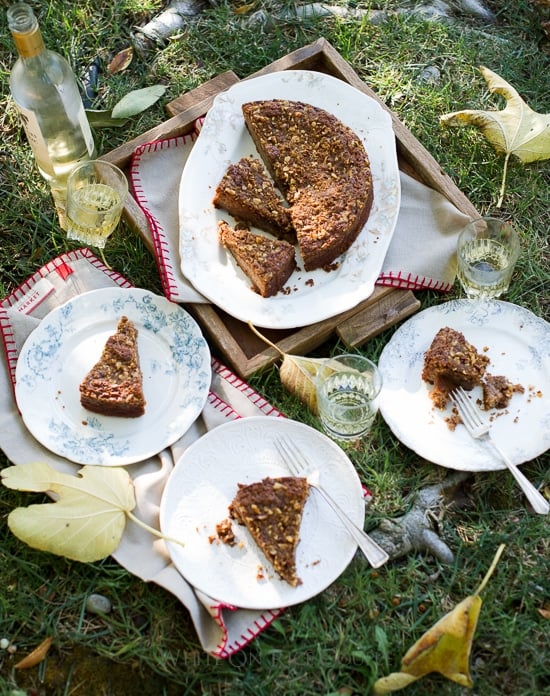 Before we left for Australia there was a bit more pantry cleaning we needed to do, trying to minimize any produce going to waste. Diane had roasted up the teriyaki glazed brussels sprouts for us to munch on, but there were apples, persimmons, and tons of garden fresh limes which most likely weren't going to survive the two weeks we'd be gone.
For the persimmons and limes we called in Diane's parents, as they are always willing to take any of those we have to offer. All of our travels landed smack dab in the middle of when our giant fuyu persimmons ripened this year, and no way were we going to let the squirrels eat them all. Diane's dad came over and we picked every nearly ripe persimmon which hadn't already been damaged or snacked on by the resident birds and squirrels. You should have seen his face light up.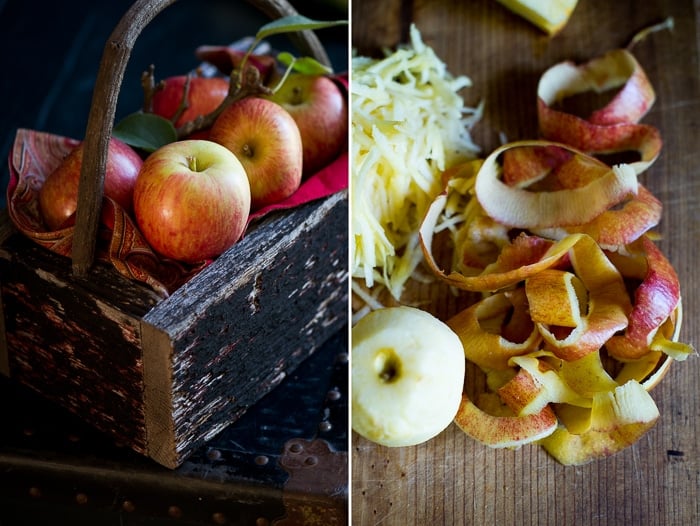 fragrant fresh apples make this cake wonderful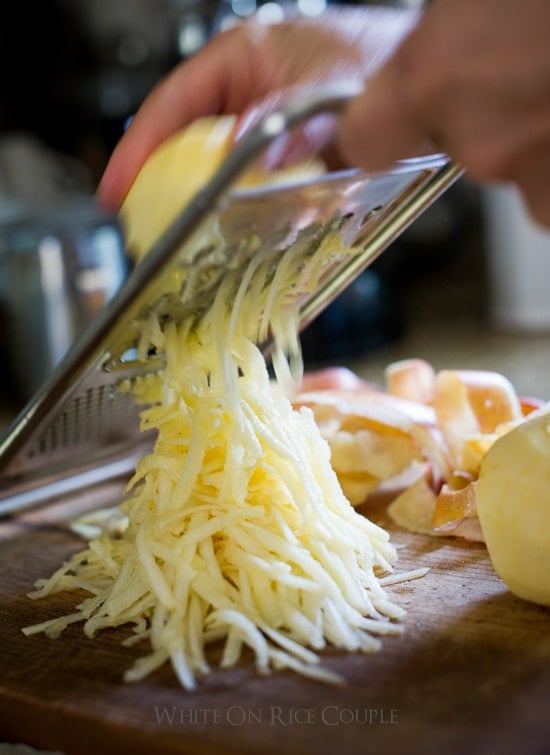 And no Vietnamese turns down good limes. Diane's mom loves our limes. I mean LOVES our limes. As she says,"Da stoe bought ones not da same. Your limes so good." So our limes found a good home. I can guarantee some will find their way into the best dipping fish sauce a soul can make. Her fish sauce is the best of the best. Ask any of the girls that either do or have worked in her nail salon over the past 20 years.
Now to the apples. We only had a few left from recent shopping forays, but it would suck to let the go to waste. Last month we posted a pumpkin spiced coffeecake with we've had to make a couple times since because it was so good. So why not try a riff off of that recipe?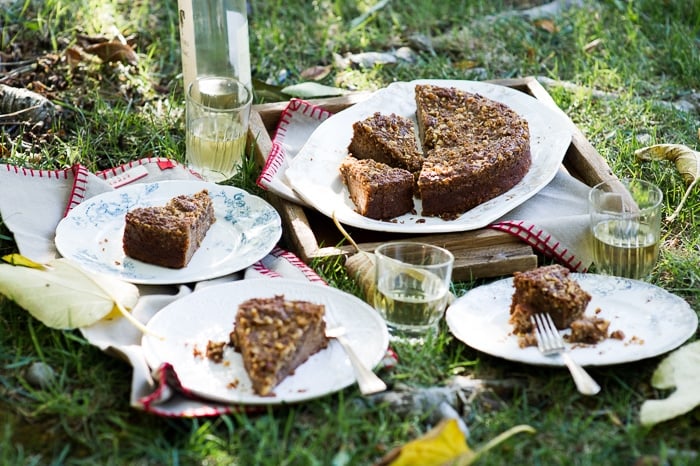 So I axed the pumpkin puree, bumped up the sour cream, tweaked the spices a bit, and added in grated apples. I thought about sautéing slices of apples and layering them in, but this way was quicker and easier, and with so much to do in the four days we were home in-between the NY/Seattle trip and the Australia trip, quick and easy seemed best.
It came out fantastic. I had previously thought the pumpkin spiced coffeecake was on of best I've had, however now I can't decide. This apple one is pretty damn tasty. No need to compete, there is plenty of love for both.
Hope you enjoy!
Todd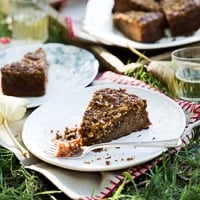 Apple Spiced Coffee Cake
If you have some on hand, cake flour will help make this coffee cake a little lighter. Use 1 3/4 cup of cake flour for the batter (instead of the 1 1/2 all-purpose flour). For the topping it doesn't matter which flour you use.
Use whichever your favorite nuts are for the topping. Some of our favorites are pecans, walnuts, hazelnuts, and almonds.
Makes one 9-inch cake.
Ingredients
for the topping:
1/3

cup

Flour

(40g)

1/2

cup

Brown Sugar

(110g)

1

teaspoon

ground Cinnamon

Pinch

kosher salt

or sea Salt

6

tablespoons

cold unsalted Butter

(85g) , cut into small chunks

1

cup

chopped Nuts

(@100g) (walnuts, pecans, hazelnuts, or almonds)
for the batter:
1 1/2

cups

All-purpose Flour

2

teaspoons

Baking Powder

1/2

teaspoon

Baking Soda

1 1/2

teaspoons

ground Cinnamon

1/2

teaspoon

ground Clove

1

teaspoon

ground Ginger

or 2 teaspoons fresh grated ginger

1/2

teaspoon

kosher salt

or sea Salt

1/2

cup

unsalted Butter

(113g or one stick)

1

cup

Brown Sugar

(220g)

2

large

eggs

1

teaspoon

vanilla extract

3/4

cup

Sour Cream

(180ml)

2

cups

peeled and grated tart Apples

, about 3 medium apples

(optional)

powdered sugar

, for dusting
Directions
Preheat oven to 350°F (175°C). Butter and flour a 9-inch springform pan.

Make the topping: In a bowl combine the flour, brown sugar, cinnamon, and salt. Pinch in the butter, or use a pastry cutter, until it looks like coarse crumbs. Mix in the chopped nuts, and then refrigerate topping until ready to top the coffeecake.

Make the batter: In a bowl, whisk together the flour, baking powder, baking soda, cinnamon, clove, ginger, and salt for at least 20 seconds. Set aside.

With a mixer beat the butter and brown sugar on medium-high until light and fluffy. Beat in the eggs, one at a time. Stir in the vanilla extract and sour cream. Mix in the grated apples until combined.

Stir in the flour mixture until just combined. Spread the batter in the prepared pan. Sprinkle the topping over the batter and then bake. Bake for about 1 hour 15 minutes (75 minutes) or until a toothpick comes out clean when inserted into the middle of the cake. Allow to cool, then remove from pan. Dust with powdered sugar if desired. Cut and serve.