DeliciousVietnam is a monthly blogging event celebrating the love and diversity of Vietnamese cuisine.  Delicious Vietnam was  founded by Anh of Food Lovers Journey and Hong and Kim of Ravenous Couple.
I'm joining in on this month's festivities and sharing my Vietnamese Chicken Salad Recipe. If you love Vietnamese food and have a great recipe post to share, please join the community!
My Mother has acquired an unprecedented fan basehere on our blog since I started writing about her Nail Shop Eats escapades and she has absolutely no idea of her devoted following. Mom is not a woman of technology, social media nor simple "hand-phone" use. To explain to her what twitter, facebook, social media and blogging are would be too epic of an explanation for her. I would lose hairs just wondering where to start. She would be bored after the first 3 minutes.
Mom thinks twitter is a cute video game with a blue bird and that blogging is a waste of time in front of a "digital machine". But she's seasoned home cook and can whip together a meal for our family of 10 faster than I can write a short post. Her kitchen skills far exceed anything that I can ever accomplish online.
Her kitchen training began as soon as she could barter her way through the market stalls of Viet-Nam and became head of household at the age of 11 when my grand-father died in the Viet-Nam war. She had no choice but to leave school and was catapulted into adulthood to tend for my grand-mother and family of 5. Mom had to grow up fast, learn the street and market smarts like a savvy produce dealer and grew a skin thicker and sharper than a durian shell.
Mom is tough, as is the rest of her nail shop staff, and when they all discuss things they are passionate about, it's a delirious afternoon of stories and laughter. When it comes to food-talk, everyone has a strong opinion about how a dish is prepared. With 12 women hailing from different regions of Viet-Nam and with different flavor preferences, there's never a dull moment.
They were talking chicken salad one afternoon. Everyone had the best chicken salad recipe.
So there were 12 best-chicken-salad-makers in one nail shop, at one time. Oh hell, watch out. This nail shop is way too small to have 12 BEST-CHICKEN-SALAD-MAKERS. It's one thing to have 12 best eye-brow-waxers and 12 best-mani/pedi-curers in town, but for some reason, having 12 best cooks working within the same walls doesn't garner the same camaraderie.
I sat in the corner and listened to each of the techniques and recipes shared out-loud across the bustling shop. The conversation was intense, often sisterly combative, but friendly and mostly silly-snarky about Northern or Southern ways of seasoning the fish sauce dressing and particularly on how they poached the chicken.
Customers were drawn into the conversation, often wondering if the staff was smack-talking the customers' hairy eyebrows.
I re-assured the clients that the staff were talking food. The ladies don't smack-talk. The customers felt relieved and were even more entertained. They decided to add more to their service just to stay longer. Mom was excited that business was bustling because of chicken salad talk.
Everyone was getting excited about their chicken salad recipe. The nail drills were grinding louder and the massages were becoming more firm.
Then I decided to add my own chicken recipe salad into the fun conversation and spoke up in Vietnamese, "I put napa cabbage in my salad and I BBQ my chicken instead of boiling it!"
Thunderous silence! The nail drills came to a halt, the 12 Vietnamese voices dropped dead silent. Vicky (aka Phuong) breaks the silence, " You do what? The kimchi Korean cabbage? In a Vietnamese chicken salad? You don't boil your chicken?" Vicky is hard-core. No substitutions are allowed in her cooking.
All eyeballs turned to me. I was getting hot. I stumbled for words, stuttered in my thoughts to explain my rationale on using napa cabbage instead of regular cabbage and why I prefer BBQ'd chicken. I started getting flashbacks from when I was a kid in trouble, trying to figure out if I should lie or just tell the truth.
Then I realized I was an adult, a 30-something Vietnamese-American woman who is dating a cattle ranch white-guy. My life has always been flooded with enriching things outside of my own culture. I was a diverse cook and embrace all things different and edible.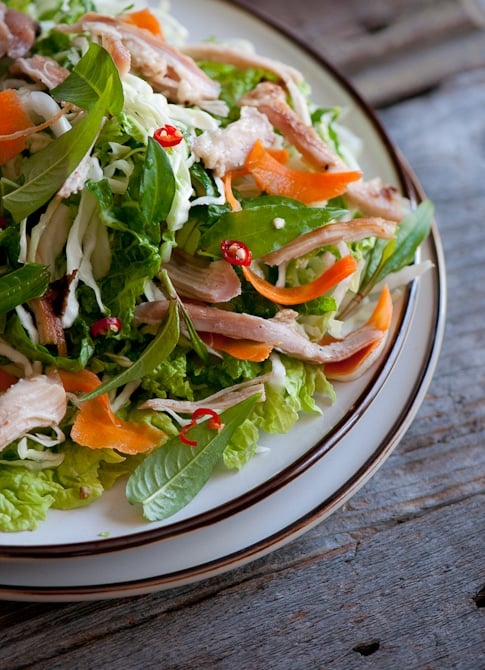 I felt empowered and respectfully blurted in one long breathless Vietnamese sentence, "Yes sister Vicky! And all you sisters!" (out of respect, we all call each other sisters). "I like napa cabbage because I like the delicate crunch and soft textures of the lacy leaves. And it's really pretty when you have the different colors of the stem and green leaves. And I like the flavor and char of bbq chicken instead of boiled chicken. And you should try it too, dear sisters!" I gasped for air.
All got quiet on the nail shop front.
Mom broke the awkward silence, "Hey, I like that! Sounds like a good idea. Did Tot (she still can't pronounce Todd correctly) show you that? Tot is smart."
Omg, Mom had my back. She agreed with me about my recipe & technique for once. Mom didn't try to tell me how to make my recipe better. I felt accepted as a bonafied Vietnamese home cook.
The rest of the staff agreed, "Yes little Sister, that sounds good, we'll have to try that. Thank Tot for us." Then the nail shops continues humming with the regular sounds, as if there were no distractions.
Whew. I think I won. I actually had the 12 best-chicken-salad-makers agree with me! And they gave all the credit to Tot.
Oh well, I don't care where the credit went to.  I still think my chicken salad recipe is great and  we're all winners!
Just another day at the nail shop.
-diane
Previous Nail Shop Eats:
(Gỏi Gà or Gỏi Bắp Cẚi Gà) Vietnamese Chicken Salad Recipe
Yield: 4 servings.
Total Time: 40 Minutes
There are many variations of this fabulous and classic Vietnamese Chicken Salad. The salad can be especially pleasing with different textures and flavors ranging from fried shallots, roasted peanuts, fried garlic and picked onions to different Vietnamese herbs such as mint, basil or the classic rau ram (Viet coriander). Some salads will be heartier with more chicken than cabbage, so you can choose your ratios and toppings to your personal taste. The chicken can be boiled, poached, grilled, fried or bbq.
Ingredients:
For the Salad:
about 4 cups thinly shredded cabbage (regular or napa)
handful of rau ram (

Vietnamese coriander

) or mint, basil, cilantro
1/4 c shredded Carrots
crushed, roasted Peanuts
fried Shallots
fried Garlic
Pickled Red Onions
For the Chicken Marinade:
2 lbs Chicken, sliced  to desired thickness for boiling, poaching, grilling or bbq (go for the brown meat!)
1 T fresh Ginger, crushed or grated
1 large clove Garlic, crushed or finely minced
2  T Vegetable or Grape-seed oil
2  T Fish Sauce
1 t Sugar
For the Fish Sauce Dressing
2/3 c Fish Sauce
2 T fresh Ginger, crushed or grated
1/3 c Water
3 cloves Garlic, finely minced or crushed
1-2 Red Chilies, minced
1 T Sugar
2 Tablespoons of fresh Lime Juice or more to taste (about 1 lime, depending on how juicy it is)
Directions:
Make the Chicken

In bowl, combine all chicken marinade ingredients and let marinade for about 20 minutes. Cook chicken using your desired method: boil, poach, grill or bbq.
Once chicken has cooled, shred the chicken.
Make Fish Sauce Dressing

In medium bowl or large jar, combine all ingredients well. Allow sugar to completely dissolve before serving.
You can keep chilled in fridge for up to 1 month.
Final Assembly:

In large bowl, combine cabbage, herbs and shredded carrots. In medium bowl, place shredded chicken and a few tablespoons of fish sauce to evenly coat the chicken.
When you're ready to serve, toss chicken into the salad and add more fish sauce dressing to taste. Top with fried shallots, garlic, peanuts and/or pickled onions.
Hello! All images & content are copyright protected. Please do not use our images without prior permission. If you want to republish this recipe, please re-write the recipe in your own words, or simply link back to this post for the recipe. Thank you.
Recipe Note for Salt: All recipes containing salt are based on kosher or sea salt amounts, not table salt. If using table salt, reduce the amount used to taste.
More Best Vietnamese Chicken Salad Recipes: