Kale, Bacon, White Bean Salad
Our kale bacon white bean salad is a great way salad for lunch or dinner. It's been quite a year so far and we're still trying to grasp the fact that we're already in May. Not a day goes by that where we are not grateful for doing what we love.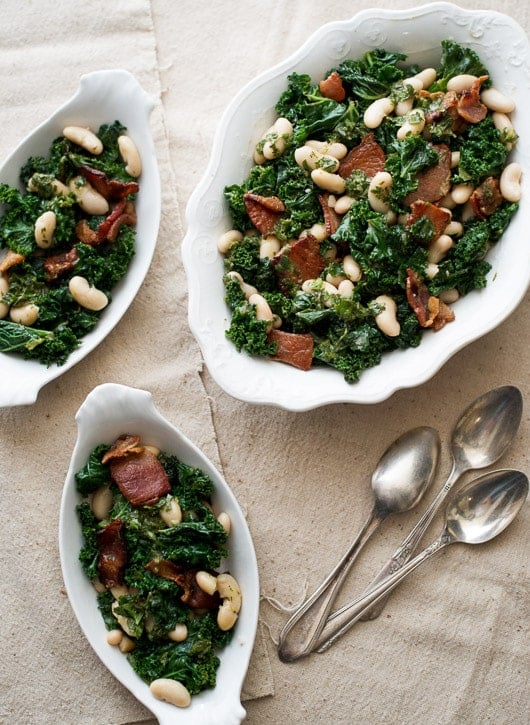 Kale, Bacon and White Bean Salad
Whether we're on a plane heading for a shoot or working locally in our studio, it's a good life. When we say good, we mean we're satisfied with our lives. If we can continue doing what we do now until we retire, we're happy. We remember back during our college days, ambitions were high. It's funny how our goals and definition of success changed so much within 15 years. We're not high level execs, engineers, doctors nor lawyers. When people ask what we do, we simply say that we're photographers, travelers and happy cooks. At the end of the day, we're satisfied, fulfilled and dreaming of what our next meal is going to be.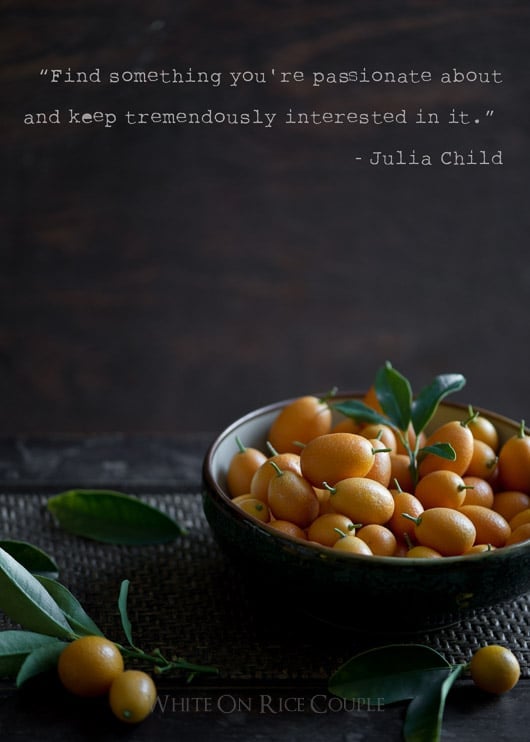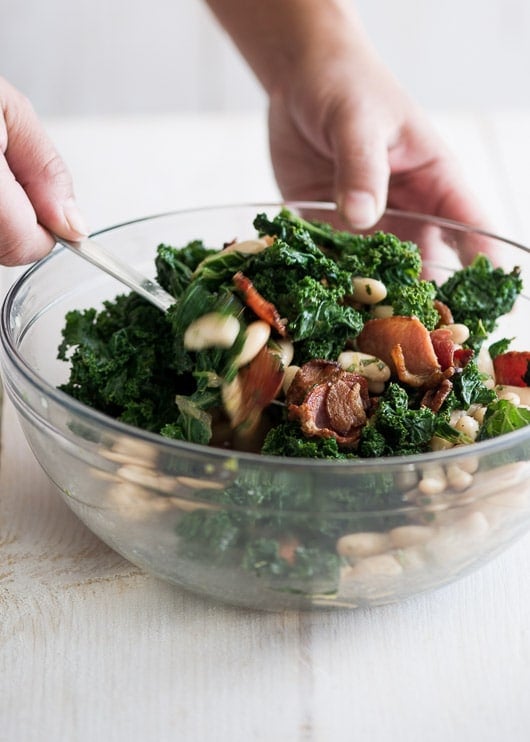 Our next meal again this week is this lovely warm kale salad that's dotted with luscious bacon and creamy white bans. Over the last year and a half, we've been reminding ourselves to share this recipe. It's been in our archives and had photographs finished way back in January of 2014! That's how crazy of bad bloggers we've been. Doing what we love outside the blog has definitely kept us busy and un-focused on blogging a bit, but we're so happy to be craving kale so that we remembered this recipe.
Over the cooler weather this week, we've been bundled up in warmer clothes and craving hot comfort foods that keep us cuddly and fuzzy feeling both inside and out. But after a while, the hearty comfort foods start to wear on us and we've craving the greens that Spring is exploding with. So it's perfect timing to make this salad again and to share it with you all.
Blogging makes us happy and finding this 16 month old recipe and photo makes us even happier! Enjoy this kale, bacon and white bean salad and relish in all the joys that simple everyday moments and people bring you.
hugs,
diane and todd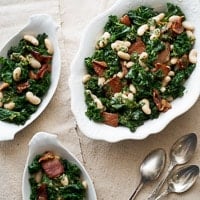 Kale, Bacon and White Bean Salad Recipe
This salad is great warm or at room temperature.
Ingredients
For the salad
1 large bunch of kale , de-stemmed and roughly chopped
4 slices thick-cut bacon , cut into 1" strips
2 large cloves garlic , minced
15 oz. canned white beans , drained and rinsed
1/2 teaspoon Worcestershire sauce
For the dressing:
2 Tablespoons (30ml) olive oil
zest of 1 medium lemon
2 Tablespoons (30ml) fresh lemon juice
1 teaspoon (5ml) brown sugar
1 teaspoon (5ml) dijon mustard
1/4 cup (60ml) minced flat leaf parsley
Instructions
Make the dressing: In medium bowl whisk olive oil, lemon zest, lemon juice, brown sugar, dijon mustard and parsley until well combined. Set aside.

Cook the Bacon: Heat large cast iron pan or skillet over medium high heat. Cook bacon pieces until crisp. Remove bacon and set aside.Turn off heat and allow bacon grease to cool until safe to handle (5-10 minutes), and then remove excess bacon grease leaving just enough to coat the pan.

Cook the Kale: Re-heat the skillet on medium high, then add garlic and cook until soft, fragrant and translucent, about 1 minute. Add kale and cook kale until wilted and tender. Add white beans and Worcestershire sauce and cook for about 2-3 minutes or until beans are heated through.

Put the kale and beans in a large serving bowl, toss in the bacon and dressing. Serve warm or cold.
Nutrition Information per Serving
Calories: 218kcal, Carbohydrates: 28g, Protein: 9g, Fat: 9g, Saturated Fat: 1g, Cholesterol: 1mg, Sodium: 44mg, Potassium: 663mg, Fiber: 5g, Sugar: 2g, Vitamin A: 3563IU, Vitamin C: 47mg, Calcium: 134mg, Iron: 4mg
Here's more great recipes with white beans.
We are a participant in the Amazon Services LLC Associates Program, an affiliate advertising program designed to provide a means for us to earn fees by linking to Amazon.com and affiliated sites.