I can't take it anymore! I give in and am finally going to embrace the fact that autumn is here.
I've been trying to hold out, desperately clinging to summer's fruit and veggie bounty. Pushing aside any thoughts of pumpkins and other winter squashes, stews, roasts. All of that delicious autumn comfort goodness.
Here in So Cal we have a skewed perception of seasons. We have about 1 1/2 seasons, instead of the traditional 4. It is great for extra months of  growing a plethora of produce, but after growing up in an area with four seasons, I miss the changes a bit. Just a bit, until I remember sudden storms, power outages, slush, black ice, and other dark season unpleasantness. Maybe we'll just go visit somewhere that has "seasonal" weather. In fact we just did, and that was the first step in me beginning to acknowledge that fall is here. It is hard to argue with golden Aspens touched by the first snowfall that autumn has arrived.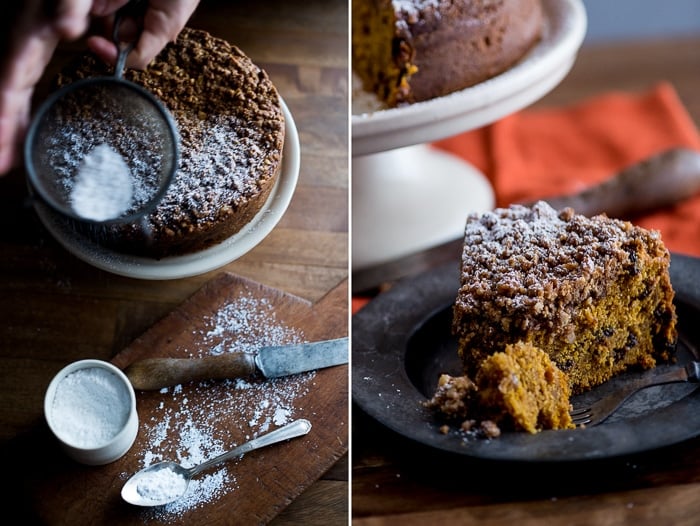 So when Diane made a request for a pumpkin coffeecake, I was game. Our recent trip combined with the local fall indicator (hot, dry Santa Ana winds) spurred me into autumn feasting mode. Time to get the comfort food mojo on!
Here's the recipe I ended up with for a fluffy, spiced pumpkin coffeecake. It has a streusel-like topping with chopped nuts and brown sugar. The batter gets its kicks from fluffy cake flour, fresh grated ginger, nutmeg, cinnamon, and of course pumpkin puree. It was quite delicious. Hope you enjoy as much as we did!
Happy Fall!
-Todd
Pumpkin Spiced Coffeecake
Yield: one 9-inch cake
Total Time: 1 hour 30 minutes
The cake flour will help make this coffeecake a little lighter, but if you only have regular all-purpose flour, use a bit less, just over 1 1/2 cups of all purpose flour for the batter. For the topping it doesn't matter which flour you use. Use whichever your favorite nuts are for the topping. Some of our favorites are pecans, walnuts, hazelnuts, and almonds). The raisins will bake best if soaked for about 30 minutes beforehand. We will usually soak them in dark rum for a little extra flavor, but if you want to tame it down a little, just soak in warm water.
Ingredients:
For the topping:
1/3 cup (40g) Flour
1/2 cup (110g) Brown Sugar
2 teaspoons ground Cinnamon
1/2 teaspoon ground Cloves
1 teaspoon ground Ginger powder
Pinch of kosher or sea Salt
6 tablespoons (85g) cold unsalted Butter, cut into small chunks
1 cup (@100g) finely chopped Nuts (walnuts, pecans, hazelnuts, or almonds)
For the batter:
1 cup golden Raisins
dark rum, enough to cover the raisins
1 3/4 cups (200g) Cake Flour
2 teaspoons Baking Powder
1/2 teaspoon Baking Soda
1 1/2 teaspoons ground Cinnamon
1 teaspoon ground Clove
2 teaspoons fresh grated Ginger
1/4 teaspoon freshly grated Nutmeg
1/2 teaspoon kosher or sea Salt
1/2 cup (113g or one stick) unsalted Butter
1 cup (220g) Brown Sugar
2 eggs
1 teaspoon vanilla extract
3/4 cup (180ml) Pumpkin Puree
1/2 cup (120ml) Sour Cream or Greek Yogurt
confectioners sugar, for dusting
Directions:
Preheat oven to 350°F. Butter and flour a 9-inch springform pan. Soak the batter's raisins in rum for at least 20 minutes, pressing down on the raisins occasionally to make sure the top ones get to macerate, too.
Make the topping: In a bowl combine the flour, brown sugar, cinnamon, clove, ginger, and salt. Pinch in the butter, or use a pastry cutter, until it looks like coarse crumbs. Mix in the chopped nuts, and then refrigerate topping until ready to top the coffeecake.
Make the batter: In a bowl, whisk together the flour, baking powder, baking soda, cinnamon, clove, ginger, nutmeg, and salt for at least 20 seconds. Set aside.
With a mixer beat the butter and brown sugar on medium-high until light and fluffy. Beat in the eggs, one at a time. Stir in the vanilla extract, pumpkin puree, and sour cream. Drain the raisins from the rum and stir in.
Stir in the flour mixture until just combined. Spread the batter in the prepared pan. Sprinkle the topping over the batter and then bake. Bake for 50 minutes to 1 hour or until a toothpick comes out clean when inserted into the middle of the cake. Allow to cool, then remove from pan and dust with confectioners sugar. Cut and serve.
To toast nuts:
To toast nuts, preheat an oven to 325°F. Spread the nuts out on a sheet pan and bake until fragrant and lightly toasted, about 10 minutes. Or toast in a large dry skillet over medium heat for 5-10 minutes or until fragrant and lightly toasted.
To make pumpkin puree:
Roast a pie pumpkin on a sheet pan at 375°F for about 1 hour or until soft when sides are pressed. Allow to cool, then split, scoop out seeds and remove flesh from skin. Puree flesh and store in an airtight container in the fridge.
Hello! All images & content are copyright protected. Please do not use our images without prior permission and do not re-publish this recipe. Simply link back to this post for the recipe. Thank you.
Recipe Note for Salt: All recipes containing salt are based on kosher or sea salt amounts, not table salt. If using table salt, reduce the amount used to taste.
[ad]