Apple Spiced Coffee Cake
We love this time of this time of year because we're loaded with ripe, juicy and in-season apples. Our apple spiced coffee cake is now on the menu for the next few months and no one ever gets tired of it.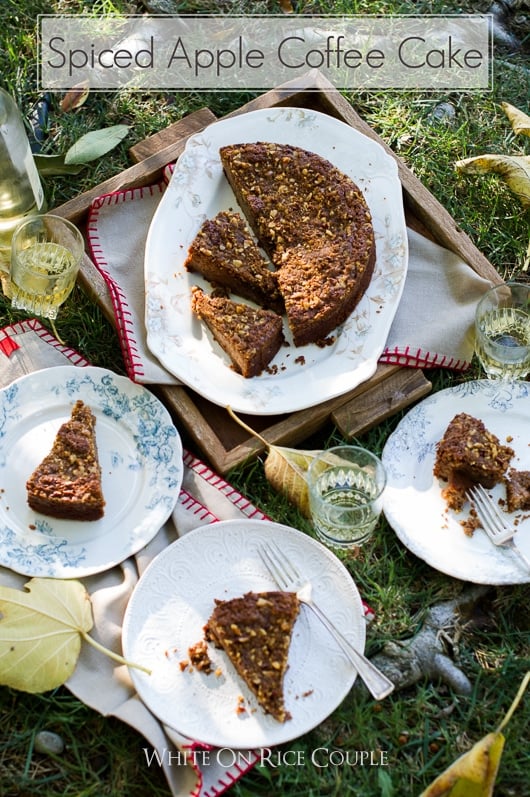 Inspired by the season, we visited apple country to explore the apple and pear orchards of the area. What a treat is is to be able to be immersed in all these beautiful apple trees. If you have any apple u-pick orchards in your area we suggest you take a day trip and indulge. The beauty of apples and pears growing on the trees are always a spectacular sight. And it's even better if you can pick a bag full of fresh apples for this apple spiced coffee cake!
Video of our Spiced Apple Coffee Cake Recipe:
Easy Coffee Cake with Apple Flavors
A while back I posted a pumpkin spiced coffeecake with we've had to make a couple times since because it was so good. So why not try a riff off of that recipe with all these apples? So we axed the pumpkin puree, bumped up the sour cream, tweaked the spices a bit, and added in grated apples. I thought about sautéing slices of apples and layering them in, but this way was quicker and easier, and with so much to do in our schedule, quick and easy seemed best. It came out fantastic. We had previously thought the pumpkin spiced coffeecake was one of best we've had, however now we can't decide. This apple one is pretty darn tasty. No need to compete, there is plenty of love for both.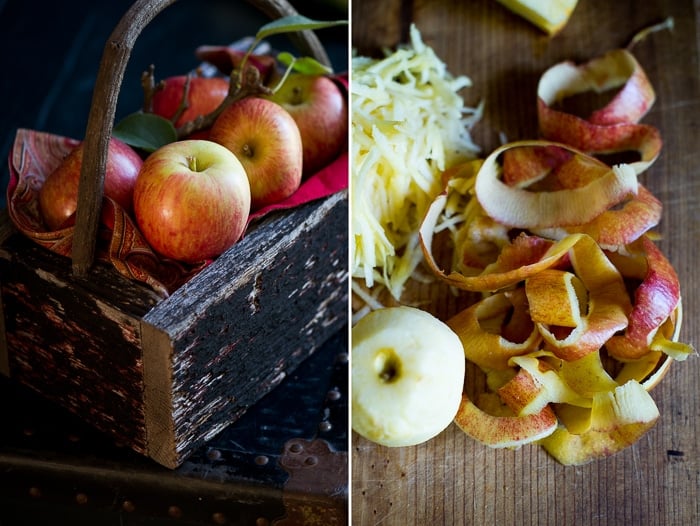 fragrant fresh apples make this cake wonderful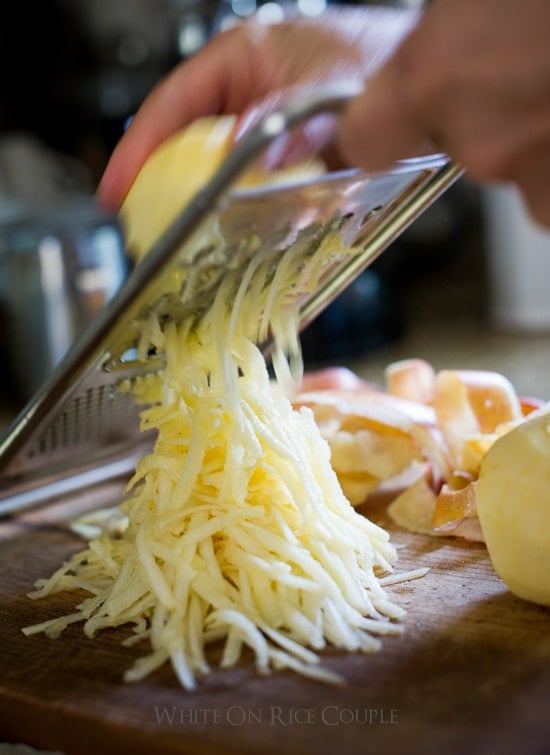 Hope you enjoy.
-Todd and Diane
This Apple coffee cake recipe was originally published in 2013 and re-published in 2020 with a new video!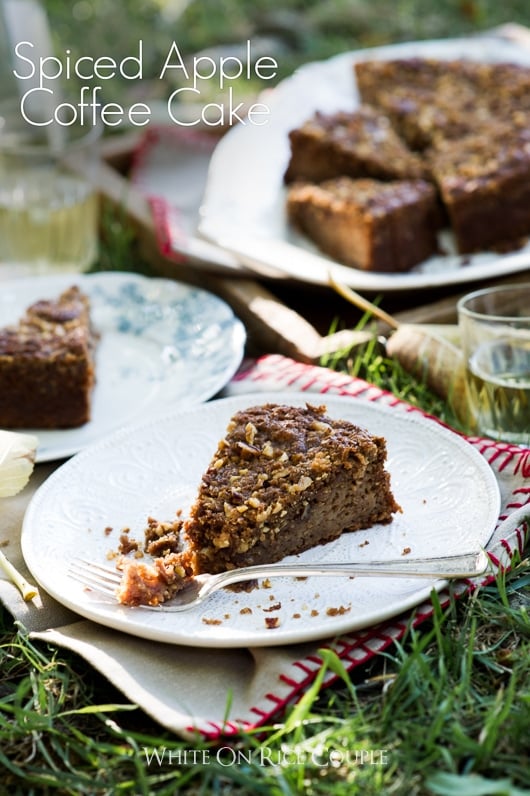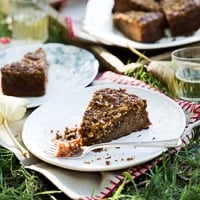 Apple Spiced Coffee Cake
If you have some on hand, cake flour will help make this coffee cake a little lighter. Use 1 3/4 cup of cake flour for the batter (instead of the 1 1/2 all-purpose flour). For the topping it doesn't matter which flour you use. Use whichever your favorite nuts are for the topping. Some of our favorites are pecans, walnuts, hazelnuts, and almonds. Makes one 9-inch cake.
Ingredients
for the topping:
1/3 cup (42 g) Flour
1/2 cup (110 g) Brown Sugar
1 teaspoon (5 ml) ground Cinnamon
Pinch (Pinch) kosher salt or sea Salt
6 tablespoons (90 g) cold unsalted Butter , cut into small chunks
1 cup (144 g) chopped Nuts (walnuts, pecans, hazelnuts, or almonds)
for the batter:
1 1/2 cups (188 g) All-purpose Flour
2 teaspoons (10 ml) Baking Powder
1/2 teaspoon (2.5 ml) Baking Soda
1 1/2 teaspoons (8 ml) ground Cinnamon
1/2 teaspoon (2.5 ml) ground Clove
1 teaspoon (5 ml) ground Ginger or 2 teaspoons fresh grated ginger
1/2 teaspoon (2.5 ml) kosher salt or sea Salt
1/2 cup (114 g) unsalted Butter (one stick)
1 cup (220 g) Brown Sugar
2 large eggs
1 teaspoon (5 ml) vanilla extract
3/4 cup (180 ml) Sour Cream
2 cups (250 g) peeled and grated tart Apples , about 3 medium apples
(optional) ((optional) ) powdered sugar , for dusting
Instructions
Preheat oven to 350°F (175°C). Butter and flour a 9-inch springform pan.

Make the topping: In a bowl combine the flour, brown sugar, cinnamon, and salt. Pinch in the butter, or use a pastry cutter, until it looks like coarse crumbs. Mix in the chopped nuts, and then refrigerate topping until ready to top the coffeecake.

Make the batter: In a bowl, whisk together the flour, baking powder, baking soda, cinnamon, clove, ginger, and salt for at least 20 seconds. Set aside.

With a mixer beat the butter and brown sugar on medium-high until light and fluffy. Beat in the eggs, one at a time. Stir in the vanilla extract and sour cream. Mix in the grated apples until combined.

Stir in the flour mixture until just combined. Spread the batter in the prepared pan. Sprinkle the topping over the batter and then bake. Bake for about 1 hour 15 minutes (75 minutes) or until a toothpick comes out clean when inserted into the middle of the cake. Allow to cool, then remove from pan. Dust with powdered sugar if desired. Cut and serve.
Nutrition Information
Calories: 615kcal, Carbohydrates: 71g, Protein: 8g, Fat: 35g, Saturated Fat: 17g, Trans Fat: 1g, Cholesterol: 111mg, Sodium: 266mg, Potassium: 346mg, Fiber: 3g, Sugar: 44g, Vitamin A: 841IU, Vitamin C: 2mg, Calcium: 142mg, Iron: 3mg
Here's some more great apple recipe ideas to explore.
We are a participant in the Amazon Services LLC Associates Program, an affiliate advertising program designed to provide a means for us to earn fees by linking to Amazon.com and affiliated sites.