Peach and Arugula or Sorrel Salad with honey/balsalmic vinaigrette
It's been a trying time for us gardeners here. Fending off garden pests seems to be the topic of discussion for our last several posts. Recently, it's having to fend off possums from our brandywine and sun gold tomato plants. Now it's having to beat our dogs to our white peaches. Obviously they have good taste just like the possums. These dogs just LOVE to eat the white peaches, on and off the tree.
Peach thief smelling the goods first, checking for ripeness.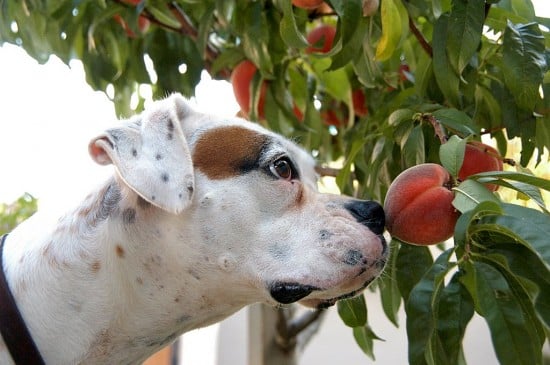 These clever canine critters have their strategy. Yes, we've watched them from a distance and studied their peach stealing behaviors. Dante, the big Rhodesian Ridgeback, will walk under the lower branches and keep nudging at them, using the attributes of his big snout and tall back. Sierra, the smaller white Boxer, will play with her balls and "accidentally" run into the trunk of the tree. The delicate white peaches will then succumb to all the snout nudging, body slamming dog techniques and drop to the ground, falling prey to the canine pests.
Peach thief taste testing the peach, checking for readiness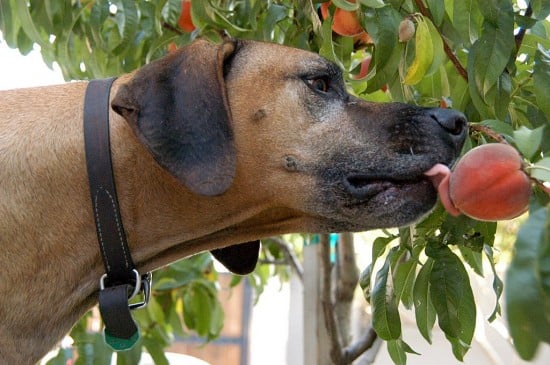 It can be quite funny to watch our dogs sit under the tree, stare up at the cache of peaches, then strategize on how to bring them to the ground. But it's not so funny when we see them tear into the soft, sweet, juicy, drippy flesh of our prized peach bounty. Like any gardener who would defend his fruit bounty, we'd chase them off with our brooms, shooing them away from the ripe fallen peaches and devour them ourselves. Yeah, they can and should watch from afar as us gardeners eat what is rightfully ours, after a seasons hard work of trimming, watering and fertilizing the tree!
Peach thief waiting, hoping for a hailstorm of peaches to drop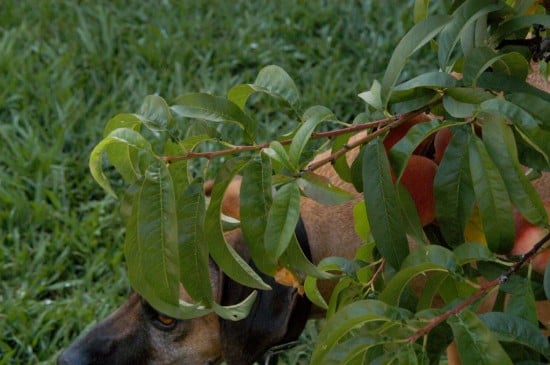 Obviously it's a fight against nature, pests, possums, rats, dogs and all to keep them away from the gardens bounty. We don't mind sharing the fruit with the pups, certainly not all. We're kind, generous folks who feel that the dogs are entitled to some fruit, but at least leave some for us too!
Happy gardener collecting peaches for human consumption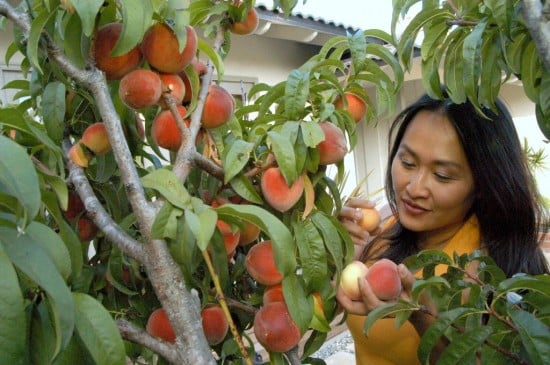 There's so many white peach dishes we have planned during the next week. It's really exciting to finally see our little tree burdened with so much fruit. So we collected the fallen fruit, which are the really ripe and ready ones and made another simple salad with them. Our garden sorrel is a bright, tart and fresh accompaniment to the lush, sweet peaches. The mild, grassy flavor of the sorrel also brights out the true sweetness of the peaches too. We had more peaches than sorrel in the salad because too much of the sorrel's sourness would overpower the sweet peach fruit. The vinaigrette is a very light and cheery dressing that ties the two contrasting ingredients together nicely, but it doesn't overpower the star of the salad, the white peaches.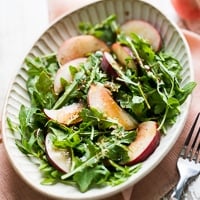 White Peach & Arugula/Sorrel Salad w/ Honey Balsamic Vinaigrette
This is an amazing, refreshing summer salad. The better the peaches, the better the salad. Yellow peaches will work just fine too. The freestone varities will make prepping much easier.
Ingredients
2 cups (480ml) loosely packed Arugula or Sorrel leaves
2 medium ripe White Peaches , sliced
2 Tablespoons (30ml) Honey
2 Tablespoons (30ml) Grape Seed oil
1 Tablespoon (15ml) Balsamic Vinegar
optional - fresh Lemon Zest from 1/2 medium lemon
1 Tablespoon (15ml) fresh Lemon Juice
1/4 teaspoon (1ml) vanilla extract
Kosher or Sea Salt , to taste
fresh cracked Black Pepper , to taste
Instructions
Whisk together dressing ingredients (honey, grapeseed oil, balsamic vinegar, lemon zest (optional), lemon juice, vanilla, salt, & pepper) in bowl.

If using sorrel leaves, tear into bite sized pieces. Put torn up sorrel leaves or arugula leaves and sliced peaches in large bowl.

Dress with salad with vinaigrette. Top with additional lemon zest if desired.
Nutrition Information
Calories: 124kcal, Carbohydrates: 15g, Protein: 1g, Fat: 8g, Saturated Fat: 1g, Sodium: 4mg, Potassium: 192mg, Fiber: 1g, Sugar: 13g, Vitamin A: 482IU, Vitamin C: 8mg, Calcium: 22mg, Iron: 1mg
We are a participant in the Amazon Services LLC Associates Program, an affiliate advertising program designed to provide a means for us to earn fees by linking to Amazon.com and affiliated sites.