In Transition Meal: Tomatoes, Figs & Salute to Summer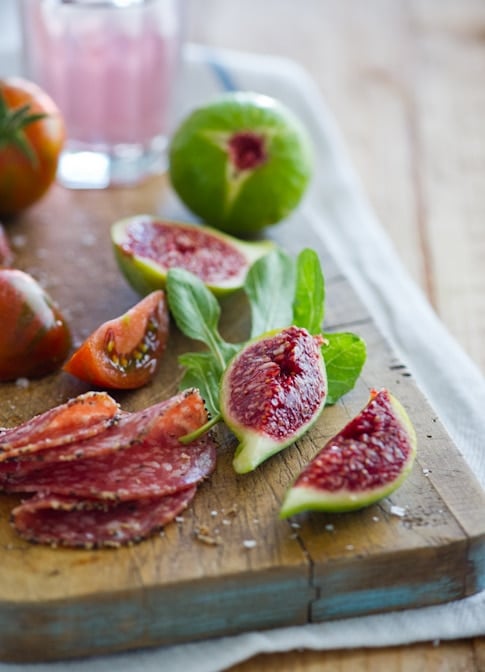 I'm not going to allow September to leave me so quickly. August slipped through my hands like a silent kiss in the night and before I knew it, everyone was bidding Summer adieu.
Admist our hectic August calendar and new studio build out, my wandering brain didn't fully register that we touched into September. Waking up over the last few mornings I sensed a change at dawn's rising. The air greeted me with a slightly cooler breath. I grabbed a sweater. The stone garden pathways were chilly against my toes. I slipped on my garden sneakers.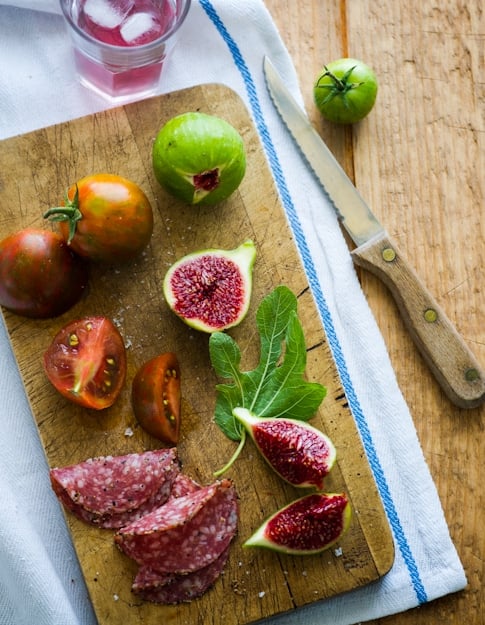 garden black zebra heirloom tomatoes & strawberry figs
At that moment, the realization that September had arrived finally hit me. I stood underneath our pomegranate tree, staring at the dangling red globes of fruit and sensed that Fall was in sneaking quietly behind me, making me un-aware that Summer never really said it's formal goodbyes.
But I'm not feeling lost that Summer is over. I refuse to let Summer leave me completely.
This is a transition period now and that's what I'll refer to this moment as. I'm not fully ready to embrace Fall's arrival, nor am I going to succomb to packing up my Summer tank tops and white shoes. Although regardless of the season, I'm guilty of fashion faux pas by wearing white shoes year round. I believe in white shoes.
Our garden is equally in transition right now. The last of the sweet heirloom tomatoes remain sweetened on the vines. Nectar sweet strawberry figs are dropping like honey bombs for the birds to feast on. And finally, Fall's pomegranates are becoming more beautiful by the day with their deep red hues reminiscent of Autumn colors.
This meal is our transition meal and embraces everything amazing at the end of one warm glorious season to the beginning of a new, rich Autumn. Thick slices of sweet heirloom tomatoes, sticky sweet figs, thin slices of fatty charcuterie and a few snowfalls of sea salt make a wonderful transition meal. It's a meal full of flavors, textures and meaning.
Often times when we look at our platter, there's plenty of stories that can be told with each ingredient. What we eat should nourish us with a bit of history, emotion and story. For us, this transition meal is one of them.
Hope you all had a wonderful Summer.
I'm still embracing Summer for a bit while longer while reaching out to welcome Fall.
– Diane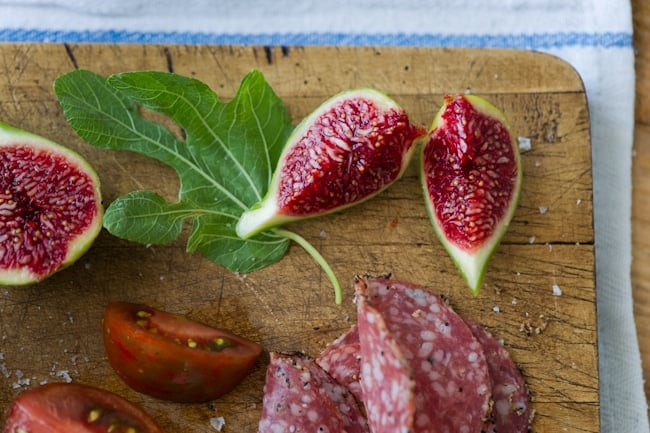 We are a participant in the Amazon Services LLC Associates Program, an affiliate advertising program designed to provide a means for us to earn fees by linking to Amazon.com and affiliated sites.