Tomato Chutney Grilled Cheese Sandwich
I'm a hopeless romantic when it comes to this tomato chutney grilled cheese sandwich. When hankering for a grilled cheese, I dream of biting into the perfectly crusty and crispy sandwich that oozes out plenty of cheesy love.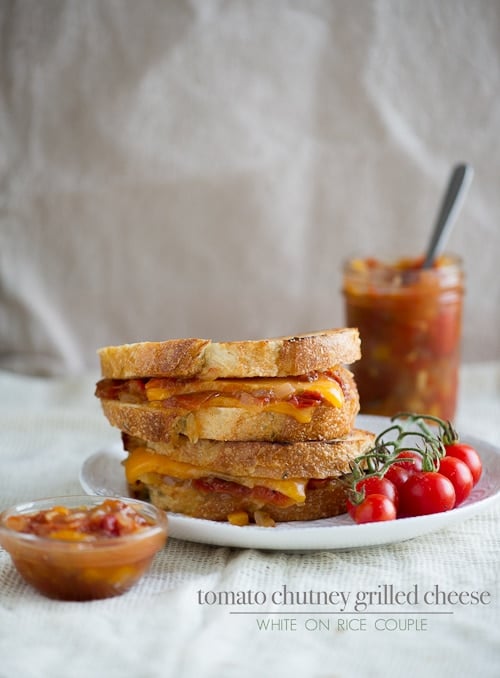 Tomato Chutney Grilled Cheese
Those close to me know that I fiercely embrace savory, hearty and cheesy comfort foods. Grilled cheese sandwiches are no exception when it comes to making me happy, giggly and oh so full of joy.
The variations of great grilled cheese sandwiches are endless. I've seen some crazy concoctions when it comes to slapping something between two pieces of bread and some cheese. But the grilled cheese recipes I'm most drawn to are the ones that focus on a great bread, a perfect melting cheese and one more element that will balance and heighten the eating experience without distracting from the simplicity of the sandwich.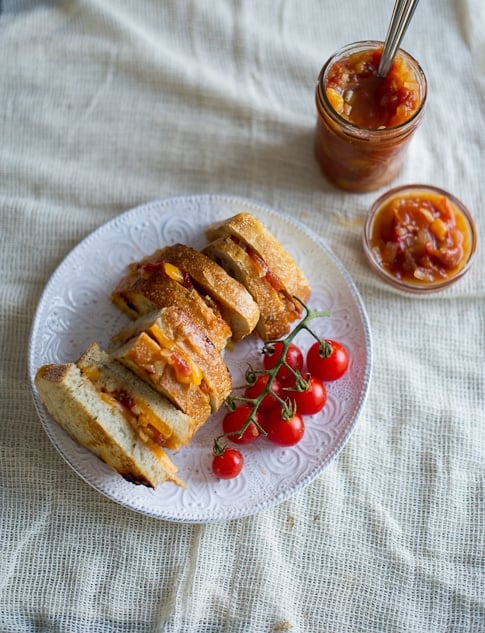 One of my answers to this roster of great grilled cheese sandwiches is a well made tomato chutney. I'm rather particular with my tomato chutneys because I don't like them too sugary sweet. What I do love about a great tomato chutney recipe is the perfect balance of tang, zest, sweet and acidic tomato flavor.
Adding the wonderful flavor of tomato chutney to a warm grilled cheese sandwich makes the sandwich extra flavorful, balanced and zesty.
Although Summer might be officially over, our garden tomatoes tell us quite the opposite. Our wacky tomato bounty is telling us that they're not ready for Summer to end and honestly, I have absolutely no problem with that.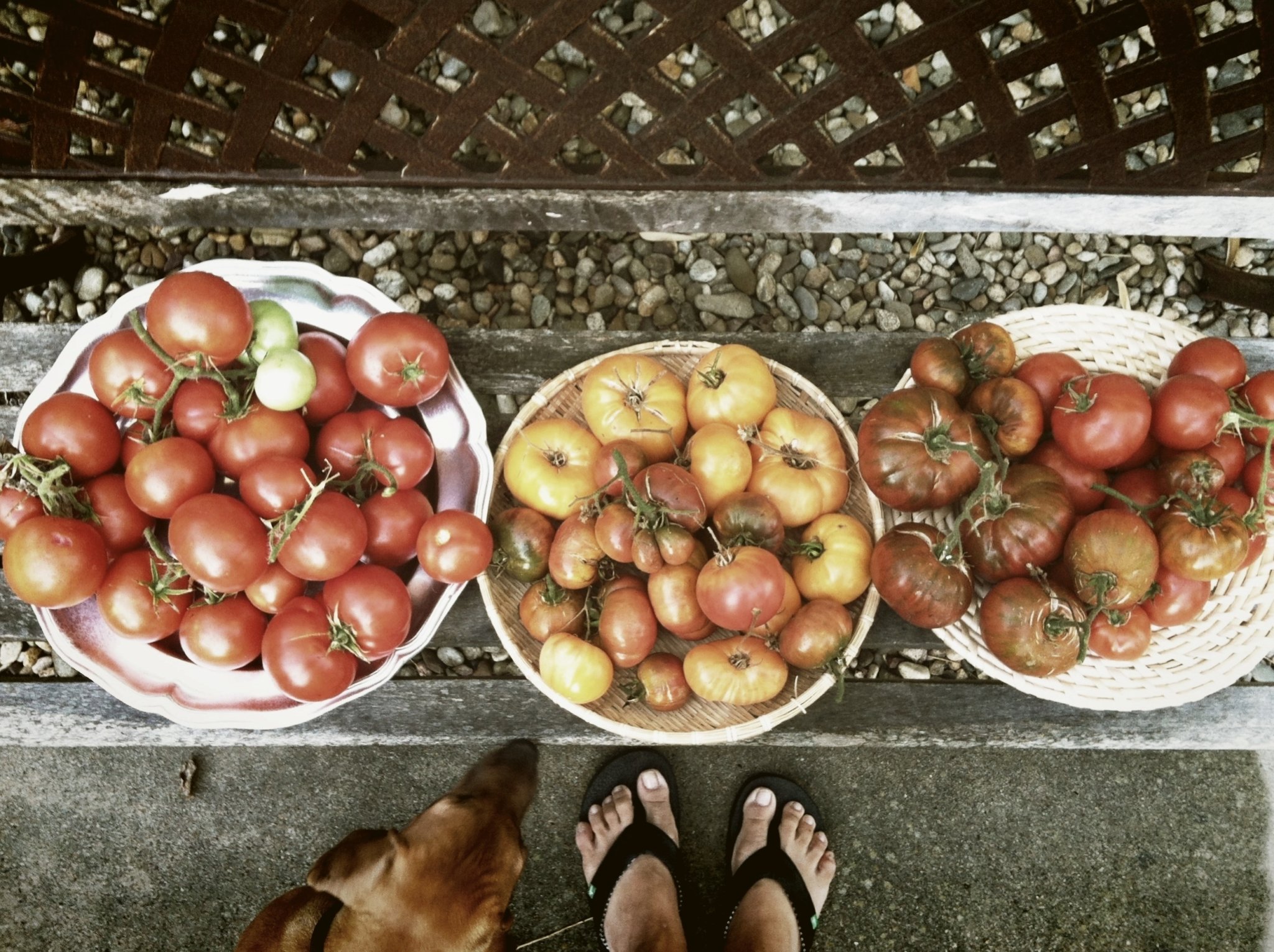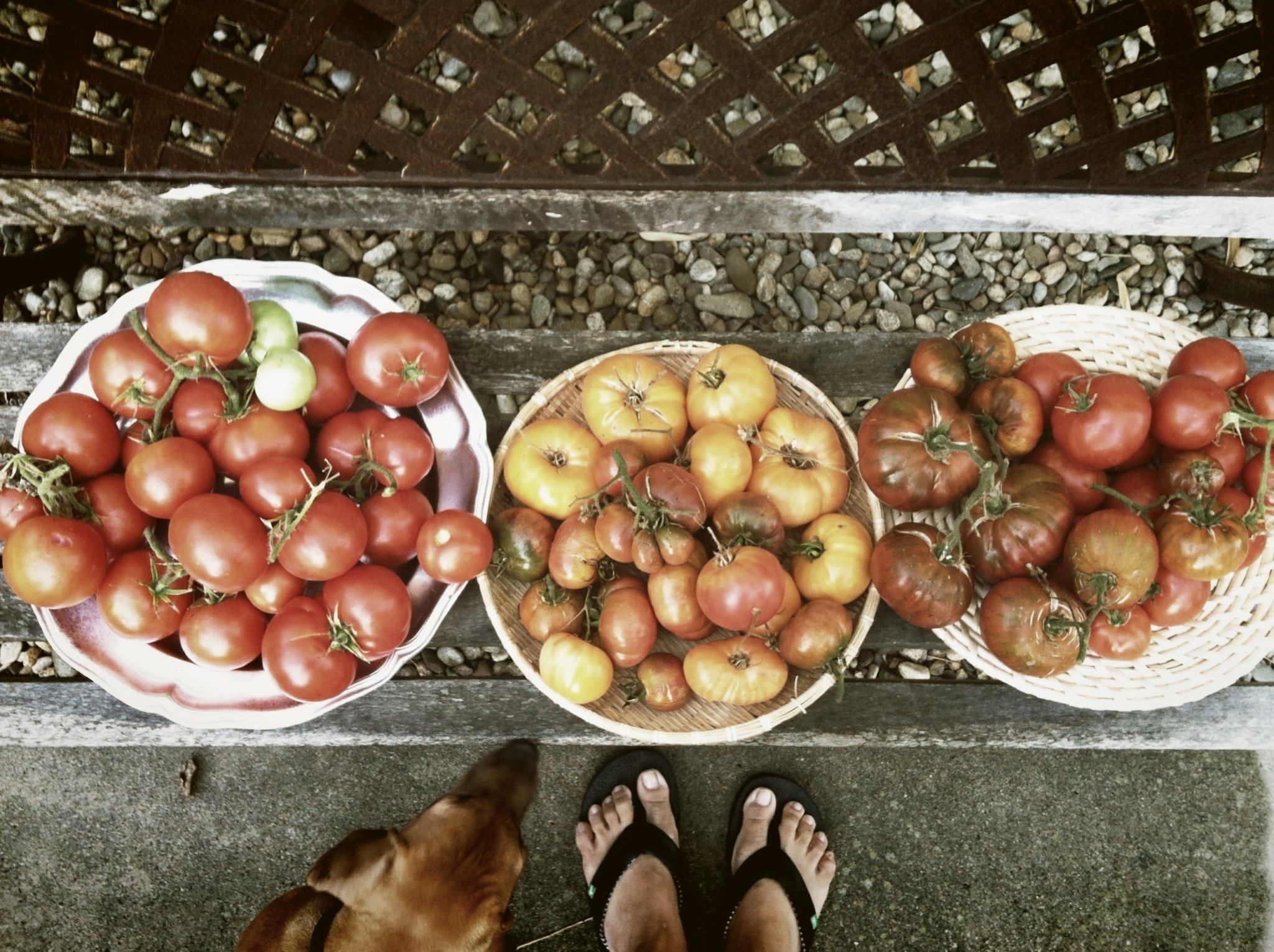 If our tomatoes say that there's still time to eat and make tomato recipes, then I'm all over it. Puppy Lexi is all over it too when it comes to helping me pick garden tomatoes. Well, she loves playing with the tomatoes like toys and not really loving the harvesting part.
Combining my craving for a great grilled cheese sandwich and an abundance of tomatoes, I decided to make a huge batch of tomato chutney to savor over the next few weeks. When we asked all you amazing readers for tomato recipes, you all inspired us tremendously with your advice. Thank you for all that, you amazing people!
Liz from Liz the Chef came to the rescue with her tomato chutney recipe. She's mentioned it a few times to us before about how much she loves her tomato chutney. So to start with her tomato chutney recipe in hand, I made an incredibly delicious batch to eat with my grilled cheese sandwiches for the next few months. Thanks Liz!
hugs,
diane
More Tomato Recipes from our archives and different tomato chutney ideas.
We are a participant in the Amazon Services LLC Associates Program, an affiliate advertising program designed to provide a means for us to earn fees by linking to Amazon.com and affiliated sites.