Deep Dish Peanut Butter Cookies & Chocolate Ice Cream "Pizookie Style"
You're in for a real treat with these Deep Dish Peanut Butter Cookies. The whole family will love this simple dessert.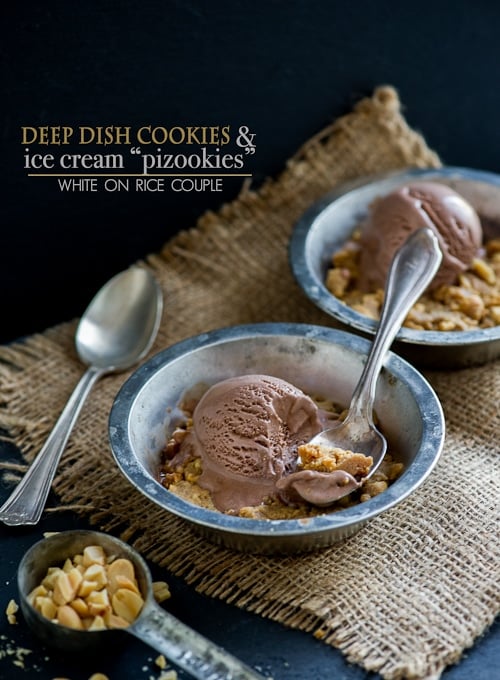 Deep Dish Peanut Butter Cookies
It all began with the easiest cookie recipe that I've ever seen. 3 ingredients. Mix. Bake. Done. Talk about your minimalistic cookie recipes. No creaming the butter, folding or gently mixing. You don't need to gradually incorporating the flour. No flour at all actually. As easy as 1, 2, 3! I just had to make these cookies to find out if they were any good or not. Twenty minutes after pulling out the mixing bowl we were already sampling the first batch. Simply delicious.
It should have been no surprise that they were good. The recipe came from BakeWise by Shirley Corriher. Over the past year I find myself turning to her book again and again to help understand principles behind recipes and to discover new techniques.
My first thought after making the cookies, is that they would be perfect as a deep dish cookie with chocolate ice cream, "a la pizookie" for all those BJ's Pizza patrons. Bake the dough in a ramekin then while it is still warm, add a scoop or two of chocolate ice cream.
Usually we'll try to avoid using the oven in the heat of summer, but these cookies only take about 9 minutes to bake. Slightly Warm Kitchen vs Ice Cream on a Warm Cookie. Cookie wins all day, everyday. You can always do like we do and grab a blackberry mojito pop from the freezer while making the cookies to compensate for the heat.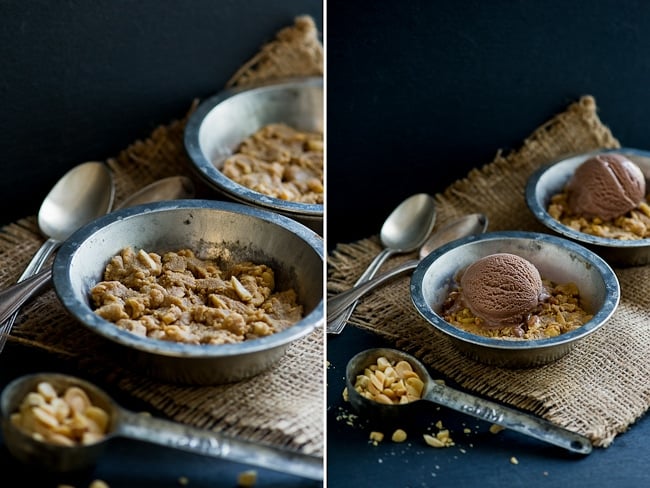 Tips for Deep Dish Peanut Butter Cookies Recipe:
1. It is Gluten-Free.
2. The peanut butter you use matters. Since there are only a few ingredients, minor variances in each have a bigger impact on the outcome. Different peanut butters will be more dry or moist. They all taste good, just the texture is a little different and you might need to adjust the peanut butter amount for your favorite peanut butter.
3. Shirley calls for extra-chunky peanut butter. We don't have extra crunchy peanut butter. Since it is nice to have the textures of the peanut pieces, we rough chop unsalted roasted peanuts and add them to our recipe, but you can make the recipe with the extra-chunky and leave out the chopped peanuts. Just up the amount you use a little vs the creamy peanut butter amount.
4. Salt. Your peanut butter may be saltier than ours, but we like a little pinch in the dough. Take it or leave it, your choice.
5. Damn. With the chopped peanuts and salt, we are up to 5 ingredients for the recipe. Oh well.
-Todd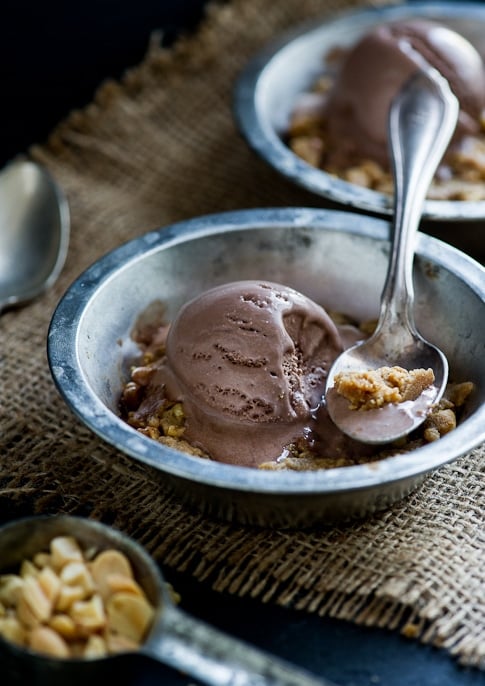 More cookie recipes: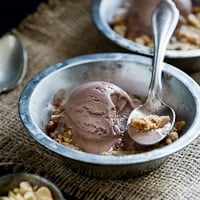 Deep Dish Peanut Butter Cookies w/ Chocolate Ice Cream
Adapted from Shirley Corriher's BakeWise. You can use chunky peanut butter instead of the creamy combined with the chopped peanuts, but we like to have slightly bigger chunks of peanuts. If using salted, roasted peanuts, leave out the 1/2 teaspoon of salt in recipe. Usually we halve the recipe if it is for just a few people.
Ingredients
2 cups (520g) Creamy Peanut Butter
1 cup (150g) unsalted Roasted Peanuts , rough chopped
1 cup (220g) packed Brown Sugar
2 large Eggs
1/2 teaspoon coarse Kosher Salt or Sea Salt
2 cups Chocolate Ice Cream
Instructions
Preheat oven to 350°F

In a large bowl, mix together all ingredients (peanut butter, roasted peanuts, brown sugar, eggs, and salt) until well mixed.

Spoon and spread dough into ramekins or tartlet pans until dough is about 1/2" thick. (can be more or less to preference, just adjust baking times as needed). Dough will not spread as it bakes, so make sure to spread the dough in evenly before baking.

Put ramekins or pans on a sheet pan and place in oven. Bake for about 9 minutes, or until edges are just starting to turn light golden (barely darker than dough's original color).

Allow to cool for 10 minutes, then add ice cream and serve immediately.
Nutrition Information per Serving
Calories: 679kcal, Carbohydrates: 52g, Protein: 24g, Fat: 46g, Saturated Fat: 11g, Trans Fat: 1g, Cholesterol: 58mg, Sodium: 571mg, Potassium: 696mg, Fiber: 6g, Sugar: 41g, Vitamin A: 205IU, Vitamin C: 1mg, Calcium: 112mg, Iron: 2mg
We are a participant in the Amazon Services LLC Associates Program, an affiliate advertising program designed to provide a means for us to earn fees by linking to Amazon.com and affiliated sites.