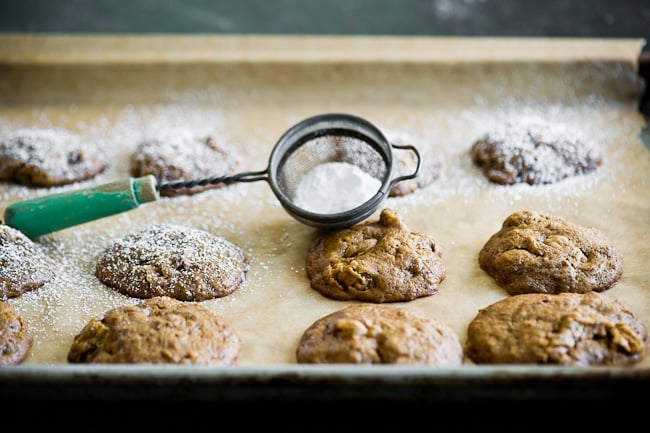 Fall Festis here and it's a continuation of Summer Fest, a cross-blog recipe (and tip) swap. These events were started by Margaret Roach of Away to Gardenand Deb Puchalla of Food Network. Previous themes were Spinach,  Apples, Fall Salads, Pumpkin/Squash, Mad Stash, Root Veggies, Pears & brassicas. For this week, it's all about sweet potatoes.
Join and share yourblog write ups. Just post your link or recipe or idea in the comments below this post, and also share on the blogs of the other participants who are co-hosting as well.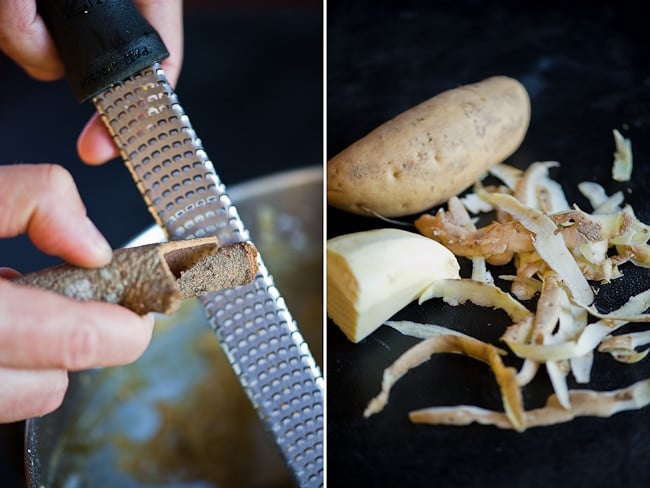 Vietnamese cinnamon & sweet potatoes: deadly combination. But in a good deadly way.
Sweet potatoes are about as humble as you can get in a vegetable, aside from the the classic russet potato. As versatile as russet potatoes can be, sweet potatoes can beat them out in terms of versatility. Sweet potato pie, candied and desserts, we're all over it like kids in a candy store.
Moving on over to something different this week, we're craving something cookie-ish and of course, sweet potato-ish.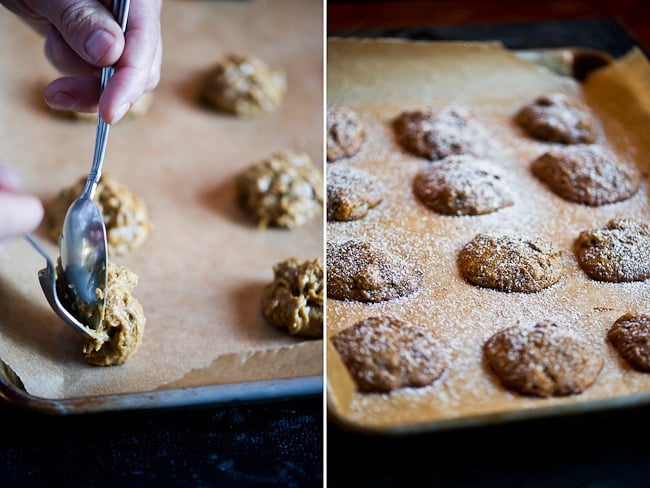 We combined a few different sweet potato cookies to come up with these soft, molasses, rum-macerated-raisin, sweet potato cookies. One of us is a big fan of cake-like cookies, and the other loves to inebriate our desserts, so we both won on this cookie recipe.
We actually had some raisins which had been soaking in dark rum for quite a long time, so after a cookie or two, the white in the household didn't think she was safe to drive.  Didn't have the heart to tell her most of the alcohol burns off when baking.  She was just too cute pretending she was drunk.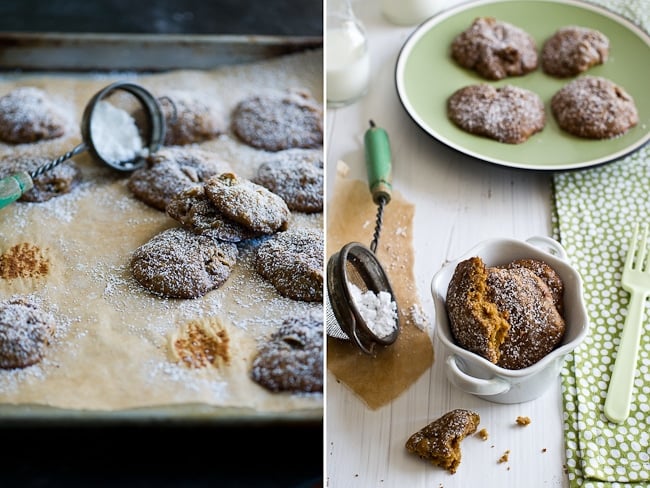 We also used a very cool buttermilk substitute for the first time.  It is something we we never have in the fridge and we hate having to go out the the store for just one ingredient, so we tried this method and were very pleased.  For every cup of buttermilk needed, take a cup of regular milk, add a tablespoon of lemon juice, then let it sit for about 5 minutes.  Works great for most of our cooking needs.
-todd & diane
More sweet potato recipes from our  Fall Fest Friends. Please visit them & leave your links there too:
Molasses Sweet Potato Cookies Recipe
Yield: About 24 cookies
Total Time: 1 hour
These are a nice soft, cake-like molasses cookie which is given a nice added texture from the grated sweet potato.  If you really want to knock someone's socks off, macerate the raisins for a long time, like a couple weeks or more.  Diane didn't feel safe to drive after a couple cookies made with some raisins I had soaked in rum for 2 or 3 weeks.  But they were tasty!  If you don't have any buttermilk on hand, make your own.  Add 1/4 T of lemon juice to a 1/4 c of whole milk, then let it sit for 5 minutes.  Perfect buttermilk substitute.
Ingredients:
1/2 c (75g) Raisins
@ 1/2 c Dark Rum (enough to cover raisins when macerating)
1/2 c (115g) Butter, soft at room temp.
1/4 c (50g) Sugar
1 Egg
1/2 c (170g) Molasses
1 c (150g) grated raw Sweet Potato
2 t finely grated Orange Zest
2 t finely grated fresh Ginger
2 c (250g) All-purpose Flour
1/2 t Sea Salt
1/2 t Baking Soda
1 t Baking Powder
3/4 t ground Cinnamon, if you can freshly grate Vietnamese Cinnamon it will be all the better
1/4 c (60ml) Buttermilk, see head note for substitute
powdered sugar for dusting
Directions:
Preheat oven to 375 °F. Line two sheet pans with baking paper or silpats.
Put raisins in a small bowl and pour enough dark rum to completely cover.  Allow to macerate for at least 30 min. (but the longer you can macerate them, the better.)
Cream together butter and sugar until light and fluffy.  Crack the egg into a small bowl, then pour into the butter/sugar mix and beat until thoroughly combined.
Add molasses, sweet potato, orange zest, and ginger.  Mix until well combined.
Sift together flour, sea salt, baking soda, cinnamon, and baking powder.  Add alternatively in two batches with buttermilk until everything is just mixed.  Drain raisins and mix them into the batter.
Using two small spoons, drop form tablespoon sized dough balls onto the lined sheet pans.
Put in oven.  Bake for about 15 min or until just set.  Allow to cool to room temp., then using a small mesh strainer sift powdered sugar gently over the cookies.
Hello! All images & content are copyright protected. Please do not use our images without prior permission and do not re-publish this recipe. Simply link back to this post for the recipe. Thank you.
Recipe Note for Salt: All recipes containing salt are based on kosher or sea salt amounts, not table salt. If using table salt, reduce the amount used to taste.
[ad]