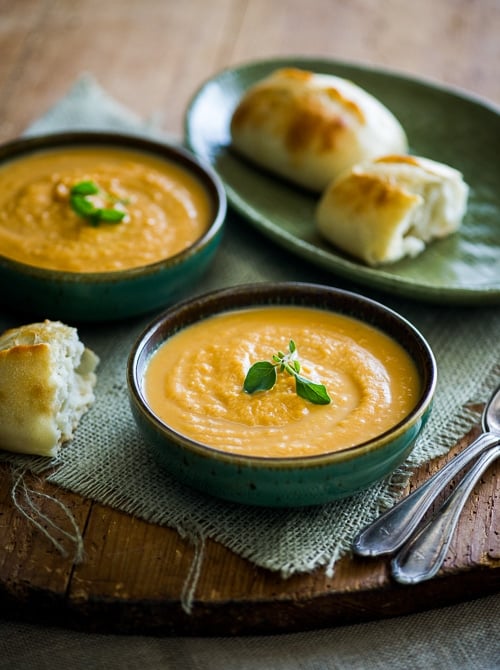 The past few days have been so chilly with early morning frost, it's hard to believe that we still have a few tomatoes growing in the garden. Granted, the tomatoes are green, but it still feels awkward to be pickling a batch of green tomatoes in the middle of a West Coast January.  Gathering tomatoes in January from the garden is like a scene from the twilight zone.
Cold wind, dry weather and evenings full of bundled blankets and a warm fire calls out for soup dinner. Aside from an oven hot casserole, few dishes are more comforting than a bowl of hot soup. Add on a few slices of crusty bread and it's a meal to fuel the soul, the tired, the cold and the hungry. Those are the perfect words to describe us over the last few days.
Though Thanksgiving and the holidays have passed, it's always nice to be able to enjoy a simple pleasure of sweet potatoes for the new year. These gorgeous roots shouldn't be limited to the holidays. Their sweet comfort is something that we should always extend to the new year, or as far as the cold weather will take us. Sweet potatoes are so versatile and we often take them for granted. First instinct is to grab a yukon gold potato for roasting or baking. But it's not often that we'll think of bagging up on some sweet potatoes for soups, desserts, fries and roasting. Now is the time to change all that.
A few weeks ago we shared a fantastic sweet potato croquette recipe, now we're happy to share this soup recipe from one of our last shoots with LA Brea Bakery. This soup recipe was on the shot list and it was one of our surprise wow moments again. Sweet potato soup? it's wonderful and why don't we ever make it more often?
Creamy, hearty and satisfying, this sweet potato soup is the perfect bowl to warm our cold bodies after a long days work. And don't forget to have a loaf of wonderful bread because you'll need it to dive into soup. It's the perfect pairing for a cold January evening!
Easy Sweet Potato Soup
Yield: Serves 4
Total Time: 40 min
Shared with permission from LaBrea Bakery. This easy recipe for sweet potato soup is perfect for Thanksgiving, holidays and cold winter days.
Ingredients:
2 Tablespoons (30ml) Olive Oil
3 cloves Garlic, peeled, chopped
1 medium yellow Onion, diced 1/2"
2 1/2 cups (590ml) Chicken Stock
3 cups (630g) (packed) baked Sweet Potato *see note 1, skin removed
1 Tablespoon (15g) Salt, or to taste
½ teaspoon (2g) freshly ground Black Pepper
½ cup (120ml) Heavy Cream
8 slices Baguette, 1/2" thick or for gluten free, serve with gluten free bread/crackers
Directions:
Heat a large pan over medium heat, add the olive oil and then the garlic and sauté for one minute, stirring constantly.
Add the onion, salt and pepper, and cook for five minutes or until tender, stirring occasionally.
Add the chicken stock and potato and bring to a boil, stirring to combine.
Reduce heat, add heavy cream and simmer on low heat for ten minutes.
Remove from heat and allow the soup to cool, the blend the soup until smooth (this can be done in a blender or using a hand blender).
Adjust seasoning to taste and return to very low heat until serving.
Toast the bread and serve with the soup
Note 1: To Bake Sweet Potatoes- Preheat oven to 400° F. Pierce sweet potatoes several times with a fork. Bake for 45 minutes or until tender.
Hello! All images & content are copyright protected. Please do not use our images without prior permission and do not re-publish this recipe. Simply link back to this post for the recipe. Thank you.
Recipe Note for Salt: All recipes containing salt are based on kosher or sea salt amounts, not table salt. If using table salt, reduce the amount used to taste.
[ad]