Deep Dish Oatmeal Raisin Cookie a la Mode – "Pizookie Style"
Deep dish oatmeal raisin cookies that are warm and topped with ice cream. What's not to love about this?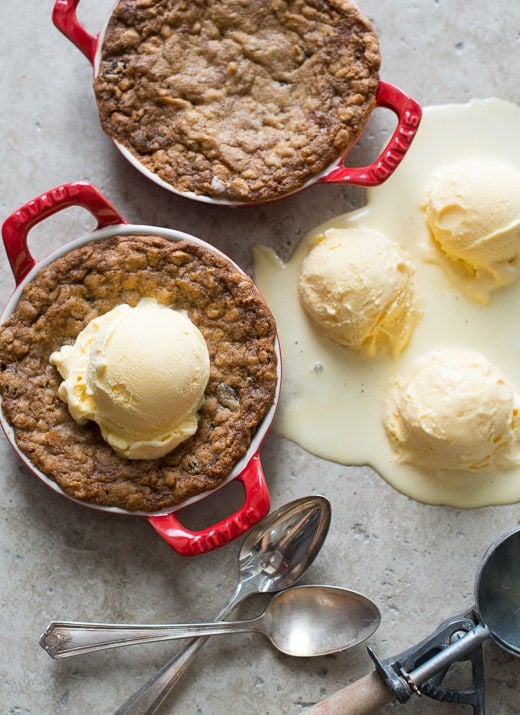 Deep dish Oatmeal Raisin Cookie
Way back in 2009 we shared our love of "pizookie" style deep dish cookies on the blog. They were always fresh and warm from the oven and graced with a few scoops of ice cream. Within minutes, the ice cream melted and what we had before us was a glorious deep dish of warm cookies and ice cream. Are we all thinking the same thing? Hopefully so and that thought should be that this is truly to die for. And it really is.
We've made so many variations of these deep dish cookies from our chocolate chunk cookies to peanut butter cookies with chocolate ice cream. The other day we were craving it again and dished up a different variation with one of our beloved oatmeal raisin cookie batters. And best of all, it brought back memories.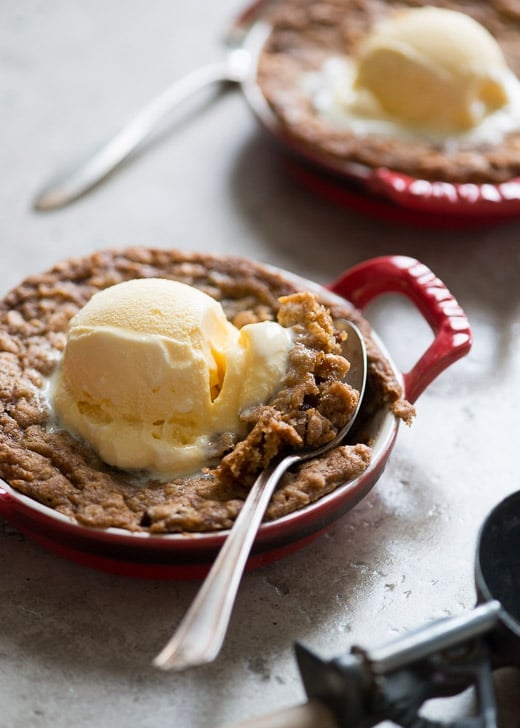 In 1996 when we were first dating, a favorite treat to ourselves to dine-out was at BJ's Pizzeria. We'd order a deep dish pizza and literally almost pass-out after two of their huge slices. But no matter how much we ate, we always made room for dessert. Their pizookie ice cream cookies were always at the top of our list and somehow we managed to make room for this decadent dessert.
Fast forward over 25 years later, we're still in love with these deep dish cookies with ice cream. It's a romance we have for the memories of BJ's and ending the evening with our favorite and affordable dessert. Wow, how times have changed since then. We haven't been to BJ's in years. In fact, maybe even over a decade. But what hasn't changed for our affection for this wonderful dessert.
How funny it is that a simple dessert can bring back such fond memories. For us those moments back in the late '90's remind us of how much we loved food and how devoted we were in gardening, cooking and eating. Gosh, food and cooking are the consistent inspirations that haven't left.
So here you are, a recipe for an oatmeal raisin cookie that's baked in a deep dish, lathered with ice cream and full of love and fond memories.
Enjoy!
diane and todd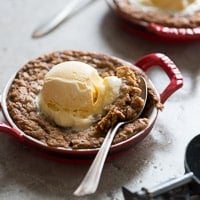 Deep-Dish Oatmeal Raisin Cookies with Ice Cream
See post for additional recipe details. Feel free to use whichever ice cream is your favorite. The oatmeal cookies also go great with mint chip ice cream.
Ingredients
Oatmeal Raisin Cookie Dough
1 1/4 cups (155g) Flour
1 teaspoon (5g) Baking Soda
1/2 teaspoon (3g) Kosher or Sea Salt
2 cups (180g) Old-Fashioned Oats
3/4 cup (170g) unsalted Butter , at room temperature
1 1/4 cups (275g) packed Brown Sugar
2 Eggs
1 teaspoon (5ml) Vanilla Extract
1 cup (170g) Raisins
Other needs
4 cups Vanilla ice cream or flavor of choice
Equipment
4-inch to 6-inch ramekins, or other small baking dishes
Instructions
Preheat the oven to 350°F (325°F if using convection).

In a bowl, whisk together the flour, baking soda, and salt. Stir in the oats. Set aside.

In a mixer, beat the butter and brown sugar until light and fluffy, about 2 minutes. Mix in the eggs and vanilla extract, scraping down the sides of the bowl as necessary.

Stir in the flour/oat mixture until nearly combined. Stir in the raisins. Chill dough for about 30 minutes.

Fill ramekins 1/2" deep with cookie dough. Place ramekins on sheet pan and put in middle rack of oven. Bake 12-14 minutes, or until top starts to turn golden brown (the cookies should be slightly under baked, but not too doughy).

Remove from oven and allow to cool for about 10 minutes. Top with ice cream and serve.
Nutrition Information per Serving
Calories: 638kcal, Carbohydrates: 92g, Protein: 9g, Fat: 27g, Saturated Fat: 16g, Trans Fat: 1g, Cholesterol: 116mg, Sodium: 369mg, Potassium: 442mg, Fiber: 4g, Sugar: 48g, Vitamin A: 869IU, Vitamin C: 1mg, Calcium: 143mg, Iron: 3mg
this recipe was originally shared in 2014 and re-published in 2021.
We are a participant in the Amazon Services LLC Associates Program, an affiliate advertising program designed to provide a means for us to earn fees by linking to Amazon.com and affiliated sites.