Vegetarian Smashed Cauliflower and Roasted Asparagus Sandwich
This smashed cauliflower sandwich bring back memories. Back in my restaurant days, for the longest time the restaurant had made its mark serving just two meals a day. Breakfast and lunch. It was perfect for a vegetarian place since so many dishes for those two meals can naturally be vegetarian and no one thinks twice. Poached eggs, oatmeal, salads, eggplant parmesan. We'd have regular customers come for years and never realize it was a vegetarian place until they were craving a tuna sandwich and found out after asking that their beloved cafe was a vegetarian place.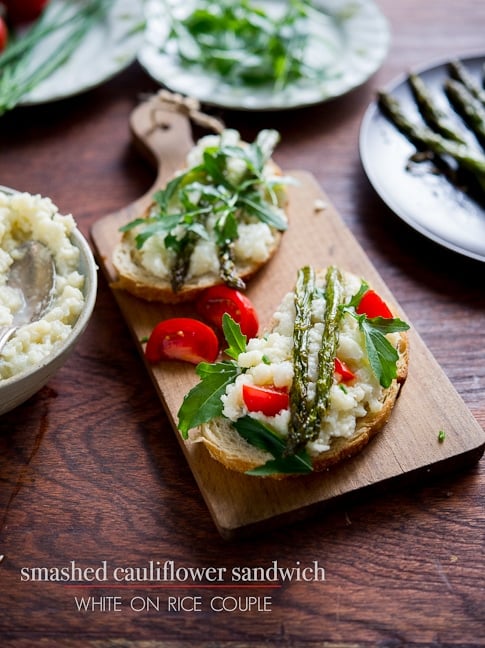 Smashed Cauliflower Sandwich
Then one summer we decided to try adding a third service, dinner. A two meal service was easy logistically to run lean and mean staffing and prep wise, but a third meal threw a huge wrench in the operations. But we all put our heads together, everyone pushed and worked hard to make a new system. Even worse than the logistics was to create a unique vegetarian dinner menu that would be special enough to attract even non-veg heads to our humble but stylish establishment. Fortunately the owner's mom was brilliant in the kitchen. She always had a hand in developing most of the amazing recipes we served, and for the dinner menu she came up with some beauties.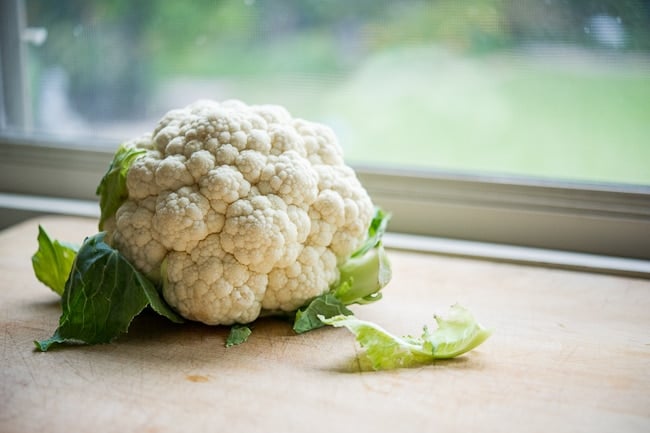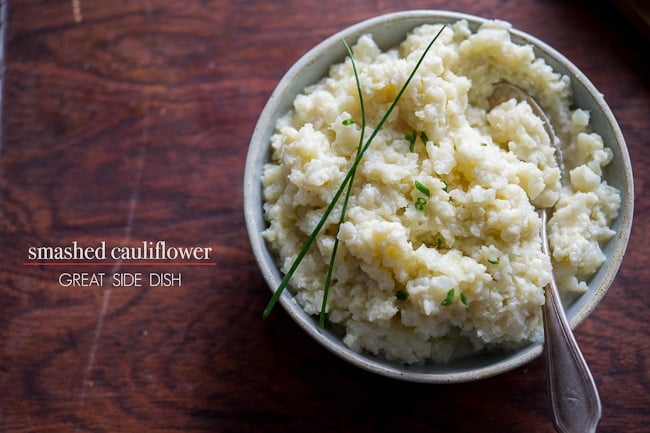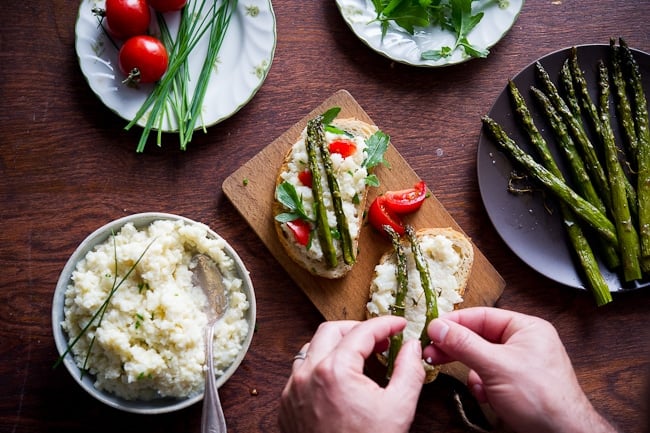 Out of all the amazing dishes, there was one that was a hands down staff favorite: this cauliflower sandwich or basically a cauliflower toast. An open-face sandwich with cauliflower puree, asparagus, and a poached egg. This wasn't a sandwich trying to convert a regular carnivore treat into a vegetarian substitution. It was a brilliant sandwich which happened to be vegetarian. So many things about the sandwich were great, but for most of us it was the cauliflower puree which sent it over the top. We could, and would, eat the cauliflower puree straight up or on some crostini. Cooked in milk with garlic until soft then pureed up. Oh so good.
You'd think the poached egg would have been the star on this cauliflower sandwich, but so many times we would make it up for ourselves without the egg. Just the cauliflower puree balanced by the asparagus. Most of us had already been working 10-12 hours by dinner time and it was nice to have something a little less rich before going home and passing out. So that's how we've re-created the sandwich now here at home, staff meal style. Toast up our favorite bread, a nice thick layer of the cauliflower, which we've smashed instead of pureed to give an added texture. Some roasted asparagus and finished off with the sweet refreshing slices of tomatoes.
-Todd
Cooking Method: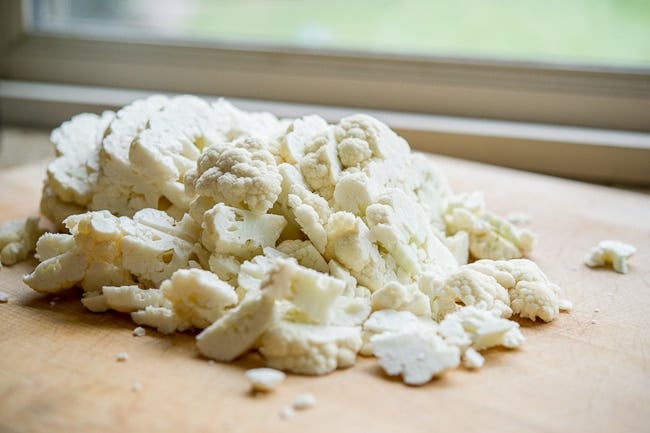 chop cauliflower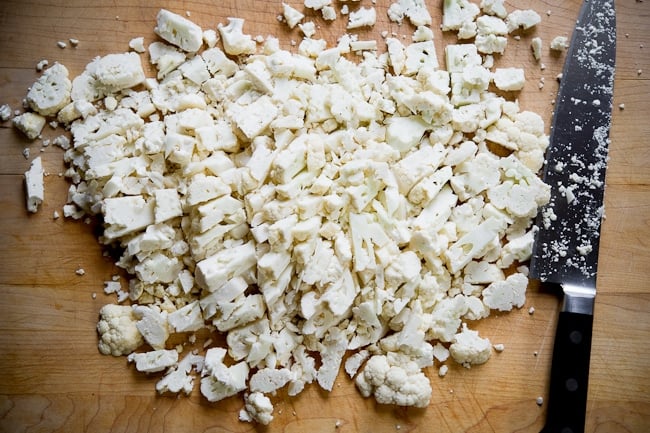 brown the garlic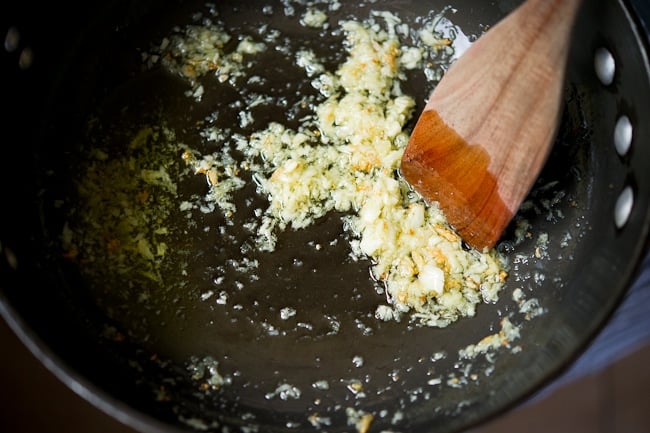 add cauliflower…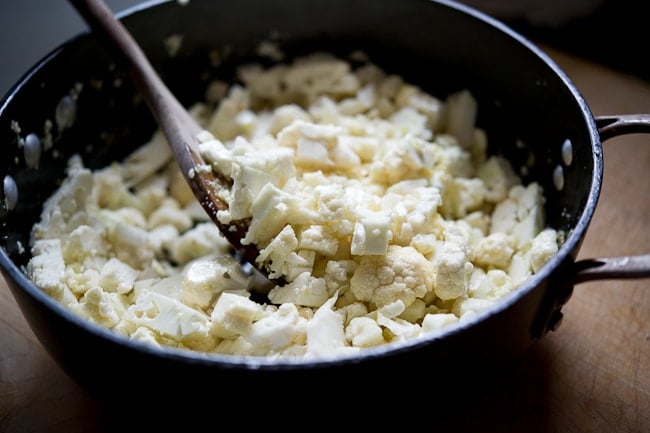 then add milk….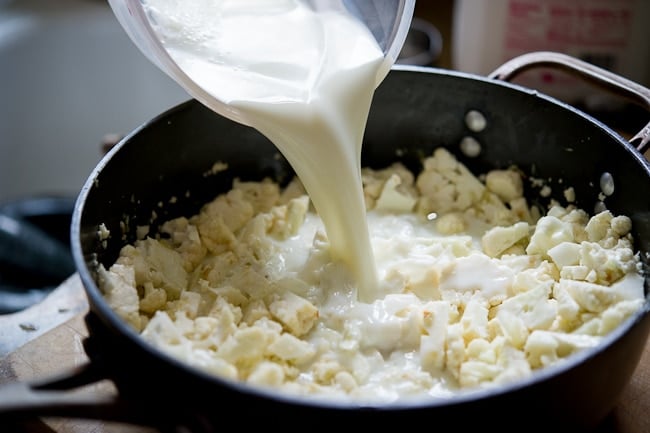 cook cauliflower in milk till soft
hello asparagus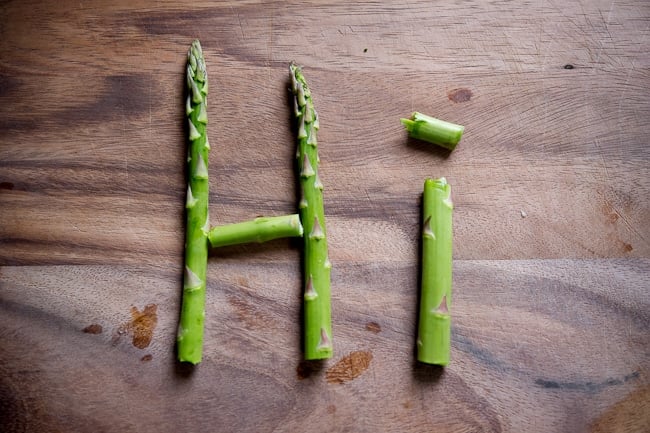 roasted asparagus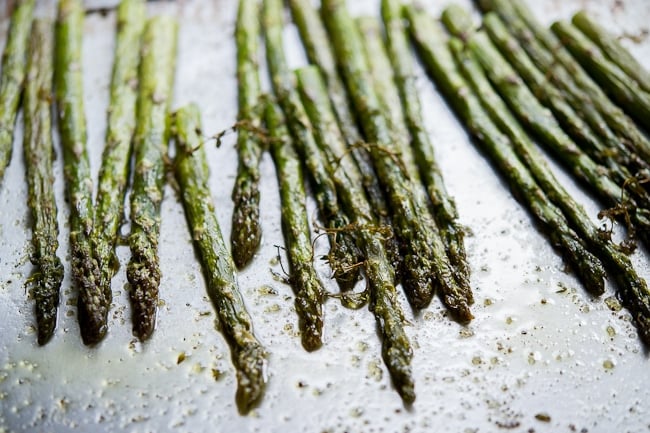 voila! now assemble the cauliflower sandwich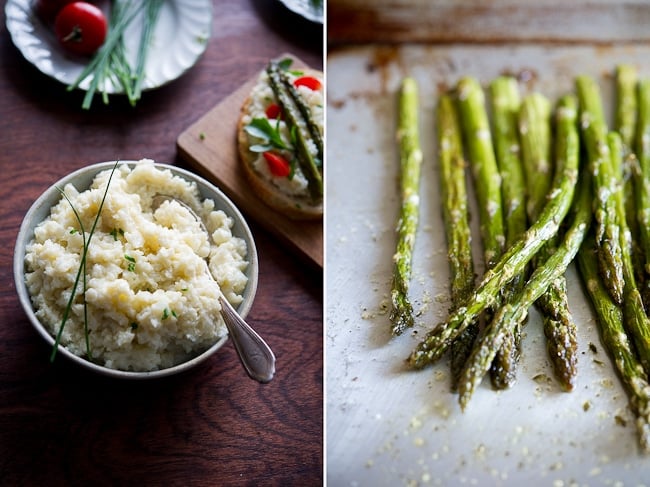 now you can eat! and share this veggie cauliflower sandwich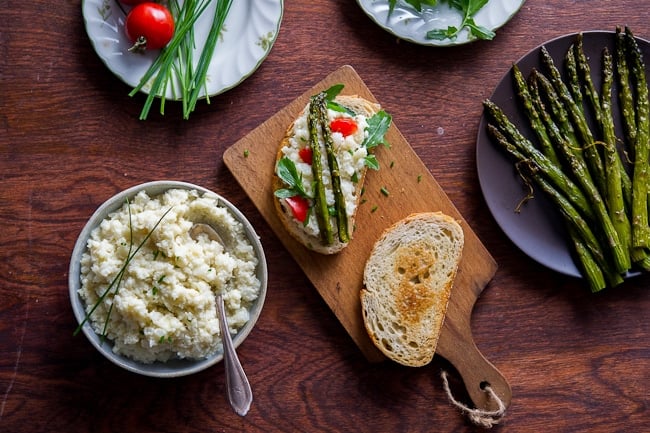 Recipe was originally published in 2012 and republished in 2017 with updated photos. And here's more cauliflower recipes for vegetarian inspiration.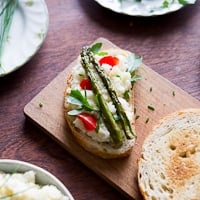 Smashed Cauliflower and Roasted Asparagus Sandwich
This sandwich is also great with a poached egg added on top. Both the smashed cauliflower and roasted asparagus can be made ahead of time and then heated and assembled when read serve the sandwiches.
Ingredients
Sandwich Ingredients
Rosemary Olive Oil Bread , or your favorite bread choice
Smashed Cauliflower , see below
Roasted Asparagus , see below
Tomatoes , sliced or cut into wedges
Arugula
Smashed Cauliflower
1/4 cup (60 ml) Olive Oil
1 1/2 Tablespoons (25 ml) crushed Garlic (about 4-6 cloves)
2 lbs. (910 g) Cauliflower , roughly chopped (about 1 medium head)
2 cups (480 ml) Milk
1 teaspoon (5 ml) Sea Salt or Kosher Salt
Roasted Asparagus
1 lb. (455 g) Asparagus
a few sprigs fresh Thyme or Tarragon
3 Tablespoons (45 ml) Olive Oil
1/2 teaspoon (2.5 ml) Kosher Salt
fresh cracked Black Pepper
Instructions
Make smashed cauliflower: In a large pot, heat olive oil on medium heat. Add garlic and cook until light golden, stirring very frequently.

Add cauliflower and milk. Increase heat to bring to a simmer, then lower heat back to medium (should be a vigorous simmer without boiling over).

Simmer until cauliflower is tender, about 15 minutes, stirring occasionally. Remove from heat.

Mash cauliflower to break down the bigger chunks. Season with salt.

Make roasted asparagus: Preheat oven to 400º F (205º C).

Toss asparagus, thyme, and olive oil on a sheet pan. Season with sea salt and black pepper.

Roast in oven for 10 minutes, toss the asparagus, then continue roasting for 10-15 minutes, or until lightly browned and tender.

Make the sandwich: Toast bread. Spread a 1/4" layer of smashed cauliflower. Lay a few spears of asparagus. Add a couple slices of tomato and arugula. Cut in half and serve.
Notes
Calories not including bread of your
Nutrition Information per Serving
Calories: 241kcal, Carbohydrates: 21g, Protein: 7g, Fat: 15g, Saturated Fat: 3g, Cholesterol: 6mg, Sodium: 606mg, Potassium: 578mg, Fiber: 4g, Sugar: 7g, Vitamin A: 525IU, Vitamin C: 58.3mg, Calcium: 139mg, Iron: 2.5mg
We are a participant in the Amazon Services LLC Associates Program, an affiliate advertising program designed to provide a means for us to earn fees by linking to Amazon.com and affiliated sites.