For the Love of Brussels Sprouts: Recipes for Holiday and Everyday
Best Brussels Sprouts Recipes
We're beyond obsessed with brussels sprouts. But not everyone is always on-board with us and we know that. We'll get some random comments on blog posts or Facebook posts about how folks truly dislike them. It's totally true that there's folks who don't like these veggies. Some might have had childhood torture where they were forced to eat mushy, boiled and stinky orbs of green-guck brussels. But hopefully those days are gone because the culinary world of brussels keeps getting better! For the holidays and quite frankly, for everyday, there's an occasion for this side dish on the dinner table. There's so many fabulous ways to prepare these little green goddess gems that there's just not enough time to eat them all! Over the years we've developed so many Brussels recipes and eaten so many delicious brussels dishes that we're always hoping theres a recipe here that will transform haters into lovers.
Easy Side Dishes
It's hard not to find a bushel of them somewhere in our fridge during this time of year. Lucky enough to be living in a area that nurtures fruits and vegetables year round, the rest of the year we'll score a bag every few weeks at the farmers markets. Because we're so spoiled by mild weather, we can almost always have brussels sprouts for dinner or sometimes, as the whole meal.
Is there a word beyond "obsessed"? If there is, it would describe us perfect. We're beyond obsessed about brussels sprouts.
As the holidays are making their presence, we wanted to share with you our collection of favorite brussels sprouts recipes that not just our readers, but our friends, families and neighbors have enjoyed over the years. These are dishes that would be a lovely addition to any meal for holiday and everyday. And we also have a few roasted brussels sprouts recipes that can easily change a brussels sprouts love into a hater.
Here's our collection of brussels sprouts recipes that we've made over the years:
Gratin Recipe: this is the magical recipe that has transformed so many brussels sprouts haters into lovers. The result is an addicting, creamy and tender brussels sprouts and cheese combo that can easily satisfy anyone craving mac and cheese. And it'll be a low carb version. Not low calorie, but definitely low carb!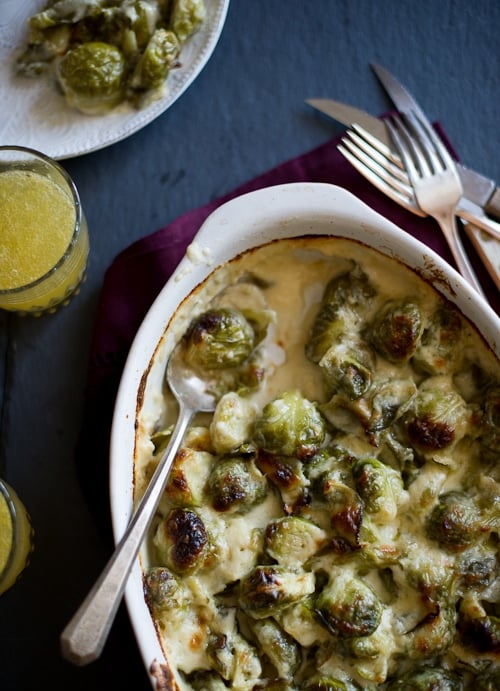 Easy Roast Recipe with Balsamic Vinegar : this was one of our very first recipes in 2009 and it's continually our go-to recipe for every craving we have.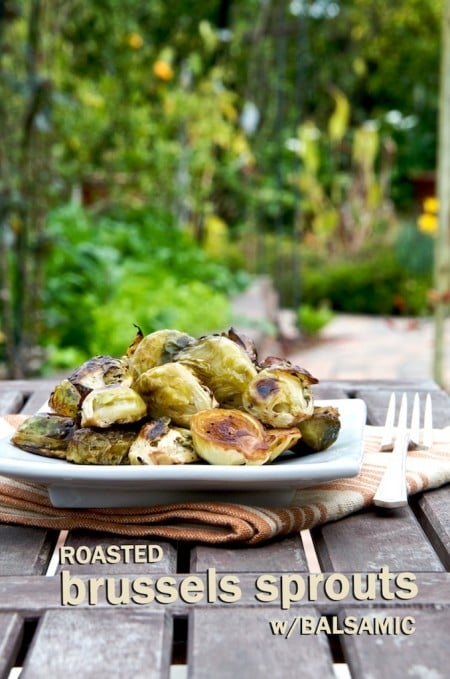 Roasted with Lemon Parsley Dressing Recipe: another everyday favorite that's bright with an awesome lemon dressing. Make double the amount because they're so delicious, you might have it as a full meal.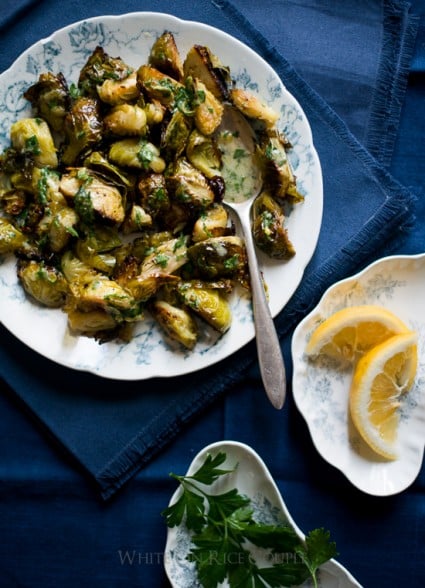 Pan Roasted Brussels Sprouts with Fish Sauce and Lime Recipe: Yes, it might sound odd– fish sauce?! Try it, the umami flavor in each bite is incredible.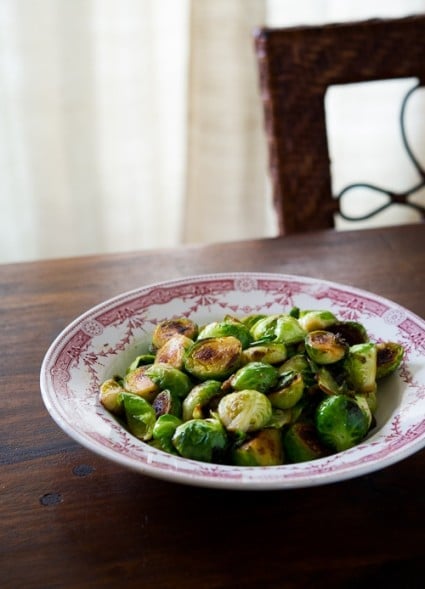 With Bacon and Shallots Recipe: An oldie but goodie because who doesn't love bacon? and the shallots adds awesome flavor.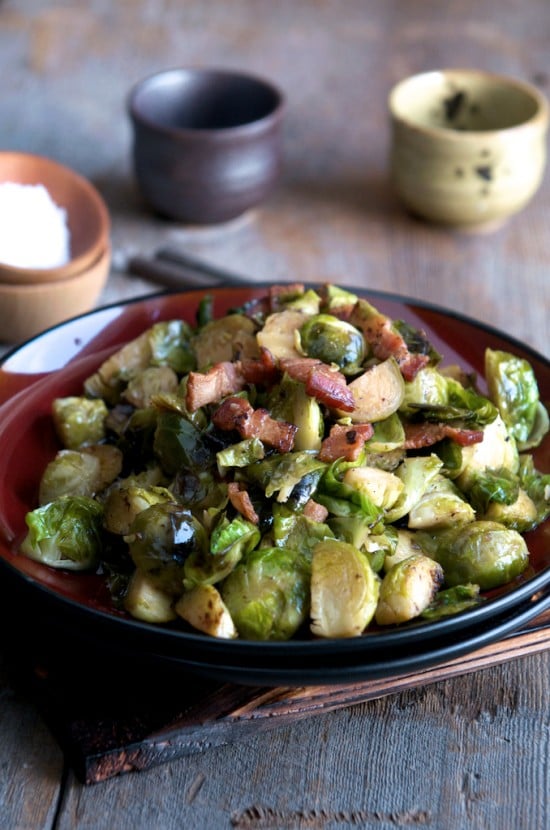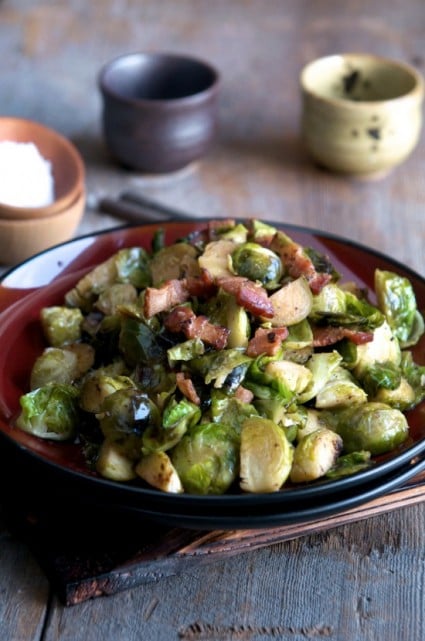 Cheesy Baked with Parmesan and Onion – a popular rendition of our sweet onion crack dip, but with a few brussels sprouts thrown in!
With Sriracha and Mint Recipe: A spicy sauce for all you sriracha lovers. And it's flowing over a ton of brussels sprouts. Yum.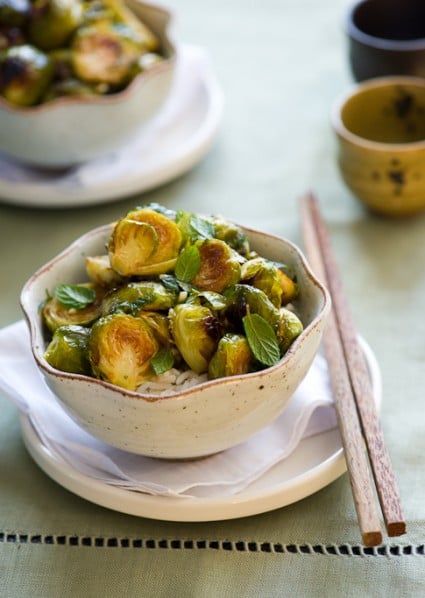 Crispy with Mom's Chili Fish Sauce– a recipe with a Vietnamese twist to this fried version. To die for!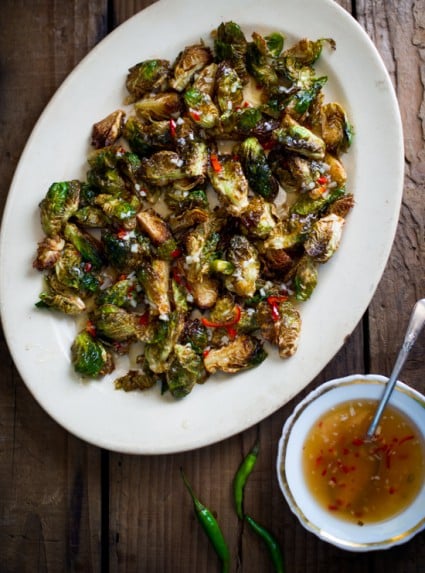 Teriyaki Glazed Recipe: We love sauce, can you tell? Here's a fabulous teriyaki glazed beauty to make these veggies amazing.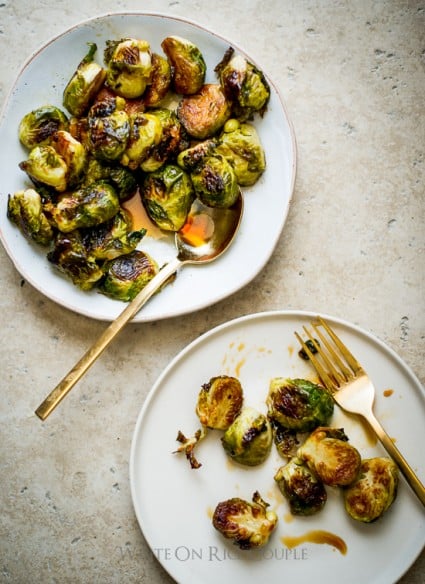 Shaved Recipe with Bacon and Pecans: a raw take on the these leaves and it's a wonderful salad with salty bacon and crunchy pecans.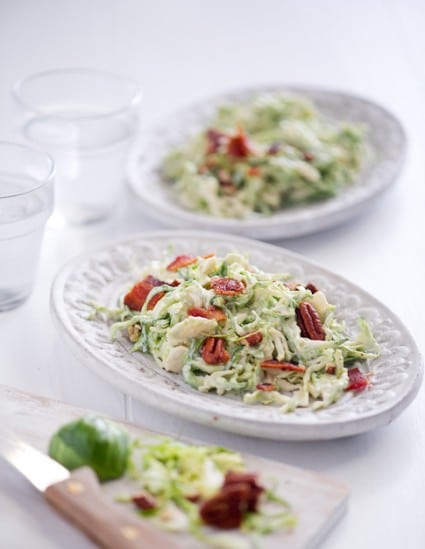 Hope you enjoy our collection of brussels sprouts recipes over the years and here's another great batch to try. Enjoy!
-diane and todd
This post was originally published in 2014 and republished in 2017 with updated recipes.
We are a participant in the Amazon Services LLC Associates Program, an affiliate advertising program designed to provide a means for us to earn fees by linking to Amazon.com and affiliated sites.