Roasted San Marzano Tomatoes
Roasted San Marzano Tomatoes are incredible, if you get your hands on these fresh beauties. You're in for a real treat. Trust us.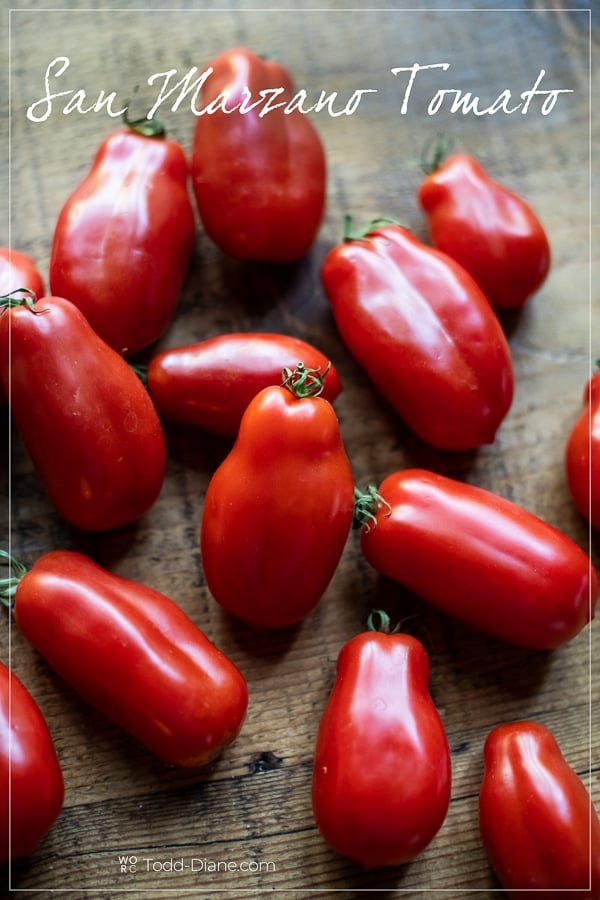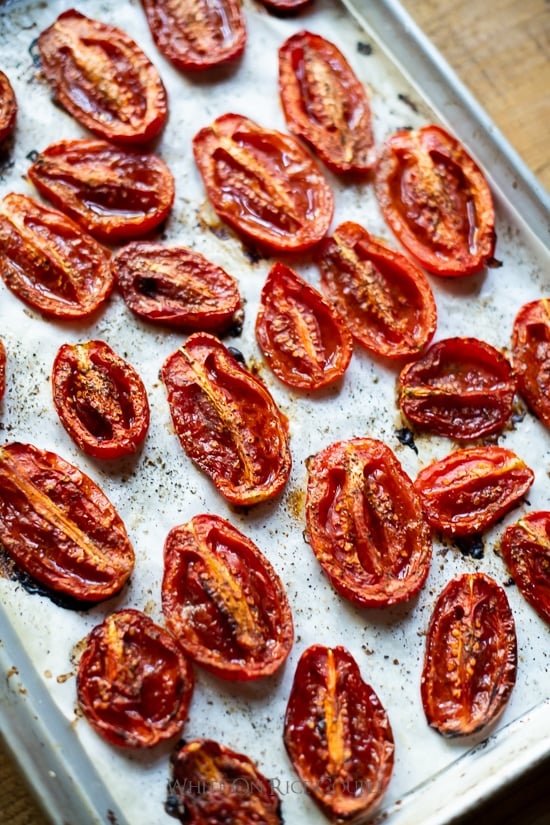 What are San marzano tomatoes?
Our obsession with growing heirloom tomatoes is obvious. Over the years we've grown so many different varieties except for the San marzano variety. They're a popular plum tomato originating from the rich volcanic soils of Italy. These tomatoes are highly prized for their sweet, intense tomatoey flavor and not too much acidity. When compared to other plum tomatoes like the Romas, the San marzano is slightly thinner, longer and pointed at the bottom. Their flesh is also thicker, plump and meatier which adds to their amazing flavor.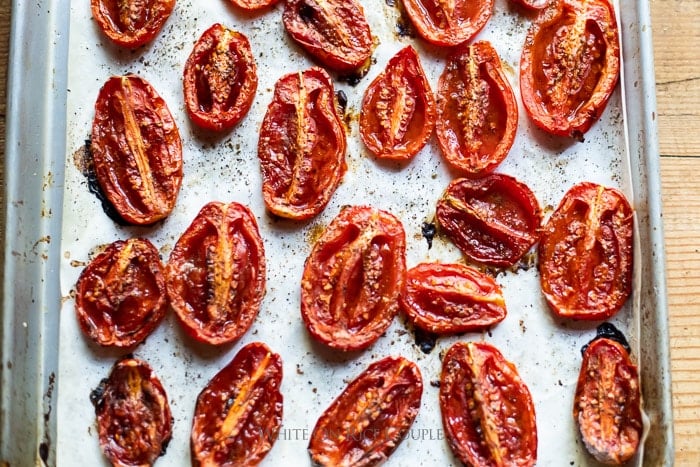 Intense roasted flavor
When these gems are roasted the flavor is absolutely incredible. Rich, flavorful and sweet flavors in every bite is intoxicating. In fact, it's so good that a fresh roasted san marzano tomatoes batch never makes it to sauce. We keep sneaking in bites and snacking on them that they just end up eaten by the end of the day. There's a reason why these tomatoes are prized for making sauce! So the reality is that if you do decide to make sauce, buy or grow extra. Once you start roasting them, you'll need an extra batch to make it to saucing.
Enjoy!
-diane and todd
Here's some of our favored canned San marzano tomatoes: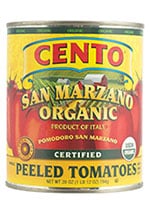 Cento San Marzano Organic Peeled Tomatoes
– From the San Marzano region in Campania, Italy, renowned for its especially fertile soil and temperate climate.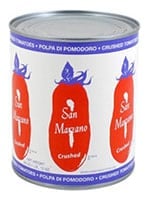 San Marzano Crushed Tomatoes
– A USA grown San Marzano variety tomato. A perfect easy tomato sauce base. Crushed & ready to cook.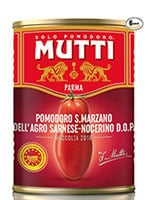 Mutti Whole Peeled San Marzano Tomatoes
– Grown in the Italian Agro Sarnese Nocerino region, between Naples and Salerno. Grown, harvested and packed following the strict guidelines of the Consortium for the Protection of the S. Marzano Tomato of Agro Sarnese Nocerino. Non-GMO, and prepared without additives or preservatives.
Roasted San Marzano Tomatoes from Canned Tomatoes
Yes, it does work and taste pretty good if you roast the canned san marzano tomatoes! Results are little more watery because they've been soaking in juices. But the flavor is still excellent and a great way to have a snack or a side dish to your grilled dishes. Left photo shows the canned tomatoes. Right photo shows them roasted.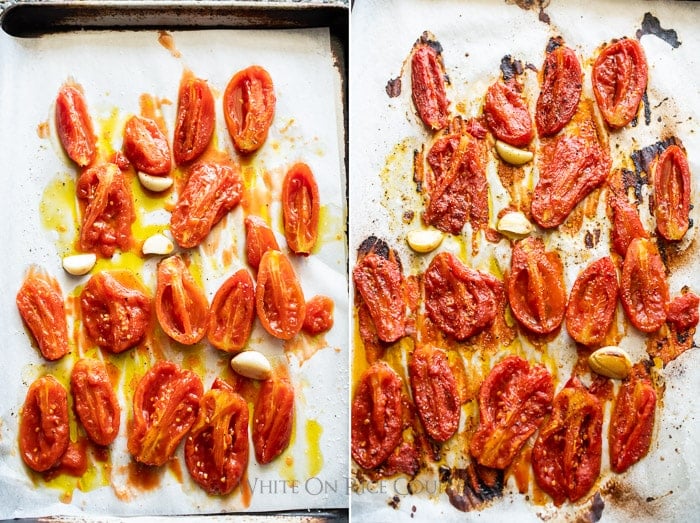 If you want to make sauce, here's our recipe for easy roast tomatoes with garlic sauce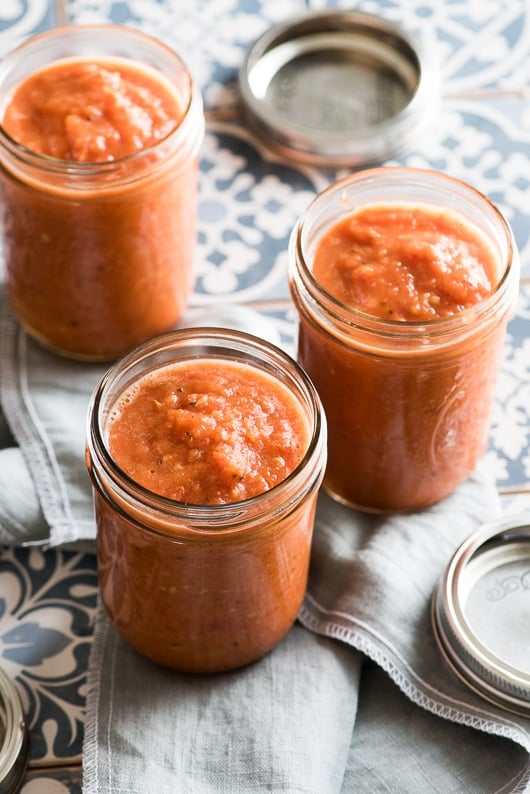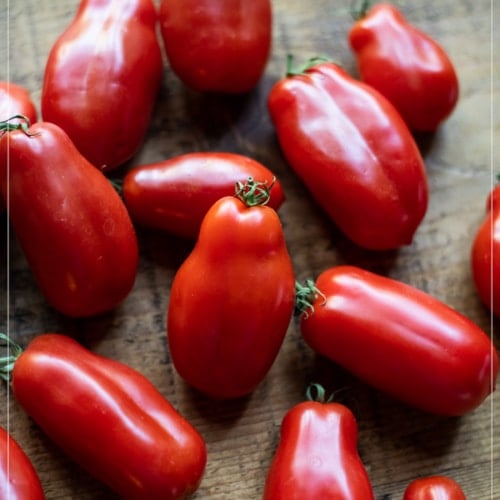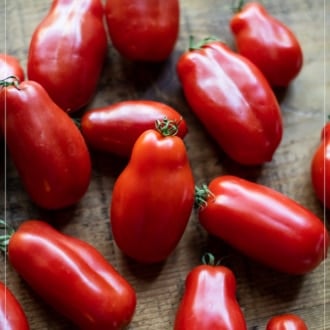 Roasted San Marzano Tomatoes
San Marzano tomatoes are perfect for roasting. The roasting concentrates the flavors, and the normally flavorful san marzanos will become even more so. And if the tomatoes aren't straight-up amazing before roasting, the roasted tomato sauce will give you a ton of the flavor that you're looking for. For the roasted tomatoes, you can also use any plum or paste style tomato varitey like Roma tomatoes. If you have a Roast function on your oven, go ahead and use that mode. Just make sure to adjust cooking times a little less. Roast the tomatoes to your preferred darkness.
Ingredients
2 pounds (907 g) San Marzano tomatoes , halved (approximately)
4 cloves (5 cloves) garlic , peeled
olive oil for coating (about 2-3 Tablespoons-30-45ml)
Kosher salt , to taste
fresh black pepper , to taste
Instructions
Pre-heat oven to 425°F (220°C).

Lay parchment paper on sheet pan and place all tomatoes cut side up. Add garlic. Season with salt and pepper and coat everything lightly with olive oil.

Roast for about 25-30 minutes, or until the tomatoes are roasted and slightly brown or charred on edges. Allow to cool.

Use the roasted tomatoes halves as a side dish (great alongside scrambled eggs or as appetizers on grilled bread). You can also chop or blend the tomatoes up into a sauce.
Nutrition Information
Calories: 54kcal, Carbohydrates: 5g, Protein: 1g, Fat: 4g, Saturated Fat: 1g, Sodium: 151mg, Potassium: 275mg, Fiber: 1g, Sugar: 3g, Vitamin A: 945IU, Vitamin C: 16mg, Calcium: 14mg, Iron: 1mg
Enjoy More Heirloom Tomato Recipes Here: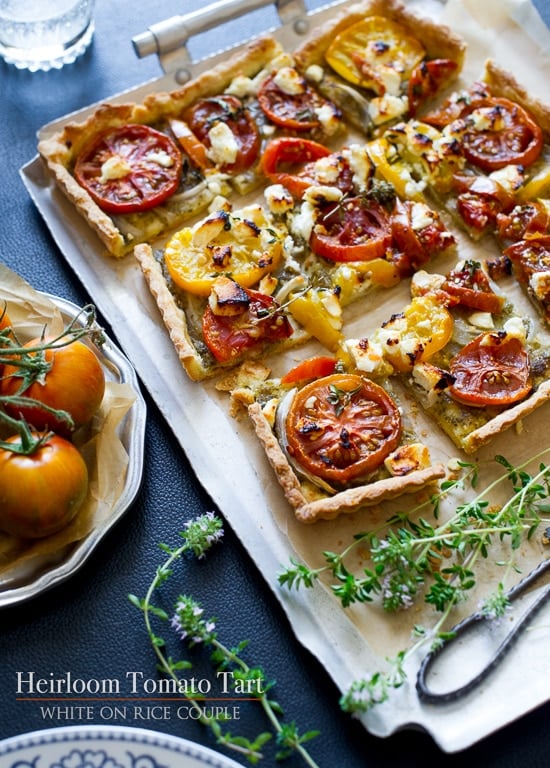 We are a participant in the Amazon Services LLC Associates Program, an affiliate advertising program designed to provide a means for us to earn fees by linking to Amazon.com and affiliated sites.