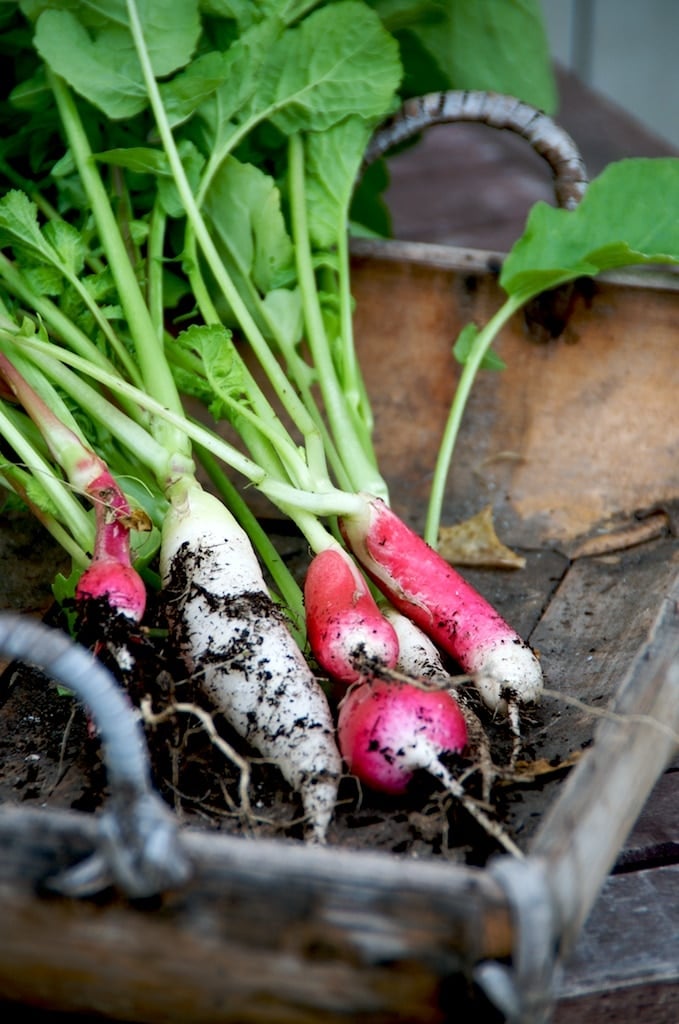 radish varieties: french breakfast and icicle
We don't know what we did right in a previous life, but we sure have been reaping the benefits of it all lately, especially when it comes to blogging. Our blogging has kindled friendships with folks far, wide and nearby that we never would have found otherwise. From bloggers that we have already met to those of you frequent visitors that we have yet to meet, are the reasons why we love blogging.
Jen Yu of Use Real Butter Blog is one of those individuals (and an awesome skier at that!) that brings sunshine to our lives every time we see her rip it up on the snow, chat over emails or in the flesh, or any time we visit her amazing and delicious blog. So when Jen asked us to share our kitchen as part of her Blogger Kitchen Tour Series, there was only one probable answer——YES YES YES YES!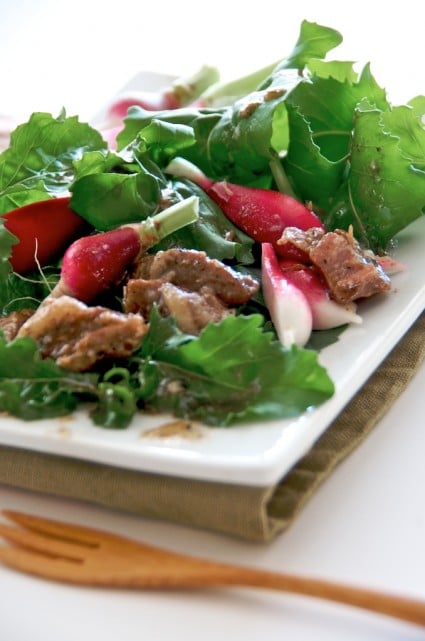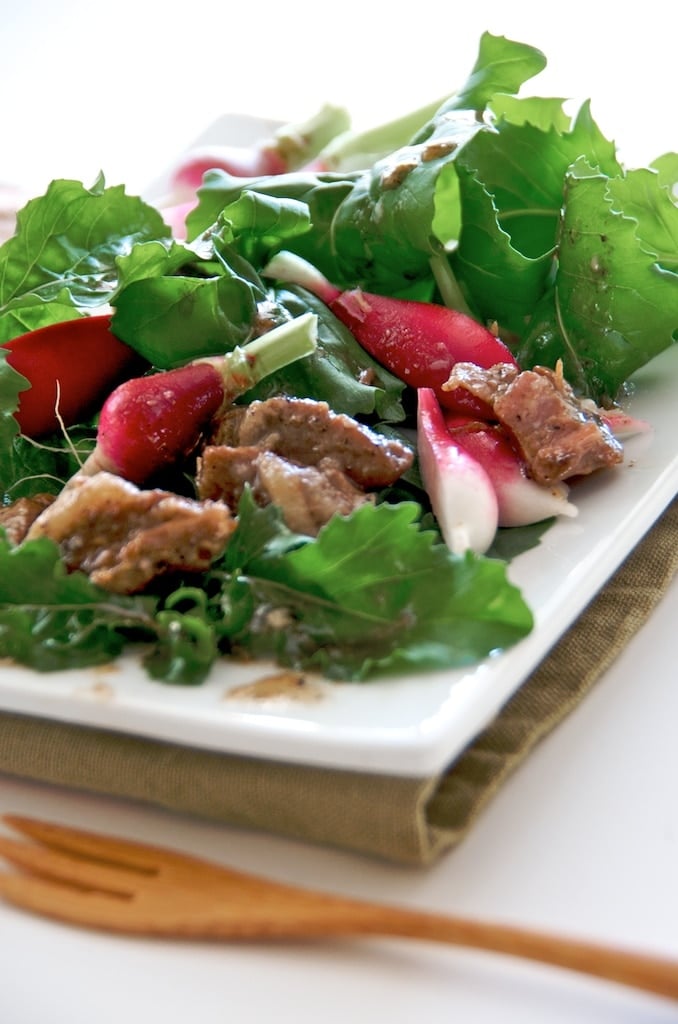 As part of our kitchen tour, we talked a lot about the influences of our two kitchens: our indoor one and our outdoor garden kitchen (aka our Victory Garden.) Both of these play an equal part in our everyday culinary lives. We spend as much time outside growing, prepping, cooking and entertaining in our garden kitchen as we do in our inside kitchen.
So, to keep it short and sweet, please head on over to Jen's blog to get a tour of our kitchen!
As part of the photographs  for this kitchen tour, we gathered the garden vegetables and highlighted what is currently exploding in the garden now. This week there were some amazing arugula and various kinds of radishes ready to be devoured. In particular, the arugula must have been on crack or something because it is growing at a faster rate than we can eat it. Before we knew it, it was flowering like a madman, shooting up spikes of beautiful flowers in every single direction. Even with the flowers, the leaves were surprisingly not bitter at all, but rather, just as delicately peppery as when they were as tiny seedlings. The crazy radishes have grown like weeds and within 5 weeks, we have full fledged radishes that are ready for harvest.
A quick note about the salad.  The braised pork is similar to a Chinese Red Pork.  The pork is good on it's own or with rice or noodles, but it really comes alive with the arugula and radishes. The contrast of the warm pork and braising sauce against the fresh, slight pepperiness of the arugula and radishes is utterly delectable. If the arugula has a mean bite, mix in some lettuce to give the salad a bit more balance. The warm braising sauce and the pork belly will wilt the arugula salad slightly, so top the salad only right when you are ready to serve. This dish has quickly become one of our favorite Victory Garden recipes.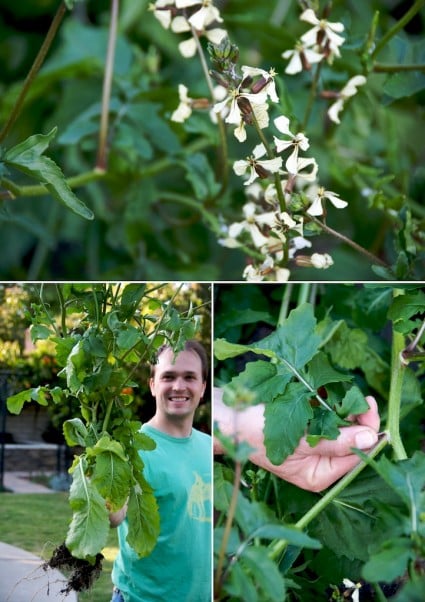 (above): arugula explosion of tender leaves & flowers
(below): tender, french breakfast variety of radishes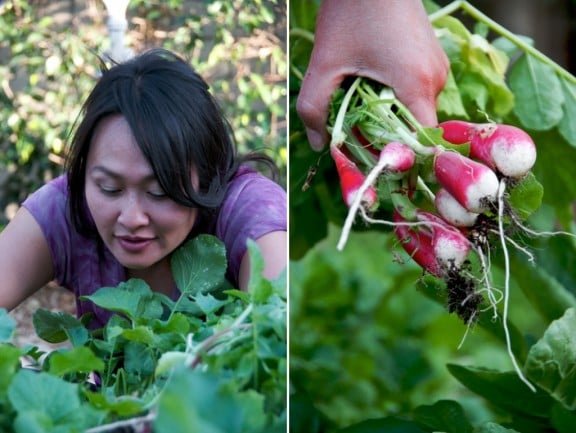 We'll see you over at Jen's blog to get a tour of our kitchen. Teaser- we have pictures of the pups over there too!
Arugula and Radish Salad with Warm Braised Pork Belly
Yield: Serves 4-6
Total Time: 3 hours
Ingredients:
2 lb Pork Belly (skin removed)(pork shoulder/butt works too)
water to cover
2" ginger, thinly sliced
8 garlic cloves (smacked with flat of knife)
4 c water
1/2 c sweet marsala
1/2 c sake
1/2 c Maggi Seasoning (or soy sauce - reduce amount if using regular soy sauce)
85g palm sugar (or @ 4 Tablespoons of  regular sugar)
baby arugula leaves
2-3 radishes (sliced into coins or halved)
Directions:
Cut the pork belly into 3/4" cubes.  Put pork belly in saucepan, cover with water and bring to a boil.  Boil for 10 minutes.
Strain and rinse pork belly.  Rinse pan, put pork back in pan with ginger, garlic, 4 c water, sake, sweet marsala, and maggi seasoning.
Bring to a simmer, reduce heat to low, then simmer for 2 hours, stirring occasionally.  Add palm sugar, and simmer for another 30 minutes (stirring occasionally.)
Test cooked pork belly to is see if it is of soft enough texture.  Simmer longer if needed.
Serve on a bed of baby arugula with sliced radishes.  Dress with juices from braise.
Hello! All images & content are copyright protected. Please do not use our images without prior permission and do not re-publish this recipe. Simply link back to this post for the recipe. Thank you.
Recipe Note for Salt: All recipes containing salt are based on kosher or sea salt amounts, not table salt. If using table salt, reduce the amount used to taste.
[ad]