Easy Quiche Lorraine with Spinach, Bacon
This easy quiche recipe is fantastic for breakfast, brunch and dinner. This quiche Lorraine recipe is one of our favorite morning foods. We eat it several times a month and never get tired of it. Most of our morning quiches are for breakfast photo shoot days and all the teams never seem to get tired of it.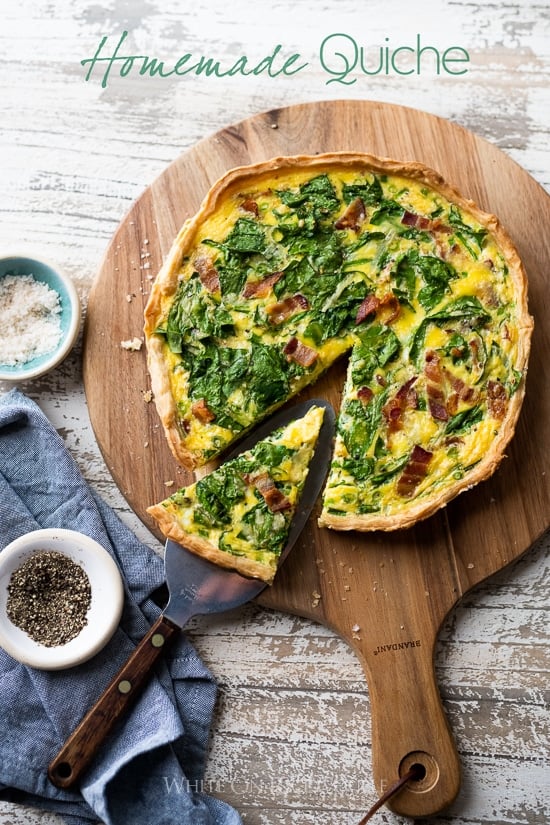 Easy Quiche Recipe
Quiches may look fancy, but they are quite easy to make and are always a crowd pleaser. It's the flaky pie dough with the creamy egg center that makes the quiche so fantastic. With the addition of vegetables, salty bacon or ham and some cheese it's a slice of culinary treasures. Every time we bite into a nice warm slice of quiche, it's a great way to start the morning. But don't limit yourself to quiche for breakfast or brunch. It's a fantastic lunch or dinner dish too. And oh, we love adding spinach to our quiche so the more greens the merrier!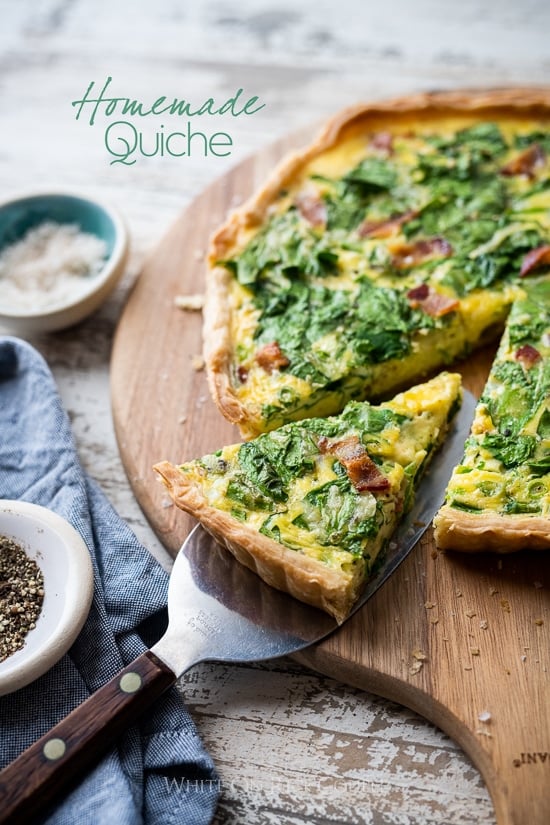 What is a Quiche?
A quiche is a savory pastry filled dough with a rich egg mix: eggs, cream, veggies, cheese, ham, bacon or what ever you want to put in it. The quiche is then baked to a beautiful brown crust and the custard filling is cooked to perfection. Each slice is like a whole meal in-itself and theres' so many variations of quiche, the possibilities are endless.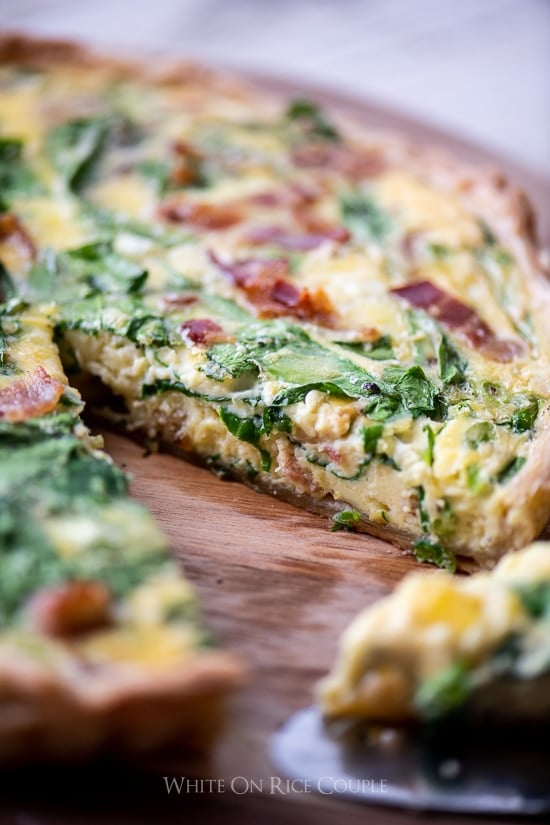 What's the Difference Between Quiche and Quiche Lorraine?
They are basically very similar, with slight differences. Traditionally quiche lorraine uses heavy cream, bacon, swiss, guyere or emmentalle cheese, which are classic French or German ingredients. Where as regular quiche has other variations of meats like ham, sausage and different types of cheese (cheddar, goat, parmesan, jack, etc…). There's much debate whether quiche lorraine was originated in France or Germany. We'll let those folks argue it out. We'd rather enjoy cooking and making quiche lorraine every weekend!
Video: Easy Quiche Lorraine Recipe
What is Blind Baking Pie Crust?
Blind baking refers to partially baking or fully baking a crust before adding the filling. It is not about blind folding someone and playing some sort of culinary mashup game of "Pin the Tail on the Donkey." That would be dangerous and probably not too tasty. Blind baking a crust will help prevent soggy bottoms and lead you onto your way to deliciousness. Once the crust is baked naked (sans filling), the filling is added and then finished baking or chilled, depending on the recipe's need. Click here to –> learn how to blind bake a crust.
Why you should blind bake the quiche crust?
This will ensure that the crust will cook through when the egg custard is cooked too. That way, you won't have a perfectly cooked quiche filling with a raw pie dough underneath. This will prevent a soggy quiche bottom and ensure a more delicious eating experience.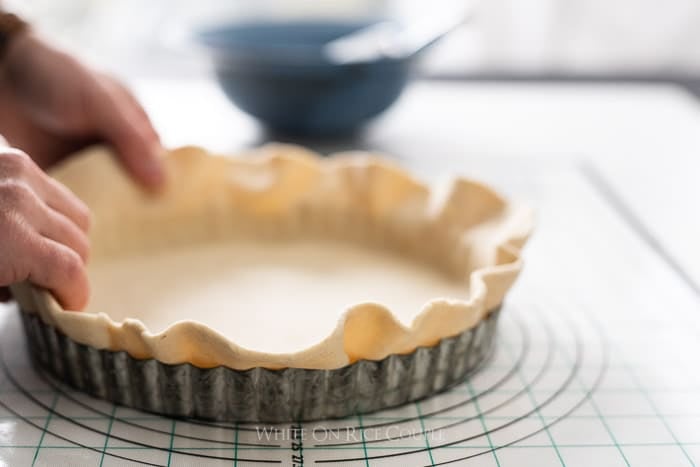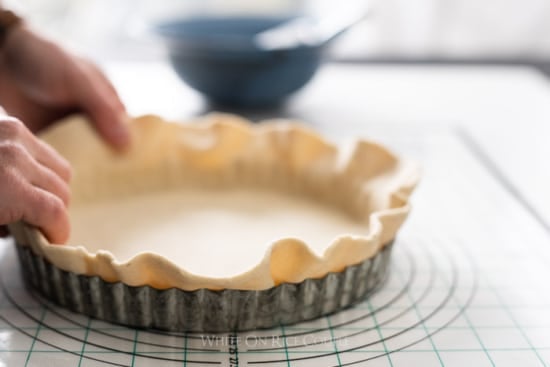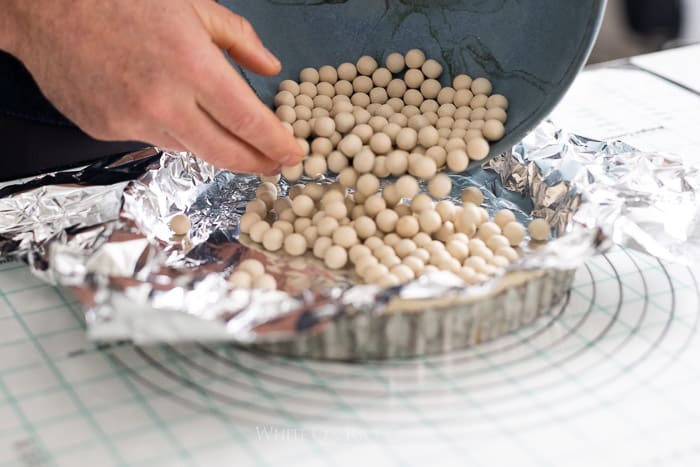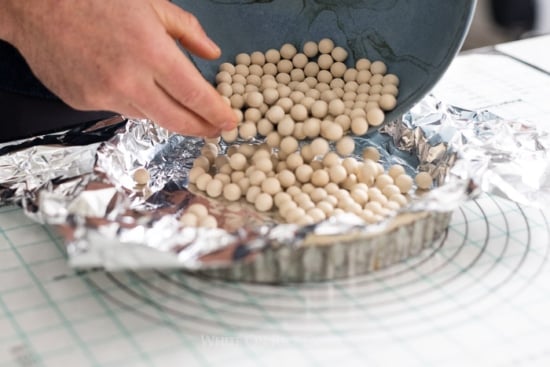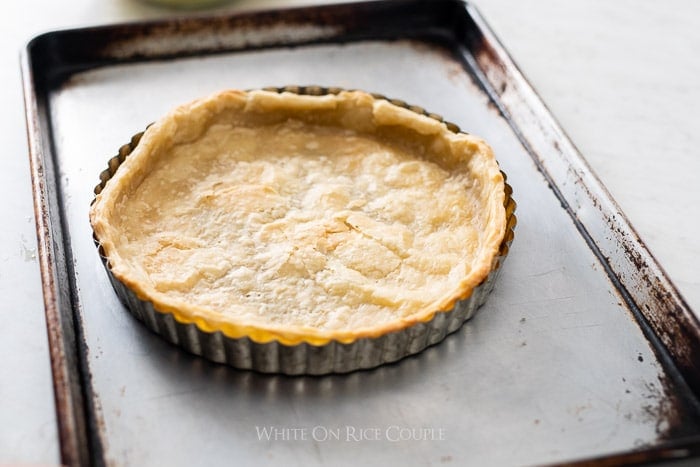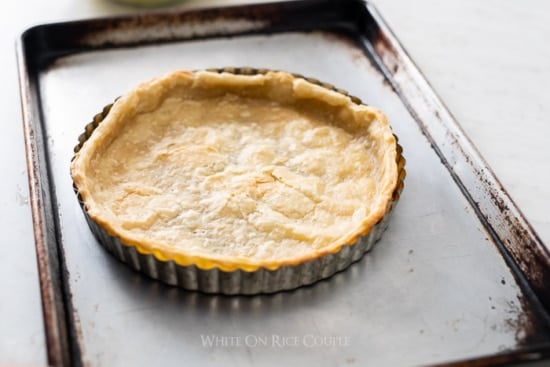 Here's some of our favorite Breakfast and Brunch Recipes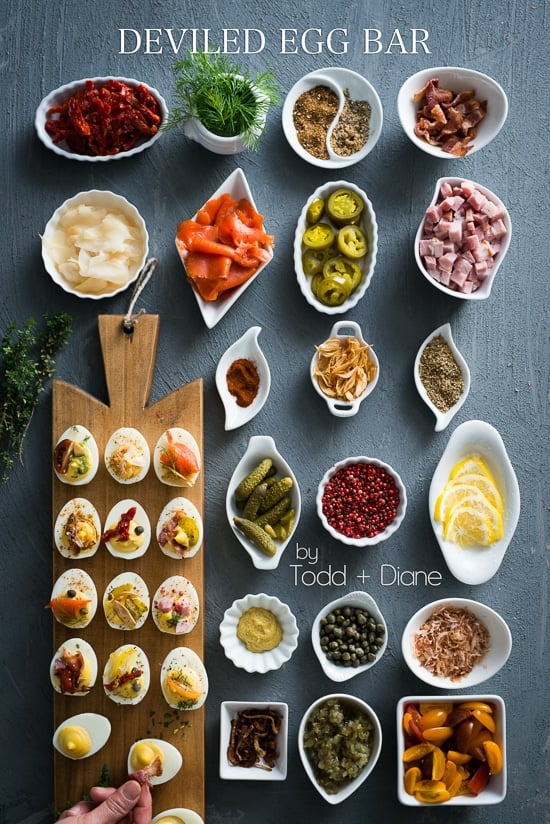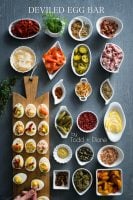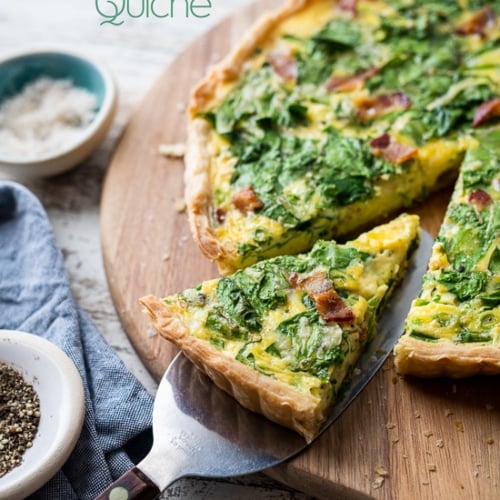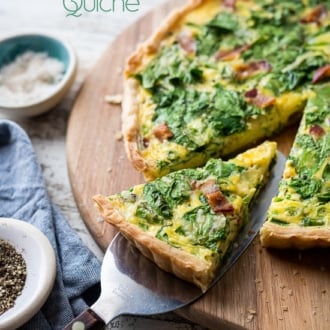 Quiche Lorraine
A classic quiche with bacon and other delicious additions, this is a favorite. We love it with our homemade dough, but feel free to use any of your favorite store bought doughs too.
Ingredients
Homemade Pie Dough or Pre-made Dough
8 large (8 large) eggs
1/2 cup (120 ml) Half & Half or whole milk
2 (2 ) green onions , thinly sliced
1/2 cup (50 g) fresh grated parmesan cheese
2 cups (60 ml) spinach , chopped
3 slices (3 slices) cooked bacon , chopped or 1/2 cup diced ham
1/4 teaspoon (1.25 ml) kosher salt , or to tate
fresh cracked black pepper
Instructions
Preheat oven 375°F (190°C).

If using homemade pie dough, roll out to a 12" (30.5cm) circle and about 1/8" (3mm) thick (it is ok if it is larger than 12" - you'll trim off the excess in just a bit). Place into the tart pan or pie pan, fitting it into the edges. Trim off excess dough (we'll usually trim about 1/2" above the tart pan for a more rustic look and and give extra crust above the quiche level. It's pretty and makes carry it to the oven even easier).

Allow the dough to relax and chill in the fridge or freezer for at least 30 minutes (will help minimize shrinking when baking).

Blind bake the pie crust for homemade dough: Line the inside of the formed crust with aluminum foil with enough foil to completely cover the sides, and then fill with a layer of pie weights. Place on a baking sheet. Bake for 15 minutes, carefully remove the foil and weights. Poke the base a few times with a fork, then Bake for an additional 5-10 minutes, or until the the crust is lightly browned.

Blind bake the pie crust for store bought dough: Use a fork and poke holes all around the base and sides of the pie crust. Bake crust for about 7-10 minutes or until the the crust starts to loose its raw dough look.

While crust bakes, make the egg filling: In bowl, whisk eggs, half/half or milk, salt and pepper.

Add green onions, cheese, spinach, bacon or ham and stir egg mixture until everything is well combined (Optional ~ reserve a little of the bacon/ham & green onions to float on top of the quiche before baking).

When crust is finished blind baking, pour the egg mixture into the crust. Gently stir the mixture to make sure all the filling is evenly distributed throughout the quiche. (Optional ~ top with reserved bacon/ham & green onion).

Bake the quiche for about 30-35 minutes or until the top is golden brown and the egg is cooked. Insert a toothpick or a knife in the middle of the quiche and it should come out clean when it's cooked.

Allow quiche to cool for about 15 minutes before serving or serve at room temperature.
Notes
Recipe note #1: if using a 9" pie pan (unless is it a deep pie pan), you'll only need 6 eggs total and will often need to blind bake the crust a little less, depending on the thickness of the crust.
Nutrition Information
Calories: 261kcal, Carbohydrates: 12g, Protein: 12g, Fat: 17g, Saturated Fat: 6g, Cholesterol: 227mg, Sodium: 402mg, Potassium: 192mg, Vitamin A: 1145IU, Vitamin C: 2.8mg, Calcium: 131mg, Iron: 1.9mg
More Easy Recipes:
We are a participant in the Amazon Services LLC Associates Program, an affiliate advertising program designed to provide a means for us to earn fees by linking to Amazon.com and affiliated sites.