Roasted Cipollini Onions in Thyme
We're excited about this Roasted Cipollini Onions recipe. Fingers crossed, there will be an cipollini onion bumper crop in a few months, without all the onion breath. Plenty of Walla Walla sweets are coming up ever-so-cutely in the garden and we're excited, it's hard to resist not yanking them out of the dirt too early during their growing season.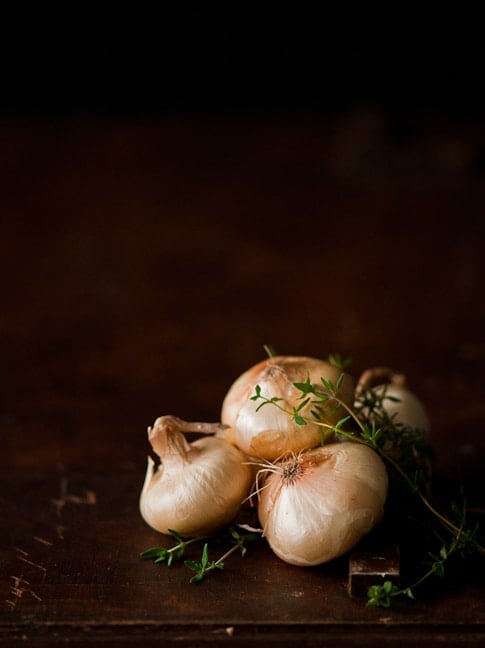 Roasted Cipollini Onions
If you've never had a sweet onions of any kind, you're living in a culinary cave! Yes, onion-haters, there are many wonderful varieties of sweet onions that are very mild on the onion flavor and high on the sugars.
Cipollini onions are perfect specimens of mini-flat orbs of cuteness and when roasted in the oven, the result is a platter full of gorgeous, caramelized bites of sweet poetry. Every bite is rich with roasted flavor, a kiss of fragrant thyme, sea salt and a texture that is soft, supple and a satisfying chew. I adore roasted onions and I promise you will too.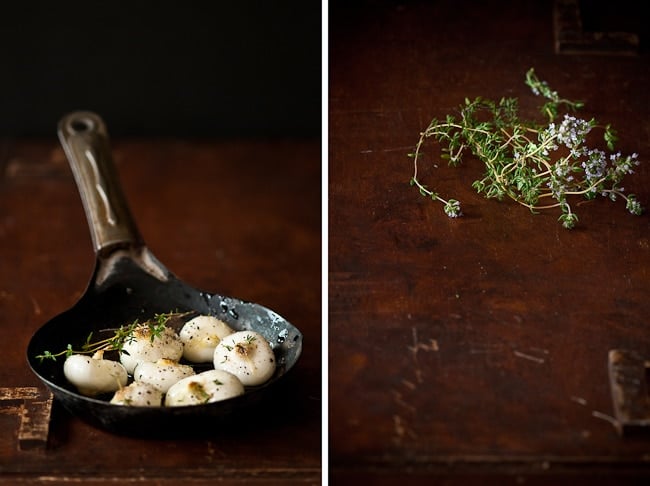 Treat roasted cipollini onions like you would any vegetable and you'll be pleased with how much depth they can add to a dish. Fear not, roasted cippolinis make a fabulous vegetable side dish.
Last Saturday's trip to the farmers market was a visual feast of sweet onions: white, red, small, large, sweet, all with their green leaves attached, roots dangling in the open air and equally stunning. There's something awe-inspiring about root vegetables and their relationship with dirt. Growing under ground, nurtured beneath the earth and finally emerging, covered in dirt, as a gorgeous culinary specimen. Dirt is a beautiful thing.
We look forward to finding more ground space (yeah, right) to grow more varieties of onions, especially cippolinis. For now, there's a ton of fresh leeks growing in a pot and if they don't get harvested soon, we'll have a vase full of leek flowers. Onward to leek recipes!
-Diane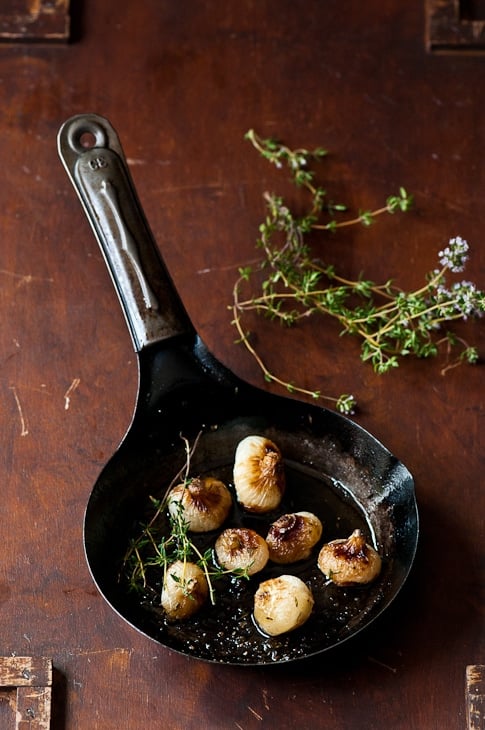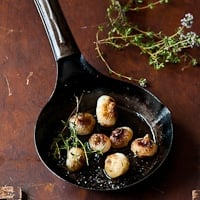 Roasted Cipollini Recipe
This is simple and quick. No quantities are needed, just make as much or little as you need. It is written up for a pound of onions as reference.
Ingredients
Instructions
Preheat oven to 400º Roast

Toss onions and thyme with olive oil and place on a baking sheet or other oven safe dish. Sprinkle with sea salt and cracked black pepper to taste.

Roast in oven for about 35 minutes, turning every 10 minutes to brown sides evenly. Remove when tender and golden.
Nutrition Information
Calories: 77kcal, Carbohydrates: 11g, Protein: 1g, Fat: 4g, Saturated Fat: 1g, Sodium: 295mg, Potassium: 169mg, Fiber: 2g, Sugar: 5g, Vitamin A: 26IU, Vitamin C: 9mg, Calcium: 28mg, Iron: 1mg
Check out more of our vegetarian recipes here.
We are a participant in the Amazon Services LLC Associates Program, an affiliate advertising program designed to provide a means for us to earn fees by linking to Amazon.com and affiliated sites.