Thai Chicken Meatballs in Curry Sauce
Our Thai curry chicken meatballs are a family favorite. You can use any type of ground meat that you like to customize the meatballs to your preferred liking! These meatballs in curry sauce is also a great meal prep dish.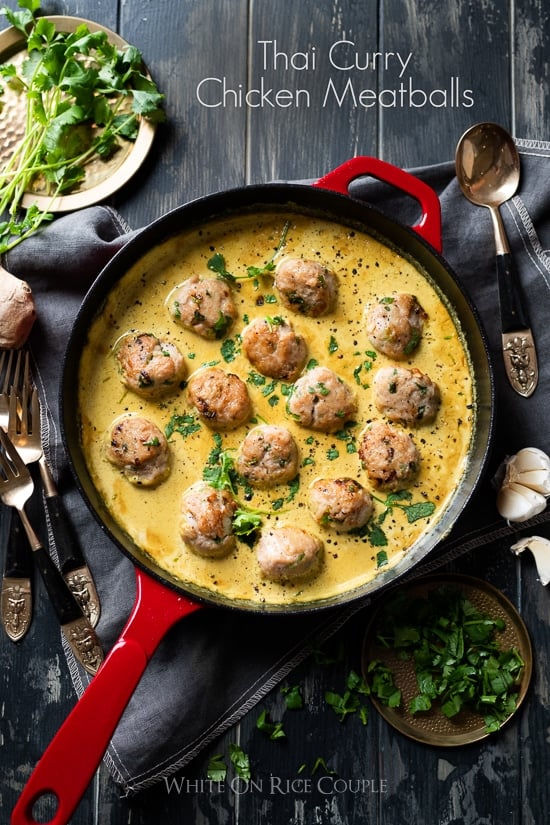 Inspiration for Easy Chicken Meatballs
Today was a doozie that the studio. After filming several client food videos and photographing the recipes the last thing we wanted to eat was what we captured on-set. It's typical for us to not crave anything that we photographed or filmed that day. We needed dinner quick and the thought of going out to eat crossed our minds. But we didn't want to go out to eat when we had a fridge full of ingredients and didn't want to be burdened by a fussy dinner that took more than 30 minutes. Yup we were that picky about not wanting to eat out and not wanting to wait for dinner. Have you ever felt like that? Hungry and a little impatient? Lol, thus the life of post-photo dinner problems!
Video: Yummy Thai Curry Chicken Meatballs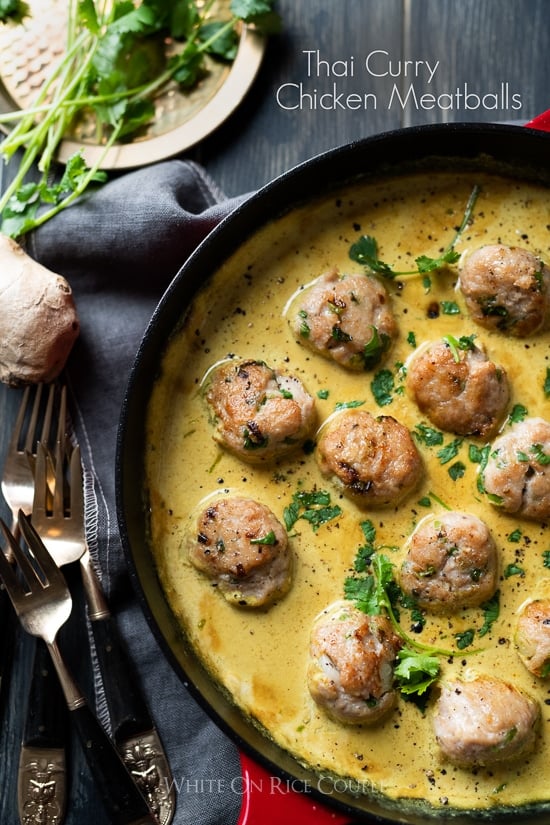 Best Thai Meatballs Recipe in Curry
We were craving curry because that was quick to throw together an d we had a really good go-to curry recipes. But our chicken thighs were still frozen (drama!) and we were too hungry to think about thawing. What we found was a bit of ground chicken and did the math: ground chicken + curry craving= chicken meatballs in curry. Thai style! Voila! No more hunger pains and within 30 minutes with both of us prepping we had a fabulous pot of Thai curry chicken meatballs to heal our hunger. The tender meatballs and awesome curry sauce washed away all the exhaustion from the days production shoot. Now we've finalized the recipe for you here and hope you enjoy it as much as we did. That's the end of the story of a day in the life of hungry photographers.
Tips for How to Make Chicken Meatballs in Curry Sauce
Other options for ground meat if you don't want to use ground chicken: pork, ground beef, lamb, ground turkey.
If you want a vegan or plant based meatball, you can use beyond meat or impossible meat. And use soy sauce instead of fish sauce for a vegan option.
We like a lot of flavor in our sauce. If you're cautious about using fish sauce, just try a little bit of it. Seriously, even a little bit of fish sauce imparts so much of the thai flavor that makes these meatballs awesome. See below for our favorite fish sauces.
If you're still a little cautious about fish sauce, then you can use soy sauce.
If you're wanting red curry flavor you can use red curry paste instead of the regular yellow curry powder.
Add a handful of fresh chopped thai basil or any of your favorite fresh herbs.
All meatballs in curry sauce recipe details are in the recipe box below.
Our Favorite Fish Sauce Brands:
This has been our house fish sauce for decades. Great stuff! We'll use it to make our dipping sauces as well as marinades.
100% all-natural first press extra virgin Vietnamese fish sauce. One of the best artisan fish sauce producers.
Another good fish sauce. Clean flavors, good depth. It's the one Diane's mom most often uses for cooking.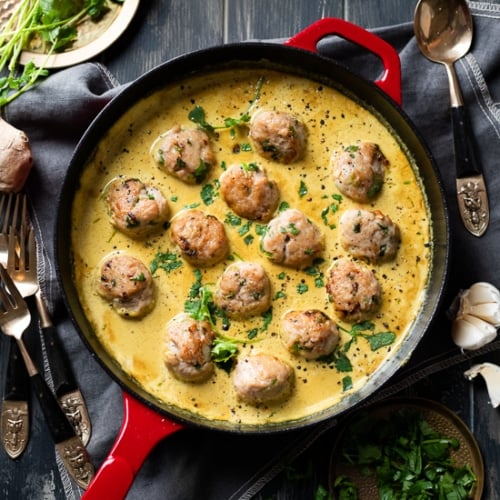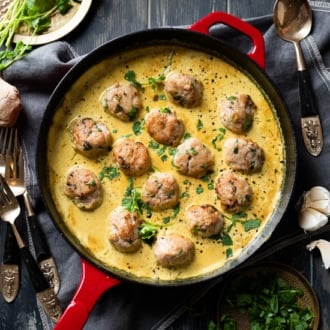 Thai Curry Chicken Meatballs
For a more rich curry taste, add more fish sauce. the best part about this curry sauce is that you can customize the flavors to your liking.
Ingredients
For the Meatballs
1 pound (454 g) ground chicken
3 cloves garlic , minced
1 teaspoon (5 ml) grated fresh ginger (or 1/2 teaspoon ground ginger)
2 stalks green onions (minced)
1/2 teaspoon (2.5 ml) salt , or to taste
lots of fresh cracked black pepper , to taste
2 Tablespoons (30 ml) oil
For the Curry:
3 cloves garlic , minced
1 bay leaf (or kaffir lime leaf)
1 Tablespoon (15 ml) curry powder
1/2 teaspoon (2.5 ml) cayenne pepper , or to taste
1 cup (240 ml) coconut milk
1 cup (240 ml) chicken broth
1 Tablespoon (15 ml) fish sauce , or more to taste
zest of 2 limes
Fresh lime juice , to taste (optional)
1/2 cup (120 ml) minced cilantro (optional)
Nutrition Information per Serving
Calories: 236kcal, Carbohydrates: 3g, Protein: 14g, Fat: 19g, Saturated Fat: 9g, Cholesterol: 65mg, Sodium: 624mg, Potassium: 555mg, Vitamin A: 120IU, Vitamin C: 4.8mg, Calcium: 27mg, Iron: 2.3mg
What to serve with these coconut curry chicken meatballs?
Always classic and comforting, we love eating these with white jasmine rice. But there's other options too:
Brown rice or other grains are great like quinoa, couscous or wild rice.
Low carb cauliflower rice or riced cauliflower is a great keto-friendly option
Noodles are fantastic too. For a quickie meal, just boil some packaged ramen noodles without the seasoning packets. Rice noodles are great too.
Pasta is always a family favorite. From spaghetti to penne and even macaroni, there's so many possbilities.
Make a sandwich out of these! Wow the soft hoagie sandwiches are perfect for soaking up the sauce.
Can you Freeze These Meatballs?
Yes, you can totally freeze them. It's a great make-ahead meal prep recipe. Just remember to use a rubber spatula to scrape off as much sauce as possible to save and freeze. The sauce is the best part!
Enjoy,
diane and todd
This recipe was originally published in 2018 and most recently updated 2023.
We are a participant in the Amazon Services LLC Associates Program, an affiliate advertising program designed to provide a means for us to earn fees by linking to Amazon.com and affiliated sites.