Deep-dish Cookies a la mode – "Pizookie" Style
We're obsessed with this Chocolate Deep Dish Cookie. If you are a virgin to this sweet tooth delicacy, let me introduce you to a pizookie. A pizookie is cookie dough baked directly in a dish (just like Chicago deep dish style pizzas) then while still warm out of the oven, it's topped with ice cream and immediately devoured.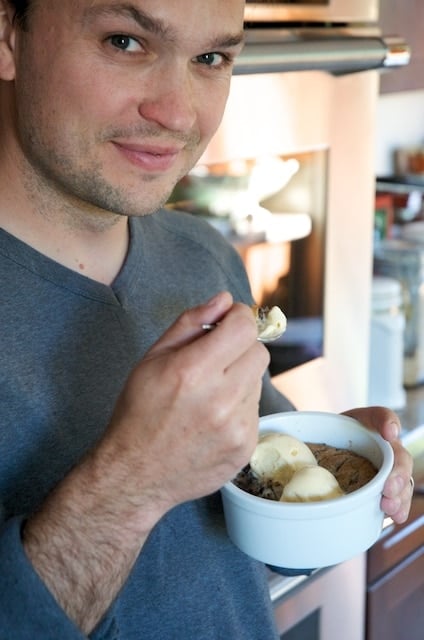 Here's the ultimate way to serve your favorite soft cookies, like our Chocolate Chunk Cookies 😉 A chocolate deep dish cookie. Absolutely brilliant.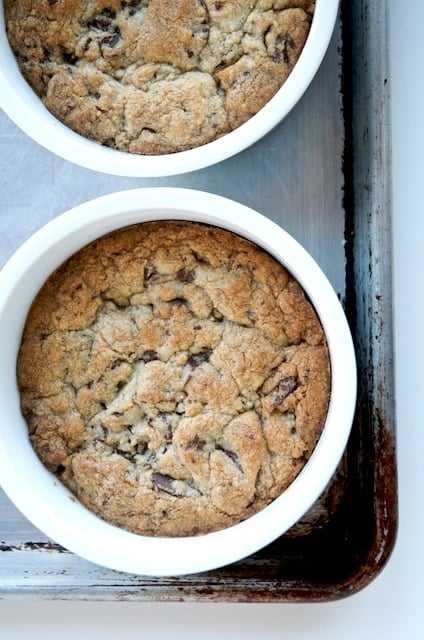 Chocolate Deep Dish Cookie
Like many of us pizookie fanatics, we were first introduced to them at BJ's Brewery and Restaurant. For me, it was when I moved down to Southern California for college. Staying in the dorms, the locals were well versed in the supreme pleasures of this dessert, and soon we all were making regular pizookie runs. We'd order one pizookie for every two people present, dig in our spoons, chat, laugh and successfully avoid another term paper or night of study. The pizookies alone inspired many calorie-burning workouts to avoid the onslaught of the freshman 40 (the phenomena of students suddenly gaining 40lbs their freshman year in college.)
There are an unlimited amount of possibilities to making deep dish cookies. You want to use a cookie dough that makes a soft chewy cookie. The chocolate chunk cookies in our previous post work beautifully. Other excellent cookie options are a good peanut butter cookie, oatmeal raisin cookies, chocolate cookies with peanut butter chips, etc… As I mentioned in the comments of the chocolate chunk cookie post, I'll be sharing more of our baking recipes in the future and I guarantee there will be several cookie recipes that will satiate the most intense of cookie cravings and will also make perfect deep dish cookies.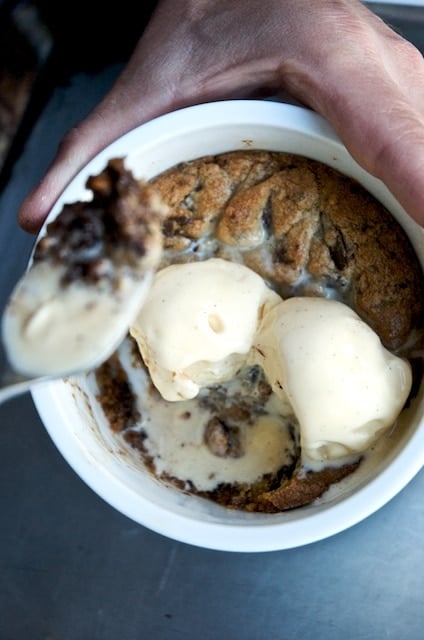 Add Ice Cream
Don't forget the finishing touch, the ice cream. Classically, a nice vanilla ice cream it a perfect topping, but deviations can be exquisite as well. If you are feeling spunky, make your own ice cream, starting with David Lebovitz's Vanilla Ice Cream recipe. As summer rolls closer we'll start putting up more of our favorite and others' great ice cream recipes and introducing you to additional deep dish cookie combinations. Until then, enjoy this sweet and simple delight, our chocolate chunk cookie topped with vanilla ice cream. When you top the deep dish cookies with the ice cream, the warmth from the cookies start to melt the ice cream. The beauty of cooking the cookies in a deep dish is that it preserves the melting ice cream, so each spoonful has the warm, chewy cookie contrasting against the cool creamy sweetness of the ice cream. Ice cream sandwiches are tasty, but deep dish cookies are in a league all their own.
Tips for Baking Cookies
The tips for baking the chocolate chunk cookies apply the same here, only you want to emphasize the under baking even a little bit more.
The thickness of the cookies and the type of baking dish you use will ultimately determine your cooking time, so watch them closely at the end to determine the cookie's doneness. We usually use 4″ ramekins filled about 1/2″ high to make a deep dish cookie to split between the two of us (although I've been know to make them a bit higher.)
A 3″ ramekin is nice for a hearty 1 person serving.
The big cookie rule applies to deep dish cookies as well, if you make bigger deep dish cookies, lower your oven temp about 25° F and extend your baking times. Enjoy.
-Todd.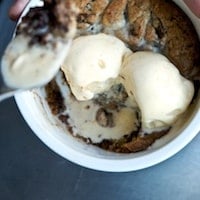 Deep Dish Cookies - Chocolate Chunk w/ Vanilla Ice Cream
The pizookie concept works any dough or ice cream combo you prefer. Chocolate chip (or chunk) and vanilla is a classic, but make them however you love it.
Equipment
4-inch ramekins (or other small baking dish)
Instructions
Preheat oven to 375° F (350° for convection ovens)

Fill ramekins 1/2" deep with raw cookie dough. Place ramekins on sheet pan and put in middle rack of oven. Bake 12-18 min., or until top starts to turn golden brown. (remember you want them slightly undercooked, but not too doughy.)

Remove from oven and place each ramekin on a napkin (this allows you to hold the hot dish as you eat your dessert delight.) Top with a couple scoops of ice cream. Grab a spoon and enjoy.
Nutrition Information per Serving
Calories: 326kcal, Carbohydrates: 44g, Protein: 4g, Fat: 15g, Saturated Fat: 5g, Cholesterol: 21mg, Sodium: 199mg, Potassium: 153mg, Fiber: 1g, Sugar: 29g, Vitamin A: 161IU, Vitamin C: 1mg, Calcium: 47mg, Iron: 1mg
Here's our deep dish peanut butter recipe and, snicker doodle recipe and oatmeal version.
We are a participant in the Amazon Services LLC Associates Program, an affiliate advertising program designed to provide a means for us to earn fees by linking to Amazon.com and affiliated sites.