Pomegranate Juice & Green Globe Pomegranates
Homemade pomegranate juice is such a treat. The health benefits are amazing too.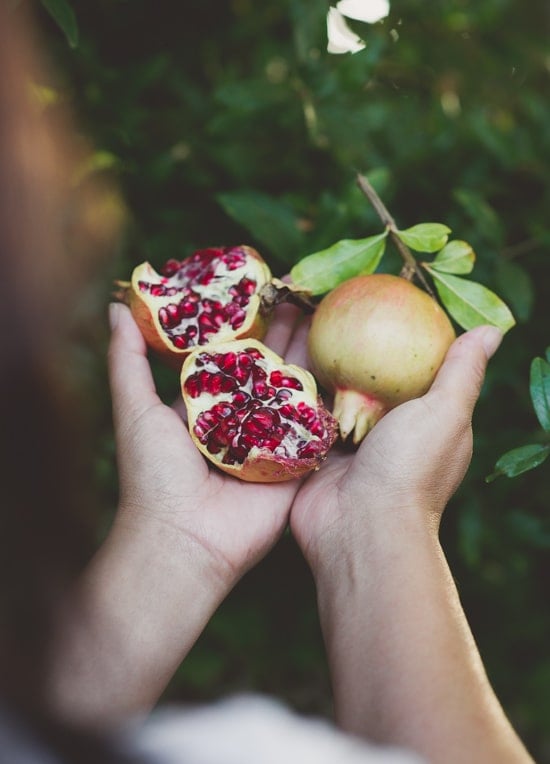 Fresh Pomegranate Juice Recipe
We were in the dead of summer heat here over these past few weeks. Well, for us Southern California coastal folks, anything that hits 95 degrees is a reason to complain about it being too hot. Why is it that Summer decided to arrive now? In September? Maybe this is a good thing, all this hot weather because the garden can still fruit its Summer bounty during the same time that the fall figs, persimmons and pomegranates start arriving. Even puppy Lexi can't keep up with all the transition fruit. She's a fruit grazer, for sure.
Hot Summer heat, it's a good thing, right? Who has a swimming pool? We'd love an invite.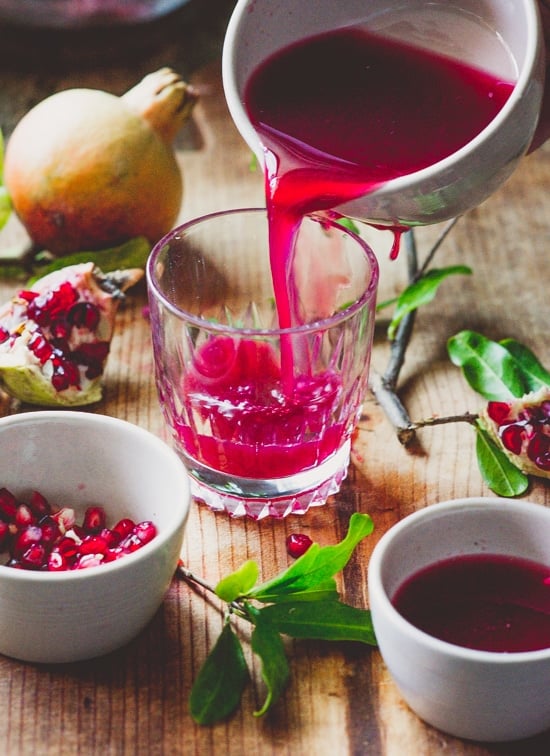 Green Globe Pomegranates
Over the last weeks, our eyes have been fixated on these green globe pomegranates. We've always written about our other variety of pomegranates called Wonderful. But why we haven't ever shared our green globes is another mystery, until now. About eleven years ago we stumbled upon this green globe variety. Our Wonderful pomegranates were doing well and though still young, it wasn't producing enough fruit for our insatiable pom-appetites. Our search brought us to this unique variety called green globe, which are not red like what you would traditionally expect. These are more green/yellow skinned-toned, with light blushes of red and pink.
When looking at green globes, you would expect that they're not ripe and that they're needing many more months of branch ripening. This is certainly not the case because when you break open these green globe beauties, what you find are gorgeous bright red pomegranate seeds that are ready to eat, drink, jam or what ever your heart desires. What do green globe pomegranates taste like? Super sweet, juicy and amazing. They're not tart nor acidic like the common red varieties, so the green globes are perfect for drinking and eating. Let the seeds fall into your mouth and what you'll experience is like sweet pomegranate candy. To everyone's surprise, these seeds are perfect for snacking on and even when they're not tart, the bursts of sweet flavor are easy to please.
So, where do you get these green globes? we have no idea! We haven't seen them at farmers markets. Perhaps they're a harder variety to grow commercially. Or maybe the public would rather have the brighter, tarter variety. If any of you have come across this, we'd love to hear. Many folks have asked us where to find this and it's nice to be able get new information and pass it on.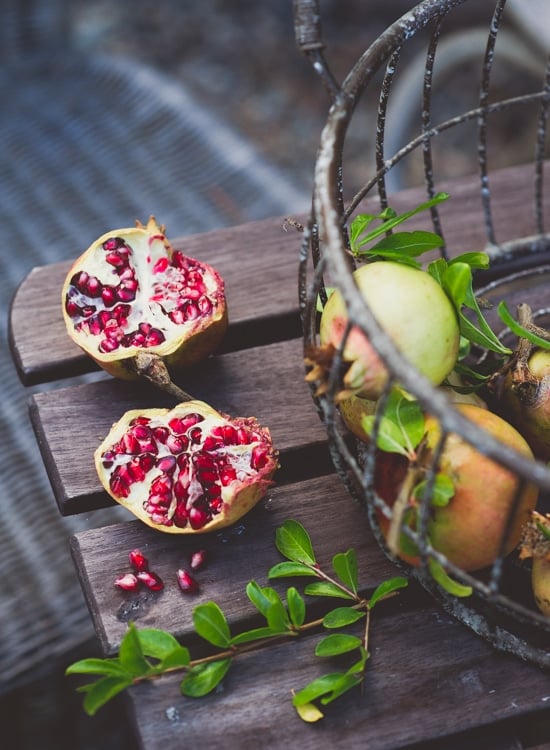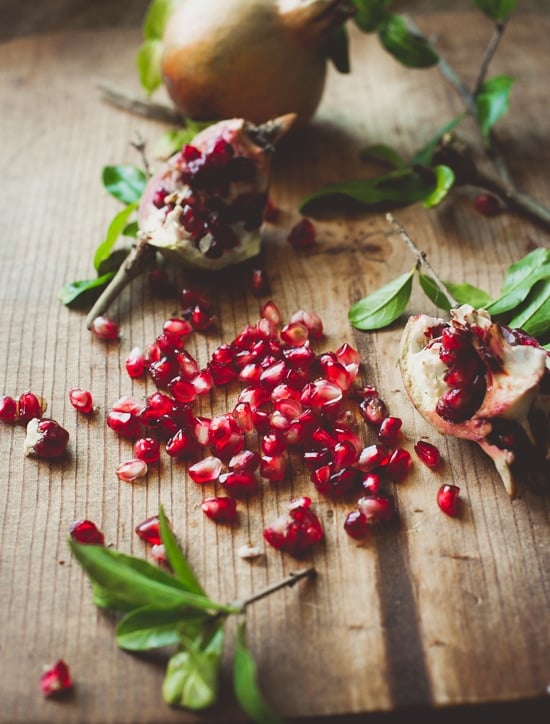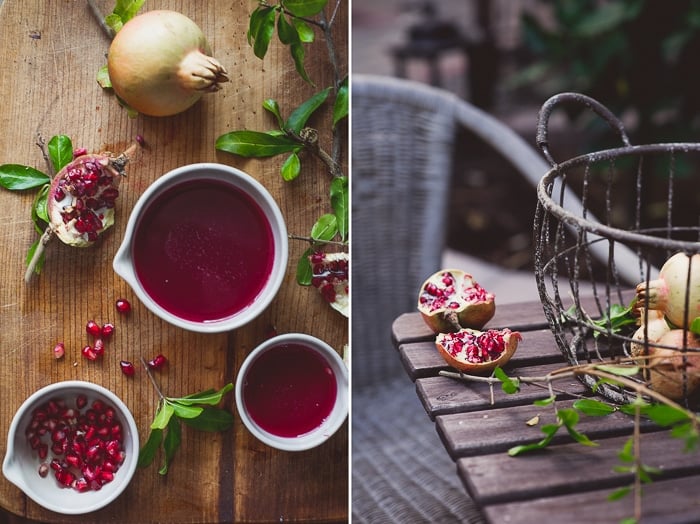 Fresh Squeezed Juice
Fresh pomegranate juice is luxury, no doubt. It takes quite a few seeds to juice down to about less than half the amount of juice. But when you find yourself in a small bounty of seeds, treat yourself to the experience. The fresh flavors of pomegranate juice can't be duplicated. Use the juice to make cocktails, for drinking or for anything that would benefit from a punch of color and bright flavor.
The seasonal experience of fresh pomegranates only comes for a short time, so indulge and enjoy. These fruits are the welcoming signs of Fall and their beauty alone is an experience to appreciate. Decorate your table top with a few pomegranates or sprinkle the seeds on your favorite salad or breakfast yogurt. What ever you do, don't forget to appreciate the beauty of the heart of the pomegranates. We can stare at them all day and our eyes will never tire.
happy Fall,
diane and todd
Our latest view through the pomegranate arch is now a fountain. We deciced to do away with our pond of almost eleven years, but ended filling it up and now the space is a little flower bed with a relaxing fountain. And best of all, it's a place for all the garden birds to come bathe. So it's a win! win!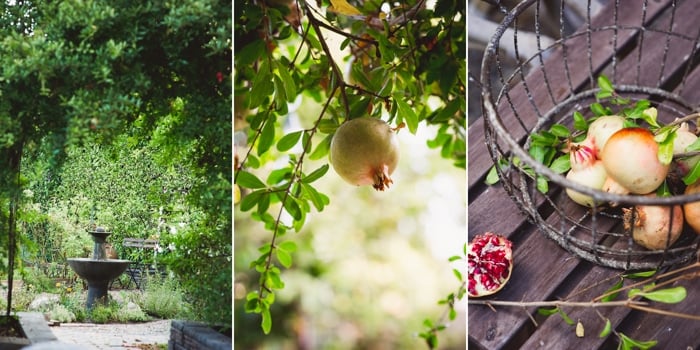 Check out our Cocktail Recipes Here and our Complete Whiskey Guide.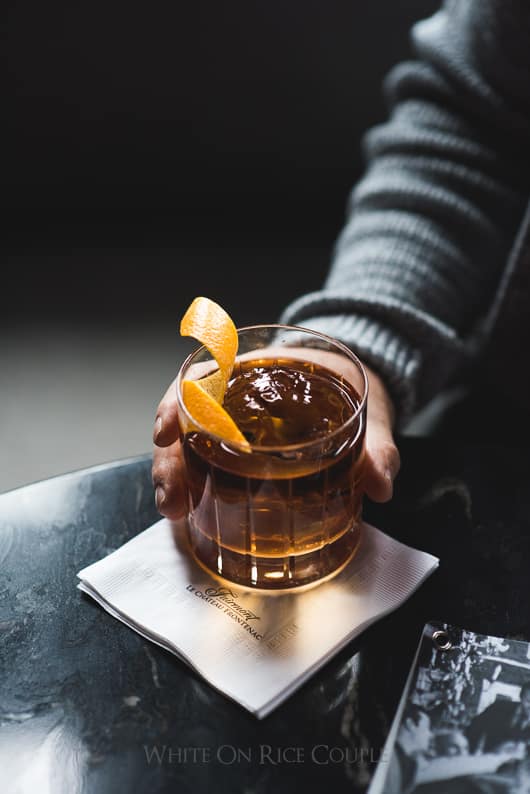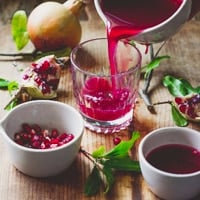 Fresh Pomegranate Juice
Super simple and quite delicious, fresh pomegranate juice can take your cocktails and recipes to a new level. Especially when using unique varieties of pomegranates such as the Green Globe. For instructions on seeding a whole pomegranate, see the post and video on our How to Shuck a Pomegranate without Looking like a Murder Scene.
Makes about 1 cup.
Ingredients
2 cups (480ml) Pomegranate Seeds
Instructions
Put pomegranate seeds in a food processor or blender. Briefly pulse a few times until the seeds are mostly broken up. Don't pulse to much or too long. It is better to under pulse and break up the few remaining whole seeds with the back of a spoon when straining than to over-pulse.

Strain the juice and seeds through a fine mesh strainer. Take a sip to reward yourself and store the remaining in the refrigerator.
Nutrition Information per Serving
Calories: 136kcal, Carbohydrates: 31g, Protein: 3g, Fat: 2g, Saturated Fat: 1g, Sodium: 5mg, Potassium: 387mg, Fiber: 7g, Sugar: 22g, Vitamin C: 17mg, Calcium: 16mg, Iron: 1mg
We are a participant in the Amazon Services LLC Associates Program, an affiliate advertising program designed to provide a means for us to earn fees by linking to Amazon.com and affiliated sites.