Inside-a-Watermelon Mojitos for a Crowd
This watermelon mojito recipe is more fun when they're made inside a watermelon. It's an entertaining and fun way to serve this popular cocktail.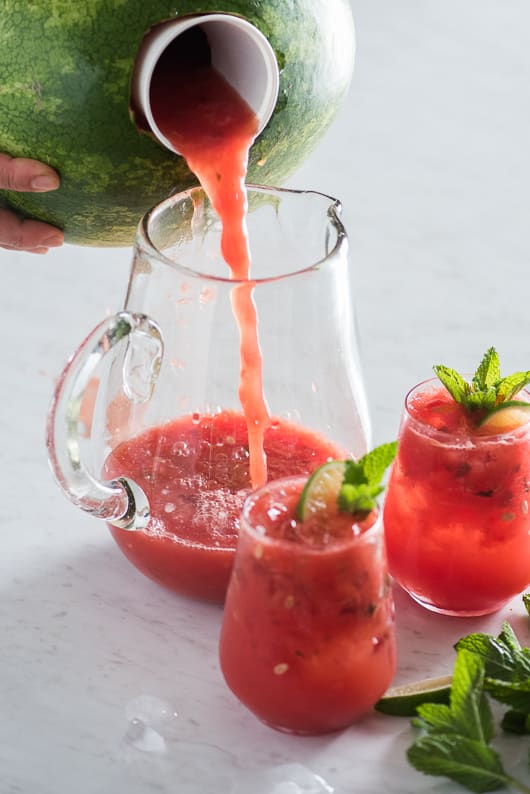 Watermelon Mojito
It's hard not to have fun when it comes to making cocktails for a crowd. This watermelon mojito is the perfect example of fun. We'll have our stand-by favorites for single-serve drinks, but when we end up inviting a few people that eventually becomes a big crowd, it's impossible to shake a single cocktail for each person. So now that it's Memorial Day weekend and we're gearing up for longer days of sunshine and outdoor parties, we have our crowd-pleaser drinks that still allow us to have fun at our own party and keep a big group refreshed with mojitos.
Last year our inside-a-watermelon margaritas were a hit because we made a big batch of drinks inside the watermelon. Yes, it literally was inside the belly of the sweetest melon we could find. It was such a hit with our friends that we, oops, did it again. But this time, we're serving up mojitos in the same fashion that we did the margaritas: inside-the-watermelon. It's a fun, easy and awesome conversation piece to see everyones faces when we made it with a blender (or if you have an immersion blender, even better), some key ingredients and nice sweet watermelon.
Video of our Super Fun Watermelon Mojito Recipe: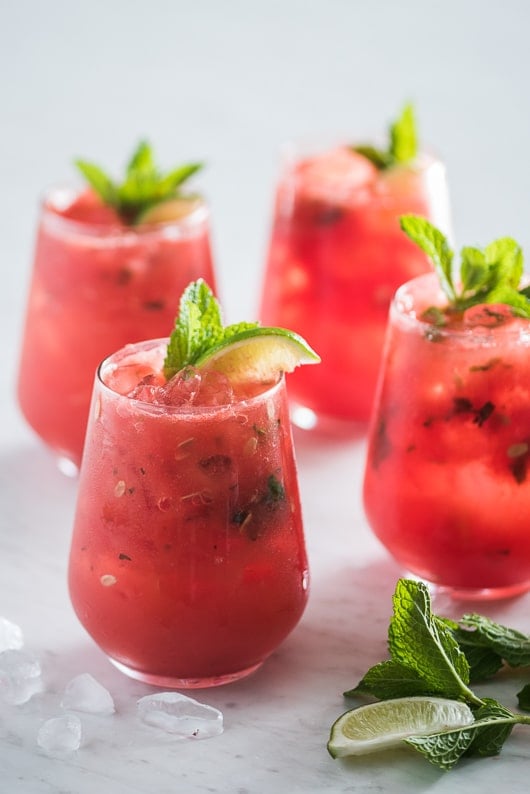 We're actually surprised at all the sweet melons we're finding this early-on and taking full advantage of them while we can. Summer flies by and it's only a matter of time before we exit this season of stone fruits, heirloom tomatoes and sweet melons. So cheers to you all, have an awesome Memorial Day holiday and make your group of guests happy with this fantastic mojito. You will be making a lot of people happy and refreshed all at once.
Enjoy and Be Safe!
-diane and todd
Check out our Cocktail Recipes Here and our Complete Whiskey Guide.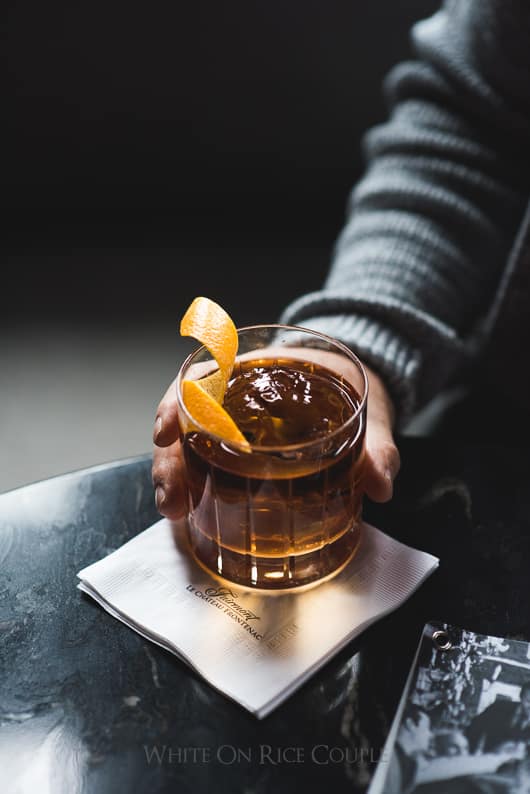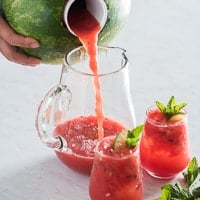 Inside-a-Watermelon Mojitos
Because every watermelon will be different in size and sweetness, the ingredients are to taste, so add as much as you like based on your personal taste preference. Use the recipe as a general guideline and taste as you go. It is a tough job but someone has to do it.
Chilling the watermelon the night before will give you a quick chill on the margaritas.
A watermelon about 10-12 pound will be a good size that will allow the beater blades from the hand mixer to reach all the way through and around the inside of the watermelon. If your watermelon is any larger, you might need to use an immersion blender with a longer reach or use the drill and coat hanger method. Watch the video on our blog write up to see how we made these.
Ingredients
1 seedless, ripe watermelon (about 10-12 pounds (4.5-5.5 kg). Anything larger, the beater blades won't reach inside to blend much of the watermelon)
20-30 fresh mint leaves
3/4 cup (180ml) rum (or to taste)
1/3 cup (80ml) fresh lime juice , about 3 limes (or to taste)
1/4 cup (60ml) simple syrup (see Notes below)
club soda , to top off each cocktail
lime slices for garnish (optional)
ice
optional , fresh mint and/or limes wedges for garnish
Equipment
one 6-8 ounce paper or plastic cup -to make a spout
Instructions
Muddle or chop the mint leaves and set aside.

Carefully cut a hole in the watermelon large enough to fit your beater blade. Push the blade into the watermelon hole and slowly blend the watermelon interior into juice. Make sure to scrape all the way to the sides and bottom of the watermelon to maximize juice.

Ladle out about 1 cup of watermelon juice to make room for the rest of the liquid ingredients. You can reserve the 1 cup of removed juice and make a separate mojitos later.

Add the muddled/chopped mint leaves, rum, lime juice, and simple syrup to the watermelon. Mix with the beater blade to evenly combine the ingredients.

Cut out the bottom of a paper/plastic cup. Cut out a section of the cup so it fits into the watermelon hole to use as a spout to pour. If necessary, round out the hole in the watermelon so the cup fits smoothly against the edges and insert the cup into the watermelon hole.
Two options for serving:
Option 1: Pour the blended watermelon mojitos into a jug and then serve from the jug (less messy - the watermelon can be a bit cumbersome to pour into individual glasses).

Option 2: Pour directly from the watermelon into the individual cups (more fun, but dribbles and splatters will often happen).

Pour the watermelon mojito into ice filled cups about 3/4's full. Top with club soda and gently stir. Garnish with mint and/or lime wedges.
Notes
Simple Syrup Recipe
Basically equal parts water and sugar dissolved together. We'll usually make a bigger batch and use as needed.
2 cups (480ml) Water
2 cups (400g) Sugar
Combine water and sugar in a medium saucepan. Heat until sugar is completely dissolved. Set aside to cool. After cool, store in refrigerator until ready to use.
Nutrition Information per Serving
Calories: 255kcal, Carbohydrates: 52g, Protein: 4g, Fat: 1g, Saturated Fat: 1g, Sodium: 13mg, Potassium: 668mg, Fiber: 3g, Sugar: 43g, Vitamin A: 3337IU, Vitamin C: 50mg, Calcium: 49mg, Iron: 2mg
We are a participant in the Amazon Services LLC Associates Program, an affiliate advertising program designed to provide a means for us to earn fees by linking to Amazon.com and affiliated sites.