Passion Fruit and Mint Cooler
We're dedicating this passion fruit drink article to our beloved passion vine that died last month (8/2018). It gave us beautiful foliage and fruit for over 10 years. Today we're republishing this passion fruit and mint cooler recipe with a new video, new photos and a thank you to our beautiful vines!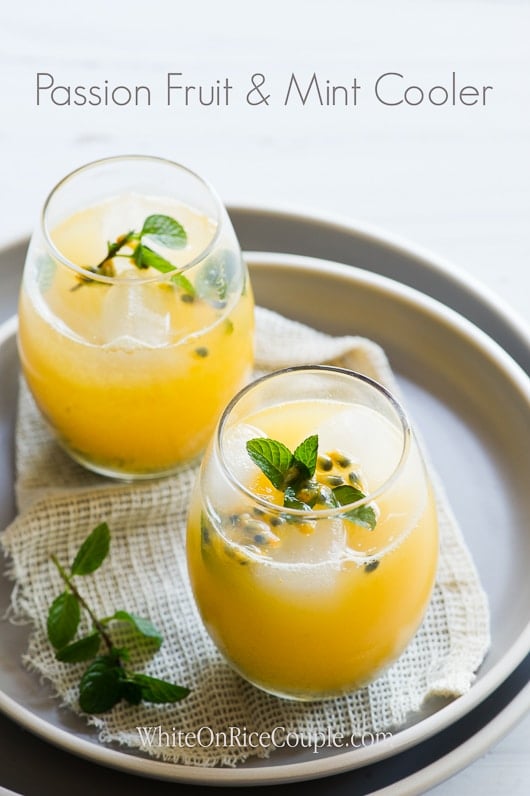 Passion Fruit Cooler Recipe
This recipe is a testament to why gardeners should never give up to quickly on their favorite plants. A couple years ago, we determined we had to grow passion fruit. As anxious gardeners and lovers of fresh passion fruit, we didn't just invest in one vine. After all, in addition to our own personal garden fruit greed and long list of passion fruit recipes we wanted to explore, we had an extensive list of friends who were equally devoted to fresh passion fruit.
So, to satisfy our needs, as well as needs of friends who live in double fleece layer-cold weather climates, we bought 4 vines. Three vines for us, and one for friends. We're always thinking of sending fruit to out of state friends. One vine would be plenty. During the first year, the vines were nurtured with organic fertilizer, consistent water, plenty of sunshine and lots of sweet talk. When the first alien looking flowers appeared, we were like silly, happy kids who inherited an endless supply of quarters for the gum-ball machine. We geek-ed out in the privacy of our green garden escape.
Video of our Passion Fruit and Mint Cooler: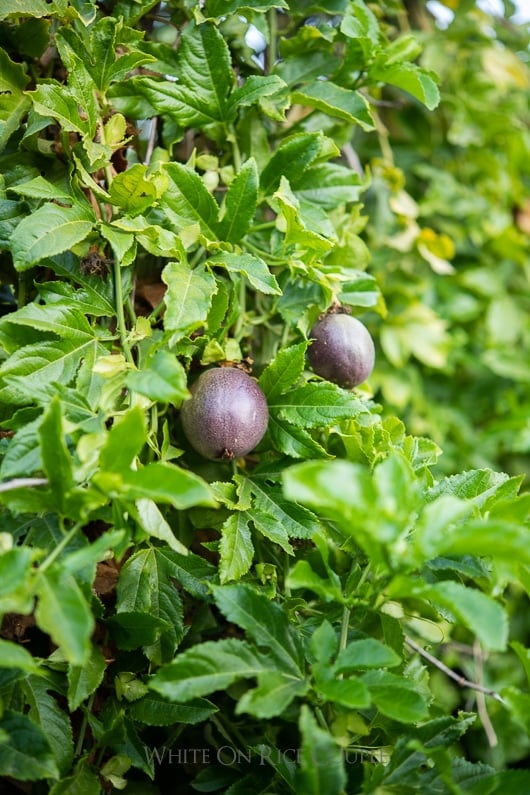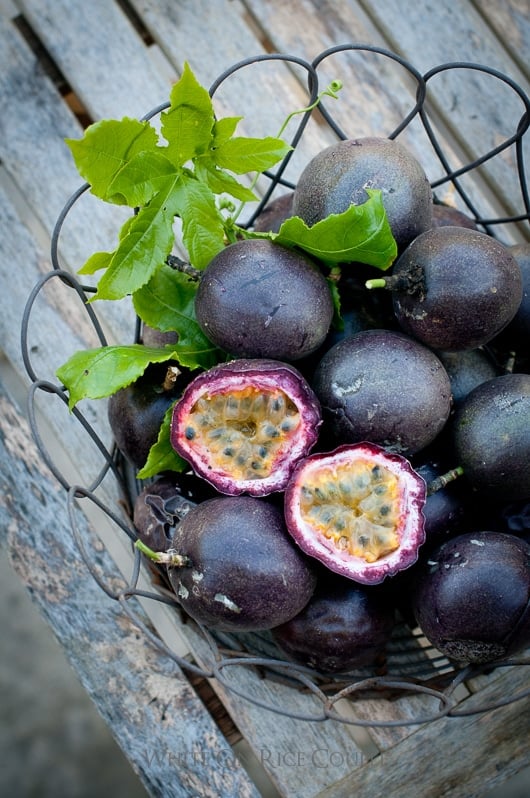 We waited with anticipation for signs of fruit for a passion fruit drink. Our cocktail shaker was ready and waiting. But, no fruit appeared. The flowers dropped. Again. And again. And again. A ton of flowers, all dropped like a bad date. We felt defeated. We felt like the nursery lied to us. There was no " prolific fruiting" like the tags had promised. Liars. Liars.
Dying Passion Fruit Vines
What happened? Why did all the flowers drop? Neither of the 4 vines, which we planted in different parts of the garden could produce one passion fruit. So we researched, read, googled and looked up everything we could find. What turned up in some garden forums were mentions about passion fruit vines taking a few seasons to fruit.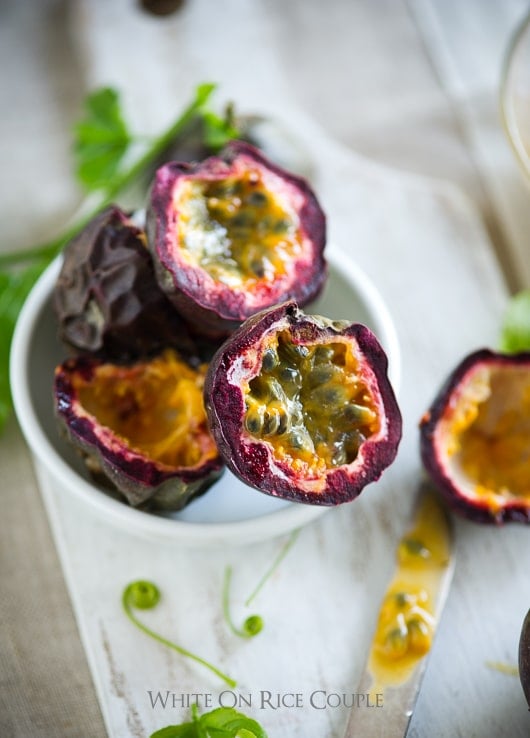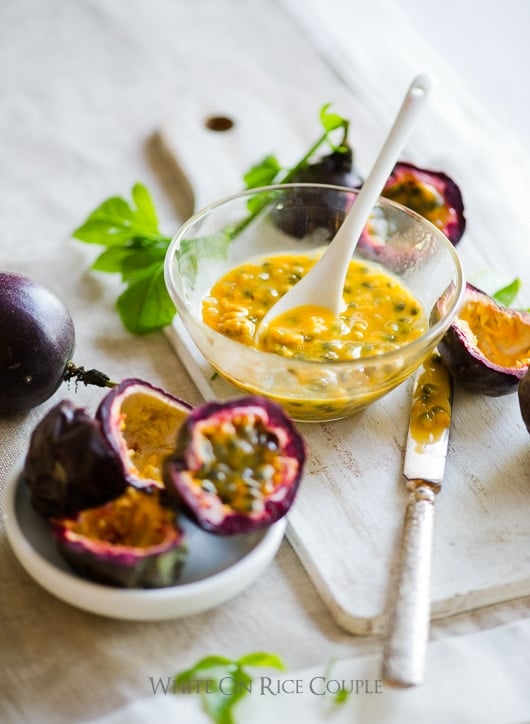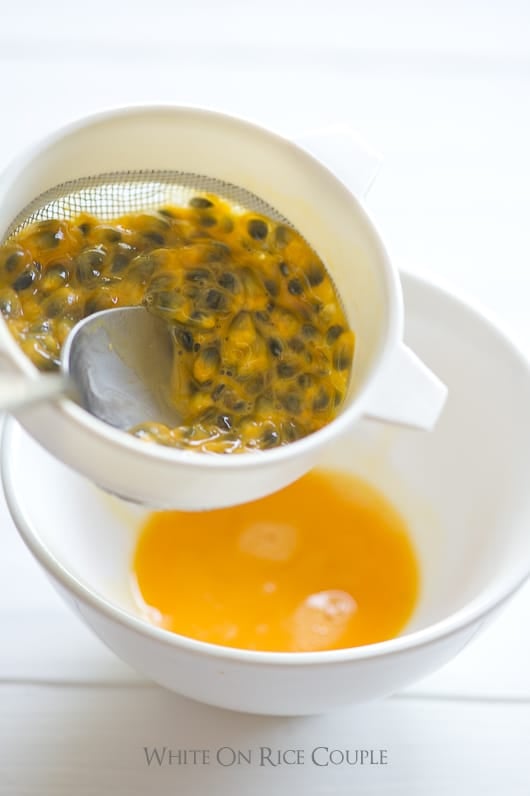 When the second fruiting season rolled around, our fingers were crossed tightly, hoping that this was the year we'd be rolling in perfumed seeds and nectar. Passion fruit curd, passion fruit tart, passion fruit martinis, passion fruit cooler … here we come! Again, just like the previous season, every single passion fruit flower bloomed beautifully, then withered away without any sign of fruit. Fail. Here we went again, researching, thinking that we bought the flowering variety instead of the fruiting variety.
At the end of our gardening patience and after two failed seasons to fruit, we thought about giving up and growing another variety that might be more adaptable to our climate. Or something. We didn't know what was wrong. It must be a bum variety. Yeah, that's it. Luckily, this was an incredibly busy year for us and we didn't get to pour as much attention to the garden as we had hoped we could. Trees were left a little un-trimmed, some vegetables got the chance to spread their own seeds, and the passion fruit vines were spared the big yank.
Then early one morning in July, we walked past the passion fruit vines and there it was. The very first, one and only passion fruit dangling above our heads, green and camouflaged amongst the leaves. It was the cutest thing, ever. Score! From that point on, almost every single flower set into fruit. We started counting. One, ten, twenty, twenty two…..twenty five passion fruits!! We're now about 30 passion fruits richer and that's the end of the story. The little guys took forever to ripen but we were in no hurry. What is a few months to ripen compared to a couple years just to get the damn sweet vines to fruit. Here's a passion fruit cooler to celebrate!
The moral to all this? Don't give up too easily. Sometimes the wait is certainly worth the reward.
happy drinking,
diane and todd
Check out our Cocktail Recipes Here and our Complete Whiskey Guide.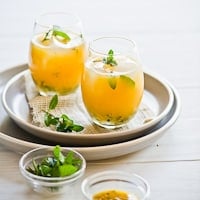 Passion Fruit & Mint Cooler
This is based off of fresh passionfruit juice from our garden. Fruit will vary in sweetness/tartness so adjust amount and sugar amount to taste. This is pretty tasty as a cocktail with the addition of rum and a bit more lime. There are different varieties of passion fruit, some much less tart and sweeter than others. Adjust sugar for different varieties and to taste.If you are a pulp-free type, make a mint simple syrup (see Note 2) instead of muddling the mint leaves and sugar.
Ingredients
6-8 whole Mint Leaves
2 Tablespoons Sugar (30ml)
1 ounce fresh Lime Juice (30ml)
1 Tablespoon fresh Passion fruit Juice (15ml) *see note 1 for extracting
12 ounces Water (360ml)
Instructions
Muddle the mint leaves, sugar, and lime juice together.

Add passion fruit juice and water to the muddled mix. (Add passion fruit seeds if you are so inclined). Divide into 2 glasses filled with ice.
Notes
*Note 1: Extracting Passion Fruit Juice Cut the passion fruit in half then scrap out the seeds and pulp into a small mesh strainer. Over a small bowl to catch the juice, scrap the seeds and pulp using the back of a spoon in order to separate the pulp and juice from the seeds. Reserve the seeds if you enjoy them in your drinks or other recipes. *Note 2: Mint Simple Syrup (keeps quite well, so make more than needed and use for iced tea, making lemonade, cocktails, etc...)
Combine 2 cups (480ml) water, 2 cups (400g) sugar, and a large handful of mint leaves in a medium saucepan. Heat just until a light simmer, stirring to dissolve sugar. Remove from heat and allow mint to steep for 15-20 minutes. Strain and store in refrigerator until ready to use.
Nutrition Information per Serving
Calories: 56kcal, Carbohydrates: 15g, Protein: 1g, Fat: 1g, Saturated Fat: 1g, Sodium: 10mg, Potassium: 54mg, Fiber: 1g, Sugar: 13g, Vitamin A: 188IU, Vitamin C: 7mg, Calcium: 15mg, Iron: 1mg
Hope you enjoy our passion fruit drink. Here's some more great fruit recipes and passion fruit recipes.
We are a participant in the Amazon Services LLC Associates Program, an affiliate advertising program designed to provide a means for us to earn fees by linking to Amazon.com and affiliated sites.