Meyer Lemon Pie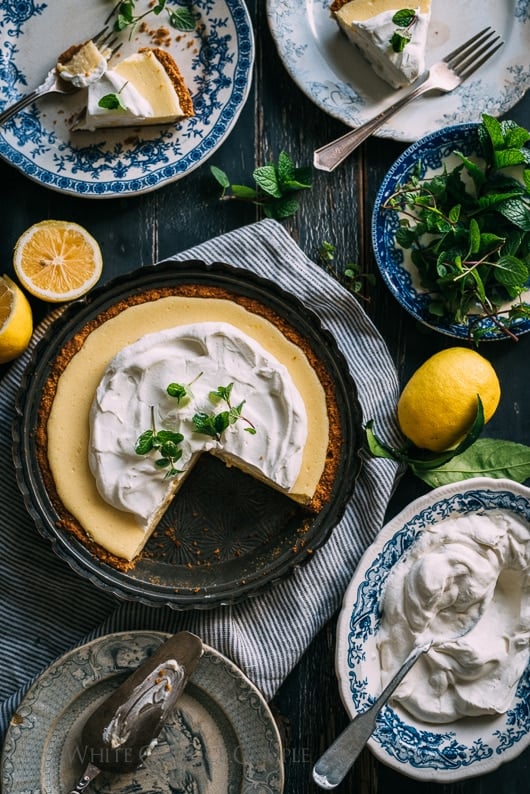 It's always this time of year that we're flooded with gorgeous citrus and we're scrambling to figure out how to cook with it all. And of course, we're always finding new ways to squeeze them into our refreshing cocktails. This season has been exceptionally fabulous because we're finally heading out of a drought and the rains have brought nourishment to our little garden orchard. All our citrus trees are super picturesque and dotted with yellow, orange, green and red orbs of citrus. Every day we're indulging in citrus juice and we're not going to be getting scurvy anytime soon that's for sure!
Meyer Lemon Pie Recipe
After enjoying our seasonal blood orange buttermilk pound cake, meyer lemon cream puffs and orange-spied chocolate chocolate chip banana bread, we were almost tapped out until we were inspired by Joanna and Chip's new magazine. Have you seen it? It's adorable, informative and a great read together when cuddled on the couch. Her lemon pie recipe definitely kick started our cravings again and we hopped to the kitchen to make our version of meyer lemon pie because we have way more meyer lemons that we can ever eat.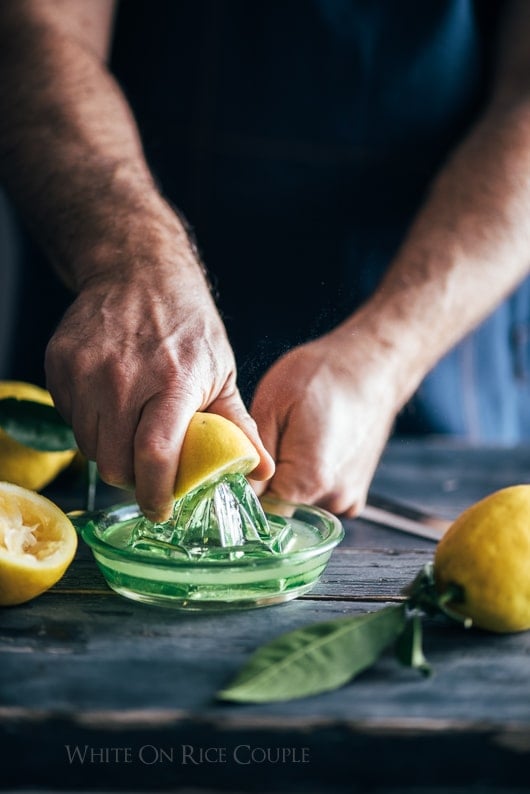 Everyone knows of our love of meyer lemons because we've been geeky enough to share it in a video a few years back. Remember how small Lexi was when we made a cameo appearance? Well, she's much bigger now!
Our meyer lemon pie is significantly less sweeter than most pies because honestly, we don't feel like we need all that sugar. Instead, we bring in a ton of lemon flavor, fluffy texture and fabulous citrus love to a simple and homemade dessert. Over the years we've found that adding extra citrus flavor to our baked recipes and minus the extra sugar, still results in a delicious dessert. The bright pops of lemon flavor come through in a dance of sweet, sour, bright, and tangy. But of course, we always love adding that decadent dollop of homemade whipped cream! So we'll make up for the sugar in the topping.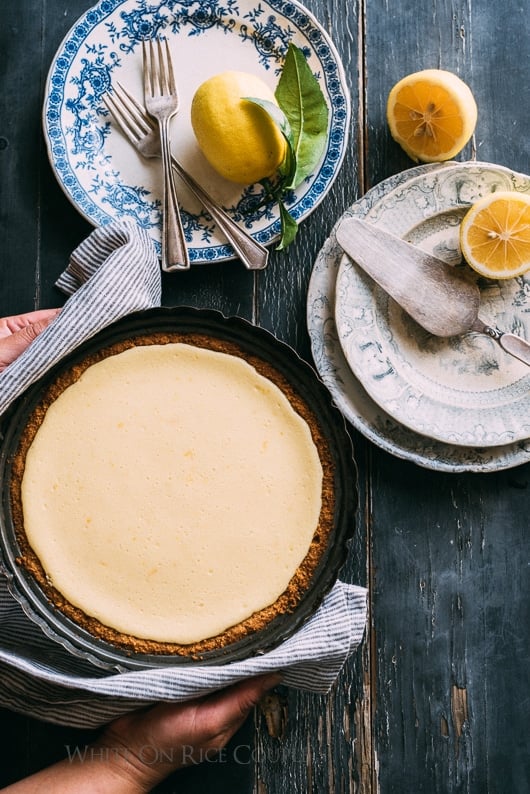 cool the pie, then top with more goodness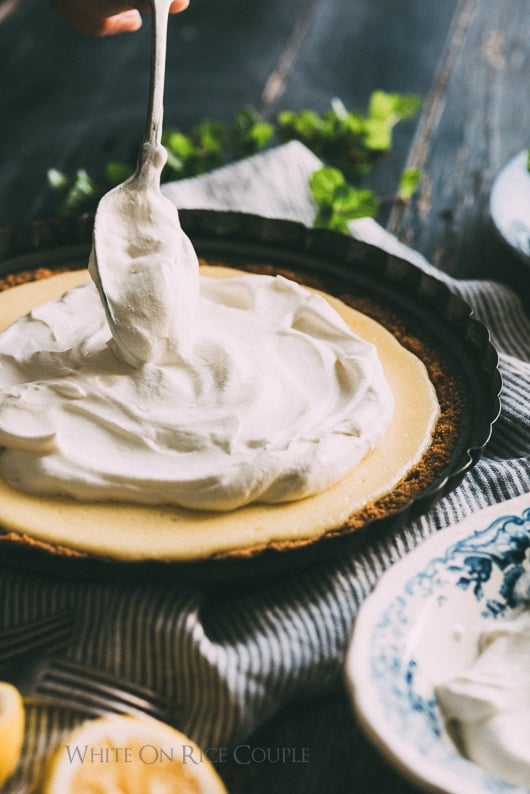 garnish your heart out
Now that we're thrilled with our citrus bounty, we've still not finished exploring new ways to use citrus. What are some ways that you're using them? Even beyond the kitchen we've been using our lemons added to floral displays, decor around the kitchen and sharing them with everyone who is willing to take some off our hands.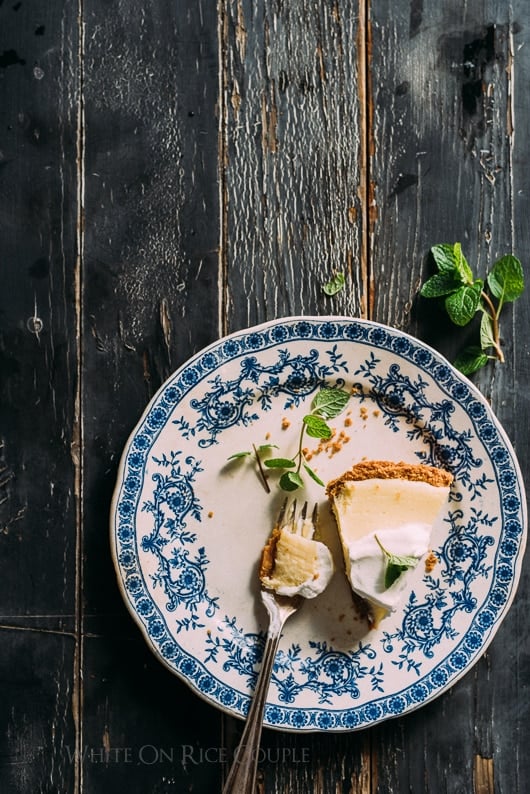 We always knew that growing over 35 fruit trees was going to allow us to share our bounty and meet new food friends. That's what happens when life hands you lemons!
hugs,
diane and todd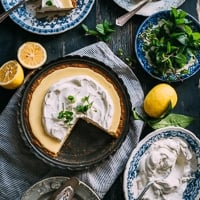 Print Recipe
Meyer Lemon Pie
Meyer lemons tend to be a bit sweeter and less acidic than the classic Eureka lemons (the kind usually found in grocery stores). If using regular lemons we'll usually add about 2 tablespoons (or to taste) of sugar to the pie filling. For the graham cracker crumb crust, if you add a bit more butter (up to 2 tablespoons) it will make it easier to press into the crust, however the end texture will be a bit more dense. Adapt the butter amount to your preferred ease in pressing vs crust density.
Ingredients
Graham crust
1 1/2 cups (170g) graham cracker crumbs
6 tablespoons (85g) unsalted butter, melted *see head note
1/4 teaspoon kosher salt
Pie Filling
2 14- ounce (396g ea) cans sweetened condensed milk (about 2 cups)
3 egg yolks
finely grated zest from 4 meyer lemons
1 cup (240ml) meyer lemon juice
1/2 teaspoon (3ml) vanilla extract
pinch of salt
Whipped Cream Topping & Garnish
1 cup (240ml) heavy whipping cream
1 tablespoon (15m) powdered sugar
1/2 teaspoon (3ml) vanilla extract
fresh mint , for garnish
lemon slices , for garnish
Instructions
Preheat oven to 350°F. Lightly grease or coat with non-stick spray a 9-inch pie plate.

In a bowl combine graham cracker crumbs, butter, and salt. Mix until evenly combined. Press the graham mixture into the pie plate.

Bake crust for 8 minutes. Remove from oven and set aside.

In another bowl or the bowl of a stand mixer, combine the pie filling ingredients (sweetened condensed milk, egg yolks, meyer lemon zest, meyer lemon juice, vanilla extract, and salt). Beat on medium speed for about 3 minutes. Pour the pie filling into the baked pie crust.

Bake for 20 minutes. Allow the pie to cool completely. Chill the pie for at least 3-4 hours or overnight, until fully set.

Whisk together the heavy whipping cream, powdered sugar, and vanilla extract to soft peaks. Spread whipped topping onto chilled pie. Garnish as desired and serve.
We are a participant in the Amazon Services LLC Associates Program, an affiliate advertising program designed to provide a means for us to earn fees by linking to Amazon.com and affiliated sites.