Fresh Orange Glazed Chicken
Our orange chicken recipe is incredibly delicious, using fresh orange juice for maximum flavor and freshness. We're sharing this recipe again and it's dedicated to our orange tree that died. We planted a new one and hoping it will bring us as much delicious joy as the previous one.
Fresh Orange Chicken Recipe
Over 15 years ago we planted a little Washington naval orange tree. We always hope for the best for our new fruit trees and wanting them to adjust to our climate and hopefully, grow to be healthy and lush. Our philosophy is growing healthy trees comes first and then the fruit will come later. We don't always expect a bumper crop in the first two or three years because it takes times for trees to get used to their new home, weather and soil. But our little naval was a trooper from the very beginning and started to give fruit that was so super sweet, it was amazing. Yeah, we're proud parents, can't you tell?
Watch the video making the fresh and delicious Orange Chicken:
Fast forward 15 years later and this orange tree is as happy as ever and producing way more oranges than we can juice. So we've been coming up with different ways to cook with oranges and one absolute favorite way is to make orange chicken! We call it fresh orange chicken because we use fresh orange juice and the flavor makes all the difference when you squeeze fresh juice for this recipe. For even more flavor, we zest the oranges because we can't let any of it go to waste. Sure you can use orange juice from concentrate, but if you can get your hands on a few fresh oranges, you'll be able to taste the difference.
If you love orange chicken then you'll love this homemade fresh orange version. It's way better than take out and honestly, it's so much easier to make this than to drive to an Asian restaurant for take-out. Also, there's so many different orange varieties out there, including the gorgeous cara cara that we've been eyeing. If only we had more backyard space!
We're huge fans of juicing oranges for fresh morning juice and on those rare times we don't have any in the garden, we'll buy 10 pound bags from the farmers market. Over the years we've used many juicers and for large quantity juicing, our favorite is this Krups Electric Juicer. We've gone through hundreds of pounds with ours and love it as much as any commercial juicer I used when I was in the restaurant world. And try the sauce on this healthy oven fried chicken recipe!
Enjoy,
diane and todd
More great chicken recipes:
This recipe was originally published in 2017 and re-published in 2019 with updated photos.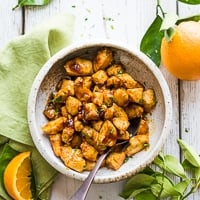 Orange Glazed Chicken
Keep cooking the glaze down until it becomes super thick, like in the photo. But the sauce tastes so great at almost any consistency, so you can decide how long you want to cook the sauce. The longer you cook, the thicker the sauce becomes.
Ingredients
1 pound (454 g) chicken breast , cut into bite sized pieces
Kosher salt , to taste
Fresh ground black pepper , to taste
2 tablespoons (30 ml) grape seed oil (or any high flash point oil-canola oil, peanut oil, etc...)
Orange Glaze Ingredients:
1 1/2 cups (360 ml) fresh orange juice
2 tablespoons (30 ml) soy sauce
3 tablespoons (45 g) brown sugar
2 tablespoons (30 ml) finely grated orange zest
For Serving:
Chopped cilantro or parsley, for garnish
Serve with rice , couscous or quinoa
Instructions
Make the orange glaze: Add orange juice, soy sauce, and brown sugar in a saucepan. Bring the mixture to a simmer over medium-high heat, stirring occasionally cook until the mixture is reduced to 1/2 cup and it is sticky and coats the back of a spoon, about 15-20 minutes. Stir in the orange zest. While the glaze reduces, cook the chicken in another pan.

In another pan, heat oil on medium-high heat. Add chicken and season with salt and pepper. Cook chicken until cooked through and crispy on edges, about 3-5 minutes depending on how big your chicken pieces are.

When both the chicken and glaze are done, combine them together in one of the pans and cook for another 2-3 minutes, to thicken the glaze slightly more and coat the chicken well with the orange glaze.

Garnish with cilantro or parsley and serve over warm rice, couscous or quinoa.
Nutrition Information
Calories: 275kcal, Carbohydrates: 19g, Protein: 25g, Fat: 10g, Saturated Fat: 1g, Cholesterol: 72mg, Sodium: 637mg, Potassium: 636mg, Sugar: 16g, Vitamin A: 235IU, Vitamin C: 52mg, Calcium: 28mg, Iron: 0.9mg
We are a participant in the Amazon Services LLC Associates Program, an affiliate advertising program designed to provide a means for us to earn fees by linking to Amazon.com and affiliated sites.