Favorite Pot of New England Clam Chowder in 30 minutes
This New England clam chowder recipe was inspired from our Boston trip. It's been about two years since we've been to Boston, but the memories of our last visit was filled with rain, cold and more rain. And it was awesome. Being starved of rain down in Southern California for so long, we always hoped to have rain like those visits to Boston. We love the rain and with that cold weather comes the craving for creamy New England clam chowder.

New England Clam Chowder Recipe
Over the last week we finally received a few days of good rain in the Los Angeles basin, but it's not enough to make up for all the years of parched weather. We're grateful for the rain as of late and as the rain came down in big buckets, those memories of eating clam chowder snuck up on us. So we pulled out our favorite recipe that we made a few moths ago and made another big, satisfying batch.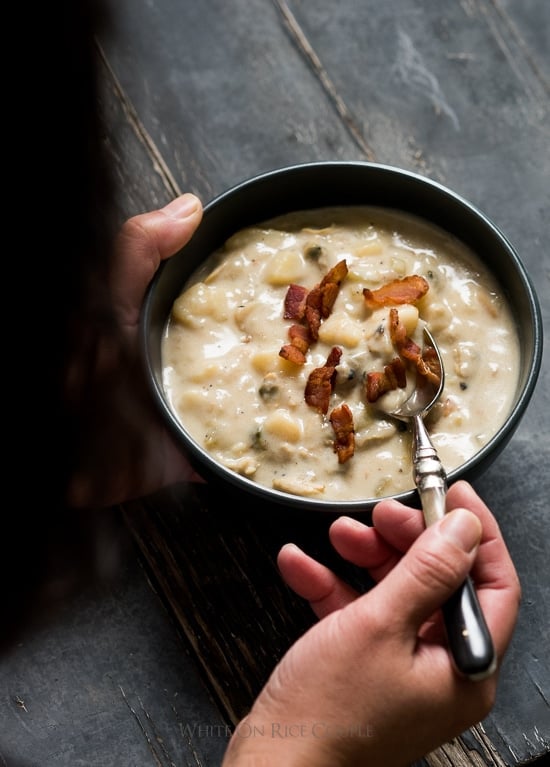 The whole culture of clam chowder is an education in itself, with so many varieties, variations, family traditions, favorites and specialties. It's hard to say which one is our true favorite. There are so many die-hard fans of creamy New England Clam Chowder that we've seen arguments about how it should be made. We love all the variations and are of the belief that differences in food traditions are a way to learn and be open-minded.
Difference between New England Clam Chowder and Manhattan Clam Chowder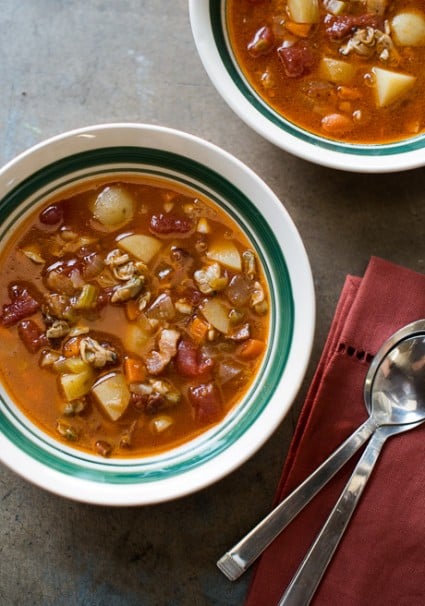 And we can't forget New England Clam Chowder's kissing cousin, or is it more of an arch-rival. Remove the cream base and add tomatoes, then what you have is amazing Manhattan clam chowder. Manhattan clam chowder is tomato based, where as New England clam chowder is cream based. We're fans of it all too. Give us a spoon and we'll make it disappear within minutes.
We've made multiple batches of different kinds of clam chowder over the last two weeks and it has satisfied our bellies beyond belief. In fact, a few days ago we had friends over for a clam chowder dinner and we all had our favorite ways of cooking and eating it, including plenty of dashes of tabasco sauce.
Tabasco Sauce or Hot Sauce
Tabasco sauce? We tried it and loved it. There's so much more to learn in this world of clam chowder. The spicy kick really balances off the richness of the creamy soup. There's so many different brands of hot sauce to enjoy.
Some of us like it thicker and creamier, some like it more runny with lots of heavy cream. All variations are fantastic. This is our favorite pot of creamy New England clam chowder in just 30 minutes. Sometimes after a long day at the studio, all we want is a quick but homemade batch of clam chowder to warm us up when it's raining like mad outside.
Sitting in our kitchen, eating a big bowl of this favorite clam chowder with crackers reminds us of our awesome Boston visits. Maybe if we eat enough clam chowder, we'll be able to get back to Boston sooner than we think.
enjoy,
diane and todd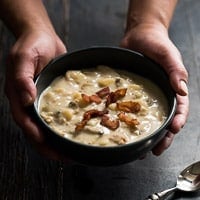 30-minute New England Clam Chowder
You can choose how thick you want your chowder. We like our chowder both ways. When we crave a thicker version, we use 3 tablespoons of flour in the milk, which is what is reflected in this recipe and photo. Sometimes we'll crave it thinner and only use 1 tablespoon of flour or none at all, like many of the clam chowders that we have eaten in Boston. Choose your preference!We prefer to use whole clams that we find in our market in the 10 oz cans. But most markets carry the 6.5 oz minced clams, so the recipe is written for minced clams. If you can find whole clams, then even better! If so, we normally use 1-2 (10 oz.) cans of whole clams, depending on how clammy we want the chowder.
Ingredients
4 slices bacon , cut into small strips
1 medium onion , diced
2 cloves garlic , minced
1 cup (240ml) water
1-2 medium potatoes (about ½ pound), peeled and diced
1 stalk celery , diced
2 teaspoons Worcestershire sauce
1/2 teaspoon dried thyme or oregano leaves
¼ teaspoon fresh crack black pepper
1 teaspoon salt , or to personal taste
8 ounce bottle of clam juice
½ cup (120ml) heavy cream
2 (6.5 oz cans) clams in juices, drained but save the juices
3 tablespoons (45ml) all purpose flour
1 cup (240ml) milk
Instructions
Heat medium pot over medium-high heat. Add bacon strips and cook till crisp and fat is released. Remove the pieces of bacon, drain on paper towels and set aside.

In the same pot, add onion and garlic. Cook until garlic is soft and translucent but not burnt, about 2-3 minutes.

Add water, potatoes, celery, Worcestershire, dried herbs, black pepper, salt, bottle of clam juice, juice from the 2 cans (but not the clams), and heavy cream

Bring the chowder to a boil, then immediately reduce heat to low. Simmer chowder on low heat for about 15 minutes, or until the potatoes are tender.

In a small bowl, whisk together the flour and milk. Break up any clumps of flour. After the first 15 minutes of simmering, add this flour/milk mixture to the pot. Also add the minced clams. Increase heat to get the soup to a low boil if cold milk was added. (Note: do not add the flour/milk mixture & clams until you have simmered the chowder for the first 15 minutes to cook the potatoes.)

Simmer for about 5 more minutes until the chowder is thickened or until heated through.

Serve the chowder with the pieces of bacon on top.
Nutrition Information per Serving
Calories: 268kcal, Carbohydrates: 26g, Protein: 9g, Fat: 15g, Saturated Fat: 7g, Cholesterol: 44mg, Sodium: 741mg, Potassium: 631mg, Fiber: 3g, Sugar: 4g, Vitamin A: 471IU, Vitamin C: 16mg, Calcium: 108mg, Iron: 4mg
More Easy recipes:
We are a participant in the Amazon Services LLC Associates Program, an affiliate advertising program designed to provide a means for us to earn fees by linking to Amazon.com and affiliated sites.